The Potluck: September 2021
Continuing the monthly tradition, The Speckled Palate's The Potluck: September 2021 includes some puppy-related items, books and more. Come see my love list and tell me what was on yours for September.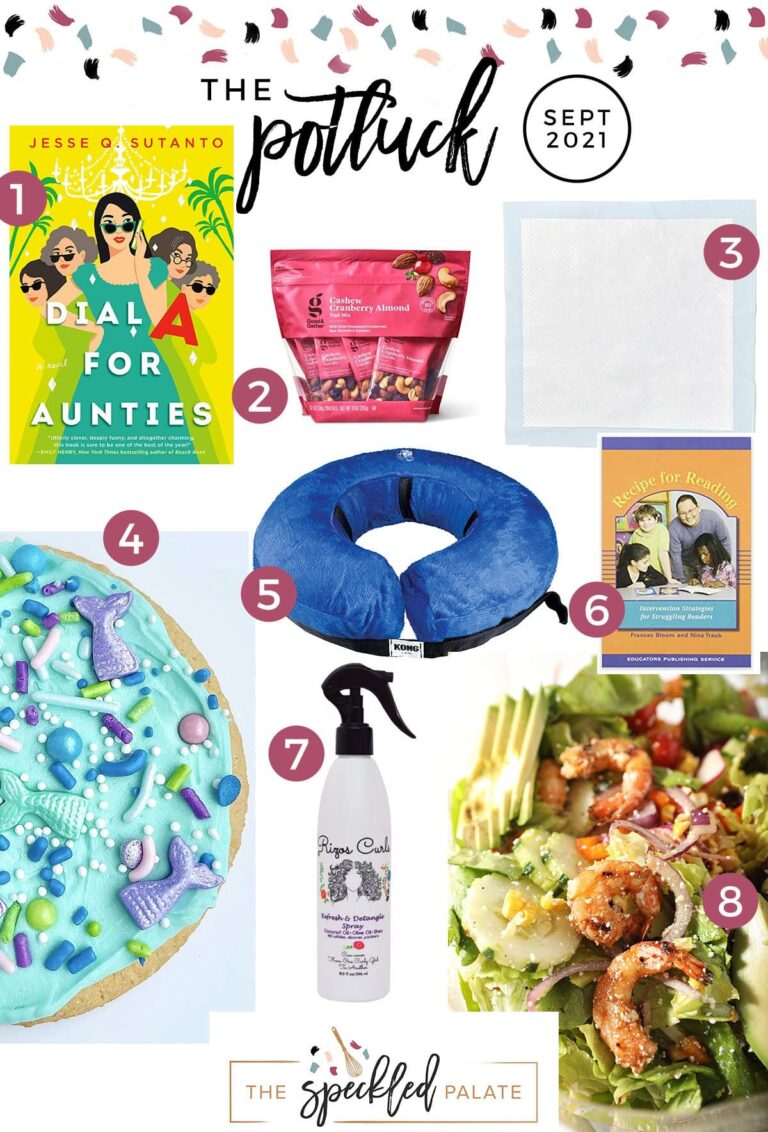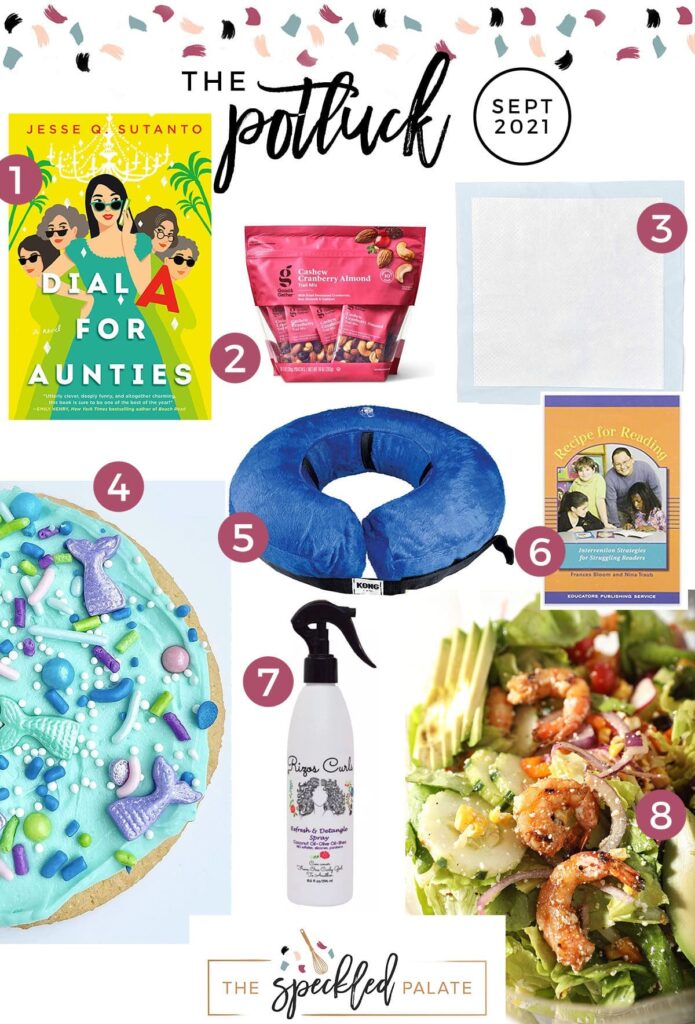 What a month September has been.
On September 2, Lucy underwent surgery to remove her osteosarcoma, as well as her front right leg, and we've all been recovering ever since. Lu went from wobbly and unable to stand without a sling to being able to run across our house and yard like it's no big deal in the span of a month.
Seeing her recovery has been awe-inspiring and encouraging. (Let me also be clear: It was also incredibly hard for the first week or so. Lu was never crate trained and was on crate rest. She… did not like it, especially as she began to feel more like herself.)
It's also sobering because we know that the osteosarcoma that pained her leg so much will probably be what takes her away from us in the end. (Yes, the cancer was cut out, but oftentimes, it still spreads.)
So we're trying to make the most of our time, however long it might be. Lu is getting all the love, pats, encouragements. She's been cleared to walk, so we've been taking short jaunts up and down our street, too. The girls love encouraging her as we walk and helping with this, which is sweet to walk.
We've also celebrated some birthdays, as well as got to see some family members, too.
Let's discuss September Highlights:
September had some good things, even though the month started out on a fairly intense note with Lucy's surgery.
Here are a few of our personal highlights:
School.

Our little one's school started, and she LOVES it. This child has spent the majority of her life being toted to and from her big sister's school, so it makes sense why she's so enthused.

After all, she's never gotten to

attend

school, g

o through

carpool line and happily answer the question, "So how was your day at school today?"

Birthdays. We celebrated our little one this month, and we got to see friends and family for the celebrations, which was so lovely. On one of the hottest days of the year, we had a bounce house in our yard. Our girls had a blast bouncing with their closest friends, and so did we. We are so happy that our family members were able to join us. We also celebrated my birthday, too!
Lucy. As mentioned above, it has been incredible to see our 13-year-old gal go from four legs to three. (This sounds like a strange thing to say, but go with me.) At the initial onset, I wasn't sure if we had made the right decision for her. Knowing what I know now, I can firmly say that we absolutely did. This dog is able to move, which is the most amazing thing. And she is so happy settling back into her usual routines, too.
Let's talk September Action Items:
Here are a few things that are on my heart this month:
Texas. So many new bills went into effect this month, including a harshly prohibitive heartbeat law, a restrictive voting bill and more. I've talked about wanting to throw my support around politicians who share my values. The beginning of this month felt like a gut punch because I feel like our elected officials just keep making this more and more challenging. So. My plan is to donate and support local politicians, however I can.
Climate change. This month, we saw more destructive wild fires out in the west, as well as hurricanes and storms that are stronger than ever. It's becoming more and more apparent the man-made climate change is negatively affecting us all. Personally, I hate how I, as an individual, feel compelled and stressed out by this even though my footprint is significantly smaller than, say, companies and governments. … I'm kind of at a loss of an action item for this, so holler if you have ideas because I'd like to be making a positive change, even if it is small.
What are your action items of the month?
Now Let's Talk about this Monthly Love List…
To recap, my potluck, as defined by the folks at Merriam-Webster is:
the regular meal available to a guest for whom no special preparations have been made… a communal meal to which people bring food to share —usually used attributively ; whatever is offered and available in given circumstances or at a given time.
Now who's ready to see what ended up on my list for September 2021?!?
The Speckled Palate participates in affiliate programs. As an Amazon Associate, I earn a commission from qualifying purchases. Please refer to my disclosure page for more information about these affiliate programs.
The Potluck: September 2021
Continuing the monthly tradition, The Speckled Palate's The Potluck: September 2021 includes some puppy-related items, books and more. Come see my love list and tell me what was on yours for September.
Photo Credit: www.amazon.com
I have been notably terrible at reading in the recent months because life has been so stressful, but this book by Jesse Q. Sutanto has been fantastic. It is laugh out loud funny, and I am so happy that my book club read it in August. I am obviously reading behind the club because that is where I'm at, but it has been a fun read and one that I am thoroughly enjoying.
Do you know about my book club? It's a virtual one! It's called the Feminist Book Club and you can check it out here. You can get $10 off your first Feminist Book Club box with this code: REFE5AVSTMGTC
Photo Credit: www.target.com
This has become my go-to snack in the afternoons, and I'm so thankful I ran across it while perusing the Target app a few weeks ago. I was telling a friend a few days ago that afternoon snacks are normally frantic affairs for me because I'm so hungry at that point, and finding one that's protein-heavy without too much added sugar is important, not only for filling my belly but also making me feel good.
Photo Credit: www.amazon.com
This feels like a silly thing to have on my list, but these puppy pads have saved our floors multiple times this moth. Lucy had to be crated for two weeks while her wound healed, and she had an upset tummy for a few days after she came home. (This old lady dog is sensitive, so it's not really a surprise that she had tummy troubles, but oy.) These made it to where we didn't have to scrub out her crate any time we took her out for the first few days, and they have come in handy still since, you know, she's had a UTI, too.
Photo Credit: www.amazon.com
These sprinkles added a fun pop of color and design to our little one's birthday cupcakes, which were stunning, thanks to my friend Aline who decorated them. We've also got a ton left, so I can foresee us turning some All-Butter Tea Cake Cookies into mermaid sugar cookies.
Photo Credit: www.amazon.com
This collar came in handy after Lucy's surgery because it was a lot more comfortable for her than the classic cone. Not only is it softer than a cone, but it provided her a place to rest her head, too, without constantly banging it against the side of her kennel. (The first few nights, we all were awake for hours at a time because she couldn't get comfortable and also kept dragging the cone against the metal grates of her kennel whenever she moved.)
Photo Credit: www.amazon.com
This book has been integral at our house this month, and it's all because of my mother, who was a reading specialist and still works with kids on learning how to read (as well as reading comprehension and other skills.) She worked with our older one when she visited us, and we grabbed a copy of this book to continue her work. Now, we're working on letter sounds, sight words and reading (and writing!) sentences that we pull from this book.
Photo Credit: www.target.com
As someone who's been trying to learn how to do her hair and also keep her curls happy for as long as possible without needing to wash them daily, this refresher spray has been amazing! Now, I can sleep with my hair in a pineapple, then let it down in the morning to spray and refresh it. It's taken some getting used to, but my curls look as happy on the second day as they do on the first now. If you're a curly girl (or guy!) and want to keep your curls going for days instead of needing to restyle daily, this spray is excellent.
If you love shrimp and grilling and easy peasy recipes that are ready quickly, this salad recipe is for you. And we're all understandably obsessed with it and its TexMex flair. This salad is so simple to make and packs so much flavor into every bite, too!
2014: October | November| December
2015: January | February | March | May | June | July | August |
September | November | December
2016: January | February | March | April | May | June | July | August |
September | October | November | December
2017: January | February | March | April | May | June | July | August |
September | October | November | December
2018: January | February | March | April | May | June | July | August |
September | October | November | December
2019: January | February/March | April | August
2020: January | February | March | April | May | June | July/August | September | October | November | December
2021: January | April | May | July | August | September | October | November/December