Continuing the monthly tradition, The Speckled Palate's The Potluck: May 2020 includes summer shirts, a TV show, beauty items and more. Come check out my list and tell me what was on yours for the month of May.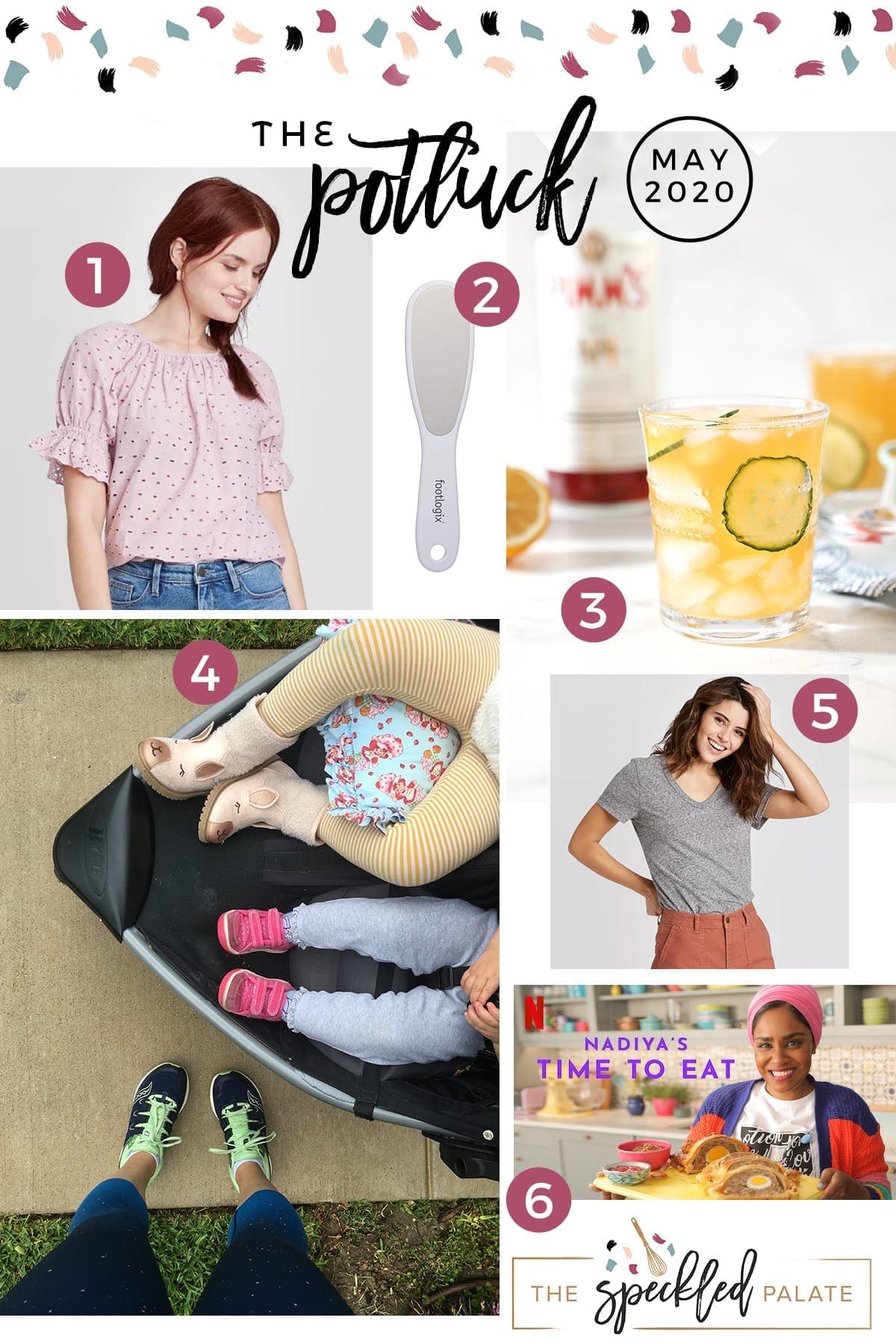 My, oh, my.
To be completely honest, May feels like it was years ago at this point, what with everything that's happened in recent weeks. Which, obviously, includes the murder of George Floyd and the protests that sparked in response.
For someone like me, a white woman who has so much privilege, my eyes were really opened to some terrible truths that I've ignored for far too long. These past weeks have been filled with lots of research and seeking out resources to continue my learning (and unlearning), as well as seeking out resources for my family and girls to continue our education.
Let me say right here that I'm aware how privileged we are to learn about racism rather than experience it. And I say this all to you today knowing you might assume I'm looking for brownie points when truthfully, I hope that my journey will encourage others like me to do the same work. (Because we have work to do, and it's on us to educate ourselves, as well as take action.)
I debated whether or not to even share a Potluck with you today because it feels weird to say, "Hey, these were things that I loved!" when there are people actually dying because we've yet to address our country's racist past, dismantle the white supremacy that pervades our lives and truly address police brutality in our country.
Instead of canceling this monthly love list, though, I decided that I would also share some resources I've discovered recently. (Which, real talk, were near the tail end of May but obviously still count.) While I've still got my easy breezy love list below, I'm also going to share a learning list, if you will.
So here is my learning list. It's not a part of my Potluck list, but it's up here first because it's the most important. I'd love to know any resources you've found helpful, too, if you feel inclined to leave me a comment and share. 🙂
I've been rereading White Fragility. This was the first book I received as a part of my Feminist Book Club Box, and it's so incredibly challenging to read (because hi, I know a thing or two about white fragility), but so, so, so very important.
A few new-to-me Instagram accounts that offer educational resources, art, words and more, and I highly suggest following if you don't already: The Conscious Kid. Adrian Michael Green. Oh Happy Dani. Rachel Cargle (and her community, the Great Unlearn).
Obviously, I'll be talking more about this in the coming months, as well as share some more resources discovered as I find and absorb them, too. I'm currently waiting on several books for myself and the kids to come in, so I cannot wait to dive into those and share about 'em, too.
So please know that this isn't an exhaustive list. And it probably won't ever be, but I want to use this platform to share what I'm learning and to help others, so if it helps you, fabulous!
To recap, my potluck, as defined by the folks at Merriam-Webster is:
the regular meal available to a guest for whom no special preparations have been made… a communal meal to which people bring food to share —usually used attributively <a potluck supper>; whatever is offered or available in given circumstances or at a given time.
Ready to learn some of the things I loved in May? Let's do this potluck thing!
The Potluck: May 2020
Continuing the monthly tradition, The Speckled Palate's The Potluck: May 2020 includes summer shirts, a TV show, beauty items and more. Come check out my list and tell me what was on yours for the month of May.
Disclaimer: The links below are affiliate links. If you click through and take action, I will receive a small commission. Please refer to my disclosure page for more information about the affiliate programs The Speckled Palate participates in.
Photo Credit: www.target.com
There's something so sweet and flouncy and summery about this top, and I just adore it. Do I have occasions to wear nice shirts these days? Nope. Do I wear it anyway? Yep.
Photo Credit: www.amazon.com
I haven't seen the interior of a nail salon since the beginning of February, and my feet were horrifyingly disgusting up until this past month. A friend recommended this foot file and this Rough Skin Formula for my poor footsies, and it has made all the difference!
These New Orleans-style Pimm's Cups have been a favorite of ours as the weather has gotten warmer, and there's no surprise why: they're refreshing as all get out! If you're mixing 'em for yourself, don't forget the cucumber. It truly makes a difference!
Truly, these have been lifesavers. Still wearing my Saucony Women's Triumph ISO 4 running shoes (linked below), we've been taking a 3-mile walk every morning. The girls and I, including the dog, pack into our double BOB Revolution stroller and load up with healthy snacks (like apple chips) and waters before we head out for our jaunt. Sometimes, we'll visit the trail that runs nearby and other times, we'll stick to our neighborhood streets to see the "wildlife" living in our backyard.
Photo Credit: www.target.com
I call these shirts my everyday shirts because they're comfy, they go with everything, and it doesn't matter if I get all sweaty in them from being outdoors. (Hello, summer temperatures. They've officially arrived.)
Photo Credit: www.netflix.com
If you're in the market for a wonderful cooking show, this is it! On Netflix, you can see the first season of The Great British Baking Show winner Nadiya Hussain's TV series. And I want to make it all. (Be sure to check out her recipes shared on the show here!)