Continuing the monthly tradition, The Speckled Palate's The Potluck: April 2020 includes a skincare item, a TV show, books and more. Come check out my list and tell me what was on yours for the month of April.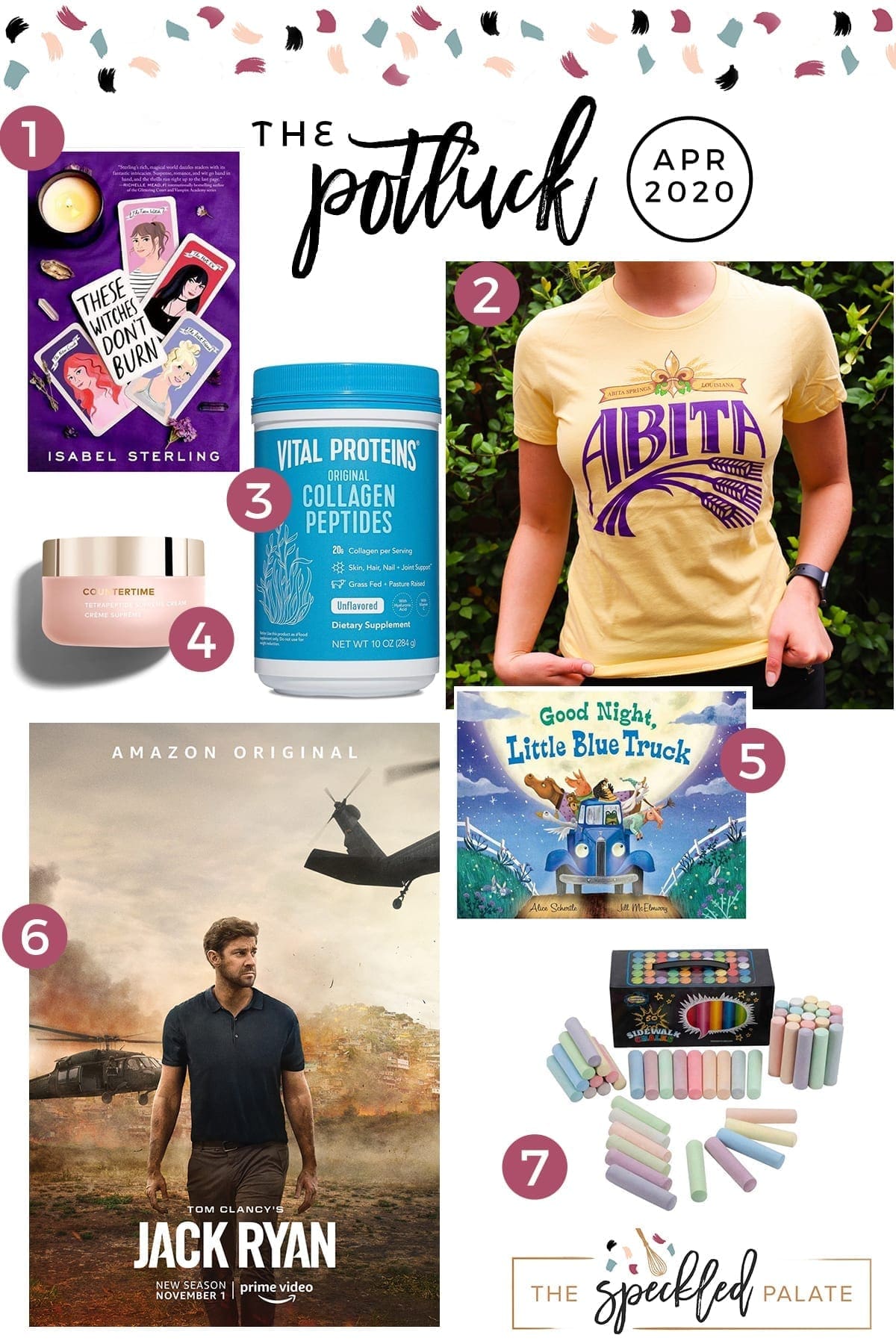 All right. So last month, I wrote about how March was the longest month of the year so far, and that, obviously has been replaced by April.
I will say that we seemed to settle into our new "normal" routine last month, and we started rolling with the punches better. (It should come as no surprise that I was the member of our family who struggled the most with our massive change to routine because I am the biggest creature of habit.)
Once again, there were wonderful things that occurred in April. Here are a few of 'em:
We started baking all the sourdough recipes in earnest. My pal, Jenni from The Gingered Whisk, has 60+ sourdough recipes, so we've been working our way through them and are currently taking her Simple Sourdough course, too, to learn more and feel more confident about Penelope, our starter.
We saw friends for socially distant happy hours. We are fortunate enough to be able to work from home and to not have to leave our house, save for groceries and walks around our neighborhood, so we took great joy in setting up lawn chairs in our yard and catching up with friends at a safe distance.
Easter, while strange and different than any other year we've ever celebrated, was still a lot of fun. The Easter Bunny still came to visit us. The girls still had a blast. And we ate some good, albeit different food, with our family as we had a video dinner call with them to mark the occasion.
Yes, April was still strange, but here we are. And I wanted to share some things I enjoyed last month in my monthly Potluck!
To recap, my potluck, as defined by the folks at Merriam-Webster is:
the regular meal available to a guest for whom no special preparations have been made… a communal meal to which people bring food to share —usually used attributively <a potluck supper>; whatever is offered or available in given circumstances or at a given time.
Ready to learn some of the things I loved in April? Let's do this potluck thing!
The Potluck: April 2020
Continuing the monthly tradition, The Speckled Palate's The Potluck: April 2020 includes a skincare item, a TV show, books and more. Come check out my list and tell me what was on yours for the month of April.
Disclaimer: The links below are affiliate links. If you click through and take action, I will receive a small commission. Please refer to my disclosure page for more information about the affiliate programs The Speckled Palate participates in.
Photo Credit: www.amazon.com
This YA novel was our Feminist Book Club April book, and I read it in three sittings because it was SO GOOD and well done! This well-written novel took us to Salem and into the lives of teenage witches and was NOT like any other YA book I've read before in the sense that it was really well done, the teenagers were fully formed and that the whole thing didn't come across as... trite. The sequel comes out in June, and I, for one, cannot wait to read it next!
Photo Credit: abita.com
I have loved Abita beer since college. (Their Strawberry Lager is the absolute BEST.) So when my husband asked, "Do you want to order an Abita shirt to support them?", my answer was a definite YES. This t-shirt is the most comfortable, too, super soft and comfortable, so if you happen to see me, I will probably be wearing it.
Photo Credit: www.amazon.com
We started adding a spoonful of these collagen peptides to our daily coffee a while back, and I really enjoy how my nails and hair have been growing ever since we began. Is there a connection? Maybe!
Photo Credit: www.beautycounter.com
I purchased this nighttime face cream in February in an attempt to start having a nighttime beauty routine. I didn't know that our world would flip upside down in the following month, nor did I know if I would stick with it. Well, I have, and I've gotten compliments on my skin recently from friends and family members over video chat. (Including a sweet compliment from a dear friend during an Instagram live!) Not only does this cream smell really fantastic, but my skin feels incredibly moisturized when I put it on and still in the mornings, too!
Photo Credit: www.target.com
This is an Easter bunny goodie that arrived at our house in early April, and it's a great addition to our library. Our girls LOVE the Little Blue Truck books, and we've read this one daily since it arrived. Our little one especially adores the Little Blue Truck and will rummage through her bookshelf to find this one and others, then joyfully point out the different items each animal wears and what they say, too.
Photo Credit: www.amazon.com
So... we binged this over the span of a few nights because we really enjoyed the first season. Once again, this season had all sorts of twists, turns and thrilled, but I will say it got increasingly unbelievable (and Jack became increasingly unlikeable, though this really isn't any surprise to me at this point.) However, we still watched to the end because we wanted to see how it was resolved.
Will we watch next season? Probably not. Was this season entertaining? Absolutely.
Photo Credit: www.target.com
The Easter bunny kindly brought us this GIANT box of sidewalk chalk! The girls have been LOVING it, too. We've spent a lot of time making rainbows and writing our names on our driveway and the sidewalk outside of our house.
2014: October | November| December
2015: January | February | March | May | June | July | August |
September | November | December
2016: January | February | March | April | May | June | July | August |
September | October | November | December
2017: January | February | March | April | May | June | July | August |
September | October | November | December
2018: January | February | March | April | May | June | July | August |
September | October | November | December
2019: January | February/March | April | August
2020: January | February | March | April | May | June | July/August | September | October | November | December
2021: January | April | May | July | August | September | October | November/December