Continuing the monthly tradition, The Speckled Palate's The Potluck: July 2021 includes a few summertime dresses, a book and more. Come see my love list and tell me what was on yours for July.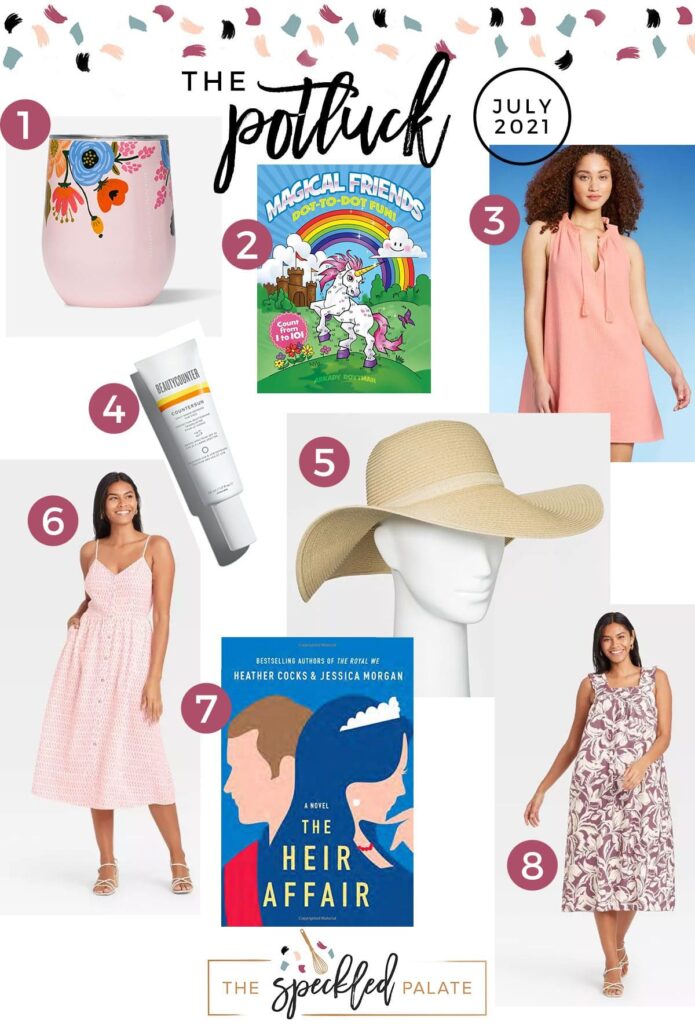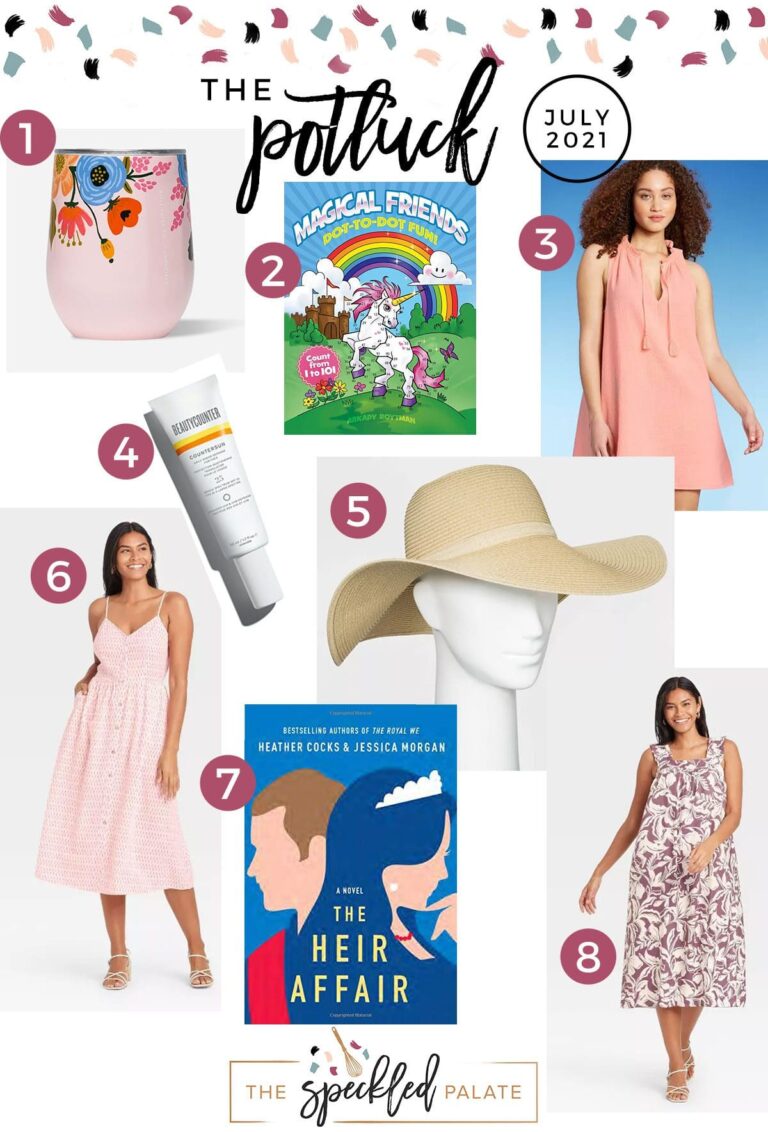 Whew, y'all. The summertime is flying by, and it's hard to believe that we're at the end of July already.
It's been a busy one, and we've been having fun, though I'll be honest: I am looking forward to resting in August once the school year begins. While I know that will bring new layers of stress and busy, I hope we can settle into a routine. Quickly. For all our sakes.
But before we dive into August, let's talk about all the stuff that happened this month.
First, let's discuss July highlights:
In all honesty, this month flew by faster the previous months of 2021. I don't know if it's because we took a week-long vacation for the first time in recent memory or if we were bouncing from one activity to the next.
Here are some lovely things that happened for us this month:
The beach. We traveled to Dauphin Island, Ala. and rented a house with my mom and her husband for an entire week. It was so much fun, and our girls had a blast. Neither had been to the beach before, so it was particularly fun to experience this through their eyes. 🙂 This little beach island was precious, and we loved the location. While we could see plenty of oil rigs from the beach, it wasn't crowded. Also, we were a quick walk to both the beach and the pool. 10/10 would go back and do it again.
Summer activities! Our older one has been in camp this summer, which she has been loving, and we've been loving it for her. Both girls are currently enrolled in swim lessons, for which I am so thankful because both are actually swimming, and it's only been a few short weeks since they began.
All the dresses. Is this a highlight? YOU BET IT IS. It's hot as blazes in Texas, and I've been living in flowy, lightweight dresses. And they make me happy, so I'm adding them as a highlight, even though it's not a big juicy personal scoop. 😉
Olympics. Let me preface this by saying I know there are sexist, racist and not OK policies that are being upheld that are total B.S. But could we talk about Simone Biles and her taking a stand for her mental health? So brave. And could we talk about Caeleb Dressel's emotional video call with his family after he won the 100m freestyle? I cried, too.
Let's talk July action items:
Welp. As that last point in the "highlights" pointed out, there are a lot of things wrong in the world and with institutions in our world.
Here are a few things that are on my heart this month:
The Olympics. So let's talk about those policies that are B.S. How about FINA banning swim caps for natural hair? Sha'Carri Richardson sitting out of the games because of her failed drug test while Megan Rapinoe touts her own CBD products? How about Simone Biles being attacked on social media for "letting her country down?" (Putting this in quotes because, well, I think that's total B.S. She's done so much for us. She needs to take care of herself. Period.)
The sickness. Surprise, surprise. IT ISN'T OVER. While I will admit that I got a little more comfortable earlier this summer, we're back on high alert. I'm really hanging my hopes on people going back on alert, too, as well as getting their vaccines if they haven't yet. Since our girls aren't vaccine eligible, we're back to doing what we can to keep them as safe as we can.
Texas politics. To reiterate what I said back in May, there's a lot going on in Texas these days. Not all of it is good. From the Texas Legislature passing a bill that bans the teaching of certain pieces of our country's less-than-pleasant history in public schools (and basically white-washing our history) to an executive order that bans mask mandates in cities and public schools… well… we've got some work to do. The gubernatorial race is next year, so…
What are your action items of the month?
Now Let's Talk About This Monthly Love List…
To recap, my potluck, as defined by the folks at Merriam-Webster is:
the regular meal available to a guest for whom no special preparations have been made… a communal meal to which people bring food to share —usually used attributively ; whatever is offered and available in given circumstances or at a given time.
Now who's ready to see what ended up on my list for July 2021?!?
The Speckled Palate participates in affiliate programs. As an Amazon Associate, I earn a commission from qualifying purchases. Please refer to my disclosure page for more information about these affiliate programs.
[show_shopthepost_widget id="4537217″]
The Potluck: July 2021
Continuing the monthly tradition, The Speckled Palate's The Potluck: July 2021 includes a few summertime dresses, a book and more. Come see my love list and tell me what was on yours for July.
Photo Credit: corkcicle.com
I purchased these as stocking stuffers for Christmas, as well as a little surprise for friends, and this came in handy for our beach vacation. While it doesn't hold a whole beer, it comes close and keeps it cold, especially since we couldn't have glass at the pool or on the beach.
Photo Credit: www.amazon.com
If you're road tripping with kids who are similar in age to mine (6 and almost 3), these came in handy for us this month as we drove to and from the beach. Our older one adores these Dot to Dot activity books, where you essentially follow the numbers to create a picture. Our younger one loved the Imagine Ink books, too, and we loved them, as well, because markers weren't strewn all over the car in the process. 😉
Photo Credit: www.target.com
This was another beach must-have, and funnily enough, my mother purchased the same one for the beach so we matched! It's lightweight and covered me up just fine to walk to and from the pool and/or beach. The fabric is a little see-through, so this couldn't be used as a dress to wear out on the town, but it's pretty cute for the to-and-from piece.
Photo Credit: www.beautycounter.com
I've had a hard time finding sunscreen that doesn't make the skin on my face sad. (The one my dermatologist recommended for me was consistently breaking out my skin, so I stopped wearing it and found this.) While this is more than I would normally pay for sunscreen, I really like and appreciate all of the BeautyCounter products I've tried, and this one works for both me and the kids and our faces.
Photo Credit: www.target.com
I'm a straw hat kind of gal at the beach and pool, and this lightweight one has come in handy while we've been out in the sun. It fits my head just fine and covers up my face and neck well. I also like that it's not an extremely expensive hat because I can imagine a nicer hat like this might disintegrate when soaked in water… which happened often when we were at the beach…
Photo Credit: www.target.com
The pattern and fit on this dress are both just divine and perfect for the summertime. Even though I don't have a strapless bra, I've loved wearing this dress because it's comfy and cute. The fabric is super light and the pattern is lovely.
Photo Credit: www.amazon.com
I read The Royal We years ago and looooooved it. However, I didn't realize there was a sequel until we renewed our library membership a few months ago. This was the book that I brought along to the beach, and oh boy, was it a delight. It was fun to check back in with Bex and Nick and Freddie and their crew, and I loved seeing what happened after the first book left off. 10/10 recommend.
Photo Credit: www.target.com
I lived in this dress at the beach. While I don't usually go for a formless dress, I really love how comfortable this one is and how casual it is for the summertime. Even though it's got a liner, this dress has held up pretty well in the wash and hasn't required me to iron it, which is majorly helpful since I don't purchase clothing that require me to iron them. 😉
2014: October | November| December
2015: January | February | March | May | June | July | August |
September | November | December
2016: January | February | March | April | May | June | July | August |
September | October | November | December
2017: January | February | March | April | May | June | July | August |
September | October | November | December
2018: January | February | March | April | May | June | July | August |
September | October | November | December
2019: January | February/March | April | August
2020: January | February | March | April | May | June | July/August | September | October | November | December
2021: January | April | May | July | August | September | October | November/December