Sunday Snippets: The Easter Edition
First and foremost, Happy (belated) Easter, y'all! I hope everyone had a lovely holiday and spent time with those they love during the weekend.
My mother came to town on Friday, and we had the best time, eating, drinking, exploring and generally finding mischief of the best kind as we went. … We even took lots of goofy pictures to send to my sister, who is currently going to school in Colorado and was not able to join us for Easter weekend.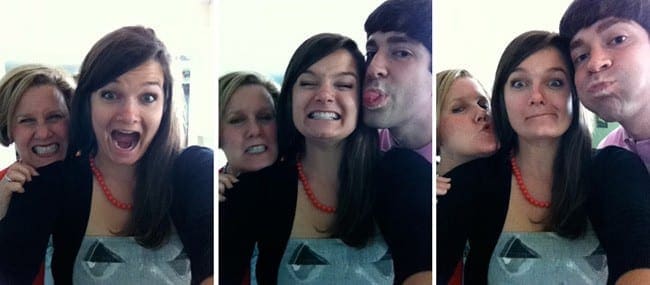 Yes, we are winners, and we make the best faces for said goofy photos. Sorry, Mom and Winston, for sharing these. They make me happy.
Easter Weekend is one of my favorite weekends of the year, because for the past four years, my mother has come in town – wherever we lived – and done spring things. We generally plant my little porch/patio garden, bake copious amounts of awesome things and make our traditional (but not-so-traditional) Easter étouffée.
Instead of making our traditional Easter feast, we drove an hour west to spend Easter afternoon with Winston's family.
It was beyond wonderful, and I was so happy we had the opportunity to spend the day with them.
The weather has been absolutely gorgeous recently, and we have enjoyed ourselves by taking sweet Lucy on extended walks.
It's been cool enough for us to walk for miles, chat about our days and watch as Lucy reacts to the various sights on the route.
And once she reaches side-tongue status, we head back home.
If you know what side-tongue status is, let's be friends.

Re: Last week's Sunday Snippets pertaining to Tim Riggins and his various roles on the show – The actor who plays him is a photojournalist in a movie, The Bang Bang Club. I about died when I turned it on and realized this. I also told Winston, "I just saw a movie where Tim Riggins' actor was a photojournalist."
He was confused and thought I meant Taylor Kitsch was a PJ.
He's not. He was just playing one.
Sunday Snippets
Ever wanted to know my thoughts about things? My weekend update, titled Sunday Snippets, is for you and rounds up my thoughts on the week, the events of it, shares random details on my life and more!
…
What did y'all do this past weekend?
And, out of curiosity, have you seen or heard of The Bang Bang Club?