Sunday Snippets: The New Mama Edition
I'm thrilled to announce that Sunday Snippets is back!
So if you're interested in what's going on with me, I'm going to try to share some thoughts here weekly with you. And if you just want to read about recipes and see photos and read recipes of tasty food, that's fine, too, and I'll continue that schedule throughout the week for y'all.
So… Lady Baby arrived on March 9th. It was pretty crazy and incredible, and life has changed a TON since she came into the world. Today's Sunday Snippets are all about my journey to becoming a mom and how it's been going so far.
With that said, let's talk motherhood!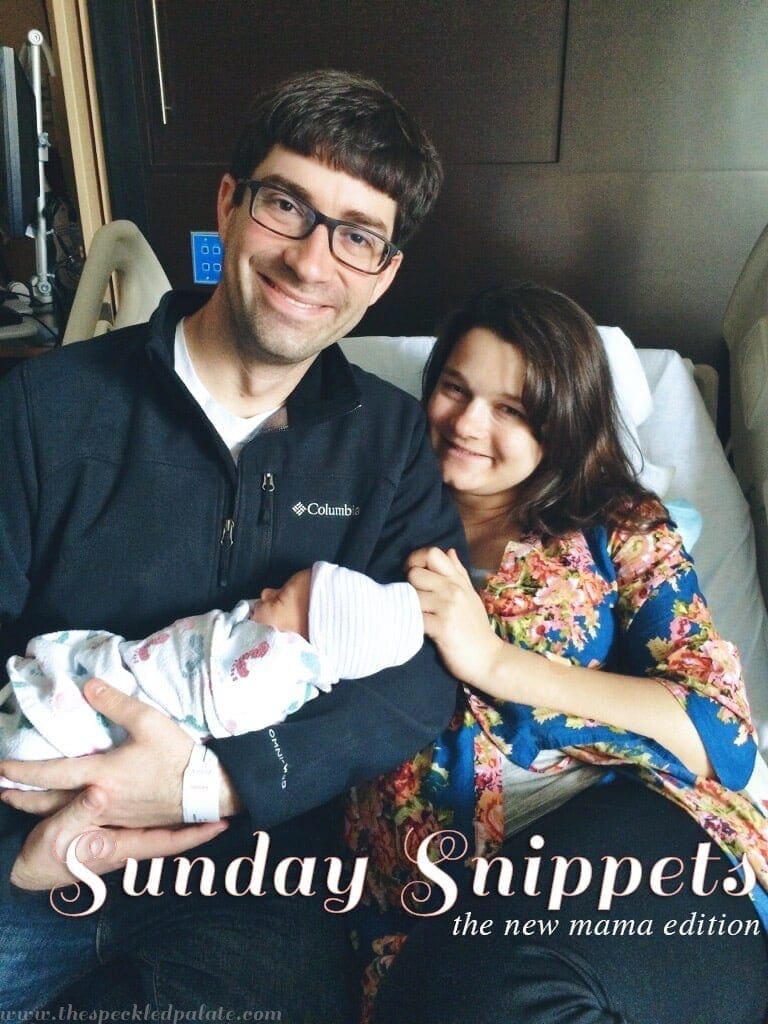 1. Waiting a week between my due date and my induction date was rough. There were lots of tears shed because I wanted to go into labor on my own and was scared to be induced. That being said, it all ended up OK, and the induction was a lot less terrifying than I envisioned.
2. Giving birth is the hardest physical and mental thing I have ever done. It was also easily the most wonderful life altering act I have experienced.
3. They call it labor for a reason. (Duh.) And even if end up getting an epidural, you might end up feeling things during delivery. And if you're like me? You'll push for so long that you feel it ALL. However, none of my other mama friends experienced this, so it sounds like it's rare. (You know, in my completely unscientific opinion.)
4. The end result is pretty darn sweet, and I wouldn't change my experience for the world. Heck, I'd even do it again because the love I feel for Lady Baby? My heart is bursting all the time.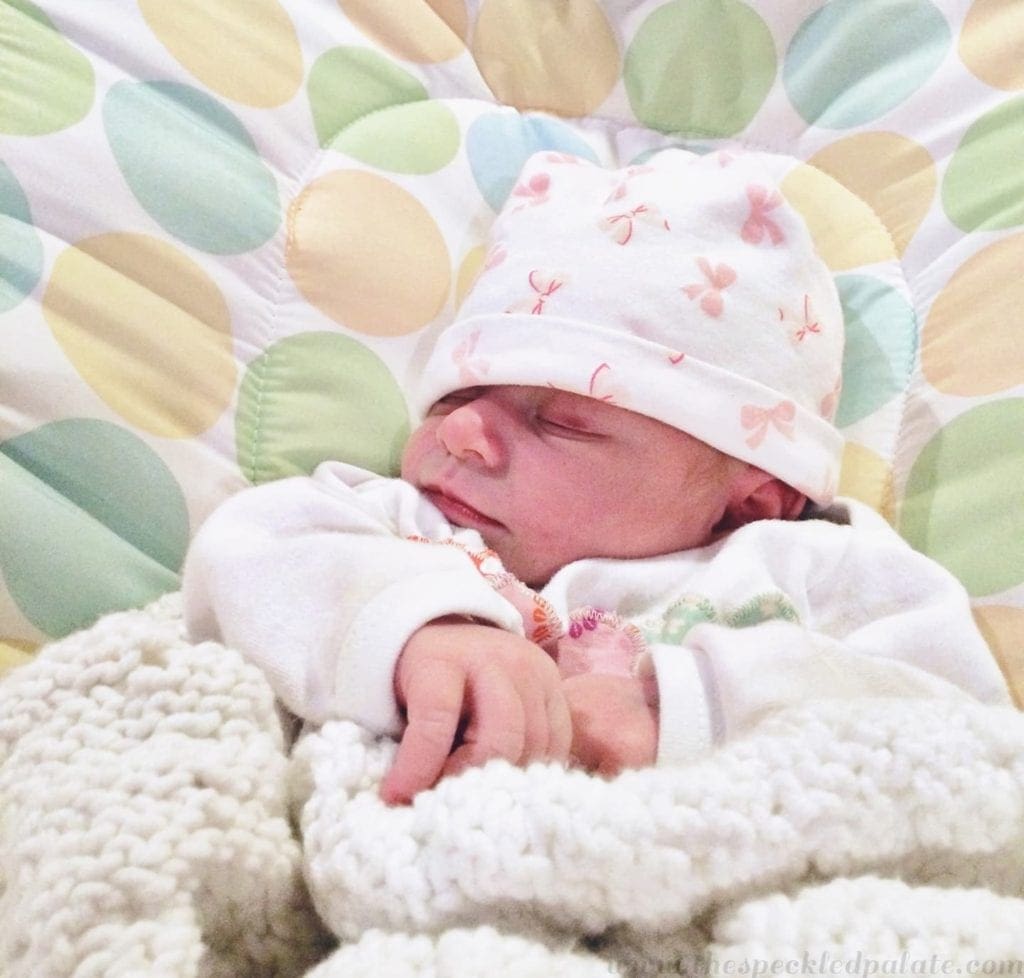 5. Lady Baby has strawberry blonde hair and blue eyes. My husband and I both have dark hair, and while I have green eyes, his are brown, so we assumed our baby would have dark hair and eyes. We wonder if her fair locks will eventually fall out and grow back brunette and if her eyes will darken… but for now, we're marveling at our little blonde baby and are absolutely smitten with everything about her.
6. She has started smiling and cooing during the last few weeks. It's incredible and so fun to interact with her! She's so alert and makes the funniest faces while responding to whatever you have to say. (Baby babble? It's so cute!) Her smiles are also the best.
7. Remember when I mentioned that Lady Baby had slept through the night a few times? Ha! I was clearly too confident in issuing that statement because she was ultra fussy Friday night and was up a few times Saturday night, too. C'est la vie.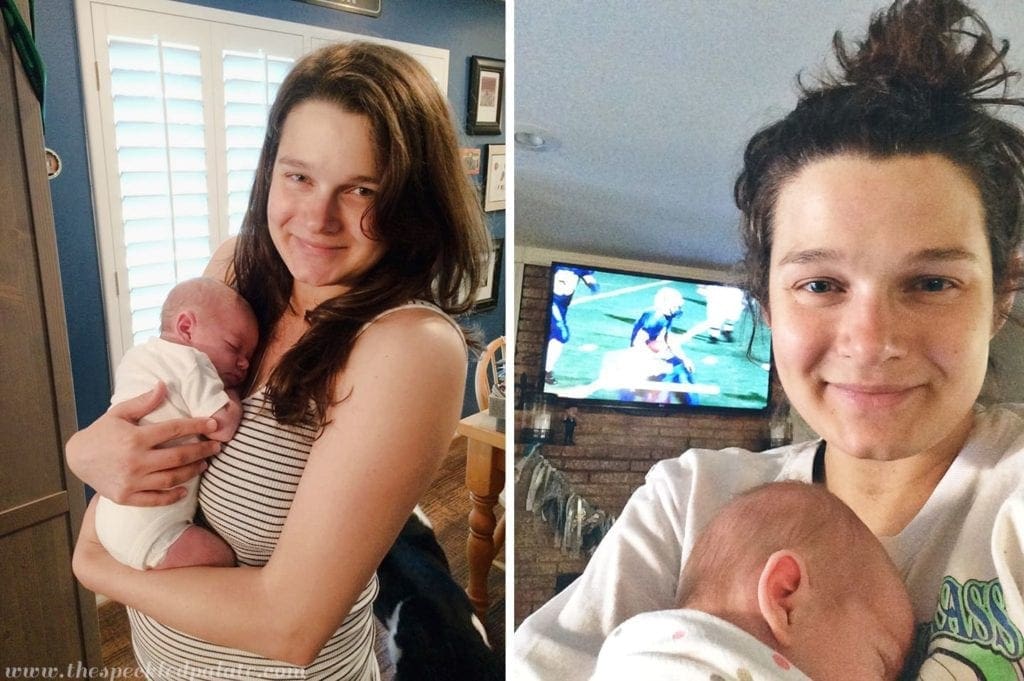 8. Lady Baby is a huge music fan. I discovered this by accident when I was playing a few songs as she cried one day. Shockingly, she calmed down immediately. Her favorite album? 1989 by Taylor Swift. Since I listened to this so much during the last months of pregnancy, she considers it comfort music and is instantly soothed when she hears the opening notes to any of the tracks. Honestly, I don't know whether to be ashamed or proud.
9. When Lady Baby is upset, she and I have taken to singing and dancing around the house. Lucy follows us around, even though she doesn't lend her puppy voice to the music. We also sing and dance when she's wide awake during the daytime hours, just for fun.
10. Our families and friends have been absolutely wonderful. Lady Baby's grandparents and aunts traveled to meet her and spend time with us, helping with the baby as we settled into a new routine and offering help around the house, too. Friends from far away have sent surprise sweet gifts our way, and our friends in town have been so kind, bringing by meals and various baby products, as well as checking in on us every week to make sure we're doing fine. We're so lucky.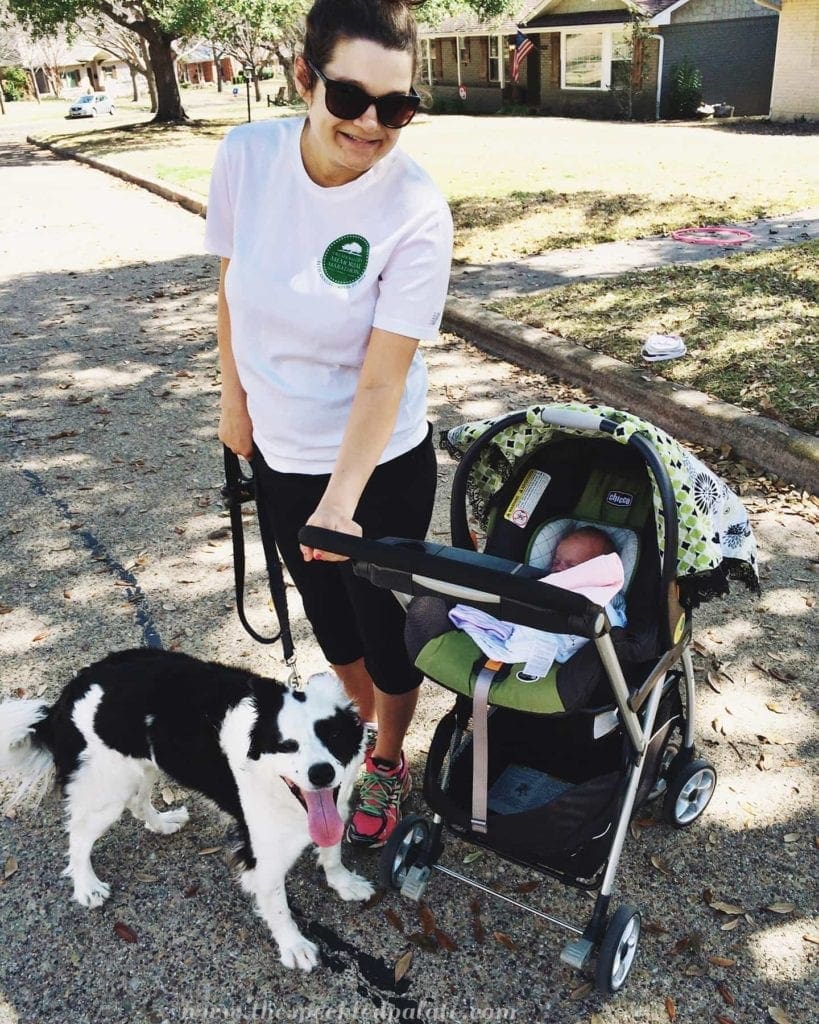 … That's all I have for y'all today.
What do you know this weekend?
Sunday Snippets
Ever wanted to know my thoughts about things? My weekend update, titled Sunday Snippets, is for you and rounds up my thoughts on the week, the events of it, shares random details on my life and more!