Sunday Snippets: The (Belated) Mardi Gras Edition
Last weekend, Winston and I headed down to New Orleans to celebrate Mardi Gras with friends. That's why there was no Sunday Snippets feature last week.
Needless to say, we had a darn good time in the Crescent City. And needless to say, I was zonked out when we finally arrived back in Baton Rouge, so writing on Sunday evening was a no-go.
So this week's feature will contain TWO WEEKS of snippets.
Prepare yourselves.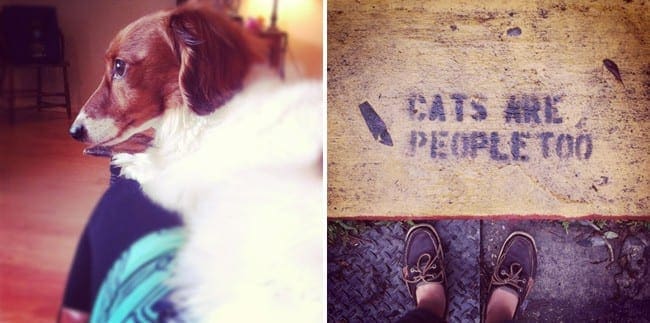 Making friends with a friend's dog, who just so happens to be the cutest little dog I have ever met, is fun. Especially when you convince said dog to snuggle with you. And then said dog won't get off the bed and barks at your husband because your husband wants to sleep, too. … Oops?
I will always be endlessly amused by street art and graffiti, especially work that I find in New Orleans. Cats are people too.… Really?
Mardi Gras is especially fun when you know two kinds of people: locals who know everyone and people riding in parades. Because the locals who know everyone will hook you up with sweet schwag (like that blow up goblet.) And because people who ride in parades will spot you from 50 yards away and begin tossing all kinds of goodies in your direction. And then rain beads, trinkets and other Mardi Gras specialties down upon you as they ride by. And then blow kisses when they're almost moving on.
Mardi Gras is especially fun when you attend parties hosted by friends and their parents.
Mardi Gras is not fun when you have to walk three miles back from said party in your party shoes because you can't catch a cab to save your life.
My entire body hurt after that walk home, which necessitated a massage this week. No, really. After aching for a few days after Mardi Gras (and combining that with some Rouge Orleans persistent aches and pains), I cannot express how much better I felt after that hour.
Making friends with the people who stand next to you during parades is encouraged. You might even score a sa-weet handmade headband like I did on Friday night.

You could also catch a crescent moon stuffed animal during one of the floats and gleefully declare, "This will be our dog's newest toy!"
And giggle as you take a photo with it. (Hence the crazy face in that photo. Sorry, world.)
And then giggle some more when your dog freaks out over the new toy.
Then name the new toy Morpheus because he has the Krewe's name stitched onto his side.
Sunday Snippets
Ever wanted to know my thoughts about things? My weekend update, titled Sunday Snippets, is for you and rounds up my thoughts on the week, the events of it, shares random details on my life and more!
…
What's going on with you?
What have y'all done this week?