Sunday Snippets: The Rouge-Orleans Edition
Yes, on a Monday. Because yesterday afternoon and last night, I was basically comatose. And apparently snoring. (I DON'T want to talk about that or look into this because I have NO idea what happened.)
This past weekend, a team of five fantastic ladies and I ran the 126.2 miles along the Mississippi River levee from Baton Rouge to New Orleans. It was one of the most challenging physical (and emotional!) things I have ever done, and I am thankful that we finished.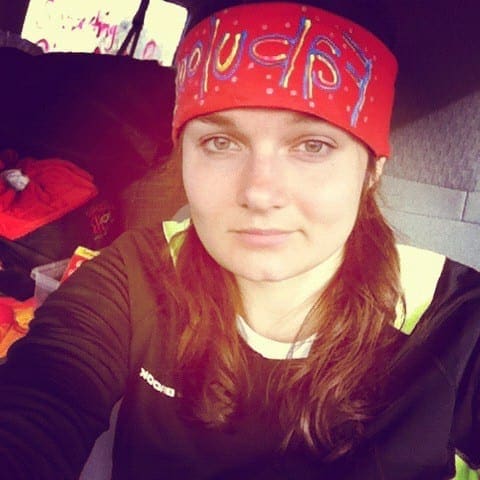 I'm also thankful that we could run on behalf of Girls on the Run Greater Baton Rouge, who sent us the sweetest care package. In fact, the 'Fabulous' headband I'm wearing above is from them, and I wore it throughout!
So, here are some bullet points and thoughts for y'all on the race and my experience.
My team, Girls on the Geaux, completed the Rouge-Orleans Ultramarathon Relay yesterday morning!
I ran a total of 21.02 miles over five legs in a little over 24 hours. It was intense.
I have never been so tired and sore in my life.
The race, itself, was challenging, but Mother Nature made it even more challenging. The wind was brutal and consistent up on the levee. At night, the temperature dropped in the low 20's with a windchill of the teens.
Not only was the wind a challenge, but at night, we rode a mountain bike along side a teammate. After you ran, you immediately hopped on the bike and kept the runner behind you in the line-up company as she ran. I can easily say that was the most painful part of the relay. My total mileage on mountain bike was 7.919 miles, and I still feel like I'm sitting on that darn bicycle seat. (OUCH!)
I am still cold to the bone.
Scariest moment of the race for me: Being chased by four dogs for a quarter mile at the beginning of my 7.3-mile Ghost Leg Run. (Ghost Leg, you ask? The leg ran through an abandoned leper colony and is rumored to be haunted. Luckily, I saw no ghosts, and the run was lonely and peaceful after I got away from the hounds chasing me.) The chase itself was terrifying and would have made a terrific video because it would have been hilarious/sad to see me attempting to outrun the dogs. Luckily, I wasn't bitten, and the dogs ran home after the quarter mile. If they hadn't, my teammates would have had to break the rules, take the gravel road that ran alongside the levee and find me because I would not have made it.
Our sponsors' contributions – calf sleeves from 110% Play Harder, trail shoes from Brooks Running, bracelets from GO Sport ID, drink tablets, T-shirts and visors from Nuun, sport drinks from Drink Chia, snack bars from PROBAR, matching skirts from Running Skirts, Icelandic Glacial drinking water from Rex Distributing, as well as support from 1st Choice Real Estate, Barber & Mann, Enterprise and Good Shepherd Christian Academy – seriously helped us through the entire race.
I have never felt so proud crossing a finish line.
And the more I think of it, the more I think I might like to do it again… even though I told everyone "Never again," throughout the night and into my final leg.
Sunday Snippets
Ever wanted to know my thoughts about things? My weekend update, titled Sunday Snippets, is for you and rounds up my thoughts on the week, the events of it, shares random details on my life and more!
…
How was your weekend?
Tell me something good, y'all.