Marathon Training Update: 3 Weeks Out
This past weekend, I ate enough fajitas for two people on Saturday afternoon, enjoyed a few beers (because, carbs!), attended a wedding and then ran 20 miles Sunday afternoon after waiting out morning thunderstorms.
I spoke about it last week, but I've become a bottomless pit.
It's not a bad thing. In fact, Winnie the Pooh pretty much describes concerned how I am about all the eating I've been doing: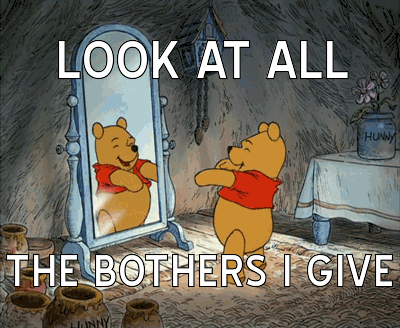 However, I'm about to cut back drastically because my mileage is going down drastically as I taper before my race… and that's a little strange after all this running I've been doing.
Simply put: Running has taken up a large portion of my free time during the last few months. And now that I've got a bit more time on my hands, I have some reflections for y'all about marathon training. Because, you know, when you run, you've got a lot of time to think about all the things, including why you're doing what you're doing, what kind of food sounds good for dinner and how did you ever think this was a good idea? (And I have, y'all… You have no idea.)
The biggest thing I've learned during this process is you think something is impossible until you prove to yourself that it's not.
I thought it was impossible for me to run several sub-10-minute miles in a row… and then I did it. (There may or may not have been gleeful text messages exchanged with a friend including screenshots of my running app, proving I broke two of my three time goals for the year in a singular run.)
I thought it was impossible for me to run 20 miles… and then I did it. (It wasn't pretty, and I needed a little assistance from friends along the way. They perked me up at mile 13 with a combination of Gatorade, a cookie and headache medicine… and I finished the 20-miler stronger than I started.)
And I thought it was impossible for me to feel ready to run a marathon… but I do. I'm still not 100% positive that it will be pretty or that I'll hit my time goal, but you know what? I'm gonna run the race to the best of my ability. Crossing the finish line is more than enough for me, and I know it's going to feel glorious.
This training process has been physical, mental and crazy emotional, and I cannot believe that in less than three weeks, I'll be lining up at the starting line to begin the final leg of this journey.
While I'll still readily admit that I am terrified, I cannot wait.
…
Other running-related posts: That time I decided to train for and actually RUN a half marathon / Sunday Snippets: The Rouge-Orleans Edition / 33 Things Y'all Didn't Know / Sunday Snippets: The Belated Beach Edition / Fitness Goals, Eating Well and a 10-Day Challenge Review / Sunday Snippets: The #glitter200/Ragnar SoCal Recap / Runner Food: An Introduction / Marathon Training Update: 1 Week Out / Race Recap: OKC Memorial Marathon