Sunday Snippets: The FNL Edition
It's the weekend, y'all, and I hope you've been enjoying it as much as we have.
It's been a busy one, that's for sure, but busy is good. We spent Friday evening on a patio with friends, drinking beers and catching up. We got up early to attend a 5K on Saturday, then Winston headed out to the LSU Spring Game while I went to work. We met up in the middle with friends to watch the Final Four. (And can I just say that I am so not happy that Kentucky is moving on? Because I'm not. Boo hiss, Coach Cal.)
And now today? We're finally relaxing and preparing ourselves for the coming week, which includes some cleaning and cooking. Nothing too terribly exciting, but sometimes, it's nice to spend a weekend day at home after going, going, going all week and weekend. Ya know?
So, with that said, here are my weekly snippets for y'all.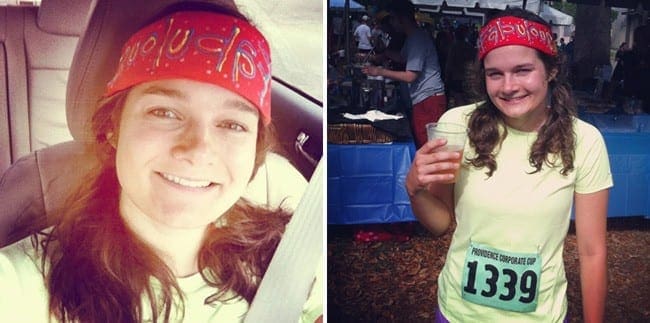 (Left) Before the race, with my Girls on the Run Baton Rouge headband, made specially for my teammates and me for Rouge-Orleans; (Right) After the race with a beer, squinting because the sun was SO BRIGHT.
I ran my first 5K since I was maybe 10 on Saturday. (So, basically, this was my first 5K in 17 YEARS. Goodness.)
It was a lot of fun, though I am now remembering why I don't like to run during the summer when the sun is up. … It was HOT out there, and I definitely drank a beer after the race because I deserved it.
Yes, I run in pigtails. Yes, they are awesome.
This was my first race to run a total sub-10 minute/mile pace throughout. And I felt pretty darn good after considering the heat.

Winston and I started watching Friday Night Lights last Sunday night. So far, we're one season in, and we are showing no signs of stopping until we finish all 76 episodes.
While we are jumping on the bandwagon a little late, late is better than never. Right? (Just agree with me, please.)
However, they did not mention other random Tim Riggins facts, like Tim Riggins: Babysitter; Tim Riggins: Handyman; Tim Riggins: Schoolyard-Bully-Turned-(Semi)-Nice-Guy. Winston and I have laughed about all of these and wonder what else Tim Riggins can do. I suppose we will see in these coming seasons, huh?
Winston likes to point out any unrealistic events that happen during the football games depicted on the show.
I like to point out that the long-sleeved tech tees the guys are wearing during the first few games seem a little… unrealistic. C'mon, folks. This is the South! It doesn't get cold here until at least November… if we're lucky.
Sunday Snippets
Ever wanted to know my thoughts about things? My weekend update, titled Sunday Snippets, is for you and rounds up my thoughts on the week, the events of it, shares random details on my life and more!
…
So, now I'm curious…
Are you a Friday Night Lights fan? What was your favorite season? (But don't tell me your favorite scenes/parts about it because I don't want to be spoiled!)
Also, what are your Sunday Snippets?