Sunday Snippets: The Girls Night Edition
Happy Sunday, y'all! I hope everyone has been having a lovely weekend and taking some time to relax, refuel and prepare for the upcoming week. I know I have, and I have been savoring the slow moments this weekend because life has been a bit crazy recently.
This weekend has been the perfect ending to this ultra-busy week, and the perfect beginning for next week — which will become a beach week on Thursday.
Y'all, I simply cannot wait for that and the relaxation that will inevitably come with it.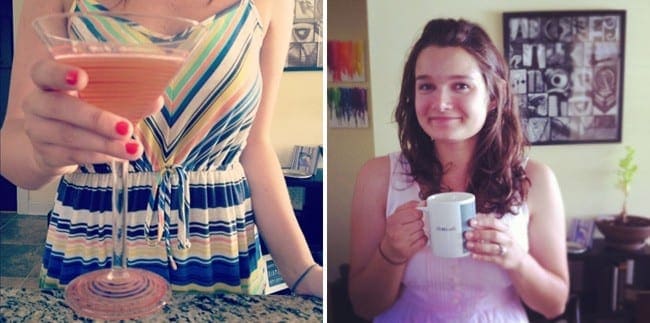 On Friday afternoon, Rivers and I had a recipe-testing afternoon for our new blog, Delightfully Southern. And if you haven't checked it out yet, please do. It's a barrel of fun and a celebration of all things Southern!
We may or may not have made three different alcoholic drinks to test. And we may or may not have had a fabulous time while doing so, even if that coffee drink we made was strong.
I've been having a blast coming up with Southern recipes, crafts, entertainment and fashion posts — something a bit different for me, but something that is super fun, regardless.

Winston was out of town last night. Whenever he is away, Lucy Belle and I spend more time than necessary on the couch, snuggling and watching chick flicks. (Last night's pick was an early-2ooo's movie showcasing the talents of Freddie Prinze Jr. Who remembers that guy?!)
We also spent time in the kitchen – me cooking and her watching/begging for bites of whatever the meal of the moment is.
While in the kitchen this morning, I learned Lucy likes Pop Tarts.
… Please don't ask how I discovered this.

I got a cute, new pair of shoes in celebration of spring. And I've been trying to find excuses to wear them all week. Even though I know I cannot shoot anything in heels because I fall down… a lot.
Our friends had a baby on Easter Sunday! We got to meet him for the first time yesterday, and I think it's safe to say, we both are over the moon about the little guy.
We brought him a stuffed alligator, as well as a cute picture frame, and everyone adored the gator. So much so that we took some crazy photos with it. (Obviously, none of them made it to the blog.)
Sunday Snippets
Ever wanted to know my thoughts about things? My weekend update, titled Sunday Snippets, is for you and rounds up my thoughts on the week, the events of it, shares random details on my life and more!
Those are my snippets for the week.
What are y'alls?