Sunday Snippets: The Cinco de Derby Edition
It's Sunday, y'all, and I hope you have been enjoying your weekend as much as I have!
Honestly. This weekend (and week, in general) has rocked. And it makes me sad that the new week starts up tomorrow.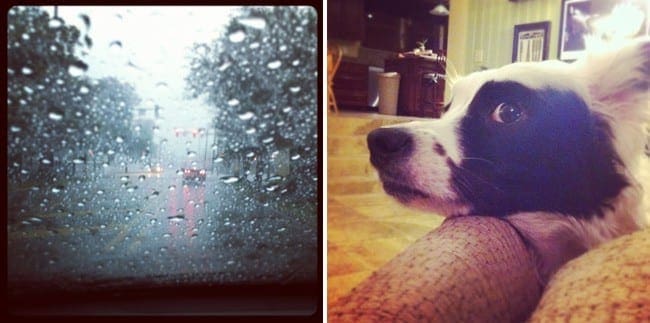 One of my favorite aspects of the spring is the afternoon thunderstorms, especially if I'm in a position to truly enjoy them… which means take a nap.
I was on the road when this week's thunderstorms hit, and while the drive home was a little terrifying, due to flooded road conditions, I loved relaxing at home when I finally made it back, sheltering my sweet, scared puppy from the thunder.
Lucy decided the safest spot for her during the storm was BENEATH MY FEET. I kid y'all not. And yes, it was super awkward for a few moments there.
Winston and I made homemade barbecue chicken pizza one night this week. It was delightful.
I love the random evenings when we debate over what to cook… then just make pizza. Because pizza is always a wonderful decision.
I ate cheesecake for lunch on Friday. It was the creamiest cheesecake I have maybe ever eaten, and I was sad I only had one slice.

We made a TON of guacamole for our friend's Cinco de Derby party. (We may or may not have purchased 10 avocados for the dip and used ALL of them.)
We arrived at the party around 2:15. The guac was all gone by 4, and we got a ton of compliments on its deliciousness.
In celebration of the Derby, I drank Mint Juleps. In celebration of the Derby and Cinco de Mayo, Winston and a few other brave souls drank Mint Julep Margaritas.
While my Derby horse didn't win, we had a fabulous time with our friends. (Obviously, that's my excited face in the above photo.)
Sunday Snippets
Ever wanted to know my thoughts about things? My weekend update, titled Sunday Snippets, is for you and rounds up my thoughts on the week, the events of it, shares random details on my life and more!
…
What about y'all? What did you do yesterday for the Derby and Cinco de Mayo?
What are your Sunday snippets?