33 Things Y'all Didn't Know
I was tagged – twice! – in the 11 Things About Me survey going around the Internet, and I thought it might be fun to share some random facts with y'all, as well as answer some more specific questions from other bloggers.
Want to get to know me more? I share some more fun facts in this post about The Liebster Award!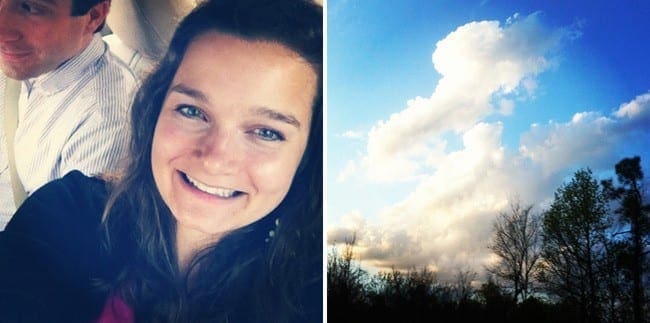 Yes, these photos are TOTALLY RANDOM, but I wanted something to go up here. That's us driving to a birthday dinner celebration last week. And aren't those clouds pretty?
Here are the rules:
You must post these rules.
Each per­son must post 11 things about them­selves on their blog.
Answer the ques­tions the tag­ger set for you in their post and cre­ate 11 new ques­tions for the peo­ple you tag to answer.
You have to choose 11 peo­ple to tag and link them on the post. Go to their page and tell them you have linked him or her.
No tag backs and you legit­i­mately have to tag 11 people.
11 FOOD-ie facts about me
I don't like mushrooms. Their texture weirds me out. And while I'm down with creamed mushroom soup (and other things where the mushrooms are teeny tiny), I don't want to try them whole. Sorry, bud.
I did not drink a sip of alcohol until I was 21-years-old. True story. And one that no one seems to believe.
When I was living and working in Nashville, one of my favorite times of the week (or day, depending on how stressful work felt) was trips to The Peanut Shop. I first fell in love with the dark chocolate-covered almonds, then migrated to the dark chocolate pretzels. Perfection, my friends. And I crave those chocolates so badly now that I don't live anywhere near Nashville.
My perfect evening includes staying in, cooking with my husband, drinking wine and relaxing together on the couch with our pup.
I am allergic to bananas.
I am also apparently allergic to pineapples. I discovered this while testing out a recipe for a post-run refresher, and it was not pretty. My tongue was swollen.
My sister shares my food allergies, but she has A LOT more. Whenever I'm cooking, I think about dishes I can make for her since she's allergic to lots of fruits and veggies.
Before I lived in Louisiana, I could not take any heat in my food. Now? I enjoy a little heat, though my Louisiana friends think my pathetic tolerance of spice is "cute."
The first truly spicy dish I ate down here was cooked by one of my best friend's dads during Christmas break of my freshman year. It was red fish, topped with a crab, crawfish and Tabasco mixture. When he was cooking, Em reminded her dad I was "not from around here," and he laughed, telling us both that my pain receptors would be notified when I ate the meal and that I'd have a nice buzz after that. Not surprisingly, he was correct, and I enjoyed the dish, though my mouth was ON FIRE.
If I can't cook, nine times out of ten, I'll want to get some chicken schwarma, pitas and hummus.
I worked at summer camps four summers during my late high school/early collegiate years as a high ropes course instructor, then a counselor. In those years, I refused to eat scrambled eggs – or any egg – because of the way I saw them cooked and stored and re-stored there.
And now Erin's questions:
Where was your best vacation? It doesn't really count as a vacation since I was studying abroad, but Italy is this for me. My entire time in that country during the summer I studied abroad in Cortona was magical, and I cannot wait to go back.
Do you have a lucky #? What is it? If not, why? I don't really believe in lucky numbers, but the two numbers I wore in high school sports – 6 and 15 – for my volleyball and basketball teams, respectively, have become those numbers for me.
What is one job you'd never want to do? Well, I was a basketball referee in high school, and I can soundly say that I never want to do that again.
Favorite household chore? Least favorite? As crazy as it sounds, my favorite household chore is becoming washing the dishes, solely because I love the look and feel of an empty sink. Cook much? I think so. My least favorite is vacuuming. I'm allergic to dust, so I have an allergy attack whenever I have to vacuum.
Whose style do you admire most, and why? I'm not stylish, by any means, but I love how classic Audrey Hepburn's look was. I'd like to be able to have that kind of style.
Do you fall asleep with the music or tv on (or anything else?) I'm a fan of watching TV as I fall asleep. My husband is not. So about half the time, we'll watch TV and the other half, nothing.
Favorite fast food meal? Honestly? I don't really ever eat fast food anymore, so I can't even name one. Sad face.
If you could have any animal as a pet (especially the kind that aren't usually pets though), what would you choose? I realize dragons don't exist, but since I've been reading Game of Thrones, I think a pet dragon would be pretty cool.
If you won 100 Million in the lottery, what are the first 5 things you would buy/pay off? 1. A home!; 2. Pay off any remaining student loans for me and my husband; 3. Take our families on a vacation; 4. Put everything else in savings; … And I can't think of a fifth one.
Do you like receiving gifts? What was the best present you've ever gotten? I think everyone likes receiving presents. 😉 And I'm having a hard time deciding my favorite because I've gotten so many wonderful and personal presents…
Can you keep plants alive? Yes! I am beyond excited when we have a house because I'll get to plant my ridiculous/awesome garden in our backyard. Once the garden is in the ground, we'll all have to pray Lucy doesn't rip all the plants out of the ground like she did at my mom's house on the week of my wedding…
And now Katie's questions:
What is your long run "must have" item? Always need to have my iPhone for music/GPS tracking, as well as some strawberry Clif Shot Bloks.
What race is at the very top of your bucket list? I don't have a race bucket list yet, and this question has me thinking that I need to make one.
If you were not into running, what other sport might you be interested in? I think I would make a really good swimmer. Granted, that would mean I need to find a pool to swim in, as well as re-learn everything about swimming and strokes I used to know so I don't feel like I'm drowning, but I think it would be fun and could remind me of my childhood. I spent every day at the pool during summer vacation.
What is the highest mileage week you have ever had? That's a good question. According to Daily Mile (which I have only been on since last fall), it was the week after Rouge-Orleans. I ran 25 miles that week.
What is one thing about you that if you told someone, they would look at you like you were nuts? I usually get this reaction when I tell people I ran the Rouge-Orleans. I have also gotten this reaction when I've admitted to a few non-running folks that I'd like to do a marathon.
What is one thing that scares the living daylights out of you? I am terrified of snakes and jellyfish.
What is your favorite article of clothing? I feel like my favorite clothing changes with my mood. Currently, I'm loving a pair of J. Crew shorts that I purchased last summer once it got too hot to be wearing jeans. … Feeling like I'm going to have to start wearing all shorts all the time pretty soon.
Do you have any tattoos? Nope.
What is the grossest thing you have ever eaten? Probably goat brain? My friends didn't tell me what it was until it was in my mouth. This was on a mission trip to Mexico, and I learned my lesson then – always ask what you're about to consume.
As a runner, do you have any rituals? Like a pre-race meal or race-day system? My pre-race meal has always homemade pizza, usually with lots of lean protein, some veggies and a little cheese. And always with my homemade pizza dough and simple red sauce. And race-day morning, I always eat a bowl of warm oatmeal with fresh berries and cinnamon.
What is your lucky number? 6 or 15.
My questions for y'all are:
Are you a pancakes or waffles kind of person?
If you got to choose, what would you eat for your last meal?
What's your favorite restaurant in your city, and why?
Do you have any food traditions in your family? If so, what are they?
Are you a movie snack smuggler, or do you get your movie snacks from the popcorn stand? What do you bring/purchase?
What's your favorite recipe?
Do you consider yourself a cook or a baker?
If you could go anywhere in the world tomorrow and money wasn't an issue, where would you go?
What is your favorite television show of all time?
What is the most exciting thing you have planned for your summer so far?
Do you have a nickname? What is it, and who gave it to you?
Happy Friday, y'all! Enjoy your St. Patty's Day weekend!
…
Other running-related posts: That time I decided to train for and actually RUN a half marathon / Sunday Snippets: The Rouge-Orleans Edition / Sunday Snippets: The Belated Beach Edition / Fitness Goals, Eating Well and a 10-Day Challenge Review / Sunday Snippets: The #glitter200/Ragnar SoCal Recap / Runner Food: An Introduction / Marathon Training Update: 3 Weeks Out / Marathon Training Update: 1 Week Out / Race Recap: OKC Memorial Marathon