Race Recap: OKC Memorial Marathon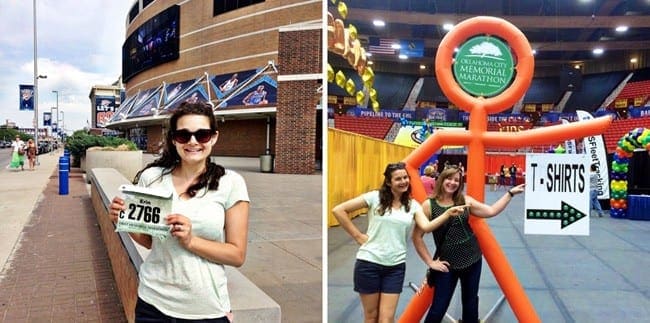 A little more than a week ago, I ran a marathon.
A marathon.
Let's allow that a moment to sink in… because I never thought I'd be one of those people who ever had the desire to run that far, let alone train for several months on end to be able to complete the race.
But I did. And it was as painful, challenging, stressful and amazing as you'd imagine.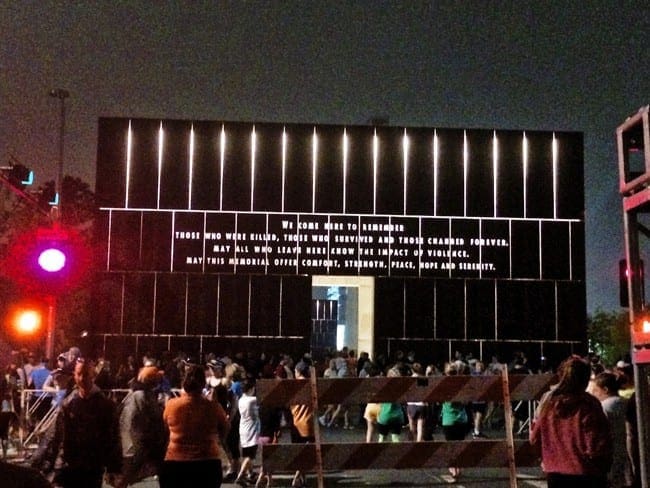 One of the reasons I enjoy running so much is that it allows me to spend time in my own head comfortably, working through things, and also gives me the opportunity to overcome obstacles that I never imagined I'd have the strength to triumph over.
It's not always fun, but it makes me feel strong, and that's what this marathon was about: feeling strong, doing something I never imagined was even possible for me to complete and overcoming a ton of fear and doubt along the way.
I had plans for this marathon and how it was going to be. And, unsurprisingly, it didn't go as planned.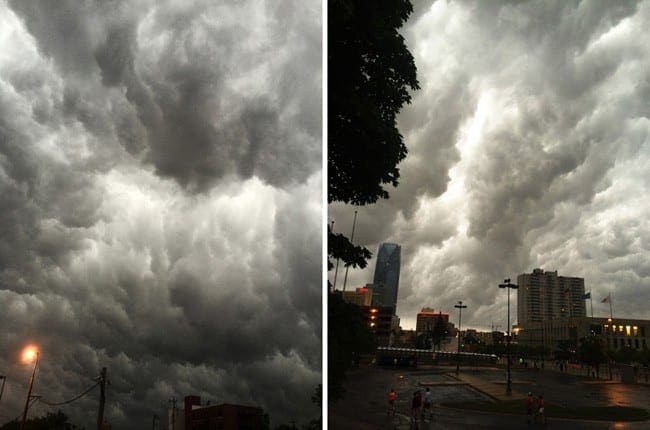 I checked the weather in Oklahoma City religiously during the week leading up to the Oklahoma City Memorial Marathon, terrified of a tornado chasing me toward the finish line, but when I crawled out of bed at 4 a.m. the morning of, there was only a 20% chance of precipitation. At 10 a.m., a wind advisory would be in effect for the rest of the day.
"Motivation," I told myself as I ate a bowl of oatmeal. "I'll be past the lake by 10 a.m. since the marathon starts at 6:30, and while the wind won't be fun, I trained in wind advisories. I trained in heat. I can do this."
All seemed fine and dandy… until the most daunting clouds I've ever seen rolled in, drenching runners and sending us skittering to shelter as storms moved through. Race officials delayed the race for 30 minutes… then an additional hour when conditions got worse.
I found shelter in an underground parking garage, and along with hundreds of other runners, I waited. I made friends, chatting with an older man named Papa Steve, who was so nice and kept my mind off the fact that my marathon morning was not going as planned. He offered several amazing pieces of advice for surviving my first marathon, including tossing my time goal out the window because "you should simply focus on finishing." I told him that while I had a time in mind, my focus was to finish. However, I knew I could finish the race in the allotted time I'd given myself.
… Famous last words, y'all.
(And Steve, if you're reading this? You were absolutely right.)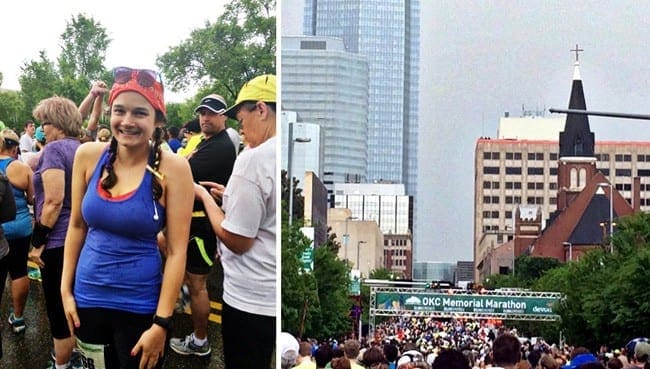 At 8 a.m., we were given the go-ahead to come out of hiding. We learned that the elites would start the race at 8:15 a.m.
I didn't cross the start until 8:30, and then I was off, excited and feeling good to finally be running after nearly a two hour delay. I focused on my breathing and staying at a comfortable pace, wanting to conserve my energy for the second half because, as my coach said, "The race doesn't start until halfway."
I passed my cheering section, including Winston, my little sister (who drove in from Memphis to surprise me the day before) and our Dallas friends, Rachel and Josh, just after mile 8, and it was such an encouragement to see them, hear their cheers and the sparkly, amazing signs Rachel made. I stopped for some water, chatted for a second, then continued on my way. I'd see them again at mile 15.
At the halfway point, I was feeling good and keeping a steady pace that I could easily pick up when the time was right. I was on pace to complete the race in my goal time, and I felt strong, despite the rising heat and humidity.
But everything went to hell in a handbasket just after mile 14, when we made the hairpin turn into a headwind that would last for two miles as runners ran alongside a lake. Josh ran with me from 15 to 16, though we did quite a bit more speed walking than running because I wanted to conserve my energy and figured that fighting the wind with this many miles to go was a bad idea.
It was, in fact, a bad idea… but conditions continued to worsen. The wind, combined with the rising humidity and heat, was killer. By mile 17, I had cotton mouth. By mile 20, I could hardly run because my stomach was churning and even though I'd made some lovely friends from Tulsa who were encouraging, I couldn't keep up the pace because I was afraid I was going to puke.
When I saw my cheering section around mile 21, I found a port-a-potty and tried unsuccessfully to go to the bathroom. There was no fluid left in my body. Understandably, this terrified me, and I'd never experienced anything like this on a training run before. Now, looking back, I know I was dehydrated and thinking about it now is still horrifying because I know some bad things could have happened to me. I'm thankful they didn't and that I recognized something was wrong and didn't push myself over the edge.
Chatting with my cheering section, I told them I was continuing… but I knew that until my mouth no longer felt like a desert and my stomach stopped roiling, I wouldn't be able to run very fast or far, so I made the decision to walk until I felt like I could run.
Rachel joined me, and it was a good thing she did because she kept me from beating myself up for the last five miles. We even made a friend on the course, who was also feeling less-than-stellar. David, who'd run the race a few times, told us this one was the most brutal he'd experienced, and his brother joined our walking brigade shortly after mile 23.
Rachel kept reminding me that everything was stacked against the runners from early this morning when the first weather delay happened, and it was incredible that we were still in the race, making our way toward the finish. We were so strong, she kept saying, and I kept brushing it off… but now that I look back, it brings a tear to my eye because you need both mental and physical strength to complete a marathon, and those last miles were all mental. And while I don't normally think I'm a strong person, I had the strength to continue moving forward after everything went wrong.
There was no quitting for me. Sure, everything went the opposite of how I'd imagined it would go, and sure, it was hot and muggy and horribly windy, but I was completing the damn race, even if I had to crawl across that finish line.
Because let's be real: The point of doing a marathon is to finish. Sure, in an ideal world, we could finish in the amount of time we believe we can do it in, but we don't live in an ideal world, and a lot of the time, races don't go as planned.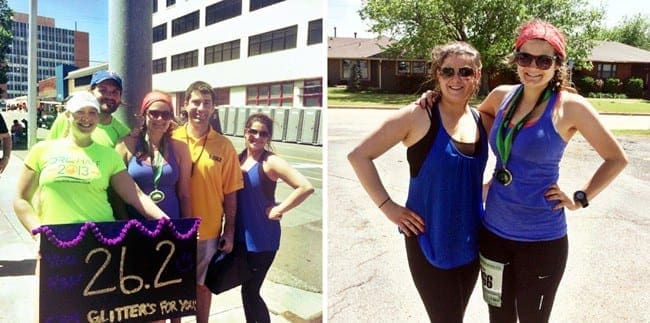 I informed our group that as soon as we passed my cheering section just after 25.5 and rounded the corner, I would be running to the finish. I'd drank a lot of water in those last miles, and it seemed to be helping. I knew I could make it, and while I was sure I wasn't going to be sprinting at this point, I knew I would be running across the finish line shortly, and that's all I needed.
Rachel and David's brother ran with us for a little ways, then cheered and sent us on our way. David and I ran together, striding toward the finish. I heard someone yell my name just before the line, and I turned to see my sister had sprinted from their cheering spot to the fence, and she was snapping photos as I powered ahead, crossing the line with my hands above my head and an exhausted grin on my face.
I don't know if crossing a finish line has ever felt so good.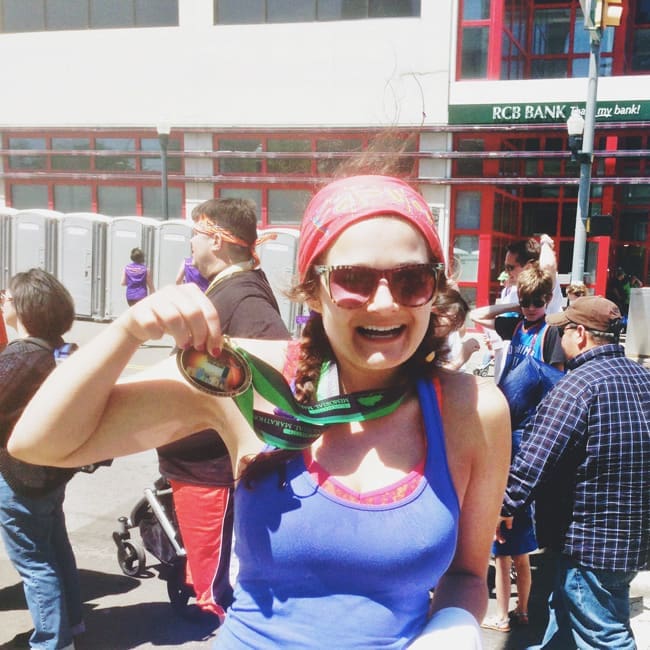 I completed my first marathon. Surprisingly, there were no tears involved. Part of me suspects that even if I could have mustered a tear, I was too exhausted to do so, and another part of me wonders if I had enough fluids in my body to even produce a tear.
It wasn't pretty, and it wasn't easy. It wasn't something I could have done without the amazing people behind me, who cheered me on from near and far and who encouraged me throughout the entire training process and race day. It's truly incredible to know you've got so many people in your corner, and I feel so lucky to have so many of these people in my life.
Another thing I love about running is that it forces me to open my eyes and take note.
The greatest takeaway I had from the OKC Memorial Marathon was that running is quite a bit like life. The odds can be stacked up in your favor or against you. It can knock you down. It can make you cry. It isn't always fun or easy. But you and you alone have the choice of whether you continue moving forward or throw in the towel.
I made the conscious decision to put one foot in front of the other and move toward that finish line, and I'm so happy I did. The race didn't go as planned, the weather beat me up, as did the delay, my body reacted in ways to the heat and humidity that I'd never experienced before, and it was more mentally grueling than I imagined it could be, but I did it.
And that, my friends, is all that matters.
…
Other running-related posts: That time I decided to train for and actually RUN a half marathon / Sunday Snippets: The Rouge-Orleans Edition / 33 Things Y'all Didn't Know / Sunday Snippets: The Belated Beach Edition / Fitness Goals, Eating Well and a 10-Day Challenge Review / Sunday Snippets: The #glitter200/Ragnar SoCal Recap / Runner Food: An Introduction / Marathon Training Update: 3 Weeks Out / Marathon Training Update: 1 Week Out