12 Patriotic Red, White and Blue Appetizers
Hosting folks and need inspiration this summer? Bringing an app to the party for July 4th? Look no farther than these 12 Patriotic Red, White and Blue Appetizers! These colorful and flavorful dishes, which feature red, white or blue (or a combination of the three colors) are perfect for any gathering. Whether you're looking for a crostini, a veggie or a dip, there is something for everyone in these 12 Patriotic Red, White and Blue Appetizers!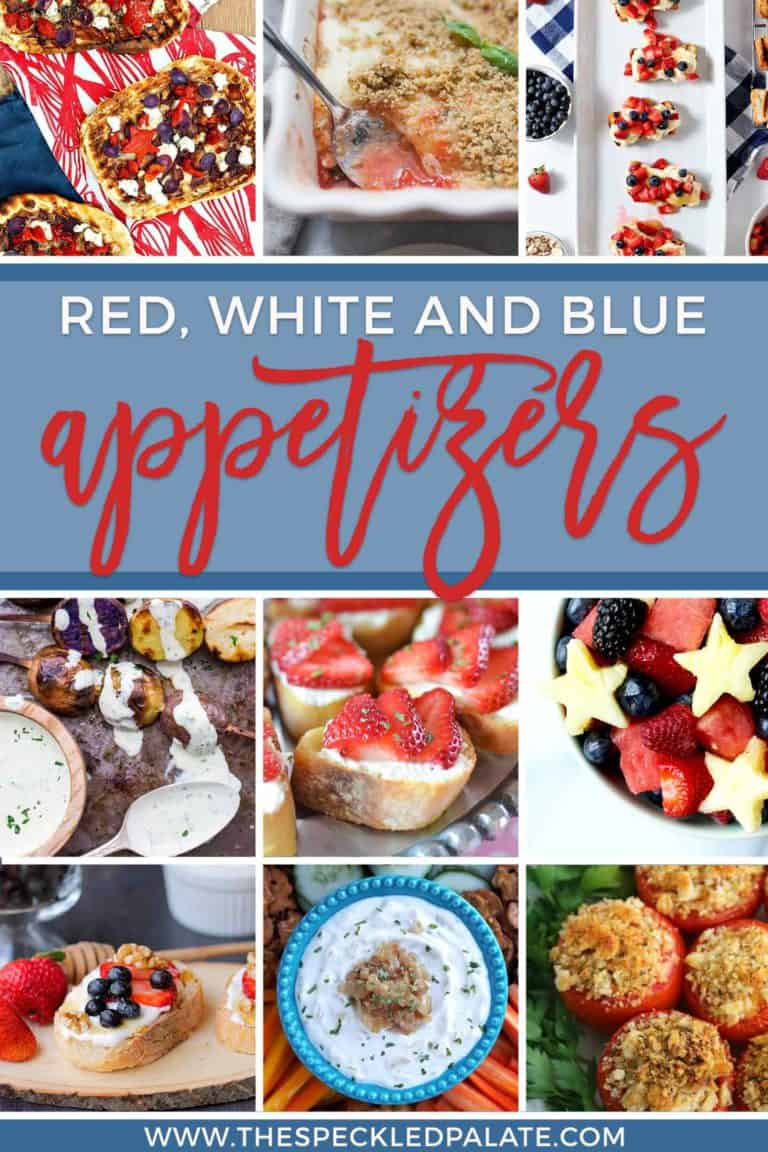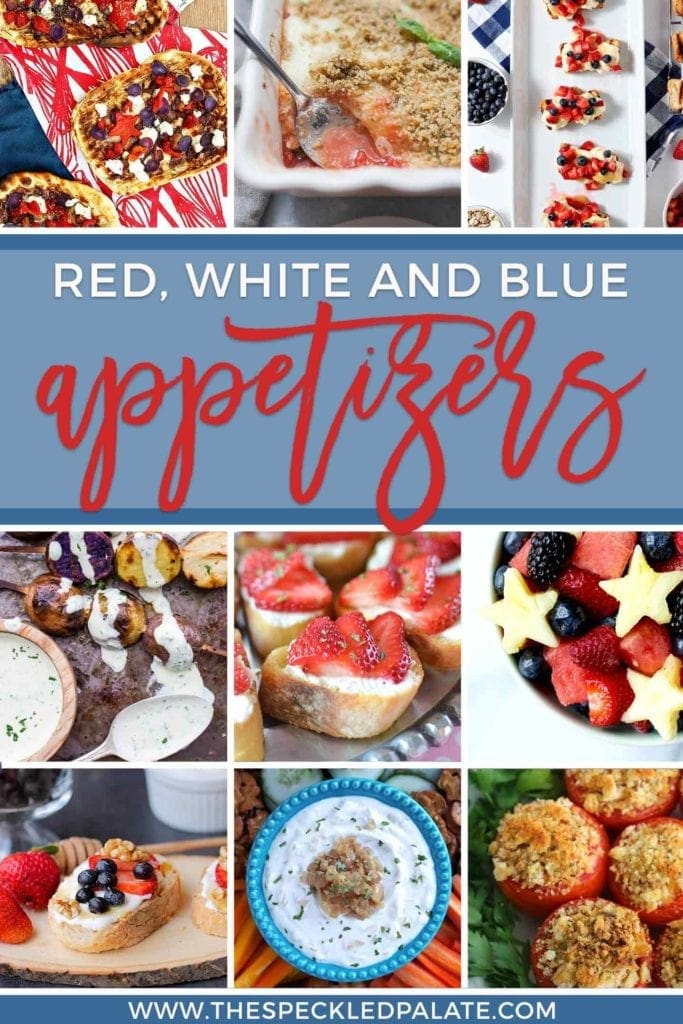 July 4th is next week, and I'm planning ahead!
In past years, I've written several recipe roundups, including these 40 recipes that are perfect for the Fourth, this patriotic food inspiration, these July 4th dishes and this summer recipe goodness, that I thought would be wonderful for the red, white and blue holiday. However, I've yet to write one centering around the COLOR of food.
Oh, yes.
If you're looking for some patriotic-looking apps, I've got you covered with these Red, White and Blue Appetizers.
You're welcome, Internet.
COLORFUL Red, White and Blue Appetizers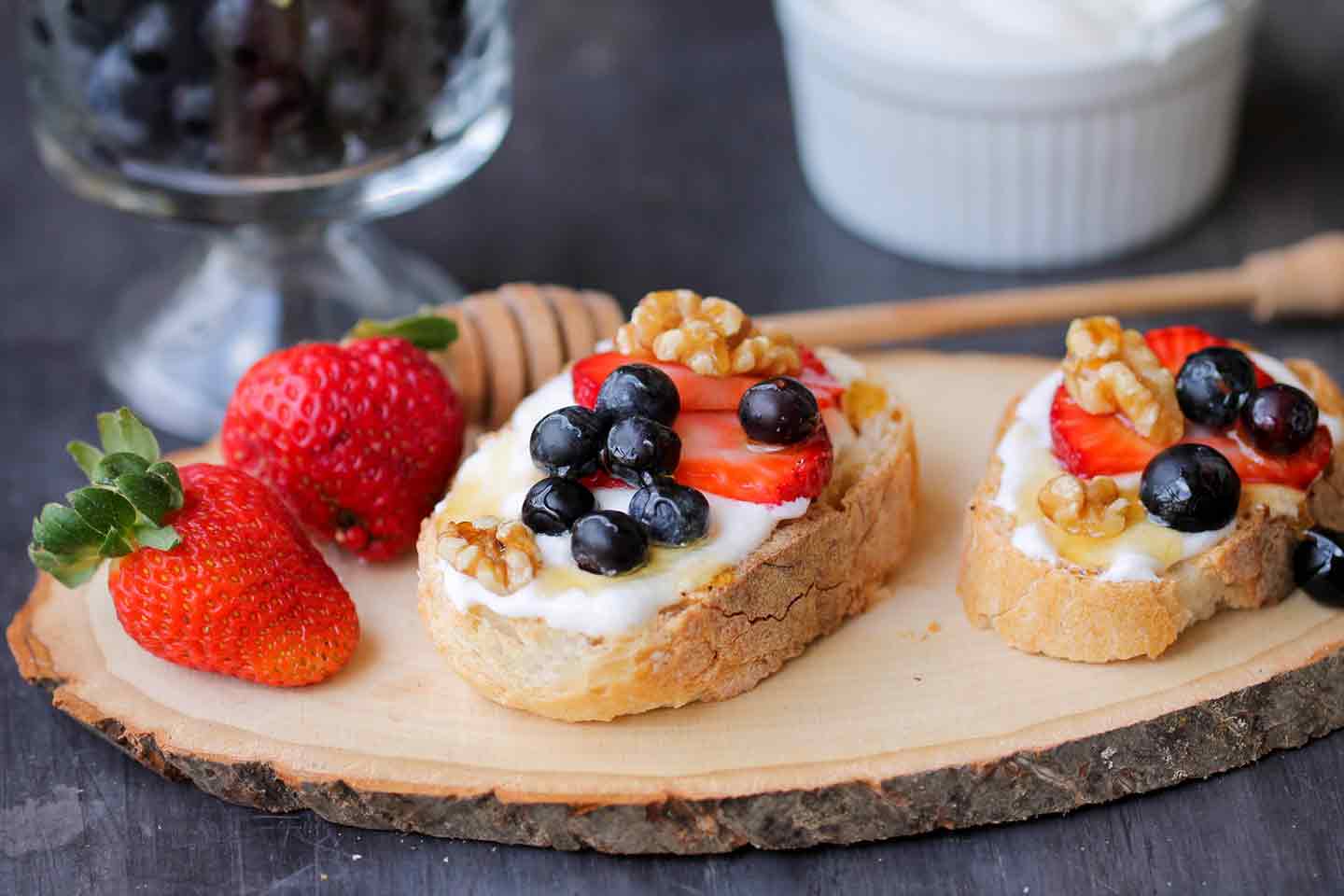 First up is… BERRY CROSTINI! It's a thing, and the bruschetta lover that lives inside me is rejoicing at this goodness! My pal, Food, Pleasure and Health brings Whipped Cottage Cheese with Berries Crostini to the table. Isn't it gorgeous?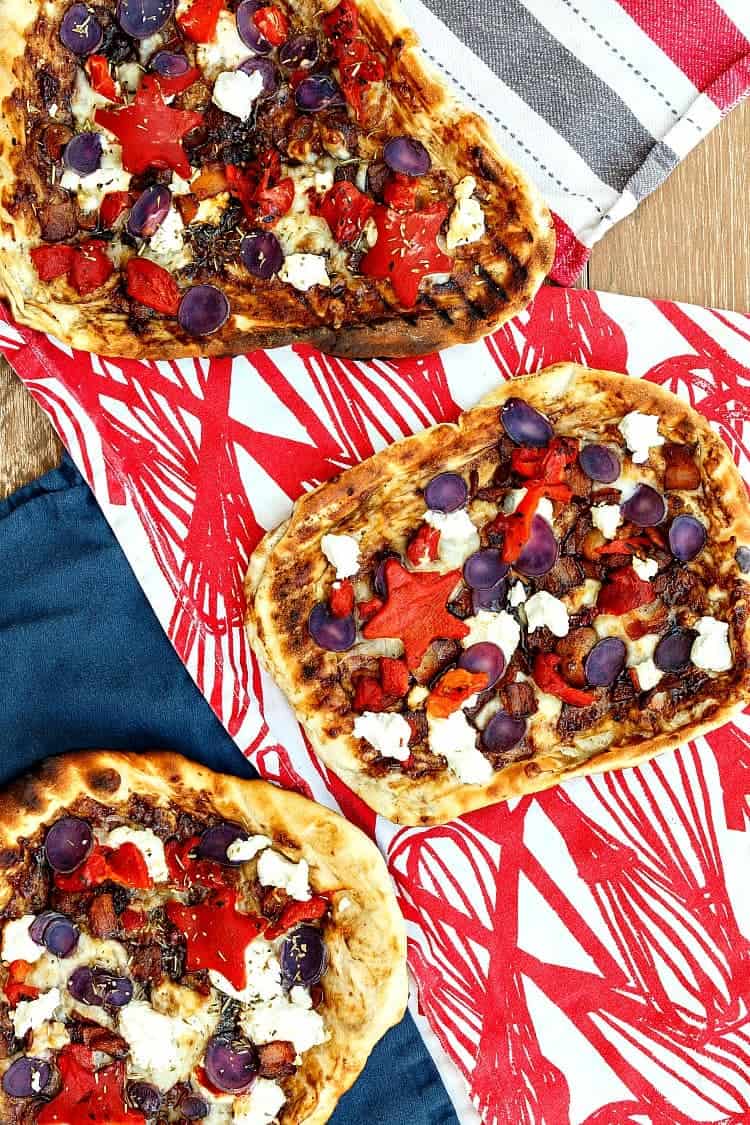 Red, white and blue pizza? Oh yeah! Pastry Chef Online makes colorful Grilled Patriotic Pizza for the whole family. Turn it into an appetizer by making smaller dough rounds and letting everyone build their own.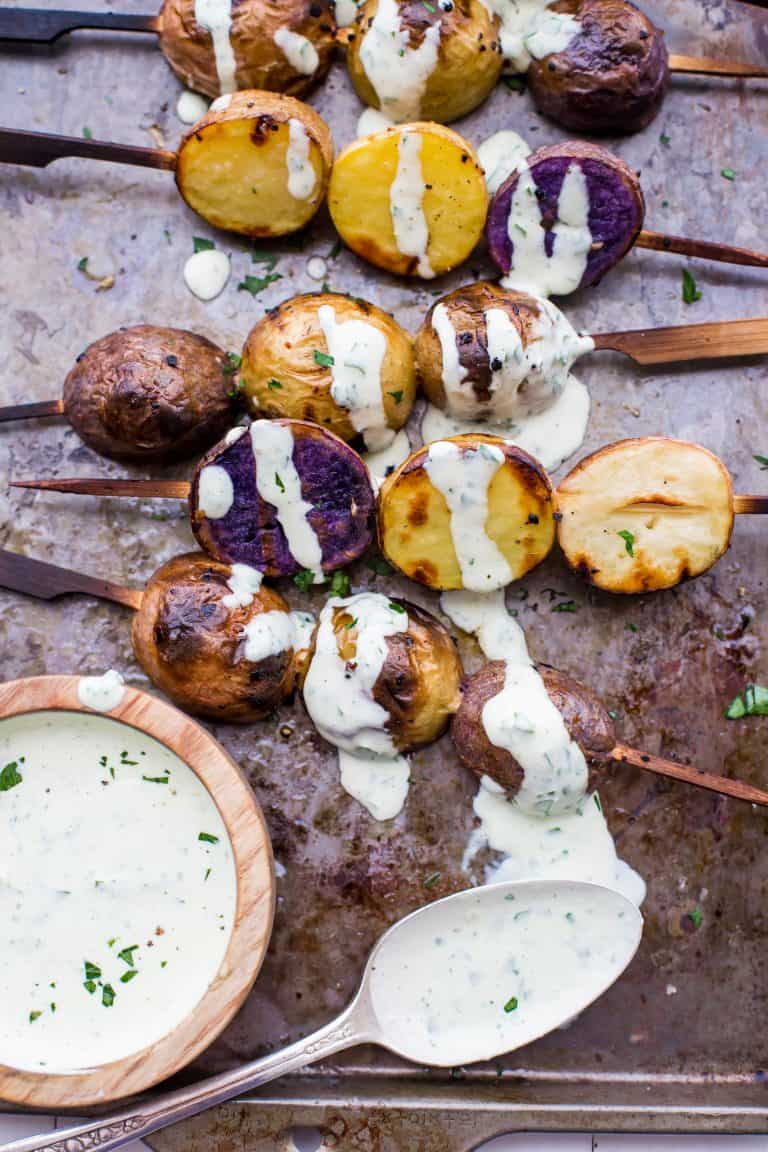 Little potatoes… on a stick? These Red, White and Blue Potato Skewers from 40 Aprons are wonderful because they're perfect walking around and interacting in the summertime sun and enjoying the company of friends.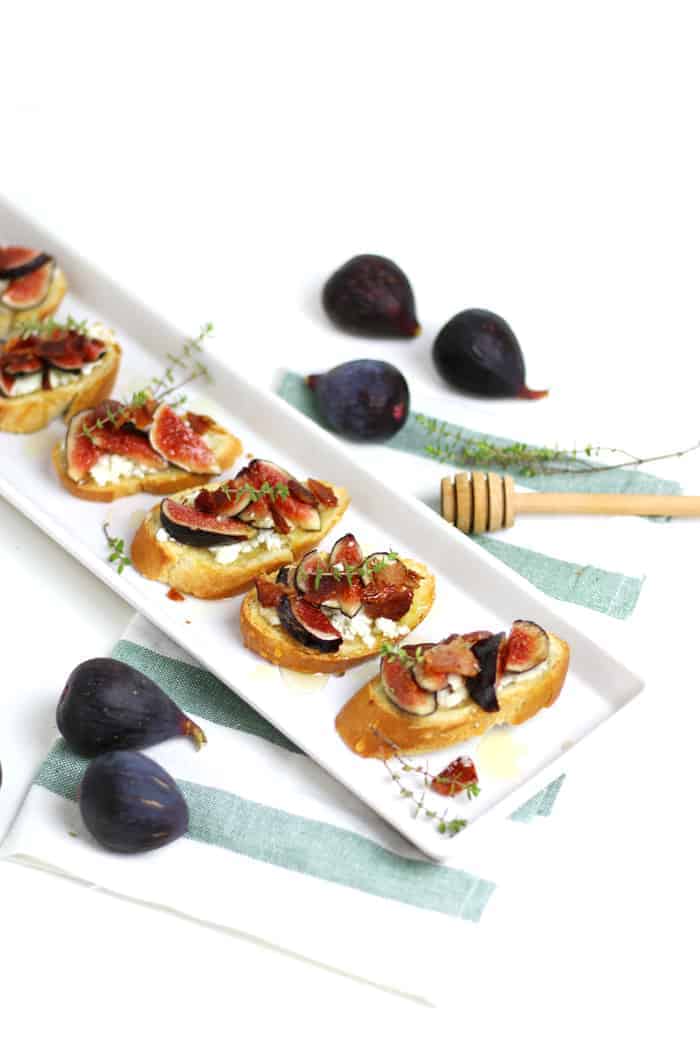 These Fig, Goat Cheese, Bacon and Honey Crostini from Feast + West are a little more subtle on the color, but those figs are a gorgeous blue color, and this combination of flavors just makes me oh-so-happy.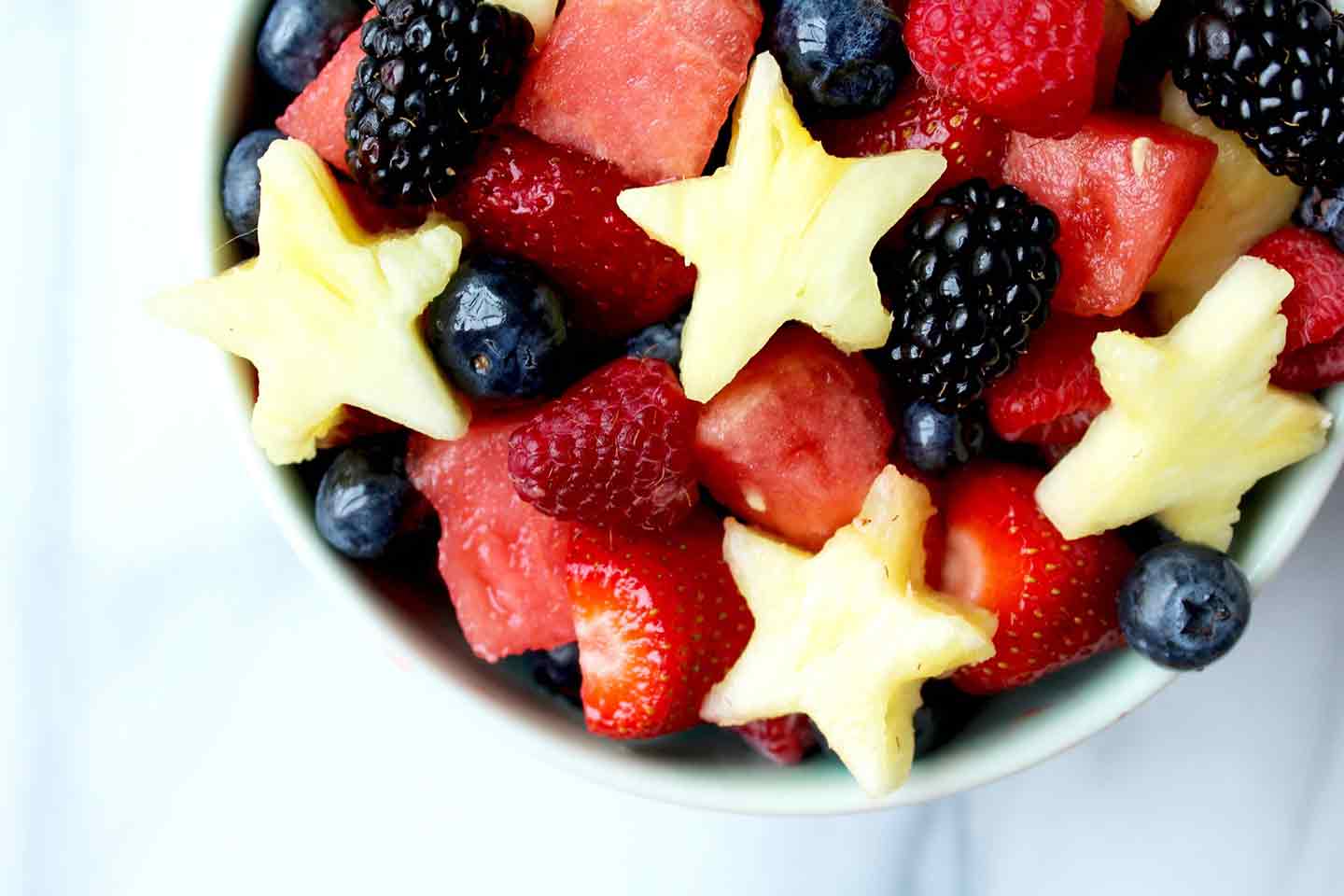 It wouldn't be summertime without fruit salad! I'm absolutely loving Off the Eaten Path's take on this seasonal classic: Red, White and Blue Fruit Salad.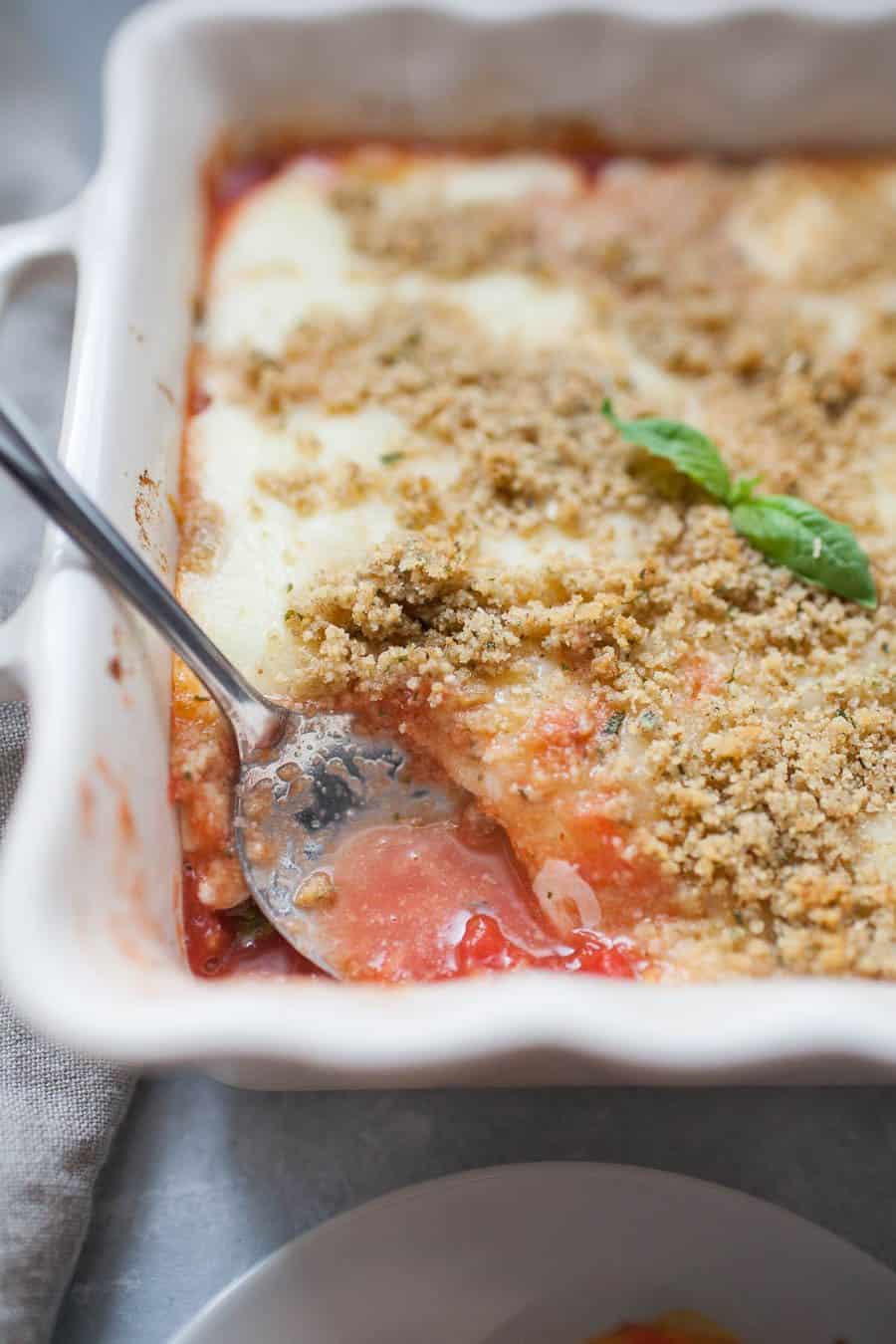 Looking for a warm appetizer this July 4th? A Joyfully Mad Kitchen's Baked Caprese Dip is absolutely delightful, ooey, gooey and celebrates the summertime goodness of tomatoes (paired with cheeeeeese.) What's not to love?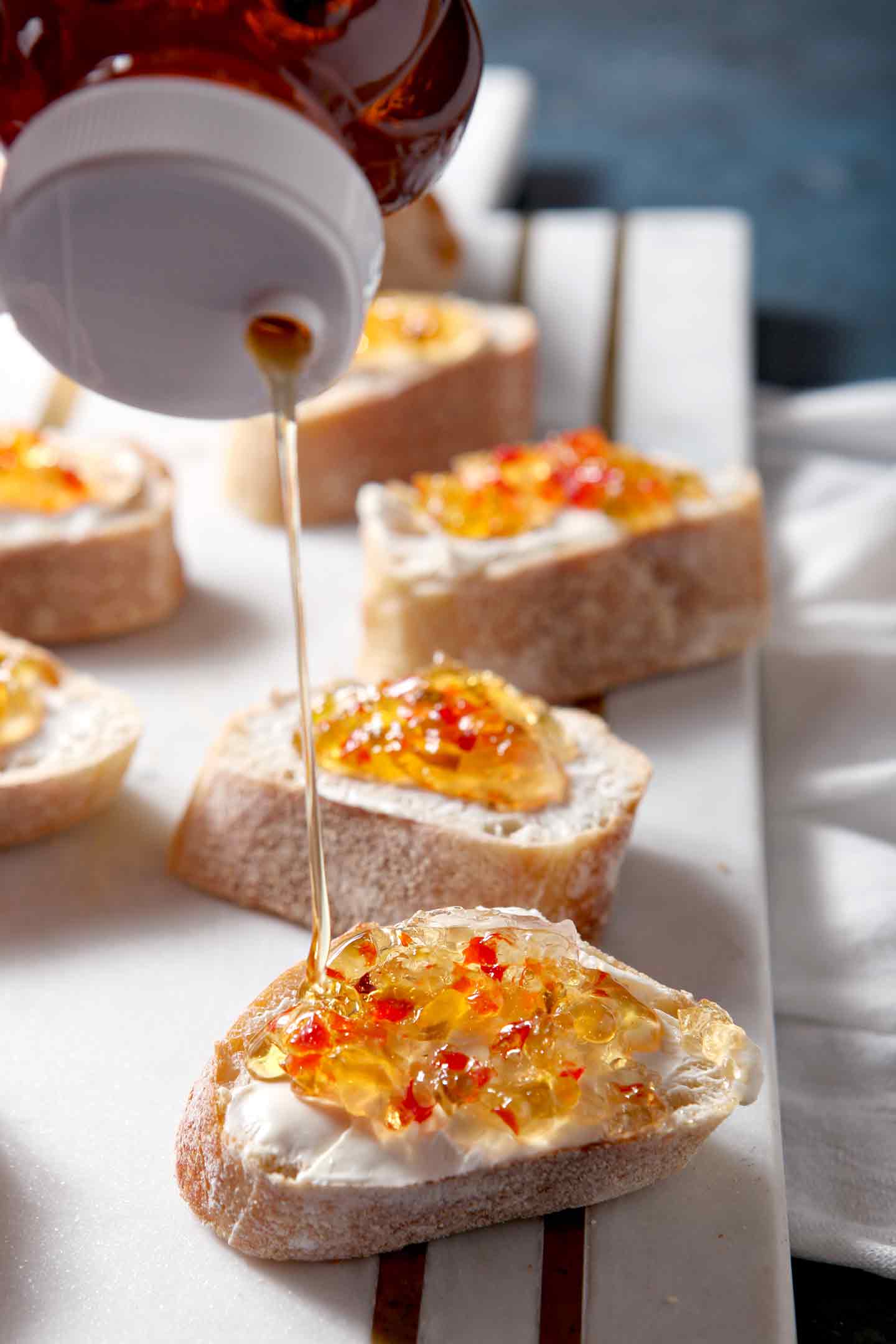 My Pepper Jelly Cream Cheese Bruschetta is perfect for a party because it takes 5 minutes or less to put together. All you gotta do is schmear the cream cheese onto the toasty bread, top it with pepper jelly, then drizzle on the honey. Oh yeah!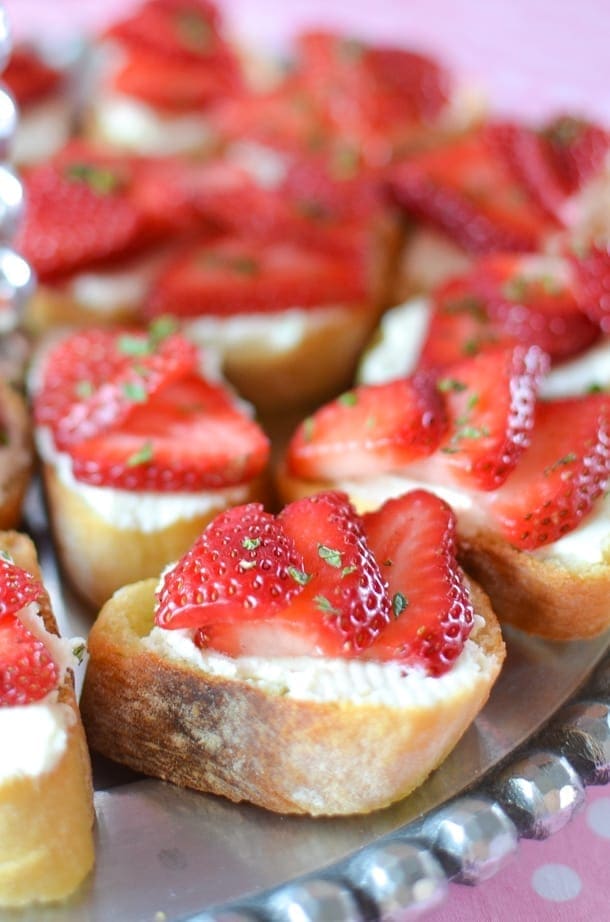 Strawberries and mascarpone… on toasty bread? Simply Whisked is bringing the sweetness to our appetizer game with her delectable Strawberry Mascarpone Crostini.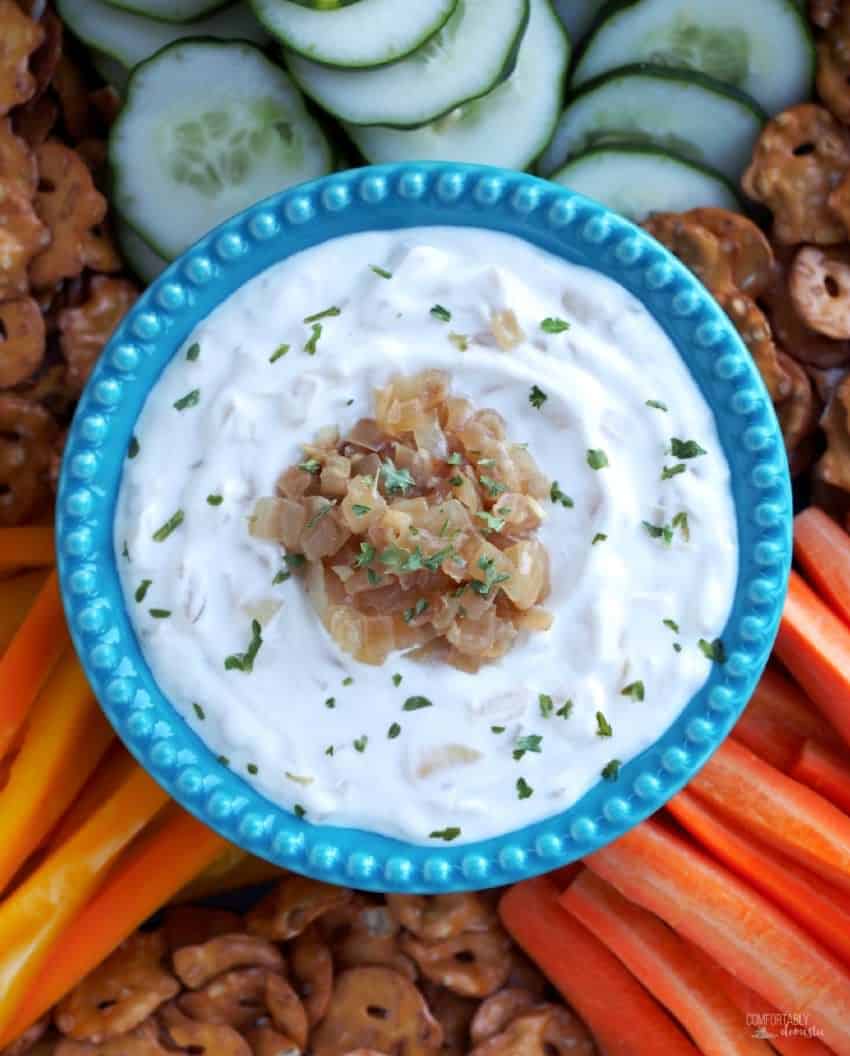 If you're looking for an all-white appetizer, Comfortably Domestic has got ya covered with her Skinny French Onion Dip. Also, who doesn't love French Onion Dip? Especially when it's homemade!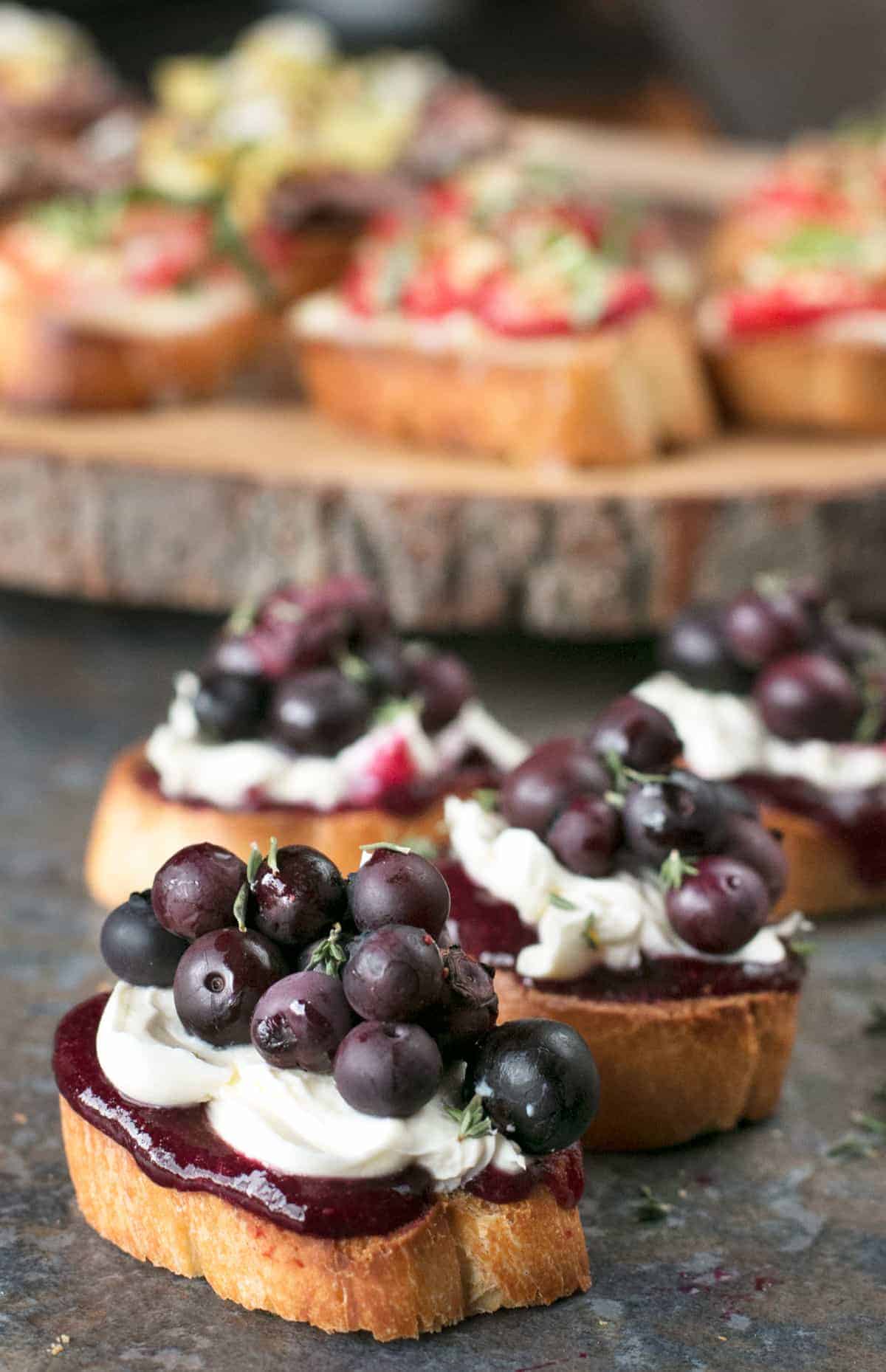 Another in the blue-and-white category, Cake 'n Knife's Blueberry Thyme Mascarpone Crostini is all kinds of stunning. Also, this flavor combination is just perfect for a hot summer's day!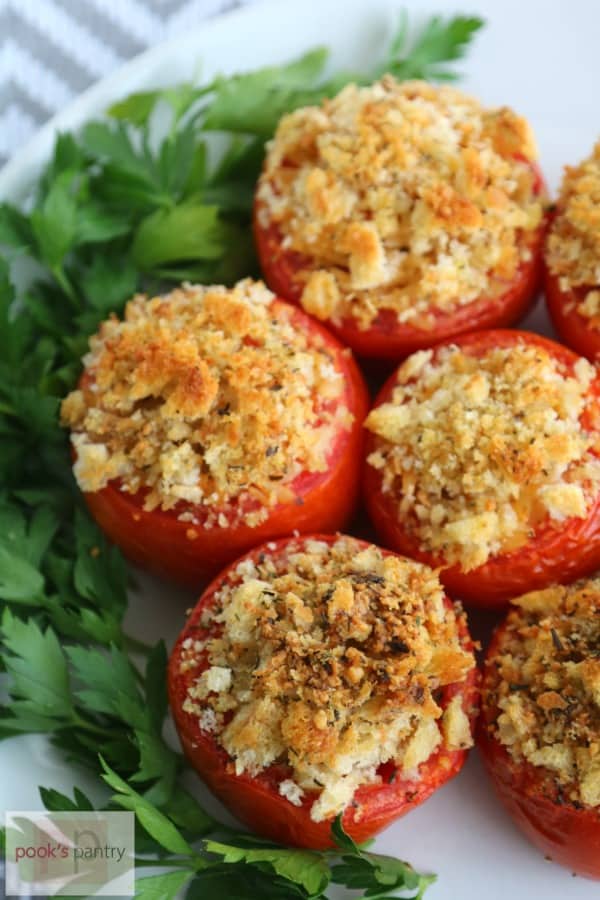 You can't have summertime appetizers without TOMATOES! And Pook's Pantry's Stuffed Summer Tomatoes would make a great finger food for guests on any patriotic holiday. Between their color and the flavors of the stuffing, they're hard to beat.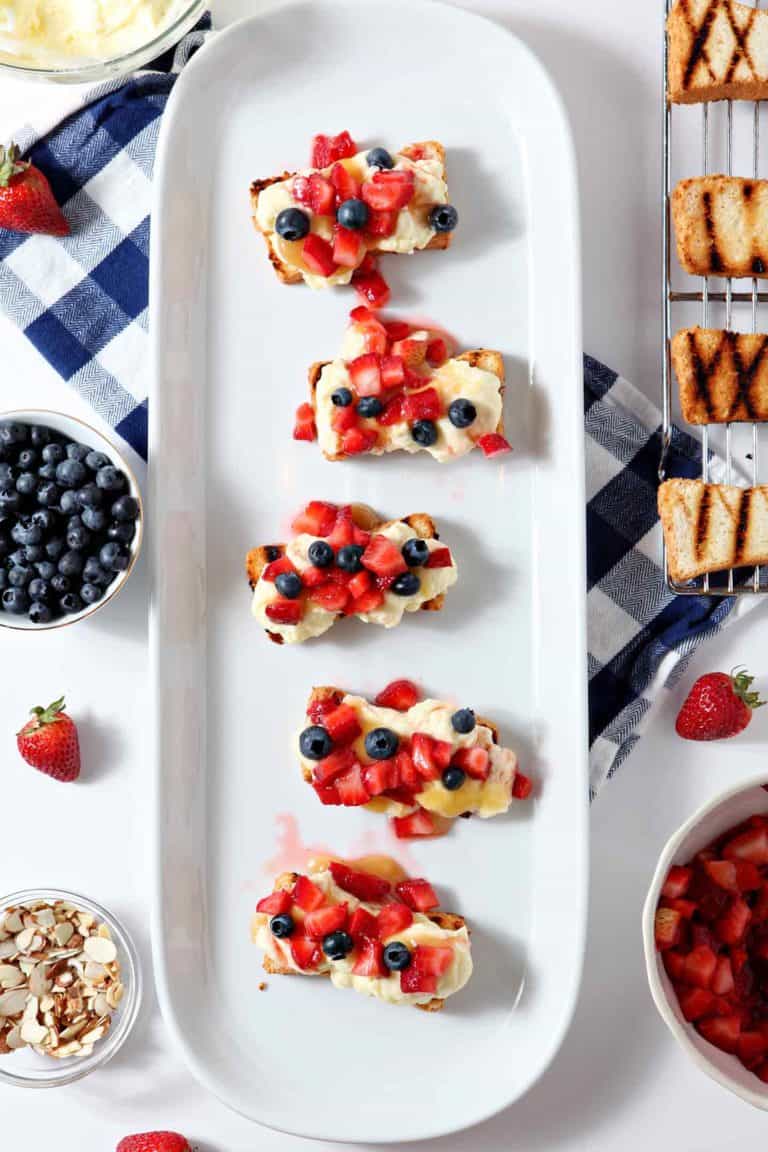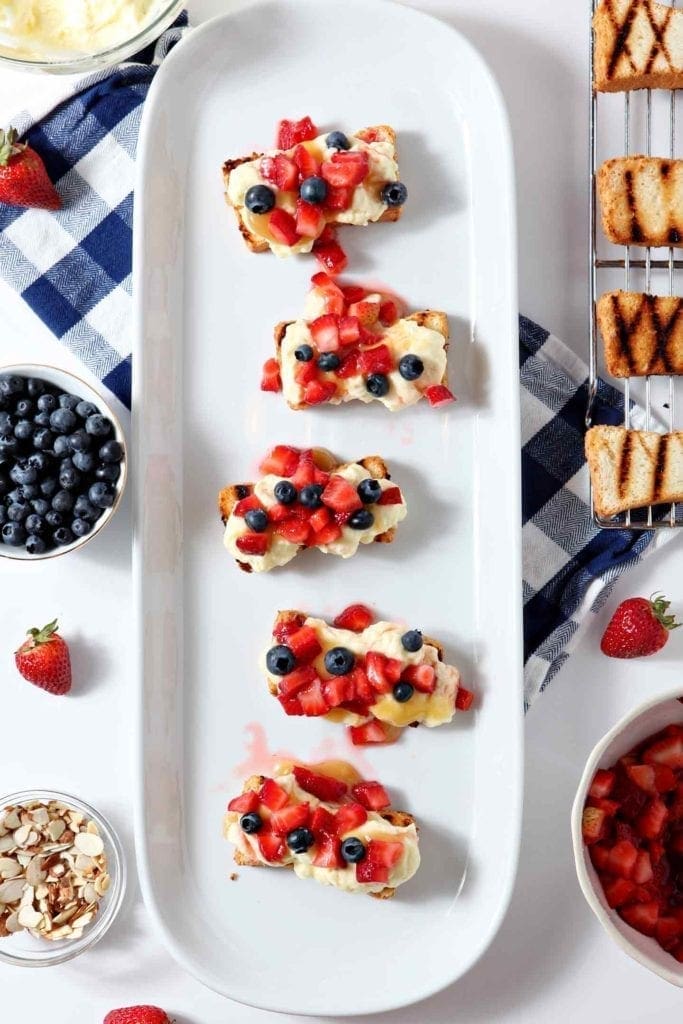 Finally, we're gonna finish on a sweeter note. While Patriotic Strawberry Bruschetta might technically be a dessert, it would also make a delicious sweet to nibble as a party gets started, especially since it highlights red, white and blue.
What appetizers are you planning to make for the Fourth?