Peppermint Schnapps Hot Chocolate
This Peppermint Patty Cocktail recipe first appeared on Savory Experiments, where I am a contributor.
Looking for a delicious warm drink to serve this winter? The Peppermint Patty Cocktail is it! Calling for just three ingredients, this hot chocolate cocktail is minty, sweet and perfect for all occasions.
Love peppermint drinks? You've got to try Peppermint White Russian and White Christmas Martini!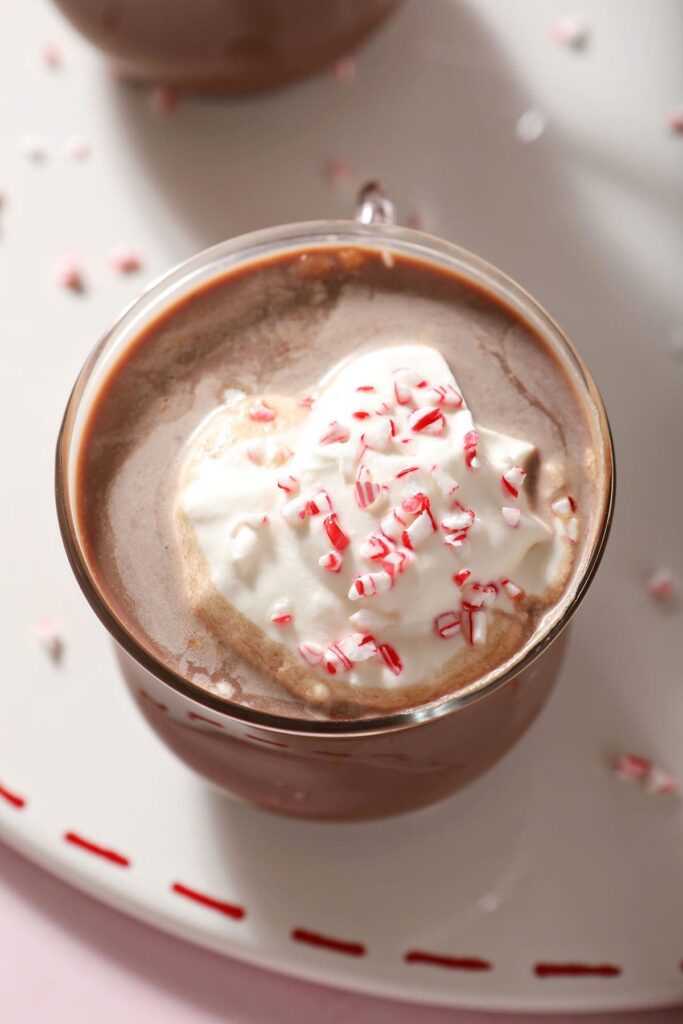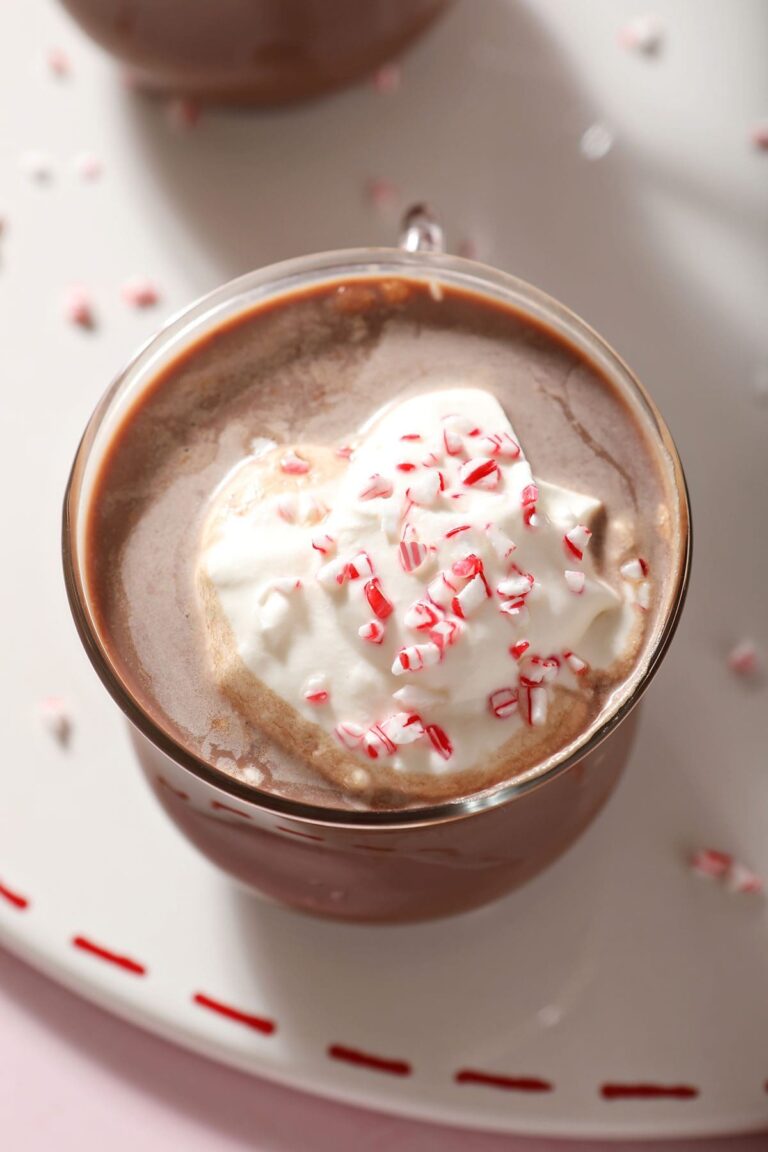 There is something so comforting about a mug of cocoa.
It's because it takes me back to the chilly days of my childhood, sipping cocoa and keeping warm after being outside in the snow.
This Peppermint Schnapps Hot Chocolate, also known as a Peppermint Patty cocktail, has the same sense memory… but is a little different because it involves adult beverages… and also peppermint.
The name of this drink is a reference to the famous chocolate-covered after-dinner mints that we all know and love.
Why? It tastes like one—and it's completely delightful!
Why I love this recipe:
This Peppermint Schnapps Hot Chocolate recipe is perfect for wintertime occasions.
After all, chocolate and peppermint go together so well, and this winter cocktail celebrates just that.
It's sweet—but not too sweet—and the perfect sipper to serve after dinner.
Please note that this Spiked Hot Chocolate recipe is not the same thing as a Kahlua Hot Chocolate, but it's certainly in the same vein.
I will note that it requires some specialty ingredients that you will need to find at your local liquor store.
However, once you have them, you can mix one of these whenever the mood strikes.
You can also make a larger batch, if you're serving lots of folks. More on that below.
So whether you're hosting family or guests for a holiday gathering or just want a nice post-dinner seasonal cocktail, this is an excellent choice.
More hot cocoa and hot chocolate recipes for the season: Mason Jar Peppermint Hot Cocoa Mix | Pomegranate White Hot Chocolate | Gourmet Vanilla Hot Chocolate | Strawberry White Hot Chocolate | Iced Cocoa | Dairy Free Hot Chocolate | Slow Cooker Hot Cocoa
Need more drink ideas for the wintertime? Head on over to my Drinks Recipe Index for inspiration.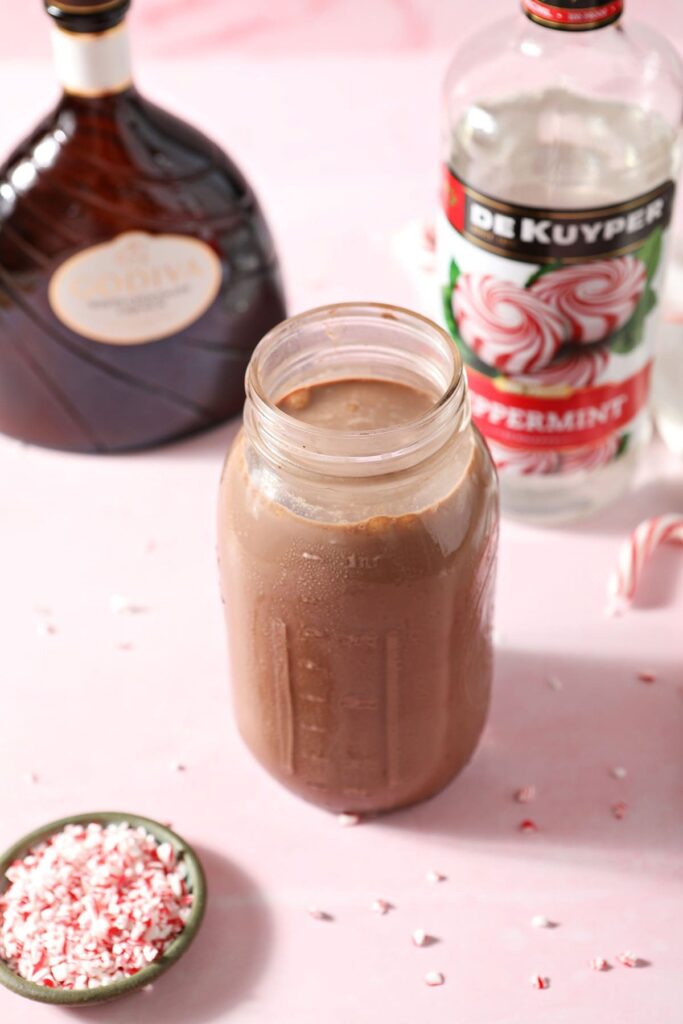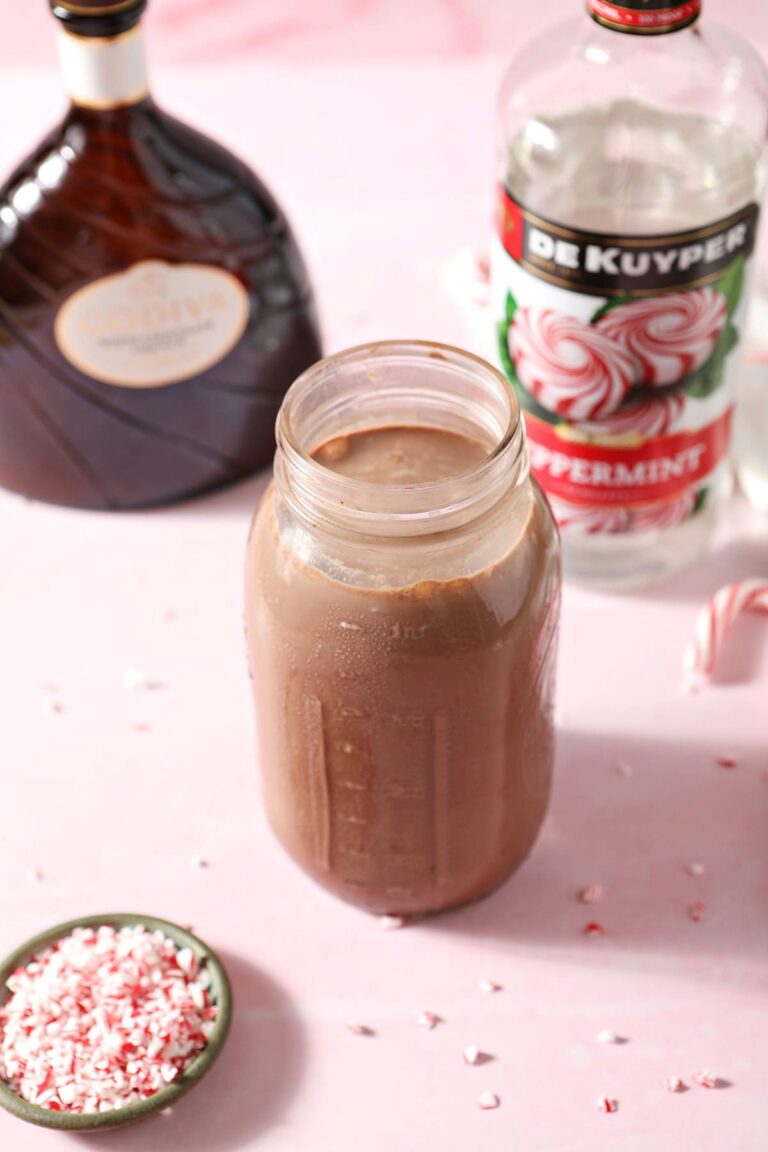 What you need to make this recipe:
The Speckled Palate participates in affiliate programs. As an Amazon Associate, I earn a commission from qualifying purchases. Please refer to my disclosure page for more information about these affiliate programs.
Slow cooker (if making a large batch and wanting to keep the cocoa warm)
Let's talk ingredients!
In addition to the tools above, you're going to need some ingredients to make this recipe, too! Chances are, you might already have some of them in your fridge or pantry. Scroll down to the recipe card for the full measurements and instructions.
Here's what you'll need:
Hot cocoa or hot chocolate—you need this to serve as the base of your cocktail. Feel free to make homemade hot cocoa (with granulated sugar and cocoa powder) or use your favorite store-bought mix to make this recipe easy as pie.
Peppermint schnapps—this is what is giving the peppermint flavor to the drink! A little goes a long way. Schnapps is a distilled spirit that can be flavored, which is why you'll find various renditions of it. Peppermint schnapps obviously has peppermint flavoring added.
White chocolate liqueur—this adds extra chocolate flavor to our drink. While it does not have a high alcohol content, it provides subtle white chocolate flavor and vanilla, which infuses with the hot chocolate.
Peppermint Patty cocktail garnishes
Here are a few ideas of what you can use to garnish your drinks:
Chocolate shavings
Chocolate chips
A whole candy cane
Crushed peppermint or candy canes
Chocolate syrup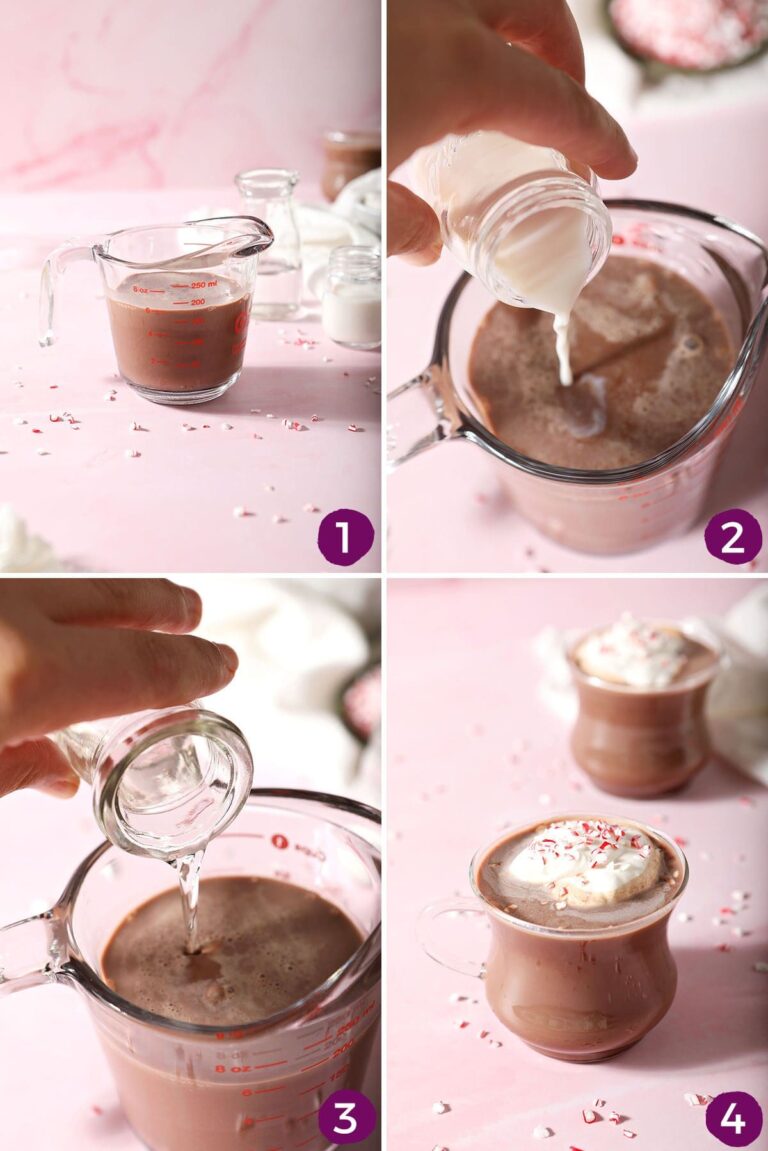 How to make a Peppermint Schnapps Hot Chocolate
Make the hot cocoa. In a microwave-safe glass, combine the ingredients to make a single 6 oz. serving of hot cocoa. Heat until warm.
It is important to note that you will heat the cocoa by itself. If you stir all the ingredients together and then heat them, some of the alcohol will cook off.
Pour in the peppermint schnapps and white chocolate liqueur. Stir to combine.
Top with whipped cream, crushed candy canes, chocolate shavings, etc.
Enjoy this spiked hot chocolate drink immediately!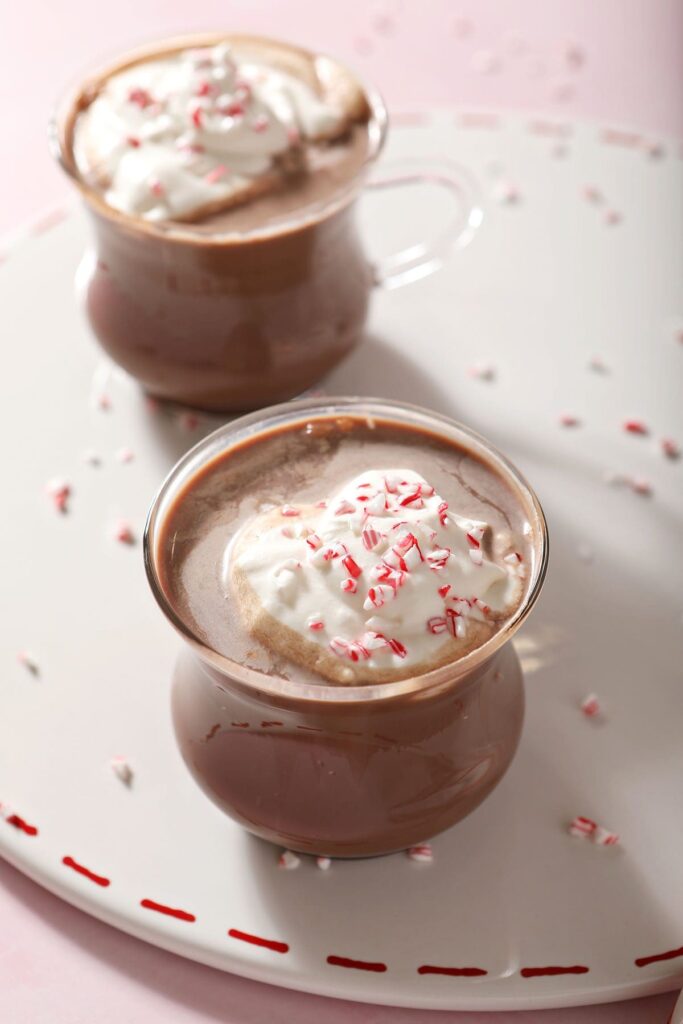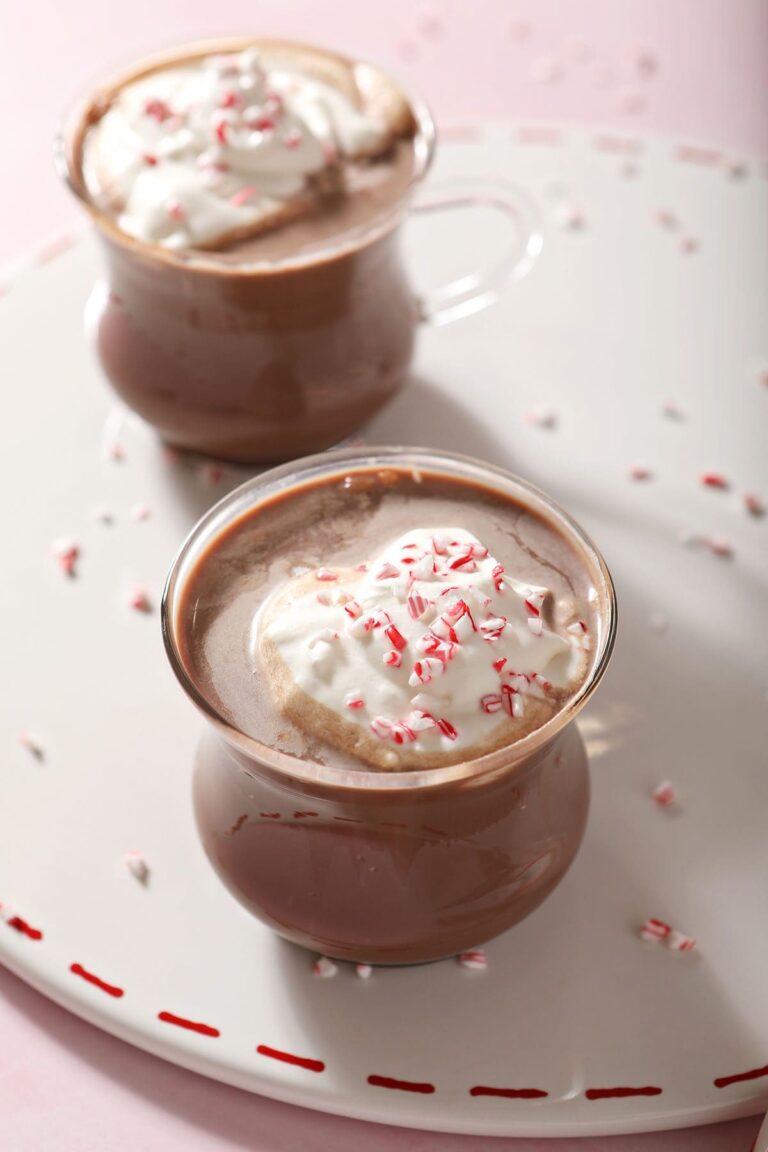 How to make this peppermint patty drink for a crowd
If you don't want to mix individual drinks, make this for a crowd by mixing and keeping your hot cocoa warm in the slow cooker.
To make 8 drinks, pour 6 cups of milk into the slow cooker with the appropriate amount of hot cocoa mix. Let it warm.
Set out the peppermint schnapps and white chocolate liqueur. Print out how to make this cocktail below.
Let guests serve themselves boozy hot chocolate in mugs, as well as garnish their own drinks.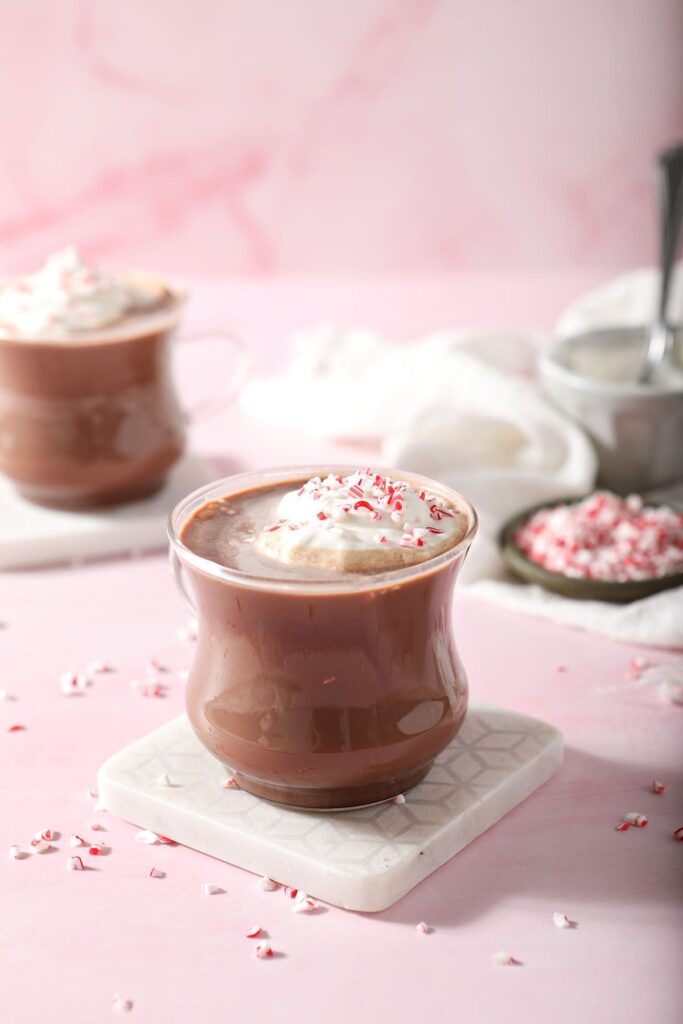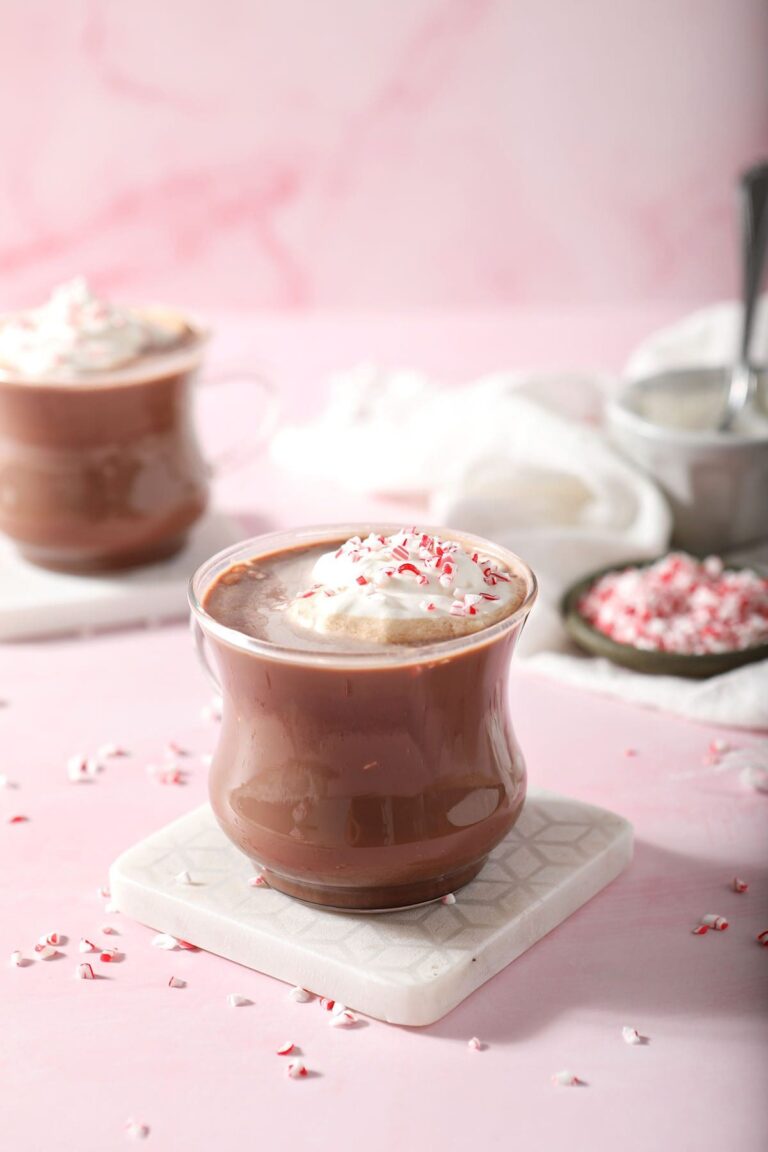 Frequently Asked Questions
Is peppermint good for cocktails?
Yes. Peppermint is an excellent addition to a cocktail. It's delicious in a Peppermint White Russian, too.
What's the difference between creme de menthe and peppermint?
Peppermint schnapps has a stronger mint flavor than creme de menthe. Also, creme de menthe is sweeter and thicker than peppermint schnapps.
Can I use chocolate liqueur instead of white chocolate liqueur?
Sure! If you have that on hand, you can switch it up and use that instead.
Hot cocoa and hot chocolate are often spoken to as the same thing, and I'm doing it in this post, too.
HOWEVER, the difference between them is hot chocolate is made from actual chocolate while hot cocoa is made from cocoa powder.
#themoreyouknow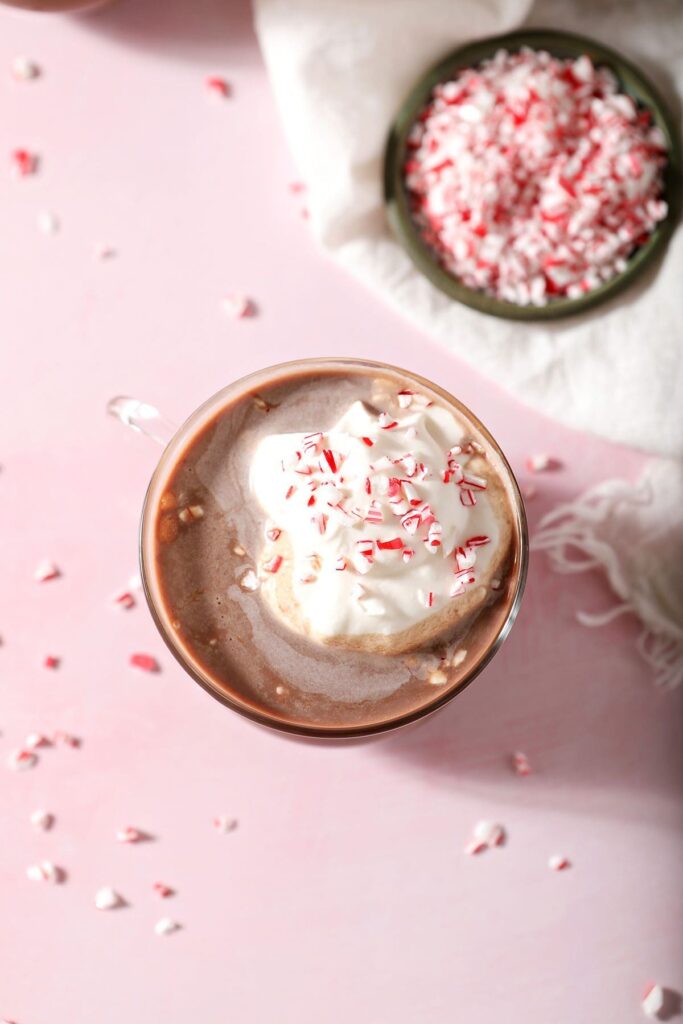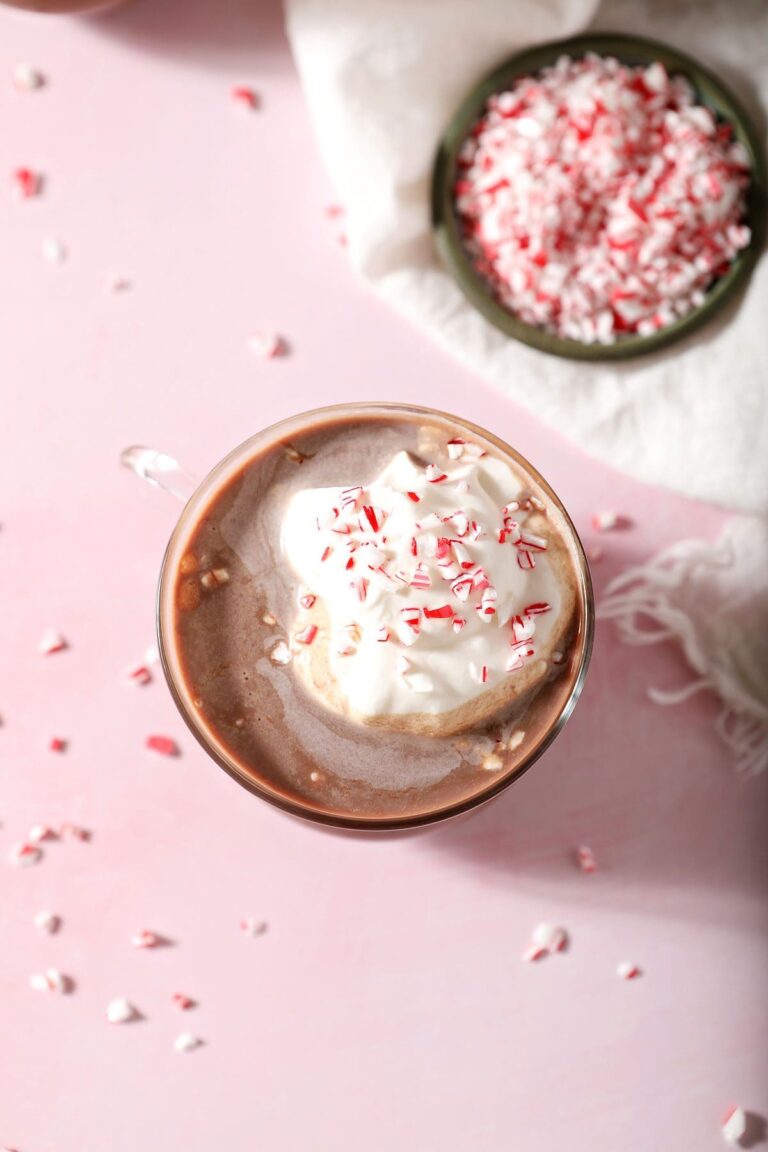 Quick tips and tricks to the best Hot Chocolate Cocktail
Make a variation on it. Swap out the white chocolate liqueur with chocolate liqueur and use creme de menthe instead of peppermint schnapps.
Serve it to a crowd. Keep your cocoa warm in the slow cooker, and let guests serve themselves. Set garnishes out by the slow cooker so they can garnish their own.
How to store: If you have leftovers, transfer to an airtight food storage container or mason jar. Transfer to the fridge and keep for 1-2 days. Drink chilled or heat in the microwave until warmed through.
More hot cocktails to enjoy this season: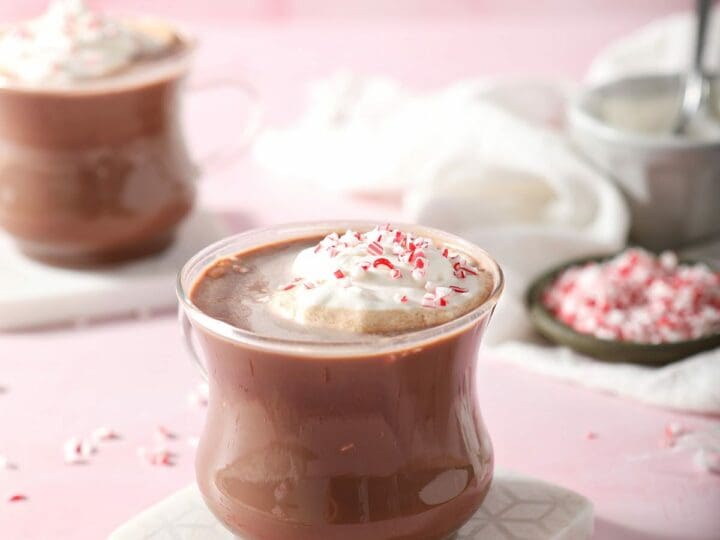 Yield:

1 drink
Peppermint Schnapps Hot Chocolate
Looking for a delicious warm drink to serve this winter? The Peppermint Patty Cocktail is it! Calling for just three ingredients, this hot chocolate cocktail is minty, sweet and perfect for all occasions.
Ingredients
6 oz. hot chocolate
1 ½ oz. peppermint schnapps
1 oz. white chocolate liqueur
Garnishes
Sweetened whipped cream
Crushed candy canes or peppermint
Chocolate shavings or chocolate chips
Instructions
Heat the hot chocolate in a microwave-safe mug until warmed through.
Measure in the peppermint schnapps and the white chocolate liqueur.
Stir vigorously to combine.
Garnished with whipped cream and crushed candy canes/ (or any other garnishes of your choosing.)
Enjoy immediately!

Recommended Products
As an Amazon Associate and member of other affiliate programs, I earn from qualifying purchases.
Nutrition Information:
Yield:
1
Serving Size:
1
Amount Per Serving:
Calories:

647
Total Fat:

17g
Saturated Fat:

10g
Trans Fat:

0g
Unsaturated Fat:

6g
Cholesterol:

6mg
Sodium:

168mg
Carbohydrates:

91g
Fiber:

4g
Sugar:

76g
Protein:

5g
Nutrition facts are an estimate and not guaranteed to be accurate.