This White Chocolate Martini recipe first appeared on Savory Experiments, where I am a contributor.
Need the perfect holiday cocktail to serve this season? A White Christmas Martini, rimmed with crushed candy canes is the perfect holiday dessert drink! Learn how to make this simple white chocolate cocktail recipe for easy entertaining and more! Makes 1 drink, but can be doubled.
Love a sweet drink? You've got to try Gin Apple Pie Cocktail and Peppermint White Russian.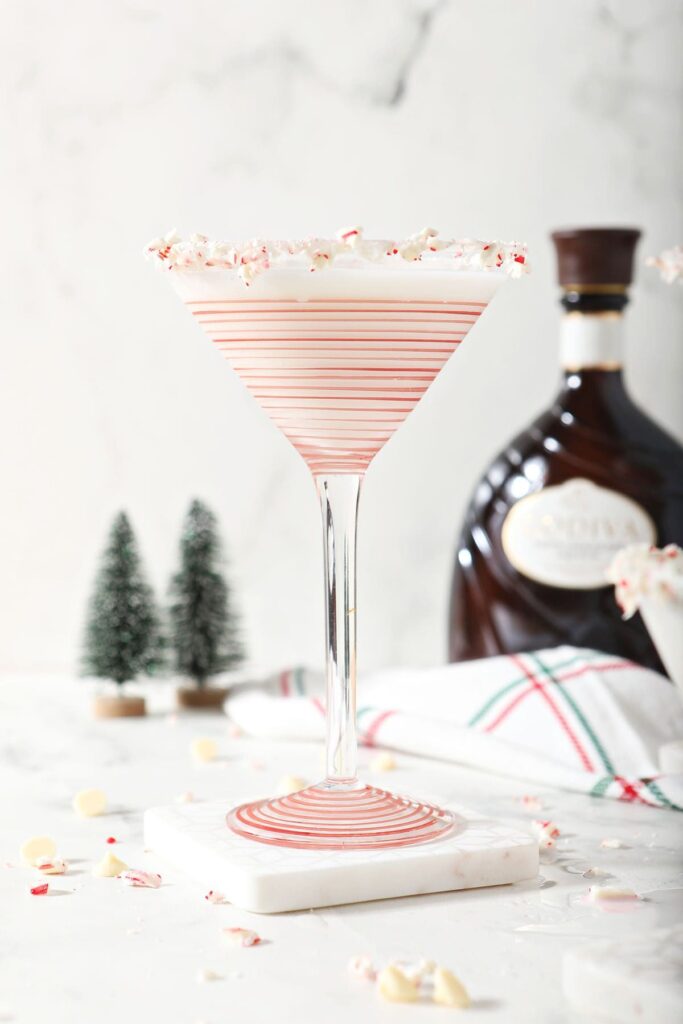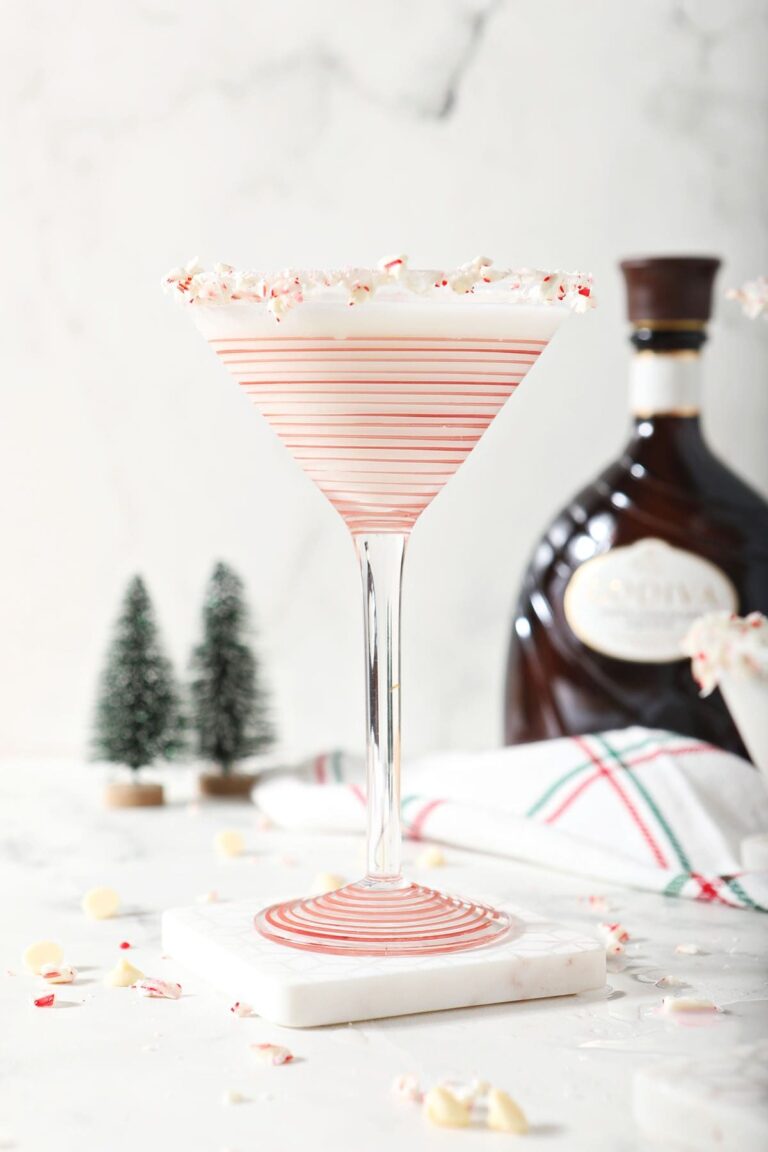 This classic White Chocolate Martini goes by a few names—the White Christmas Martini, Snowflake Martini and White Chocolatini.
No matter what you call it, you're in for a treat because this dessert drink is an utter delight!
And it's incredibly simple to make at home, too, if you've got the right ingredients.
Why I love this recipe:
There's something special about a dessert drink because, for me, it's a rare occasion.
This festive cocktail is all kinds of perfect for the Christmas season.
Simply put, this White Chocolate Martini is a recipe that's perfect for an occasion—whether you're celebrating holidays with loved ones or simply want a fancy after-dinner drink to share with friends.
The flavors are incredible—it's creamy with a punch from the vodka (that's not too much, but let's you know it's there.)
My mother said this White Christmas Martini recipe tastes like boozy snow ice cream, and if that's not an endorsement, I don't know what is.
Other festive cocktails to try this holiday season: Vegan Bourbon Pecan Milk Punch | How to Make Peppermint Vodka | Pomegranate Hot Buttered Rum | Vanilla Hot Chocolate Martini
Need a drink recipe? Head on over to my Cocktail Recipe Index for more ideas.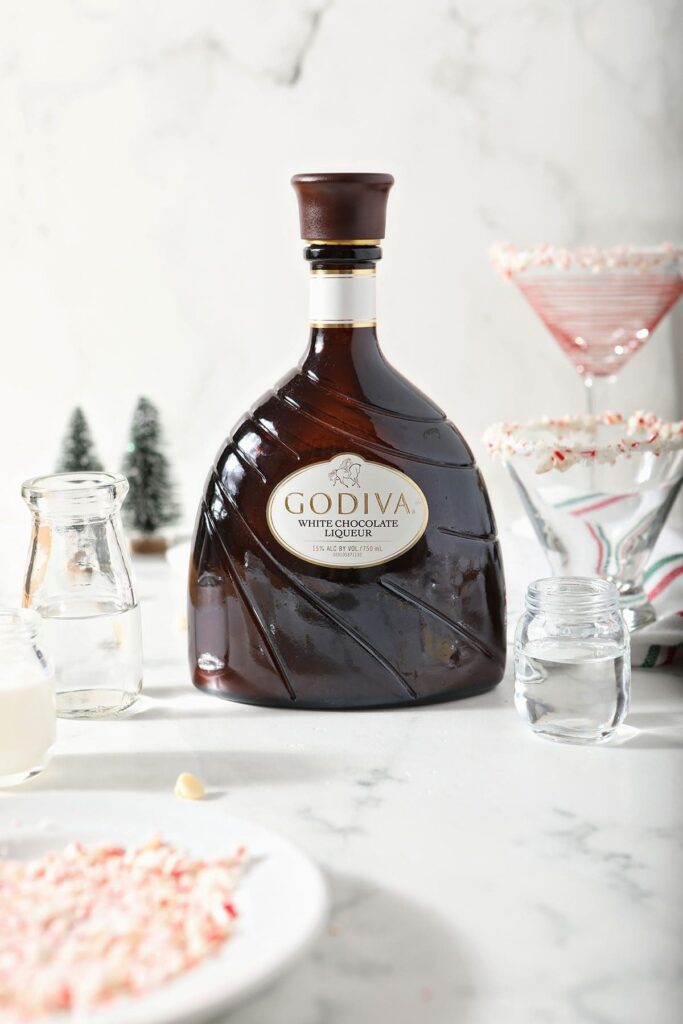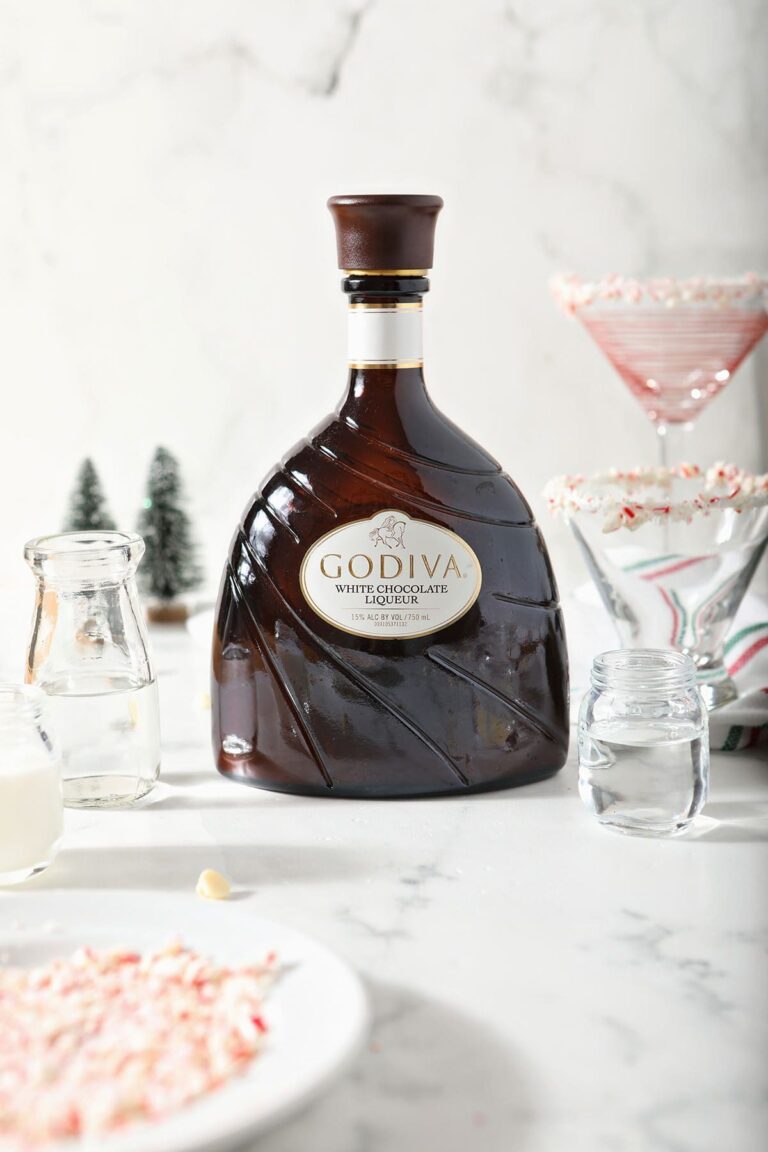 What you need to make this recipe:
The Speckled Palate participates in affiliate programs. As an Amazon Associate, I earn a commission from qualifying purchases. Please refer to my disclosure page for more information about these affiliate programs.
This martini recipe does have some more specialty ingredients that you will need to seek out at your local liquor store, but once you have them, you can mix one of these drinks up whenever the mood strikes.
Here's what you'll need:
Vodka—we're using regular vodka in this recipe, though vanilla vodka would add wonderful flavor if you want to add that to yours.
White chocolate liqueur—this is the base of our martini, and it's well-worth going to look for since it's a little different than white crème de cocoa. It's got low alcohol content, but it provides a ton of white chocolate flavor with some notes of vanilla, too.
White crème de cocoa—this is the other layer of our martini, and it adds to the chocolate flavor and aroma of the martini.
Half-and-half—this is adding the extra creaminess to our cocktail. Do not replace it with milk, as it won't be thick enough for the drink to really sing.
White chocolate or white chocolate melts—we'll use this to rim our glasses! Plan to melt about ¼ cup of chips or melts to dip your glass(es) in.
Peppermint or candy canes—if you're making a White Christmas Martini, you've GOT to use crushed candy canes for the most festive rim ever!
What is white chocolate liqueur?
White Chocolate Liqueur transforms this from a classic Chocolate Martini to a White Chocolate Martini (or a White Christmas Martini, as we're calling this beauty.)
It's a distilled spirit with low alcohol content that sings of white chocolate and vanilla. It contains dairy, too, so keep that in mind.
It goes without saying that this liqueur is utterly decadent and could be enjoyed on the rocks, as well as in this martini recipe.
There are many brands of white chocolate liqueur, but I would like to note that Godiva is my favorite.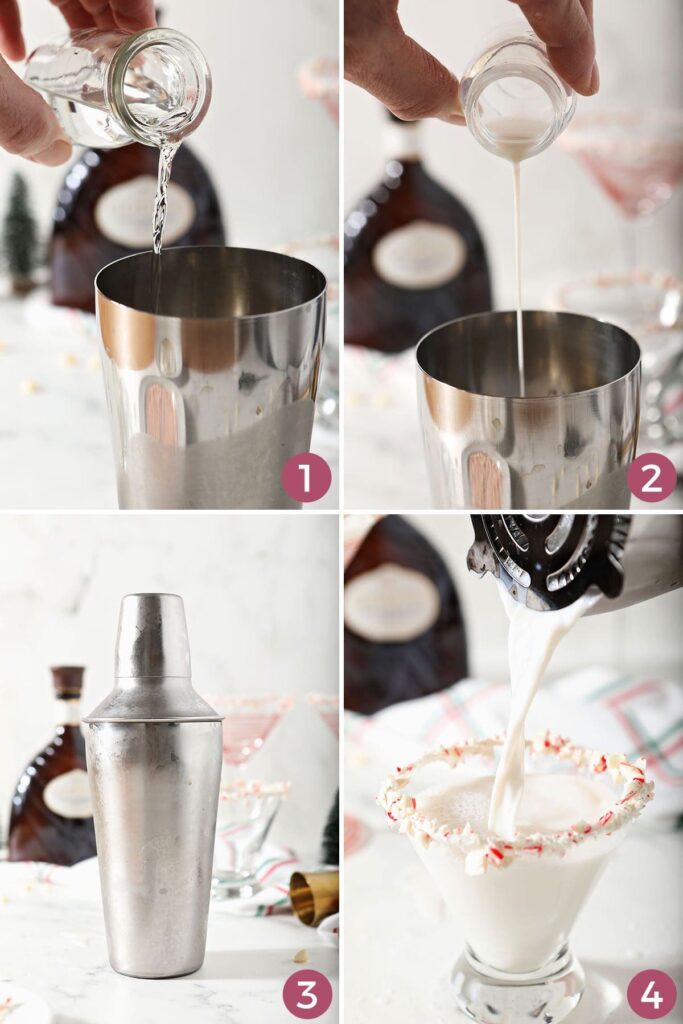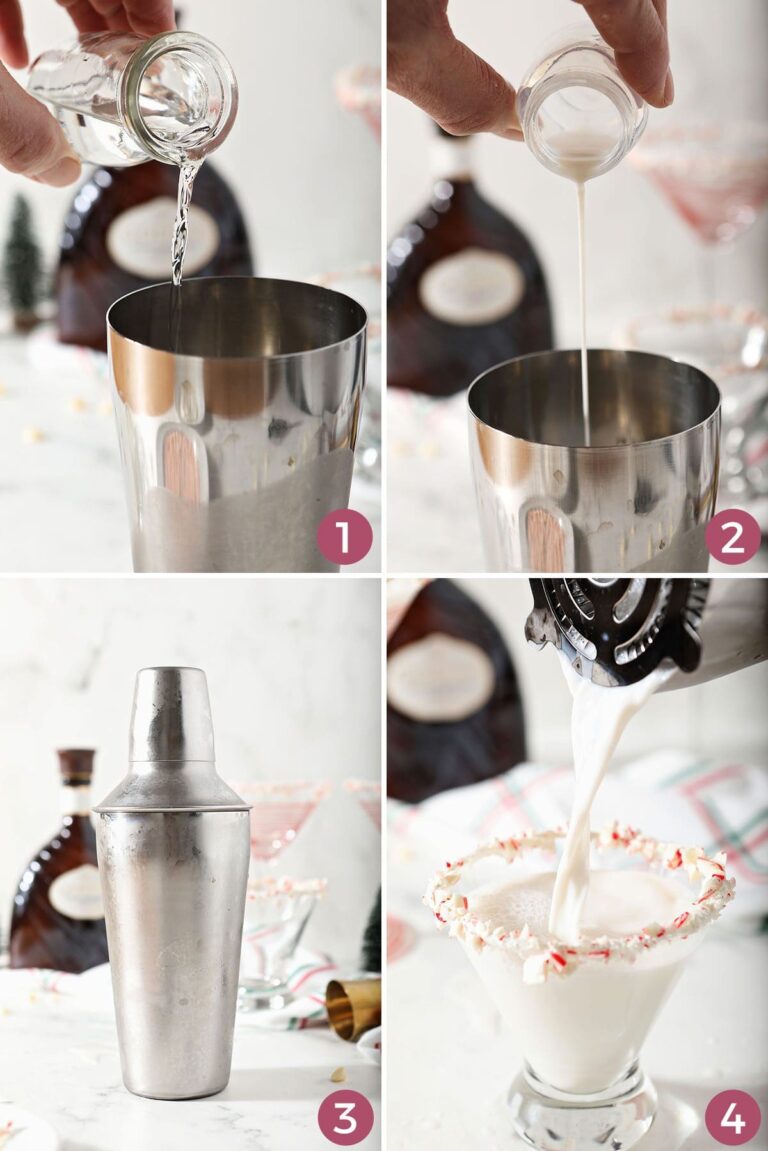 How to make a White Christmas Martini
Rim your glasses. Melt white chocolate (or white chocolate melts) and dip the rim(s) of your glass(es) into it. There doesn't need to be a ton on this, so don't feel like you need to melt a ton of chocolate! Dip the martini glass(es) into the crushed candy canes for a festive White Christmas Martini rim.
Combine the ingredients in a shaker. Make sure the shaker is full of ice before adding the vodka, white chocolate liqueur, white crème de cocoa and half-and-half.
Shake vigorously for 30 seconds, until the cocktail shaker is incredibly cold.
Pour into your prepared glass, and serve with your favorite garnish!
Pro tip: Use a cocktail strainer to keep ice from falling into your prepared martini glasses! It'll make for better presentation and less mess.
White Chocolate Martini garnishes
Depending on the time of year, you can change up your garnishes!
Crushed candy canes (for a White Christmas Martini)
Cocoa powder
White chocolate shavings
Fresh fruit, like strawberries or raspberries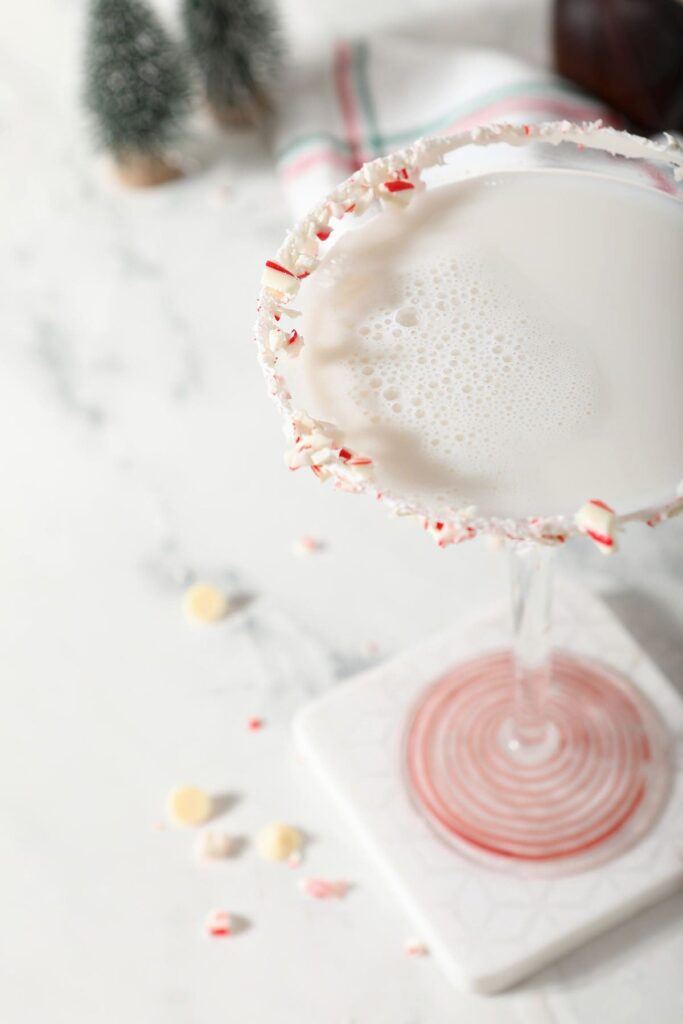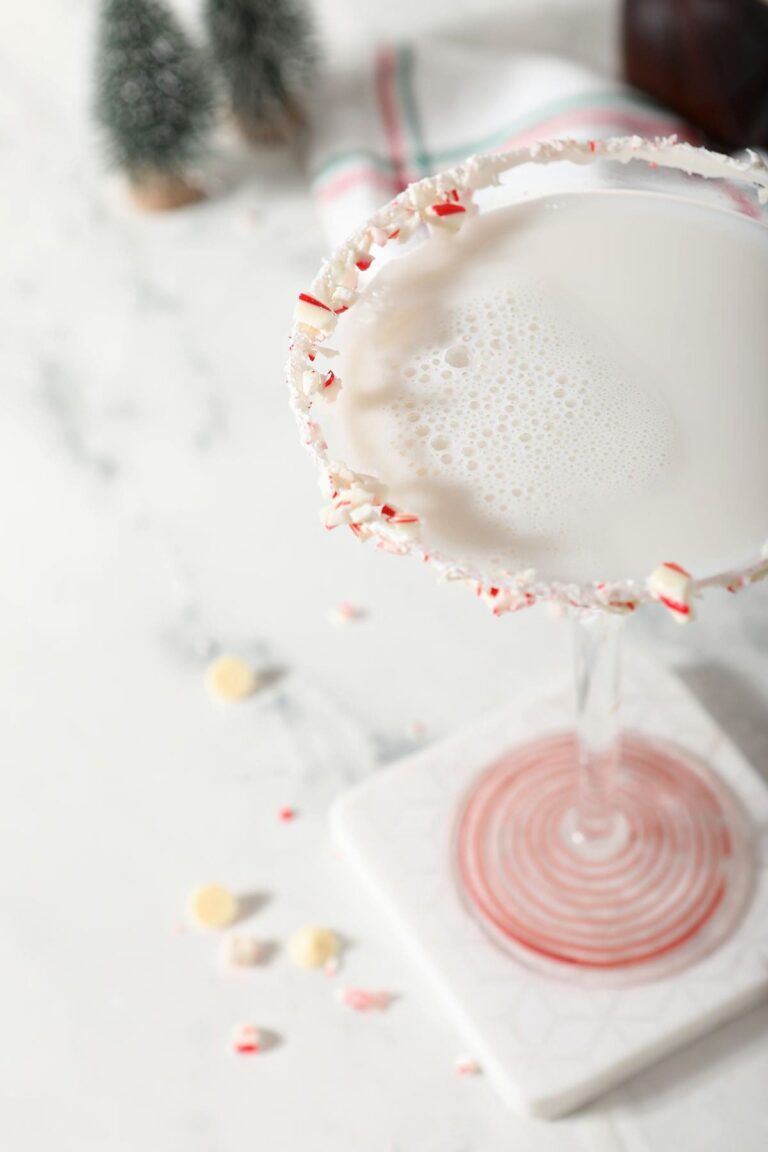 Erin's Easy Entertaining Tips
Wouldn't these martinis make the best Christmas cocktails for a holiday party?
Here's the thing about martinis—they need to be individually shaken, not stirred, so this is going to be more time-intensive for whoever is making the cocktails.
That said, it can be done, and if you're in the mood and spirit for it, you can certainly do it!
Here's how I would entertain with these dessert drinks:
Prep as much as you can in advance. Crush all those candy canes, and place them on a plate.
Consider pouring your ingredients into carafes. Make sure to label them, too.
Make a cocktail bar out of a bar cart. Print out the recipe and frame it (or laminate it) so guests can mix their own. Set out the ingredients in carafes, as well as the garnishes. Set out a separate ice bucket, and let guests go to town.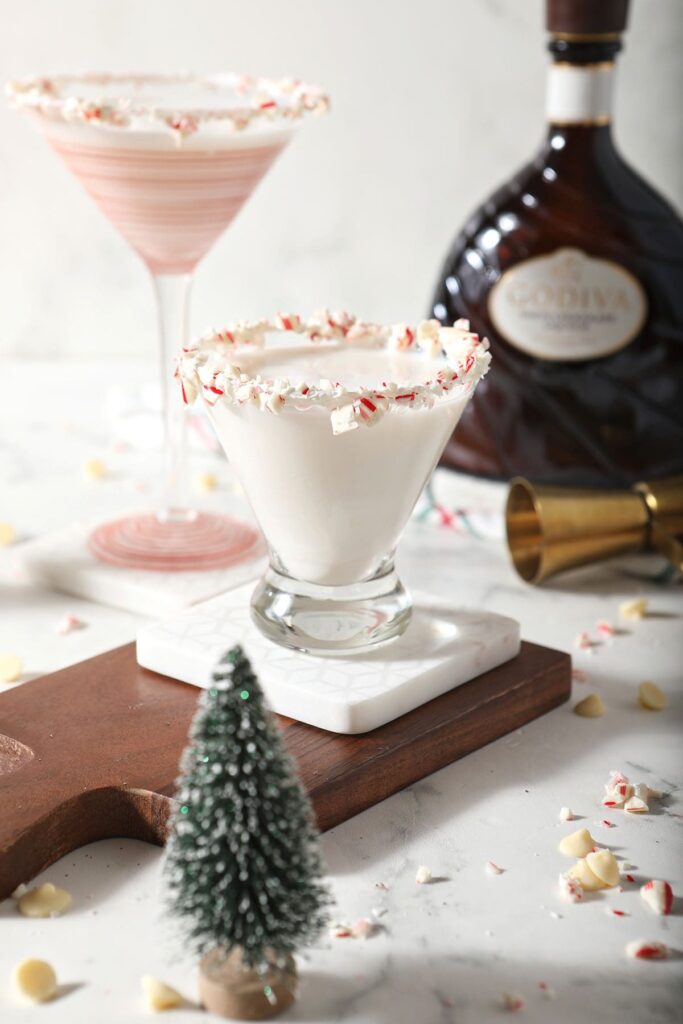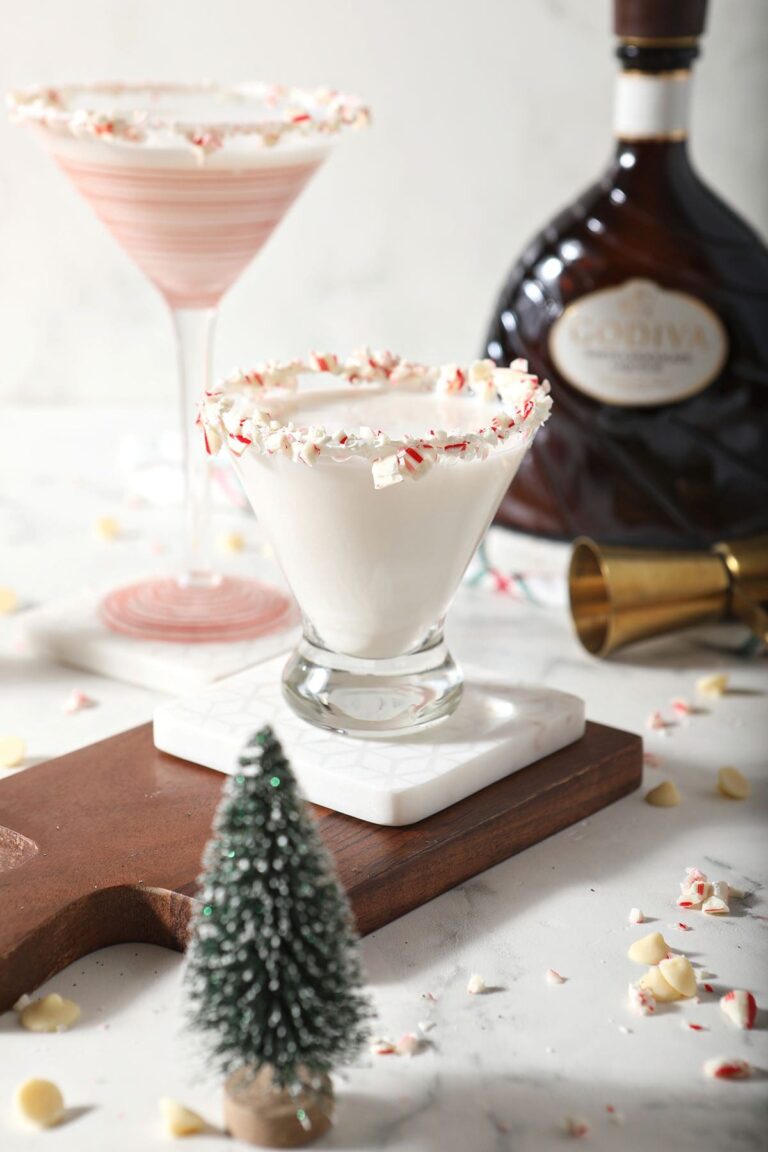 Frequently Asked Questions
What is white martini made of?
This white chocolate martini is made of vodka, white chocolate liqueur, white crème de cocoa and half-and-half.
Is white crème de cacao the same as white chocolate liquor?
No. They are not the same thing. White crème de cocoa is chocolate-flavored liqueur while chocolate liquor contains both cream and white chocolate, so it's sweeter.
Should Godiva White Chocolate Liqueur be refrigerated?
No. You can store the white chocolate liqueur in a cool, dark place after opening. However, you can store it in the refrigerator if you like yours chilled.
Does Godiva liqueur have cream?
Yes, the Godiva White Chocolate Liqueur has cream in it.
Why are martini glasses shaped the way they are?
Martini glasses are a wide top with a skinnier bottom to help expose the spirits to air. Air helps bring out the spirit's flavor and complexity, which is something martinis are known for.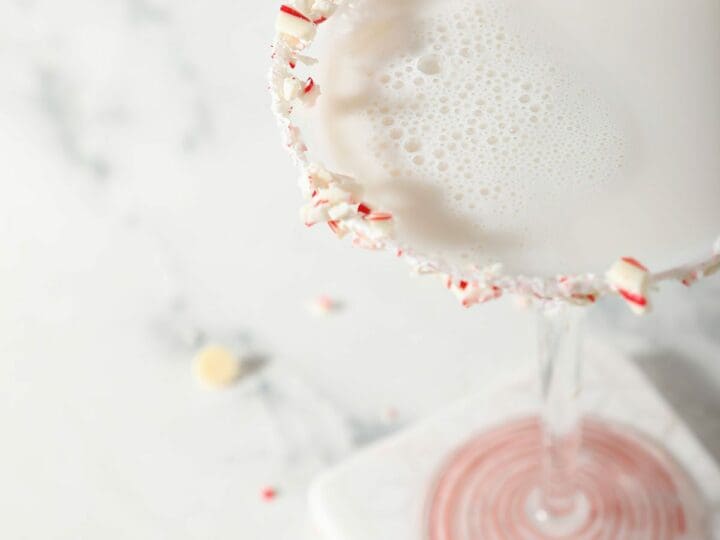 Yield:

1 drink
White Christmas Martini
Need the perfect festive cocktail to serve this holiday season? A White Christmas Martini, rimmed with crushed candy canes is the perfect holiday dessert drink! Learn how to make this simple white chocolate cocktail recipe for easy entertaining and more!
Ingredients
2 oz. vodka
2 oz. white chocolate liqueur
1 oz. white crème de cocoa
1 oz. half-and-half
Garnishes
Melted white chocolate or candy melts, for the rim (about ¼ cup, unless you're making several)
Candy canes, crushed
Fruit—like fresh strawberries and raspberries
Chocolate shavings
Cocoa powder
Instructions
Prepare the martini glasses by dipping the rims in the melted white chocolate, then into the crushed candy canes. (Alternately, you could leave the rim clear or just use sugar in the rim if you're making a classic White Chocolate Martini.)
Fill a cocktail shaker with ice. Pour in the vodka, white chocolate liqueur, white crème de cocoa and half-and-half.
Shake vigorously for 30 seconds until the liquid is chilled.
Strain as you pour into the prepared glasses, and enjoy immediately.

Recommended Products
As an Amazon Associate and member of other affiliate programs, I earn from qualifying purchases.
Nutrition Information:
Yield:
1
Serving Size:
1
Amount Per Serving:
Calories:

426
Total Fat:

6g
Saturated Fat:

2g
Trans Fat:

0g
Unsaturated Fat:

1g
Cholesterol:

11mg
Sodium:

19mg
Carbohydrates:

38g
Fiber:

6g
Sugar:

21g
Protein:

7g
Nutrition facts are an estimate and not guaranteed to be accurate.