Dinner Divas Weekly Meal Plan: Week 84
Looking for food inspiration for next week's menu? Look no farther than the Dinner Divas weekly meal plan, a comprehensive plan that includes FIVE dinners and two extras, be they drinks, desserts, sides, etc. This eclectic meal plan, which includes relatively healthy dishes that won't take all day to cook, is meant to help busy cooks plan for the week ahead! We hope this meal plan provides great ideas and delicious dishes for your family.
Welcome to this week's Dinner Divas Weekly Meal Plan! Our menu this week is delicious. Comfort food, easy weeknight meals paired with two extras… We've put together a fantastic week of recipes for you, and we've got several ideas for how to utilize Thanksgiving leftovers!
Make sure you are subscribed so you don't miss a single recipe!
Here's how it works: Every Friday morning, I share a new menu plan on The Speckled Palate. It always consists of FIVE dinner options, plus TWO extras. Those extras could be side dishes, dessert, drinks, etc. Our Dinner Divas weekly menu plans feature (mostly) healthy, seasonal foods that don't take all day to prepare because nobody has time for that. 😉
We hope this weekly menu, shared on Friday mornings, helps you make your shopping list and get organized for the week ahead.
I'd love to hear from you and see your creations! Post a picture using #DinnerDivas and tag @speckledpalate!
I hope this weekly menu plan provides inspiration and makes life a little easier… one meal at a time.
Y'all ready for this?
I don't know how you feel about sweet potatoes, but everyone in our family is o-b-s-e-s-s-e-d. Like, sweet potatoes could serve as a meal. Which means Pook's Pantry is making some dreams come true for us with her Sweet Potato Veggie Cakes!
Say it with me: Turkey Biscuit Casserole. Turkey. Biscuit. Casserooooooooole.
Comfortably Domestic is bringing the flavor and comfort with this twist on a Southern classic. Leftover turkey plus creamy filling with veggies and biscuits on top is a dream come true for someone like me. 🙂
Online Pastry Chef does it again! She takes something we know and love and puts a twist on it. This week, she's serving up her Thanksgiving Shepherd's Pie with Stuffing Crust.
Quite honestly, this sounds absolutely FANTASTIC and super comforting and cozy and everything I love about food in the late fall/early winter!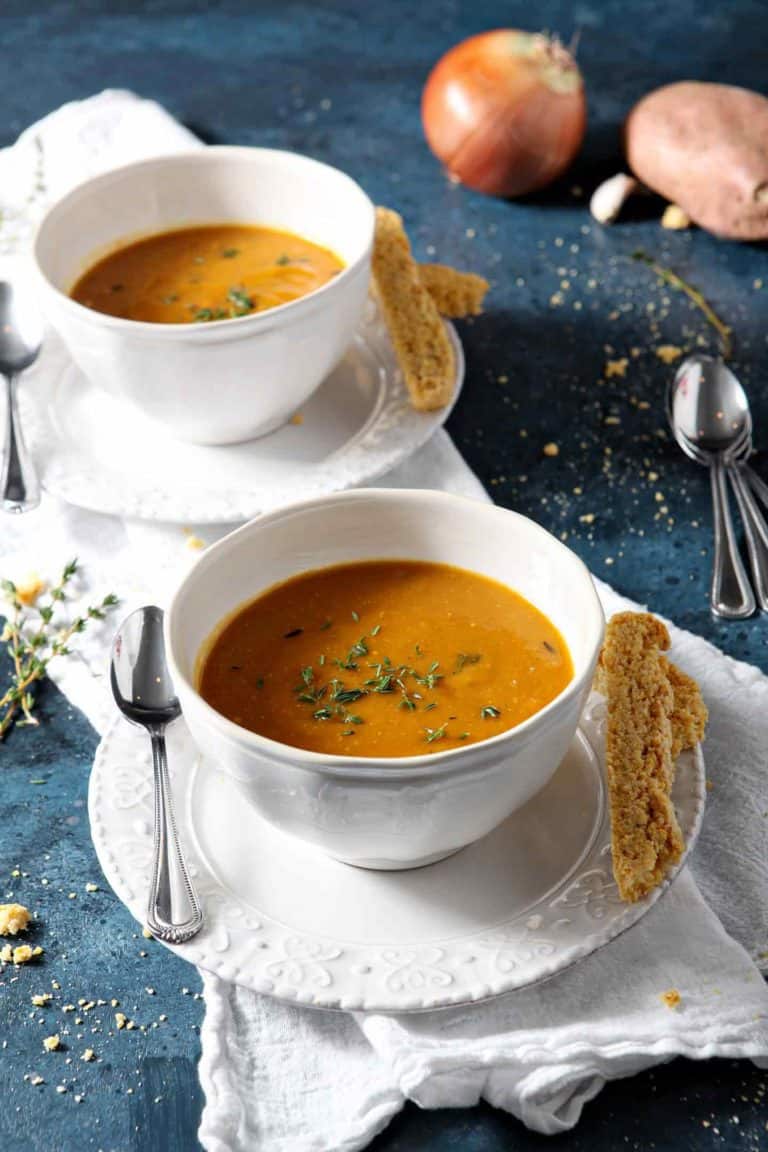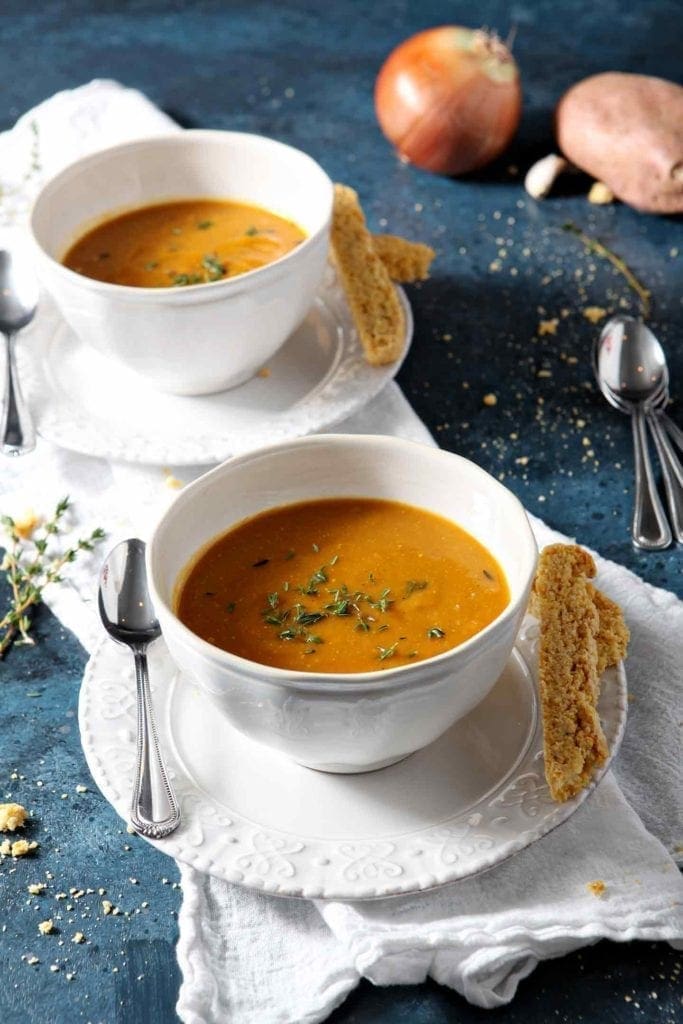 Tonight, I'm sharing a soup recipe with y'all because soup this time of year gives me life… and once again, sweet potatoes are a favorite in our house. Sweet Potato Bisque is super versatile, so it can be fitting for several palates and can be made Whole30-compliant, too!
Jessica Gavin brings us our last entree of the week… and her Creamy Butternut Squash Pasta is droolworthy! Butternut squash is a fall favorite of ours, too, and pairing it with pasta is simply brilliant! (And once again, super comforting. Because we're looking out for y'all and cookin' up dishes that fit the bill!)
Pook's Pantry has a delightful nibble for us this week… and you might recognize it! Her Apple Chutney Bruschetta are an amazing fall appetizer. You could even turn them into dinner, too, in case that's something that interests you…
Comfortably Domestic serves up our dessert this week, and oh boy, I cannot stop thinking about it. Caramel Apple Pie! Caramel apple is a favorite flavor combination of mine. Honestly, how could it not be? And the addition of caramel into a traditional apple pie sounds so unique and oh-so-tasty!
…
See you next week with new recipes and a new menu plan!
Thank you for spending part of your day with me, have a wonderful and delicious weekend.