Dinner Divas Weekly Meal Plan: Week 68
Looking for some food inspiration for next week's menu? Look no farther than the Dinner Divas weekly meal plan, a comprehensive plan that includes FIVE dinners and two extras, be they drinks, desserts, sides, etc. This eclectic meal plan, which includes relatively healthy dishes that won't take all day to cook, is meant to help busy cooks plan for the week ahead! We hope this meal plan provides great ideas and delicious dishes for your family.
Welcome to this week's Dinner Divas Weekly Meal Plan! I'm super excited about our menu this week. Comfort food, easy weeknight meals and gorgeous desserts. The Dinner Divas have put together a fantastic week of recipes for you.
Make sure you are subscribed so you don't miss a single recipe!
Here's how it works: Every Friday morning, a new menu plan will be posted on The Speckled Palate. It will consist of FIVE dinner options, plus TWO extras. Those extras could be side dishes, dessert, drinks, etc. The Dinner Divas weekly menu plans will feature (mostly) healthy, seasonal foods that don't take all day to prepare. We hope that this weekly menu gives you the chance to make your shopping list and get organized for the week ahead. I'd love to hear from you & see your creations!
Post a pic using #DinnerDivas and tag @speckledpalate! I hope this weekly menu plan provides inspiration and makes life a little easier… one meal at a time.
Y'all ready for this?
GUYS. Could we talk about these Pizza Quesadillas from My Imperfect Kitchen? They contain everything I love about a pizza and a quesadilla into one amazingly delicious meal.
Who wants a slice of this goodness right now?
Pook's Pantry is bringing the flavor today with her Pimento Cheese Potato Salad, Chicken Tenders and Potato Biscuits! From the potato salad, studded with pimento cheese–one of my favorites!–to those chicken tenders and the biscuits? Dinner tonight is gonna be insanely tasty!
Summertime is the time for barbecue! (Y'all have seen my various barbecue posts this week, yes?) Comfortably Domestic's Slow Cooker BBQ Pulled Pork is my ultimate comfort food dinner, made easy in the slow cooker!
Y'ALL. Pastry Chef Online figured out how to make CAULIFLOWER NOODLES this summer. I don't know about yiu, but I am so in for this! Low Carb Lasagna with Cauliflower Noodles are what's for dinner for Thursday night.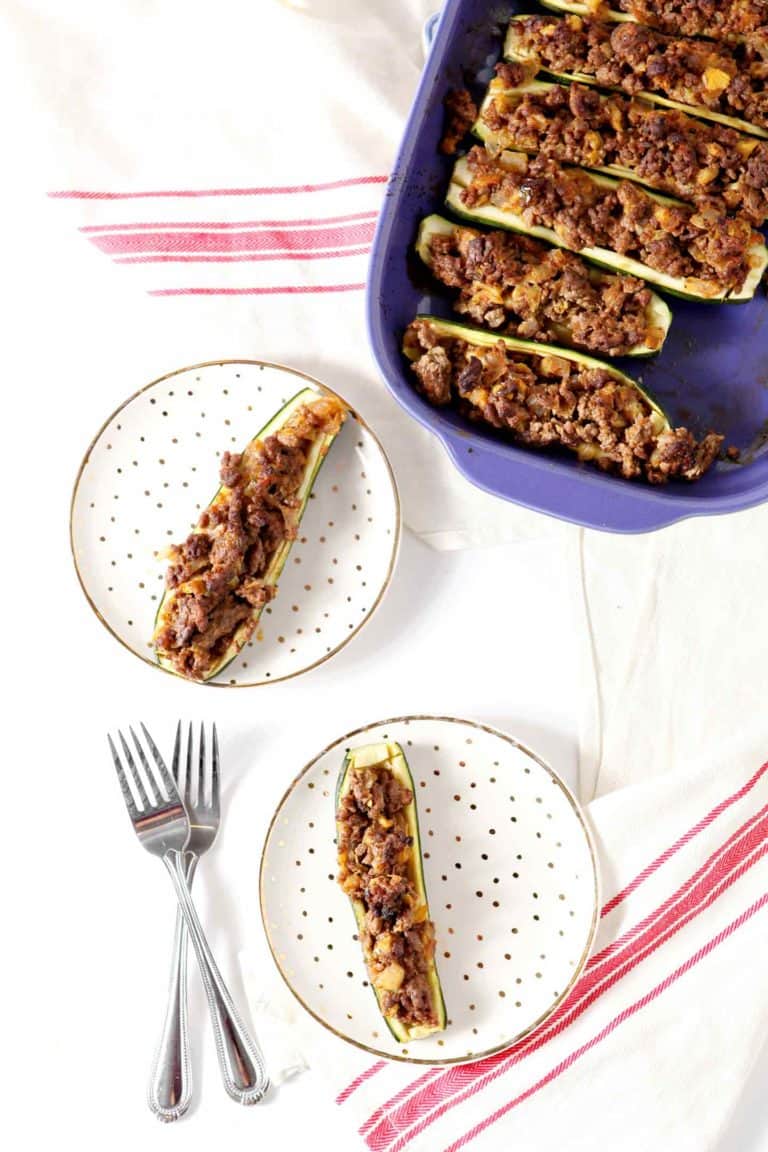 Tonight, we're celebrating the bounty of summer… and alllllll that zucchini we've been getting in our weekly CSA. We're serving up my Whole30 Taco Zucchini Boats, perfect for anyone, whether or not you're doing the Whole30. (Pro tip: If you're not on the Whole30, feel free to add a little bit of cheese to the top before baking so it gets melty and delish!)
We've served these zucchini boats to friends and family numerous times without telling them they're dairy free and gluten free… and everyone RAVES about 'em!
Can we count this Blueberry Bourbon BBQ Sauce from Pook's Pantry as a nibble? Because I'd like to slather it on every kind of meat and continue barbecuing until the weather starts to turn for fall. (Which, let's be real, won't be for a while.)
What would you like to put this decadent barbecue sauce on?
Lastly, we've got a delightful dessert from Comfortably Domestic! Her No Bake Lemon Mousse Tart with Pretzel Crust contains some of my favorite summertime flavors and is topped with those gorgeous berries.
Would you like a slice of this goodness to finish off the week?
…
See you next week with new recipes and a new menu plan!
Thank you for spending part of your day with me, have a wonderful and delicious weekend.