Looking for some food inspiration for next week's menu? Look no farther than the Dinner Divas weekly meal plan, a comprehensive plan that includes FIVE dinners and two extras, be they drinks, desserts, sides, etc. This eclectic meal plan, which includes relatively healthy dishes that won't take all day to cook, is meant to help busy cooks plan for the week ahead! We hope this meal plan provides great ideas and delicious dishes for your family.
Welcome to this week's Dinner Divas Weekly Meal Plan! I'm super excited about our menu this week. Comfort food, easy weeknight meals and gorgeous desserts. The Dinner Divas have put together a fantastic week of recipes for you.
Make sure you are subscribed so you don't miss a single recipe!
Here's how it works: Every Friday morning, I will share a new menu plan on The Speckled Palate. It will consist of FIVE dinner options, plus TWO extras. Those extras could be side dishes, dessert, drinks, etc. The Dinner Divas weekly menu plans will feature (mostly) healthy, seasonal foods that don't take all day to prepare. We hope that this weekly menu, shared on Friday mornings, gives you the chance to make your shopping list and get organized for the week ahead. I'd love to hear from you & see your creations!
Post a pic using #DinnerDivas and tag @speckledpalate! I hope this weekly menu plan provides inspiration and makes life a little easier… one meal at a time.
Y'all ready for this?
Let's start our week off right with Chicken Salad with Lemon Dill Yogurt Dressing! I love how Comfortably Domestic serves this classic summery entree on a bun. Doesn't it just sound absolutely delightful? Pair with some fresh sliced fruit, and you're good to go!
Have you ever heard of a North Carolina Muffaletta? I haven't, either, but I was thrilled to read Pastry Chef Online's post about this goodness and what makes this Muffeletta a North Carolina dish! (Hint: It differs from a New Orleans Muffaletta in the topping.)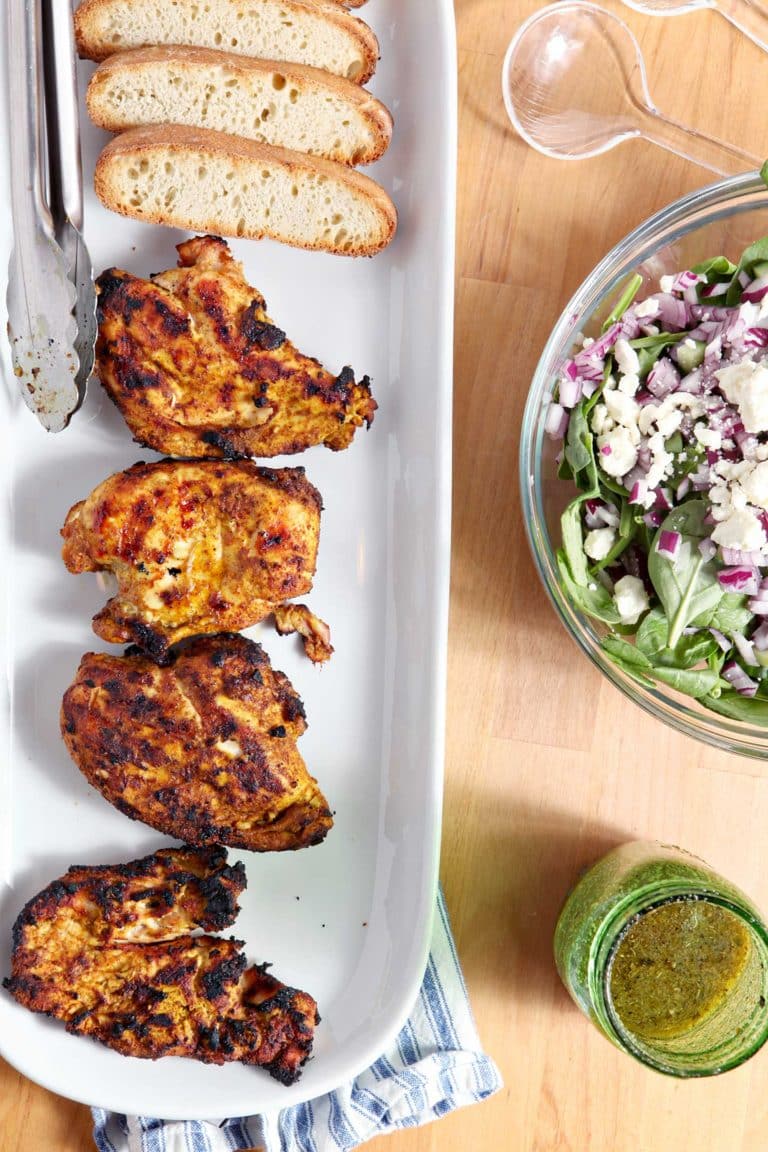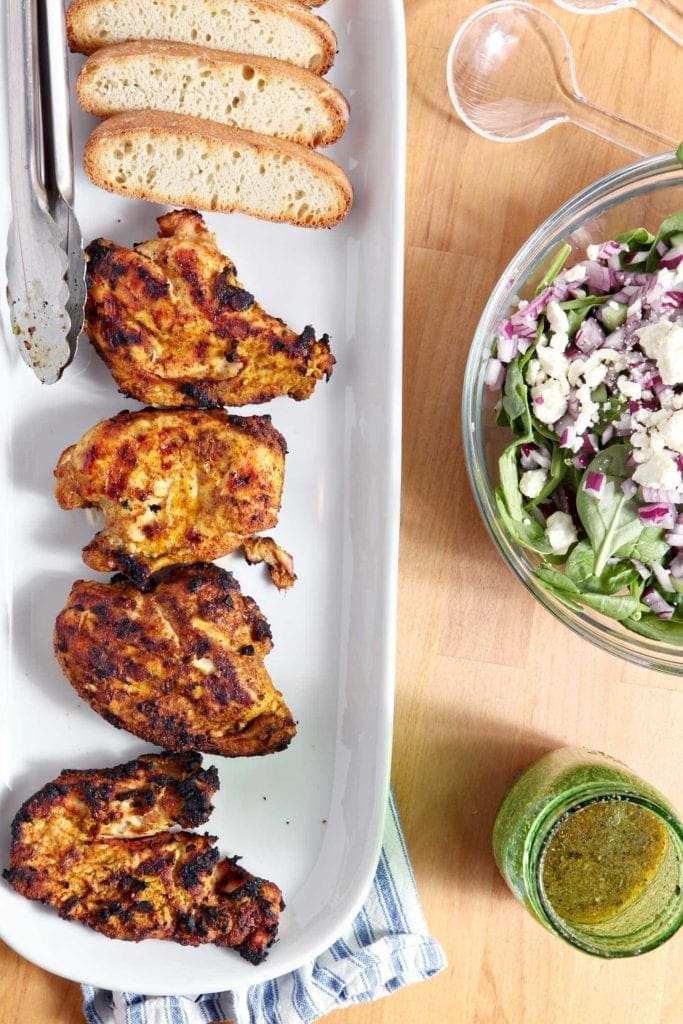 Tonight, we're serving my Grilled Chicken Shawarma! This recipe was developed years ago when we discovered we couldn't find good garlicky shawarma in Nashville. Not surprisingly, we've been making ever since because–surprise, surprise!–we can't find the shawarma we love in Dallas, either.
While we don't follow a ketogenic diet in our household, I am SWOONING over Pook's Pantry's Keto Chicken Thighs with Charred Lemon! It's gorgeous and summery and perfect for this time of year, whether or not you're into the keto thing. 🙂
Finally, Fridays are for grilling and for My Imperfect Kitchen's Chicago Dogs! These hot dogs are all about the classic toppings and a little more. 🙂 While I've never had a Chicago dog before, I cannot wait to try these!
So… I've gotta know… what do YOU like on your hot dog?
Now… who wants some dessert?
First up is this list of Favorite Blueberry Recipes for Summer from Pook's Pantry. Spoiler alert: I'd like to try one of each, but especially those muffins with the peach AND those swoon-worthy Blueberry Cheesecake Parfaits (shown above.) What about you?
Lastly, we'll serve up Pastry Chef Online's Cherry Blackberry Sonker. Have you ever heard of or tried sonker before? I hadn't before I met Jenni, but I am so very excited to give this sonker a try. So summery and perfect for dessert for a Friday evening!
…
See you next week with new recipes and a new menu plan!
Thank you for spending part of your day with me, have a wonderful and delicious weekend.