Singing with spicy ginger and caramel notes, the Dark and Stormy Rum Moscow Mule is a refreshing drink. This twist on a classic cocktail is made with simple ingredients that get a flavorful twist from dark rum. Makes 1 drink.
Love a refreshing Moscow Mule cocktail? Be sure to check out this Strawberry Moscow Mule, Frozen Moscow Mule and Peach Moscow Mule!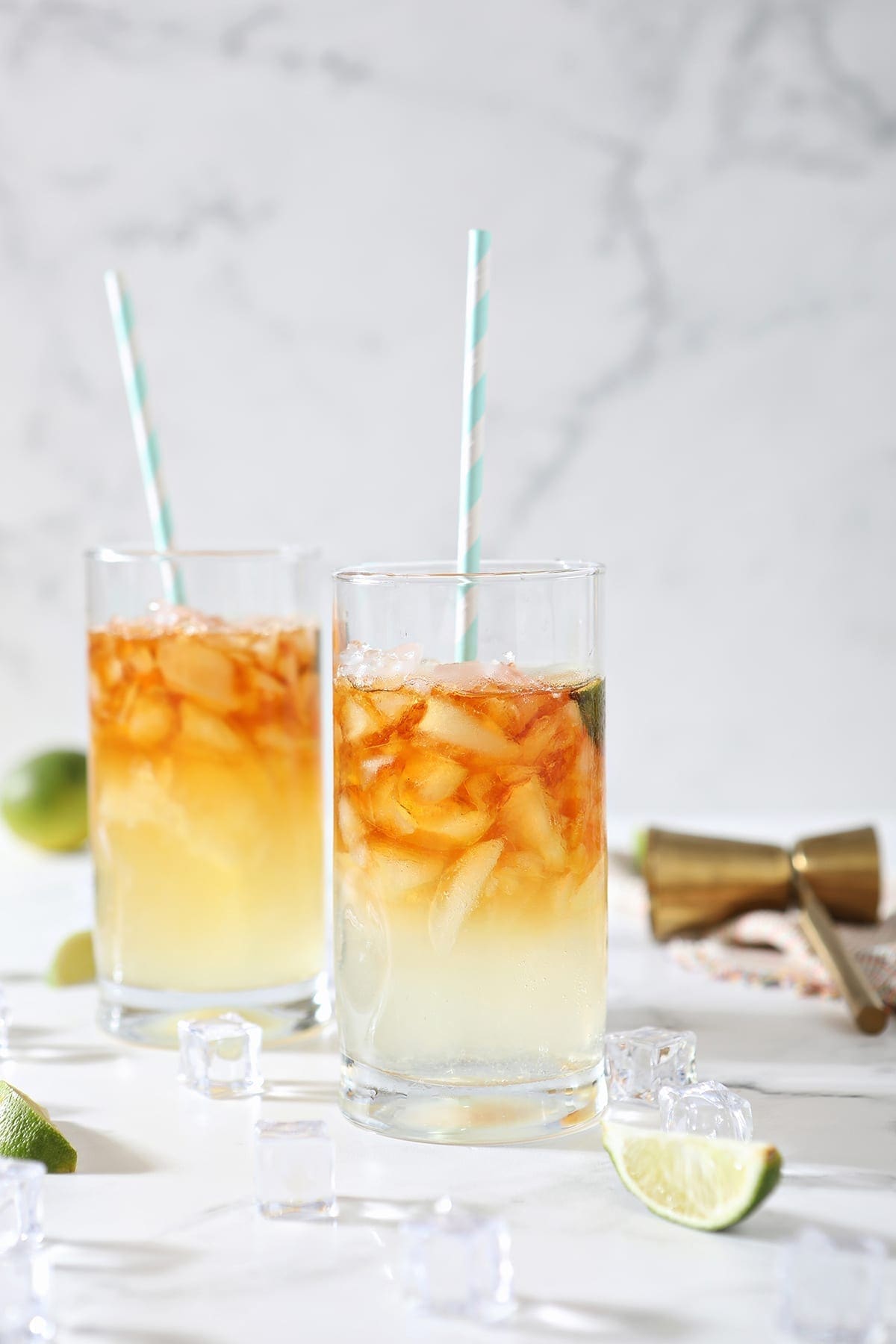 Our Year of the (Moscow) Mule rolls on, and this month, we're making a DARK AND STORMY.
Which… I bet you're wondering what the heck that even means, right?
A Dark and Stormy drink is a twist on a Moscow Mule! Basically, it's a Rum Moscow Mule by a different name. 😀
And much like a Kentucky Mule, an Irish Mule and a Mexican Mule, we're swapping the vodka in the classic Moscow Mule for dark rum.
Obviously, this drink is delightful and refreshing and perfect as a summertime sipper. Which is why I'm sharing it in August.
Some renditions of this rum cocktail call for dark rum and ginger beer alone while others call for the addition of lime juice and simple syrup. We're adding lime juice to this one here because I adore the pop of citrus paired with the ginger and the dark rum.
More Moscow Mule recipes: Raspberry Moscow Mule / Apple Cider Moscow Mule / Gin Gin Mule / Cranberry Mule
Looking for some more rum recipes? Check out my Rum Recipe Index.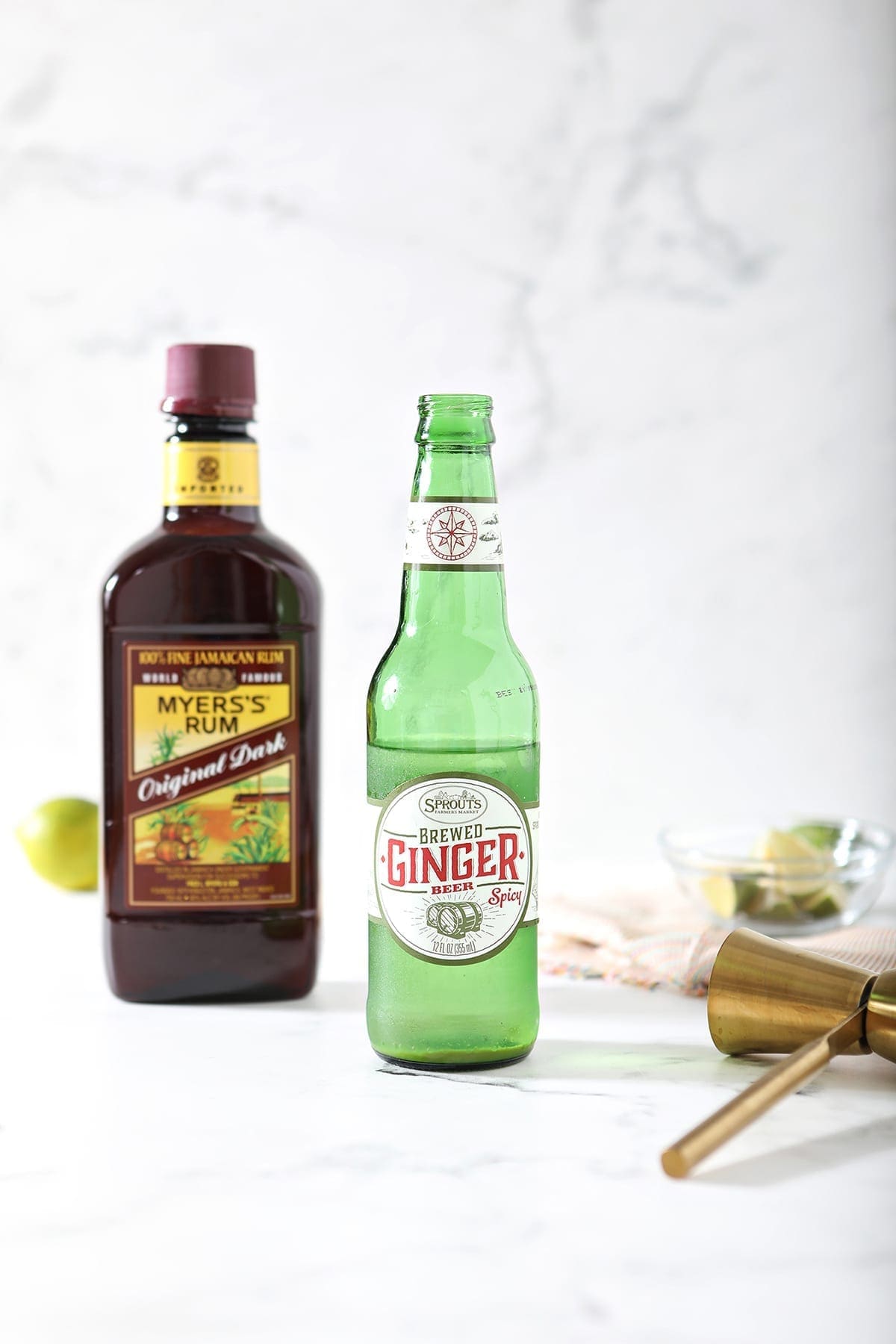 What you'll need to make a Dark and Stormy Drink
Disclaimer: The links below are affiliate links. If you click through and take action, I will receive a small commission. Please refer to my disclosure page. for more information about the affiliate programs The Speckled Palate participates in.
Copper mugs or highball glasses you'd like to serve your rum cocktail in
How to make a Rum Moscow Mule
Scoop crushed ice into a highball glass (or a copper mug, if you want to make this look more like a mule.)
Pour in the ginger beer first. Add a squeeze of lime juice on top of it.
Lastly, pour the dark rum on top of the drink. This will give it the ombre effect that you see in the photos here!
Lastly, stir with a cocktail spoon until combined.
Serve with a lime wedge, and enjoy immediately.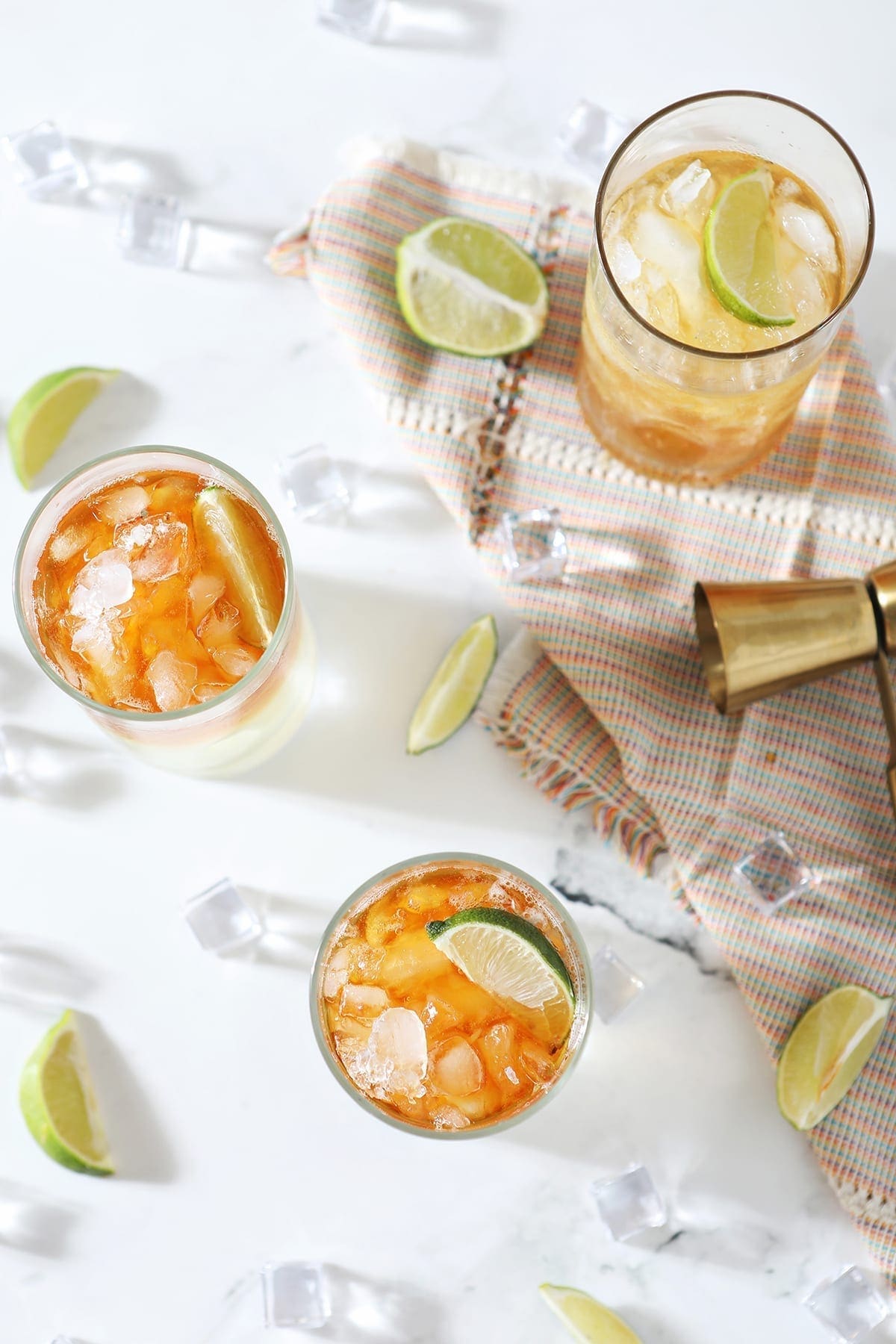 Erin's Easy Entertaining Tips
I've said it before and I'll say it again—mules are fabulous party drinks! They require few ingredients and are incredibly easy to prep. They are also simple for your guests to put together on their own if given the option.
If you're going to host a summertime gathering where you serve these festive twists on classic mules, I turning a surface in your kitchen or entertaining space into a "Mule Bar."
How do you make a mule bar? Here's what you do…
Set out measuring tools for your guests. If you're feeling fancy (and I advise to always feel fancy!), use large mason jars for the dark rum and the lime juice.
One to two hours before the party, squeeze the limes. You can also purchase freshly squeezed lime juice in the refrigerated section of your grocery. Don't purchase the shelf-stable stuff—we want this to be as fresh as possible!
Quarter your limes in advance, too. Keep 'em in a food storage container in the fridge for up to a few days before your gathering.
Print out the ingredients and measurements, and place them in a frame (or in a place on the bar where spilled ingredients won't bother them.)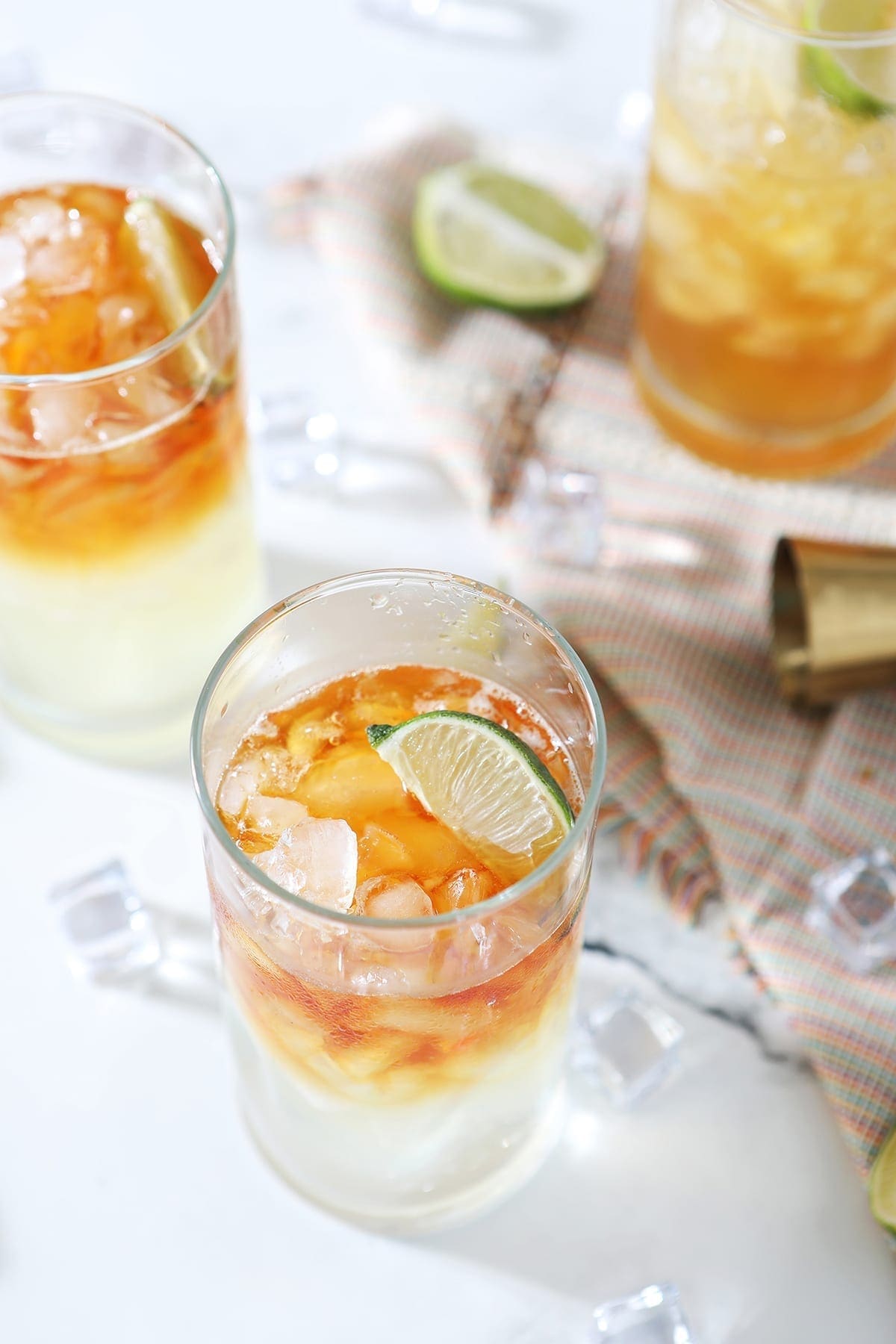 Frequently Asked Questions
Why do you consider a Dark and Stormy a Moscow Mule? It's not even named the same thing.
When you look at the ingredients of a Dark and Stormy Drink and a Moscow Mule, you'll notice that the only difference is the alcohol used.
Is dark rum the same thing as spiced rum?
NO. Dark rum and spiced rum are not synonymous, and since I'm not a big rum drinker, I did not realize this until I was developing this drink recipe. Turns out, spiced rum made this taste kind of… watery… and you didn't get much of the rum flavor.
For the rum newbies out there, here's a breakdown of the different types of rum that are on the market:
Light rum (AKA white or silver rum)

: This rum has no color, hence the name. It is not aged for long and is very mild, flavor-wise.

Gold rum (AKA amber rum)

: This type of rum is aged in wooden casks (the time varies from brand to brand). This contributes to both the color and the flavor of the rum.

Dark rum (AKA black rum)

: This rum is aged in wooden casks for a longer amount of time. It has a deep, dark color and a robust smoky-sweet flavor.

Spiced rum

: This rum is aged similarly to dark rum. However, it has added spices and caramel coloring for additional sweetness and flavor.
Obviously, we're using dark rum in this cocktail to give it extra flavor.
Is there a specific brand of dark rum I should use?
No, there isn't a specific brand! If you don't know your rum, I'd reach out to someone at your local liquor store who's knowledgeable and who can help you choose a bottle. (This is what I do whenever I visit the liquor store and don't feel confident in my ability to choose a good bottle.)
I think it's important that you don't want to purchase a bottom shelf bottle because you taste the rum in this drink and obviously, we want it to taste good.
Can I make this into a pitcher drink?
Absolutely! To make a pitcher to serve six, combine the following in said pitcher:
24 oz ginger beer
9 oz. dark rum
3 oz. lime juice
What is the best brand of ginger beer?
Our family really likes Sprouts' brand ginger beer, as well as Fever Tree. Be forewarned if you purchase the Fever Tree that it is extremely spicy and that it could be overwhelming for some.
Is ginger beer alcoholic?
Look at the label of your ginger beer, but generally speaking, it is not. That said, there are trace amounts of alcohol in ginger beer due to how it's brewed, but the levels are similar to that of kombucha.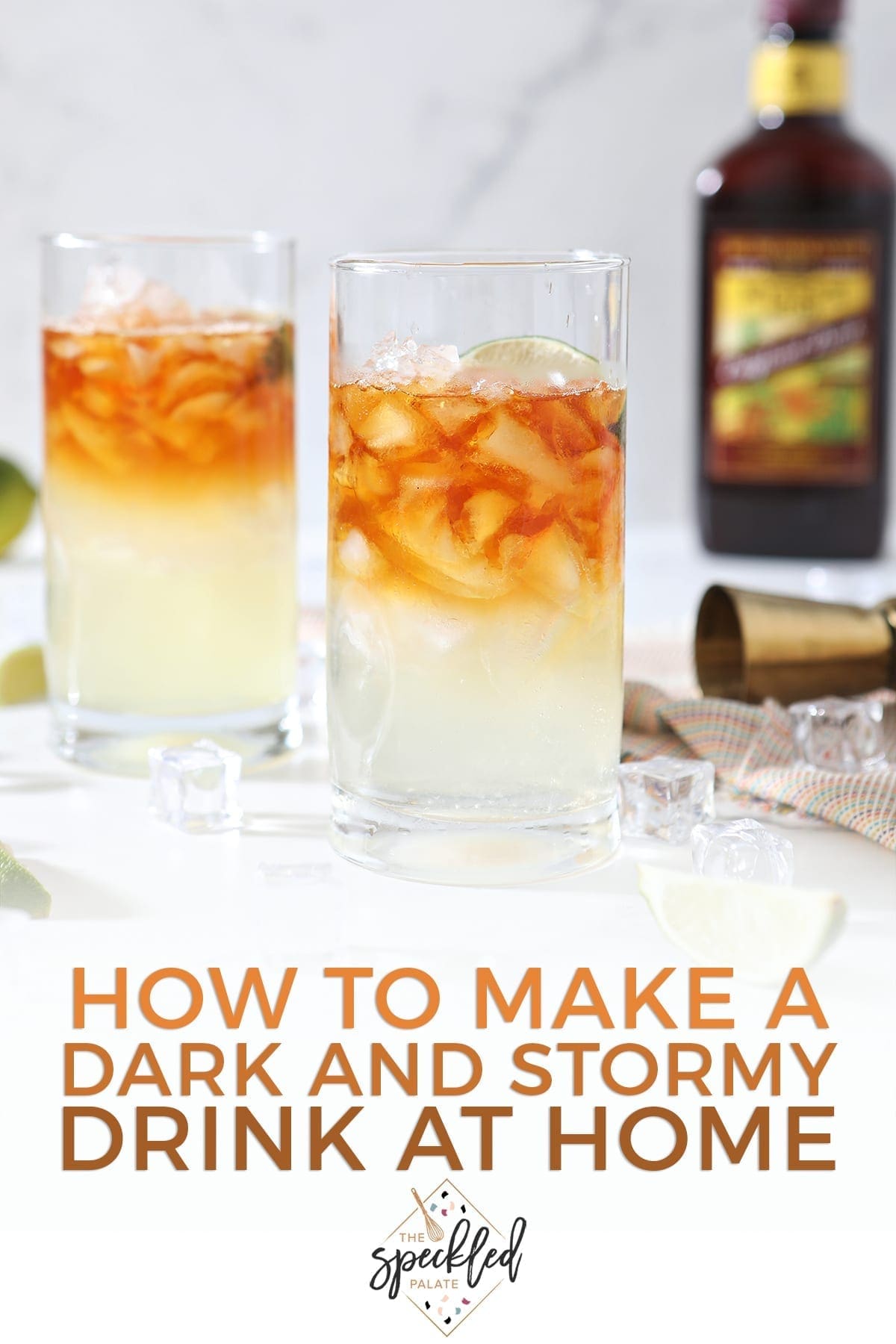 Quick tips for making a Rum Moscow Mule
If making a batch of mules, prep your ingredients before you start mixing 'em.
Always use fresh lime juice! It makes all the difference.
Turn it into a pitcher drink! Quadruple the recipe (or multiply it by six) to turn this festive mule into a Dark and Stormy Pitcher.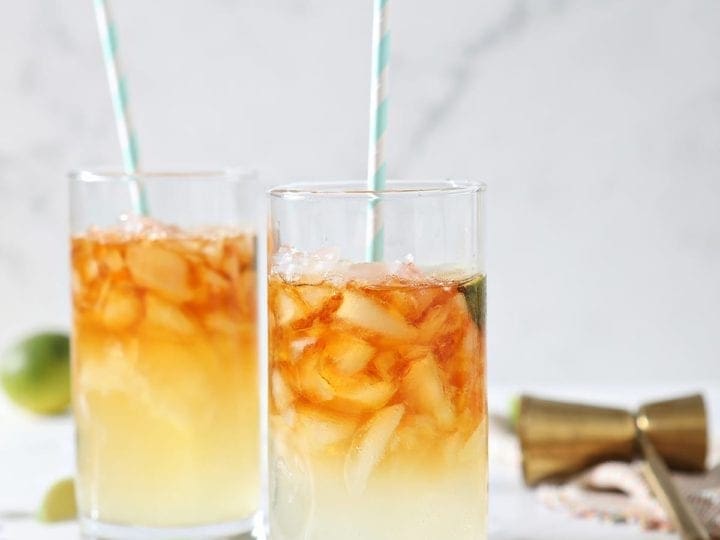 Yield:

1 drink
Dark and Stormy Drink (Rum Moscow Mule)
Singing with spicy ginger and caramel notes, the Dark and Stormy Rum Moscow Mule is a refreshing drink. This twist on a classic cocktail is made with simple ingredients that get a flavorful twist from dark rum. Makes 1 drink.
Ingredients
4 oz. ginger beer
½ oz. lime juice, freshly squeezed
1 ½ oz. dark rum
Ice, for serving
Lime wedge, for garnish
Instructions
Add crushed ice to a highball glass.
Pour in the ginger beer.
Add the lime juice, and stir.
Top with dark rum.
Stir with a cocktail spoon, then add a lime wedge, and enjoy immediately.

Notes
If you like your drinks a little stronger, use 3 ½ oz. of ginger
beer instead of 4 to give your drink a little more of a punch!
To make a 6-serving pitcher of Rum Moscow Mules, combine the following in a pitcher:
24 oz ginger beer
9 oz. dark rum
3 oz. lime juice

Stir, serve over ice with wedges of limes.
Recommended Products
As an Amazon Associate and member of other affiliate programs, I earn from qualifying purchases.
Nutrition Information:
Yield:
1 drink
Serving Size:
1 drink
Amount Per Serving:
Calories:

182
Total Fat:

0g
Saturated Fat:

0g
Trans Fat:

0g
Unsaturated Fat:

0g
Cholesterol:

0mg
Sodium:

11mg
Carbohydrates:

24g
Fiber:

2g
Sugar:

17g
Protein:

1g
Nutrition facts are an estimate and not guaranteed to be accurate.