Naturally sweet and delicious, nothing is easier to make than Slow Cooker Applesauce. All you need are apples and some cinnamon to make this incredibly simple and flavorful side dish. Makes 8 servings.
Love apple recipes? You've got to try Chicken Spinach Salad with Apples and Strawberries and Cinnamon Apple Pork Chops!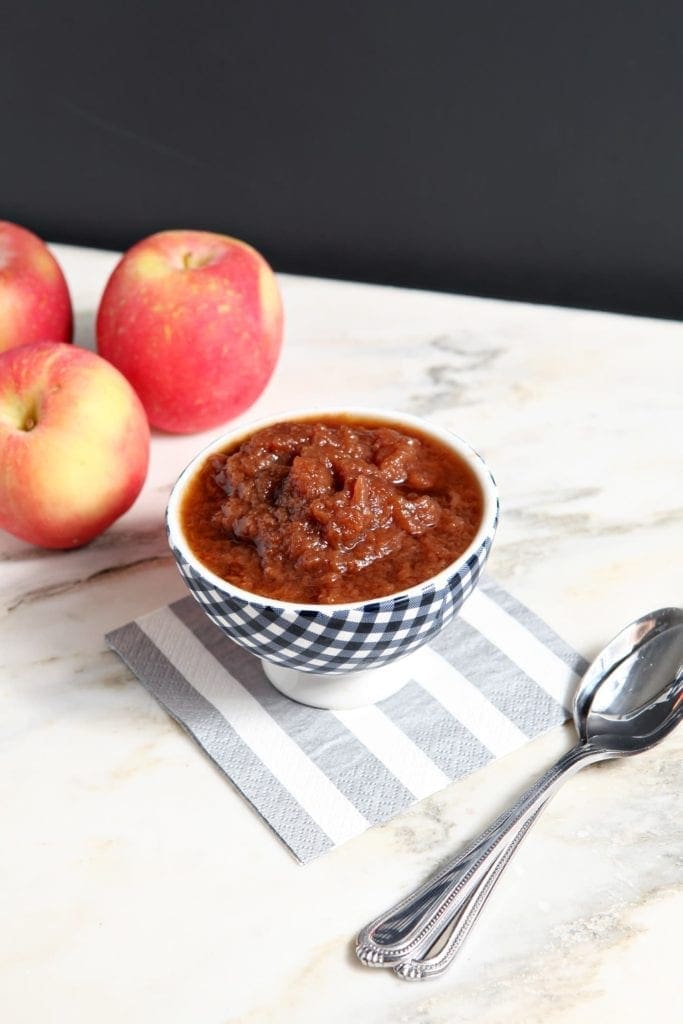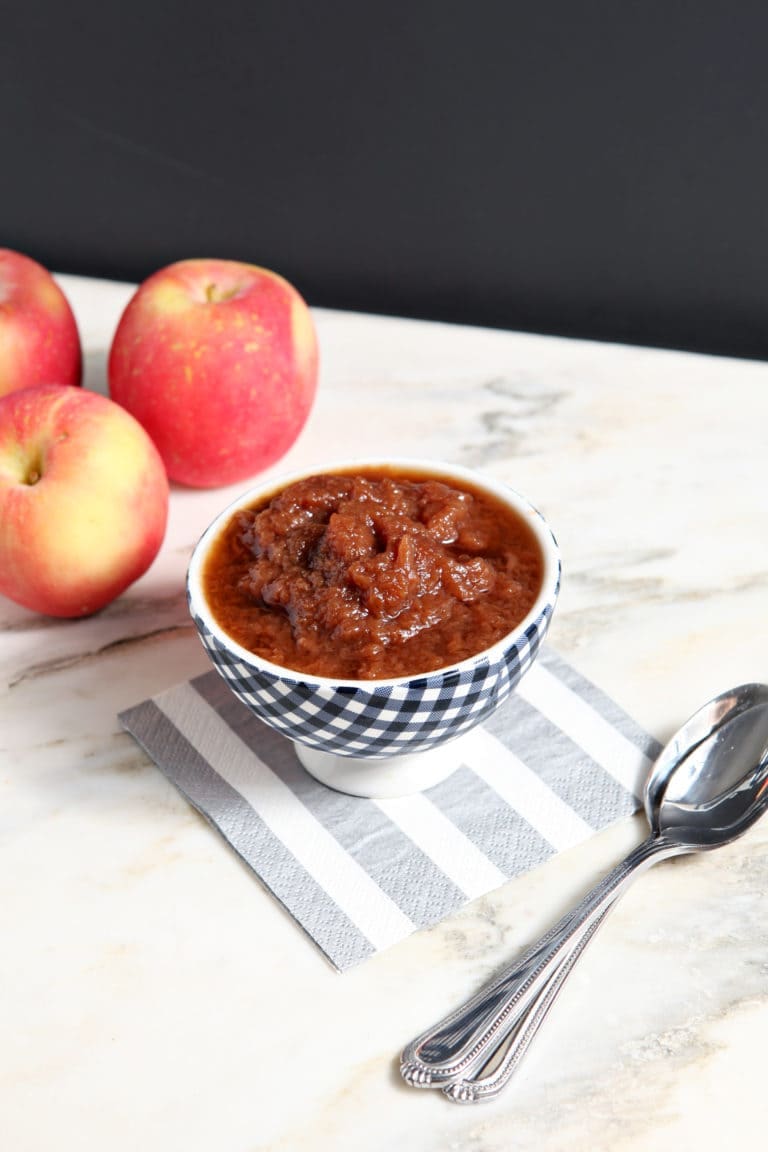 I feel like a fraud for even sharing this recipe because, well, it's not really a recipe.
It calls for one ingredient or two, tops. But only if you're feeling fancy.
While you can dress this applesauce recipe up, I honestly love it as it is because the apple flavors shine.
Why I love this recipe:
Homemade applesauce is so simple to make and absolutely delicious. Also, it's way better than the store bought stuff.
It's also a family favorite recipe.
I'm a sucker for unsweetened applesauce and tend to use it in a lot of baked goods. I also love it for an easy snack.
When our older daughter Lady became interested in solid foods, I researched and made a lot of purees for her. They included this applesauce.
I love this recipe because you control the flavors added, as well as the sweetness.
So whether you've gone apple picking and are looking how to use up some of that apple goodness or if you just bought a giant bag at the store, this is an excellent recipe to try!
Other recipes with apples that we adore this time of year: 40 Fall Apple Recipes for Apple Season | Vegan Breakfast Apple Crisp | Apple Chai Spiced Yogurt Parfaits | Spiced Apple Upside Down Cake with Bourbon Caramel Glaze | Shredded Applesauce Chicken Sliders with Brussels Sprouts Apple Slaw
Need more fall food inspiration? Check out my Fall Recipe Index for more ideas.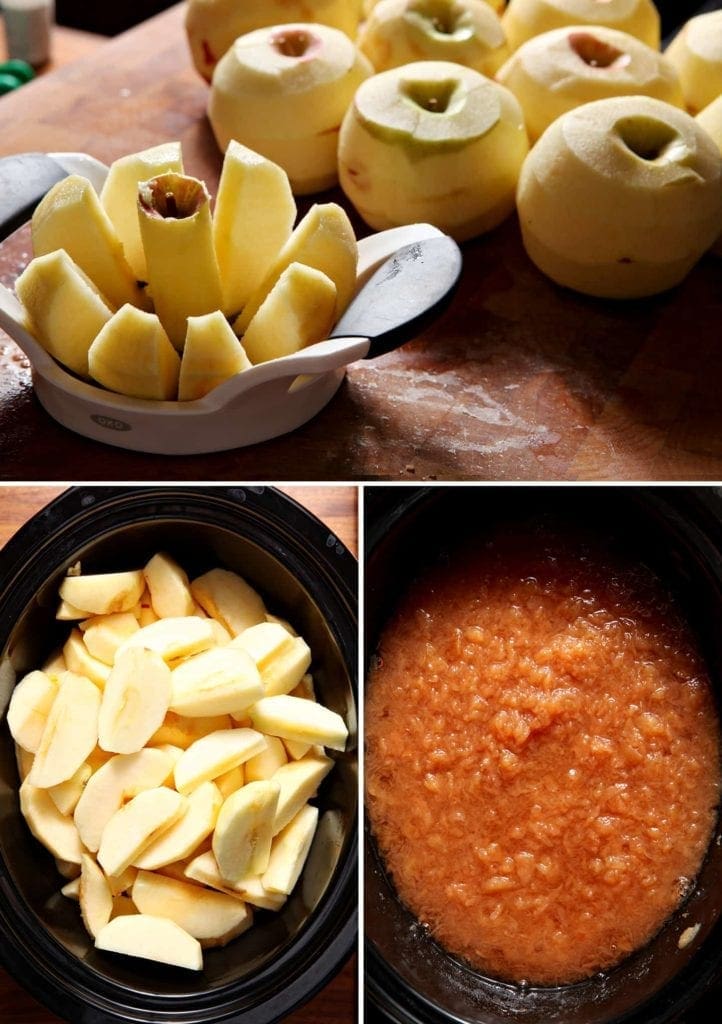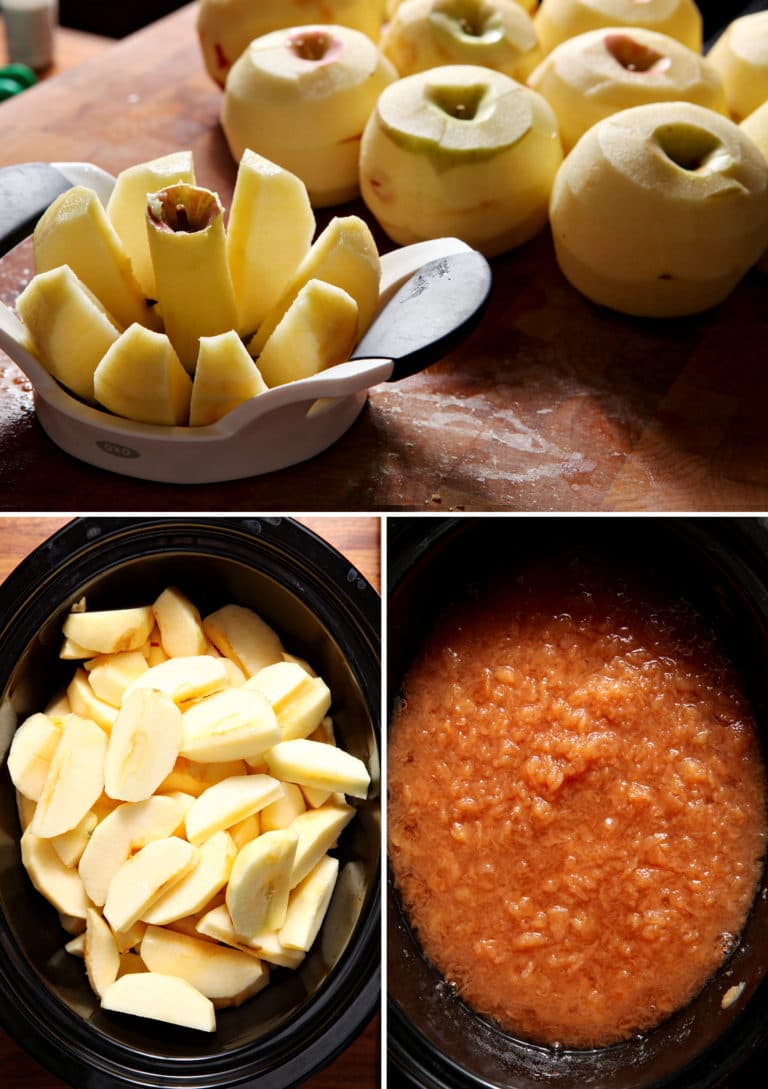 What you need to make this recipe:
The Speckled Palate participates in affiliate programs. As an Amazon Associate, I earn a commission from qualifying purchases. Please refer to my disclosure page for more information about these affiliate programs.
Sharp knife and cutting board
Let's talk ingredients!
In addition to the tools above, you're going to need some ingredients to make this recipe, too! Chances are, you might already have some of them in your fridge or pantry. Scroll down to the recipe card for the full measurements and instructions.
Here's what you'll need:
Apples — you're going to need a lot of 'em.
Cinnamon sticks — these are totally optional, but they add delicious flavor to the applesauce if you want to use them!
What are the best apples to use for applesauce?
You can basically use whatever type of apples you've got on hand for applesauce. Softer apples will cook down faster while apples that are more firm take more time.
That being said, you're making this applesauce in the slow cooker… so it's going to cook low and slow for however long you need.
Use your favorite apples. (Mine are Granny Smith apples and Fuji apples.)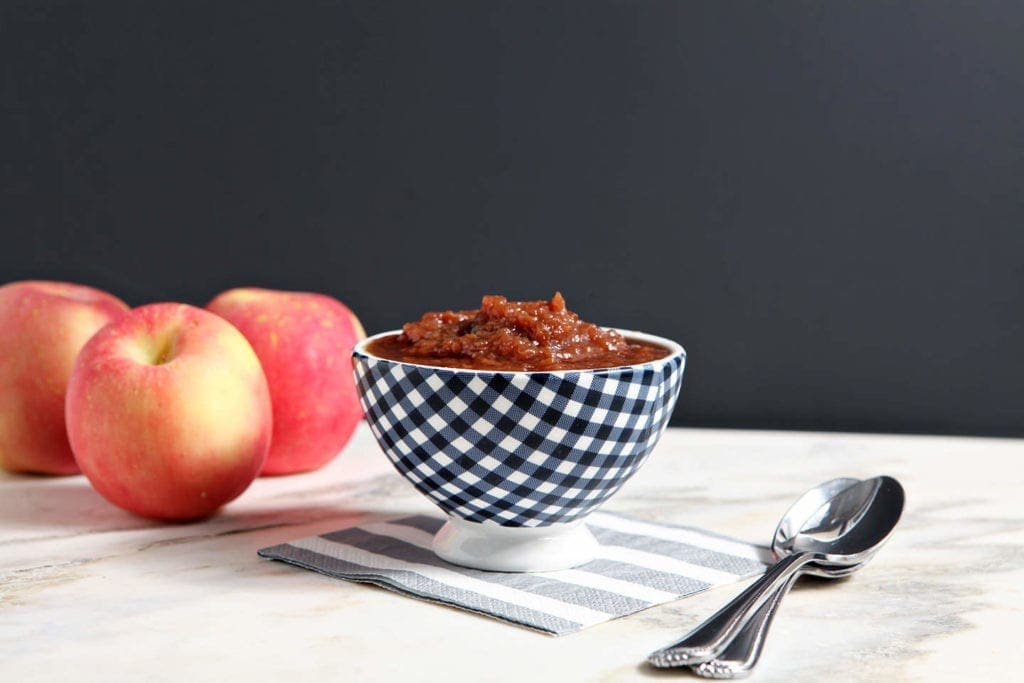 How to make Applesauce in the Slow Cooker
Prepare the apples. Use a vegetable peeler for peeling the apples. Core them and dice them.
I like to use an apple corer to core and cut the apples at the same time, though you can use a knife if you'd rather.
Place the apples in the slow cooker. If you want, now is the time to add the cinnamon sticks.
You may also add some lemon juice to help the apples keep their color and not brown.
Cook on low for 8-12 hours, or until the apples are falling apart.
You will not need to use an immersion blender to combine these apples because they will become so soft that they will fall apart.
How to store homemade applesauce:
Once cooked through, store in a food safe container in the refrigerator for up to a week.
You may also freeze the applesauce into cubes (like Souper Cubes* affiliate link) if desired and defrost in the refrigerator before eating.
You could also can the applesauce, though I have no experience with this and would suggest you look up how to do this elsewhere so you can do it safely.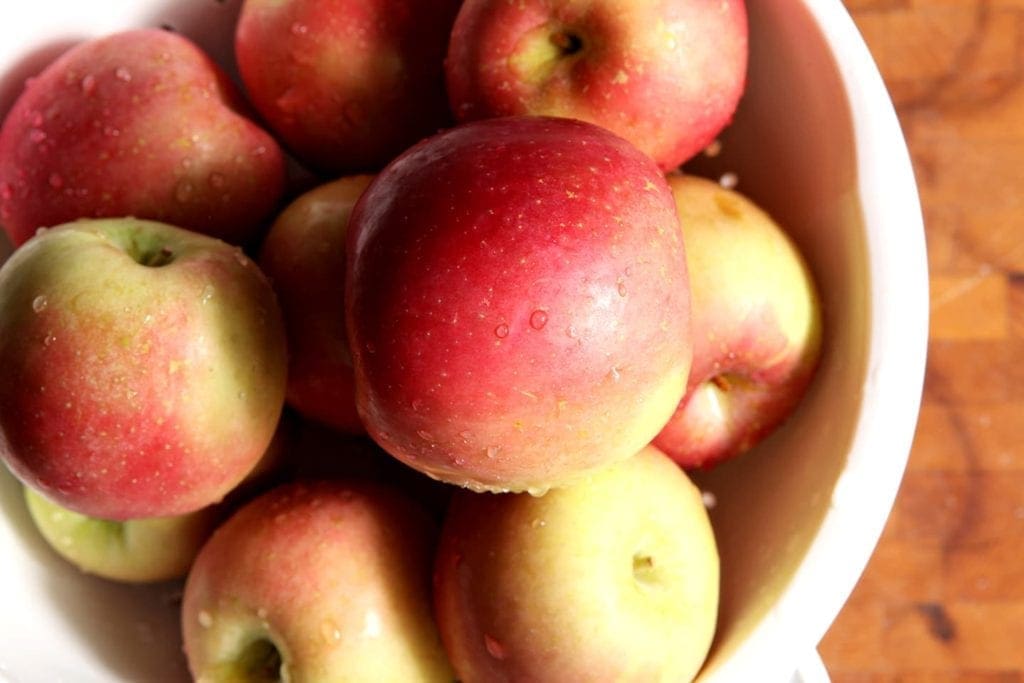 Frequently Asked Questions
Can you overcook applesauce?
Yes, you can overcook applesauce. While I like mine to be falling apart, I know that not everyone loves that and suggest keeping an eye on yours as it cooks down to where you can stop the cooking at the consistency you like.
How long do you process applesauce for?
This applesauce cooks in the slow cooker and will cook for 8-12 hours, depending on the apples, your slow cooker itself and the desired consistency.
Do you have to peel apples for applesauce?
While you don't *have* to peel apples for applesauce, I really like the end result better when the apples have been peeled.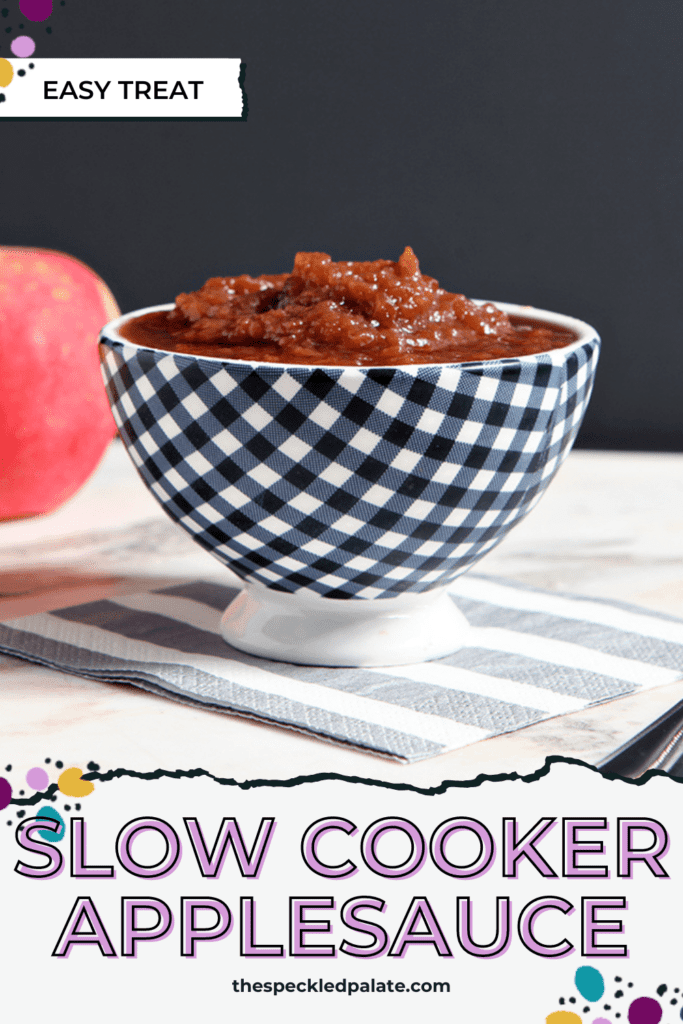 Tips and tricks for the best Crockpot Applesauce
Use your favorite apples. Since they cook down in the slow cooker, the initial softness of the apples doesn't really matter. Choose something that has flavor that you like.
Have fun with the flavors. I suggest using cinnamon sticks to add cinnamon flavor. You could also add a few tablespoons of brown sugar for sweetness.
If you peel and core the apples early, add a little lemon juice to prevent browning before the cooking process begins.
Here's how you can make this homemade applesauce recipe at home: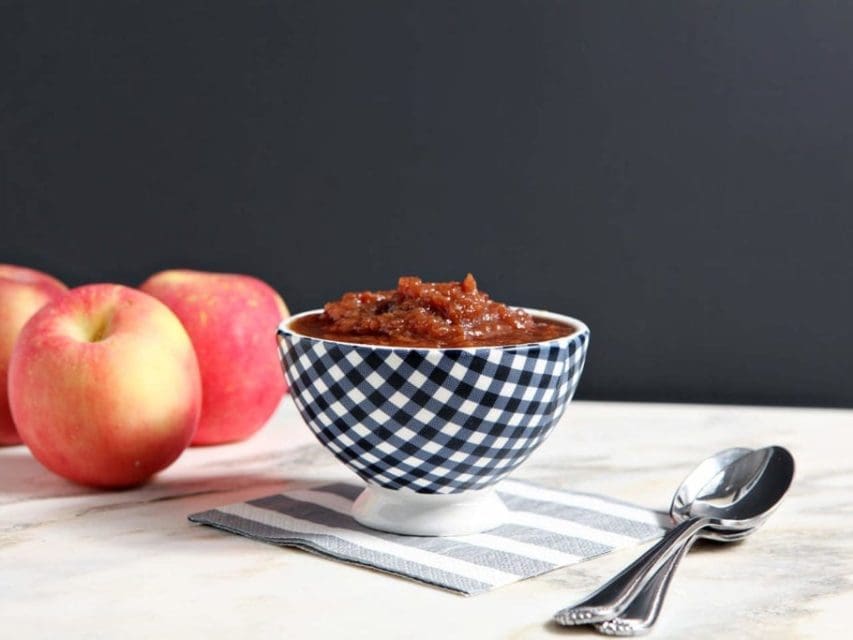 Yield:

8 servings
Slow Cooker Applesauce
Total Time:
8 hours
20 minutes
Naturally sweet and delicious, nothing is easier to make than Slow Cooker Applesauce. All you need are apples and some cinnamon if you're feeling fancy!
Ingredients
7.5 lbs. apples (your choice of variety!)
2 sticks cinnamon, optional)
Instructions
Peel, core and dice the apples.
Place the apples in the base of a slow cooker.
Add the cinnamon sticks, if desired.
Cook for 8-12 hours on low, or until apples have fallen apart and are the desired consistency.
Store in the refrigerator for up to a week, or freeze into cubes/plastic containers.
Recommended Products
As an Amazon Associate and member of other affiliate programs, I earn from qualifying purchases.
Nutrition Information:
Yield:
8
Serving Size:
1
Amount Per Serving:
Calories:

222
Total Fat:

1g
Saturated Fat:

0g
Trans Fat:

0g
Unsaturated Fat:

0g
Cholesterol:

0mg
Sodium:

4mg
Carbohydrates:

59g
Fiber:

10g
Sugar:

44g
Protein:

1g
Nutrition facts are an estimate and not guaranteed to be accurate.