Dinner Divas Weekly Meal Plan: Week 87
Looking for food inspiration for next week's menu? Look no farther than the Dinner Divas weekly meal plan, a comprehensive plan that includes FIVE dinners and two extras, be they drinks, desserts, sides, etc. This eclectic meal plan, which includes relatively healthy dishes that won't take all day to cook, is meant to help busy cooks plan for the week ahead! We hope this meal plan provides great ideas and delicious dishes for your family.
Welcome to this week's Dinner Divas Weekly Meal Plan! Our menu this week is delicious. Comfort food, easy weeknight meals paired with two extras… The Dinner Divas have put together a fantastic week of recipes for you.
Make sure you are subscribed so you don't miss a single recipe!
Here's how it works: Every Friday morning, I share a new menu plan on The Speckled Palate. It always consists of FIVE dinner options, plus TWO extras. Those extras could be side dishes, dessert, drinks, etc. Our Dinner Divas weekly menu plans feature (mostly) healthy, seasonal foods that don't take all day to prepare because nobody has time for that. 😉
We hope this weekly menu, shared on Friday mornings, helps you make your shopping list and get organized for the week ahead.
I'd love to hear from you and see your creations! Post a picture using #DinnerDivas and tag @speckledpalate!
I hope this weekly menu plan provides inspiration and makes life a little easier… one meal at a time.
Y'all ready for this?
Sometimes, having dip for dinner is exactly what you've gotta do! Pastry Chef Online brings her delightful (and incredibly colorful) Muhammara (Middle Eastern Walnut-Red Pepper Dip) to the party today.
Have you ever tried Muhammara before? I haven't, but seeing that I enjoy both walnuts and red peppers, I have a feeling I'm going to adore it!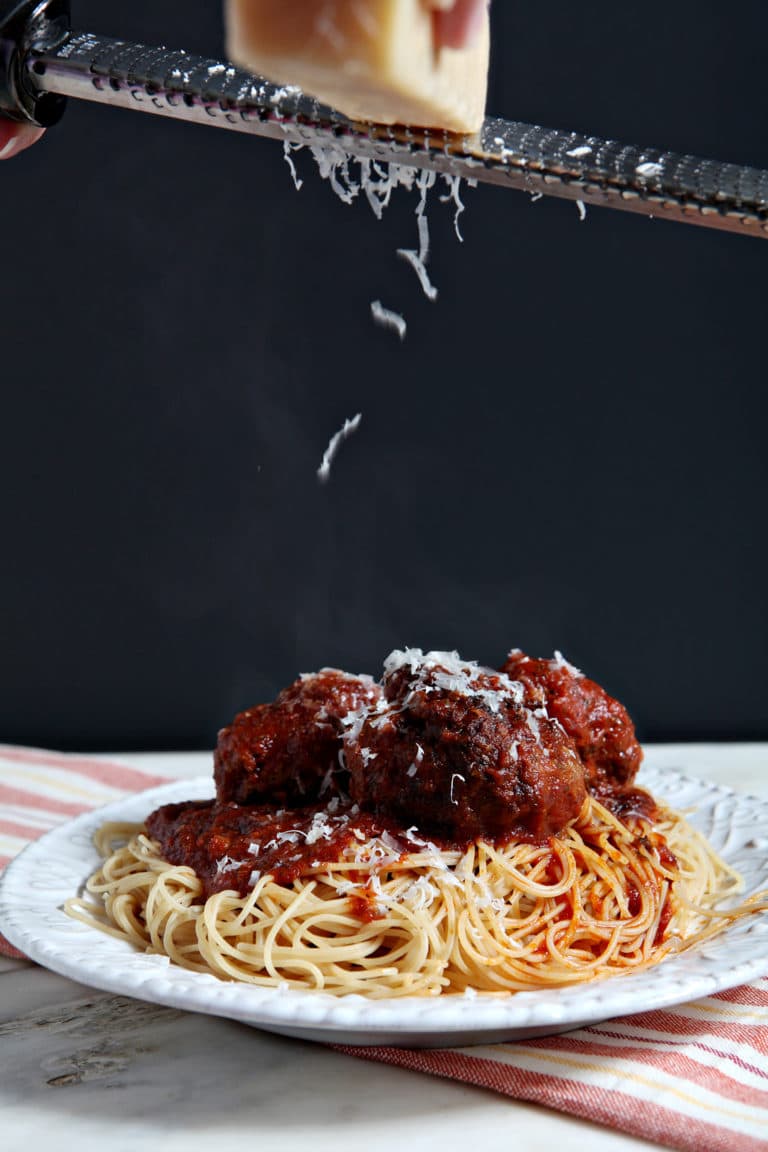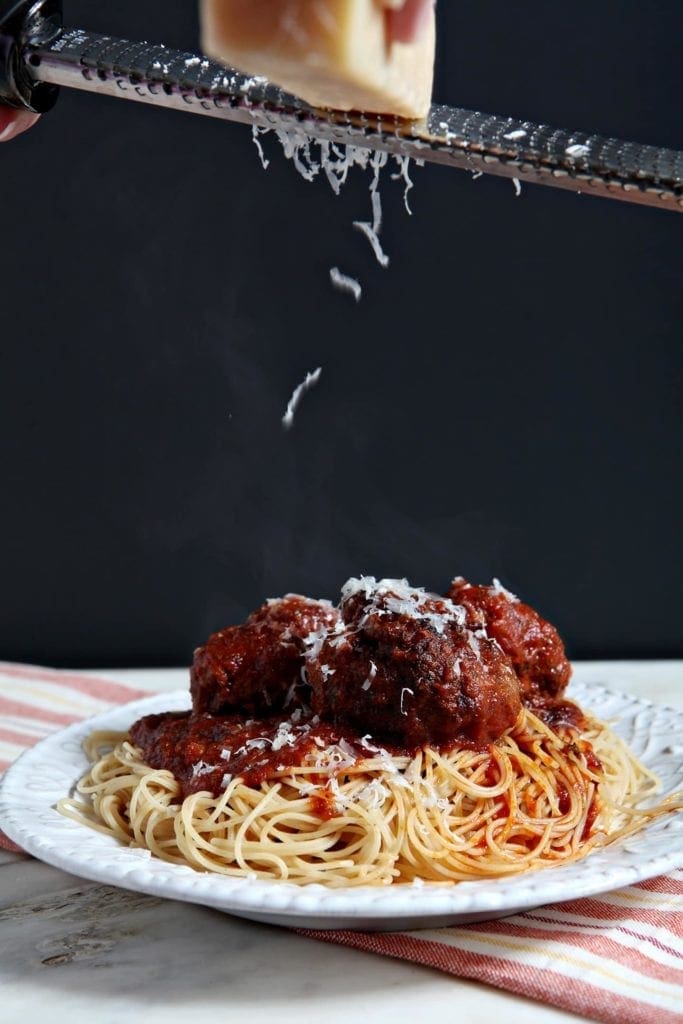 Tonight, we're going for comfort food in the form of Spaghetti and Meatballs. This twist on my mom's classic spag 'n balls recipe is all kinds of perfect for a chilly evening, and it's beloved by both kids and adults.
I meaaaaaaan… how can you go wrong with pasta, a flavorful red sauce and sausage and beef-filled meatballs?
Last week, I was under the weather and could have used a big 'ol bowl of soup, like tonight's Chicken Tortilla Soup recipe from Imperfect Kitchen. A homey soup like this one is perfect for tonight (or any sick day) because it's comforting!
Unsurprisingly, this rendition of the classic has me drooling.
Pook's Pantry is elevating weeknight dinner tonight for us all with her delightful Porcini Crusted Beef Tenderloin with Chestnut Stuffing! I don't know about you, but I find beef tenderloin pretty intimidating because it's a super expensive cut of meat, and if I mess it up, well…
Lucky for us, Cheryl is a professional chef, and she breaks down exactly what to do in her post so we can get the perfect beef tenderloin every time!
Say it with me: Broccoli Bacon Carbonara, Broccoli Bacon Carbonara, Broccoli Bacon Carbonara.
Comfortably Domestic knocks it out of the park with her carbonara because it combines so many of my favorite things, including pasta, broccoli and bacon.
Tell me this isn't the perfect Friday evening dish…
'Tis the season for all kinds of DESSERT! This week, Pastry Chef Online and I are bringing y'all two new treats to enjoy this holiday season.
Online Pastry Chef's Vegan Chocolate Christmas Cake is not only gorgeous, but it's insanely tasty, too! Look at those layers! Look at the decorations! How could we not bake this during the holiday season?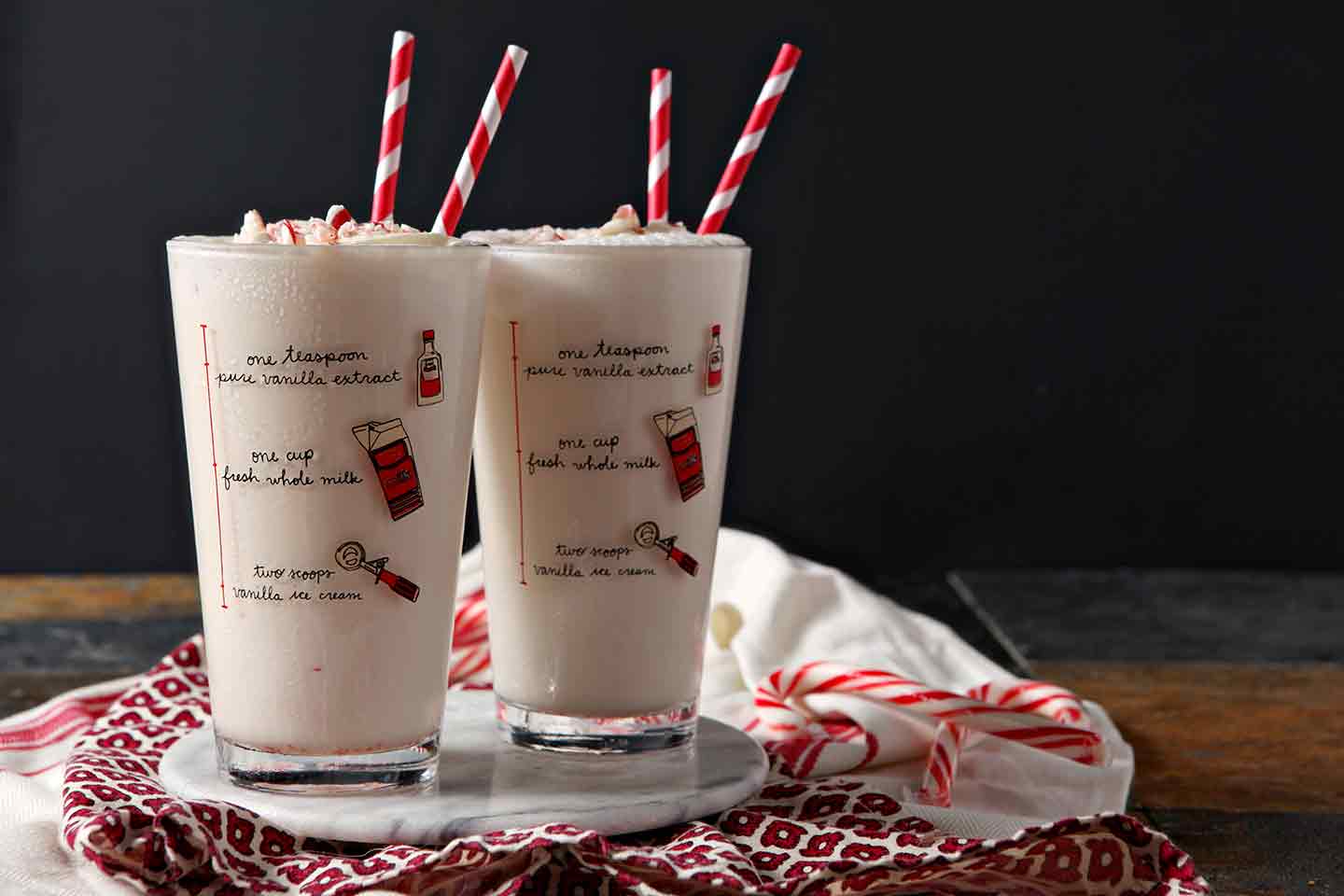 My No Churn Peppermint Ice Cream Milkshake is a fan favorite, and for good reason.
Mostly because the homemade no churn peppermint ice cream is out-of-this-world tasty, and turning it into a milkshake is just decadent!
…
See you next week with new recipes and a new menu plan!
Thank you for spending part of your day with me, have a wonderful and delicious weekend.