Looking for some food inspiration for next week's menu? Look no farther than the Dinner Divas weekly meal plan, a comprehensive plan that includes FIVE dinners and two extras, be they drinks, desserts, sides, etc. This eclectic meal plan, which includes relatively healthy dishes that won't take all day to cook, is meant to help busy cooks plan for the week ahead! We hope this meal plan provides great ideas and delicious dishes for your family.
Welcome to this week's Dinner Divas Weekly Meal Plan! Our menu this week is delicious. Comfort food, easy weeknight meals and gorgeous desserts… The Dinner Divas have put together a fantastic week of recipes for you.
Make sure you are subscribed so you don't miss a single recipe!
Here's how it works: Every Friday morning, I'll share a new menu plan on The Speckled Palate. It will consist of FIVE dinner options, plus TWO extras. Those extras could be side dishes, dessert, drinks, etc. The Dinner Divas weekly menu plans will feature (mostly) healthy, seasonal foods that don't take all day to prepare. We hope that this weekly menu, shared on Friday mornings, gives you the chance to make your shopping list and get organized for the week ahead. I'd love to hear from you & see your creations!
Post a pic using #DinnerDivas and tag @speckledpalate! I hope this weekly menu plan provides inspiration and makes life a little easier… one meal at a time.
Y'all ready for this?
Let's start the week off with fall flavors! Pastry Chef Online is bringing autumnal goodness with her Polish Sausage with Apples, Onions and Butternut Squash recipe.
Who doesn't love apples and onions and butternut squash and sausage together in a pan like this? Fall perfection, I say!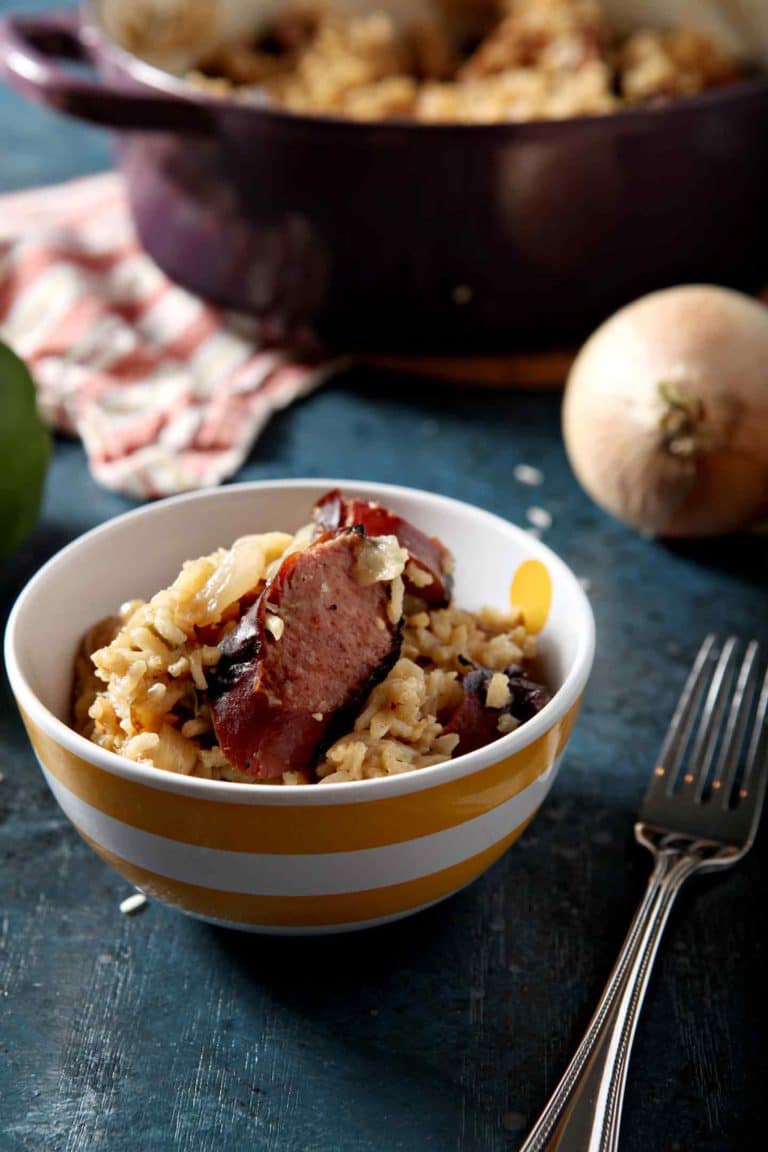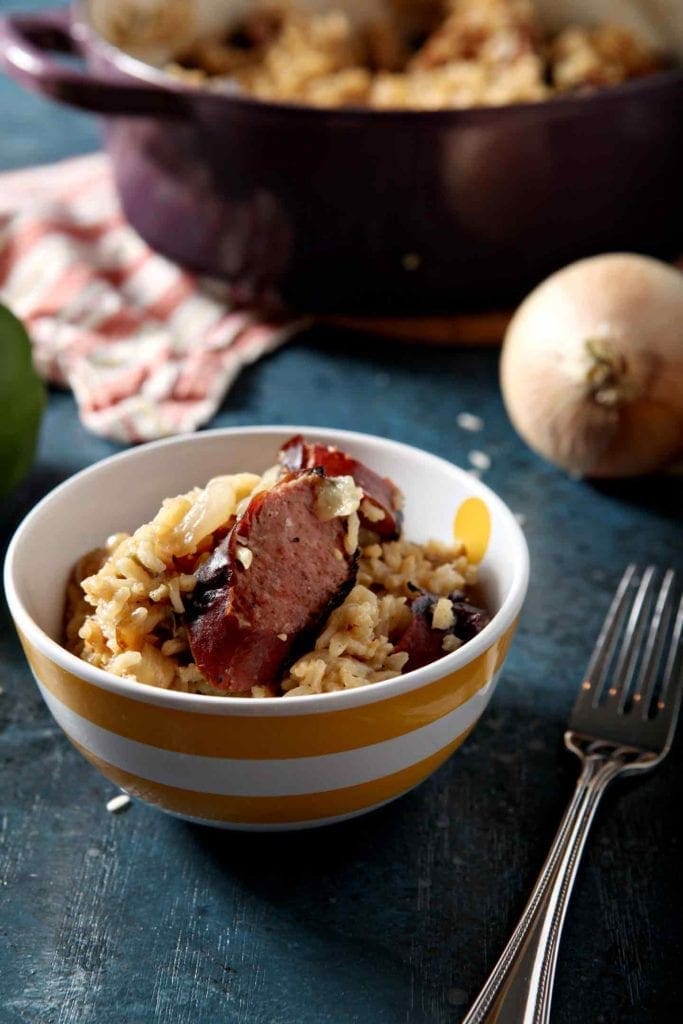 One of our favorite fall dishes for the whole family is a good 'ol jambalaya. This rice dish–filled with peppers and onions and sausage–is filling and comforting and oh-so-tasty. My Turkey Sausage Jambalaya is definitely something the whole family will enjoy!
Up next, we've got an elevated dinner from Pook's Pantry! Her Seared Halibut with Meyer Lemon Gastrique looks and sounds so fancy, but is totally something we can all make at home!
Have you ever made a gastrique at home before? I have (with these scallops), and while it's something I don't do often, it is always worth the effort!
Quesadillas are a mainstay at our house these days, and Comfortably Domestic's Garlic Pork Quesadillas with Mango Salsa. These quesadillas have some different flavors that we normally don't use in ours (garlic! pork! mango!), and I have a feeling these are going to go over really well!
Fridays are for burgers! And I love the sound of this Cheeseburger Salad from Foodie with Family. What a fun and unique way to enjoy burger flavors while getting in some veggies, too!
Would your family be into this?
Mmm. I'm always on the lookout for a good side dish to serve to the family, and Pook's Pantry is bringing the flavor this week with her White Beans with Arugula and Sun-Dried Tomato.
I'm a sucker for any dessert that calls for a little bit of salt. And these Salted Chocolate Chip Cookies from Comfortably Domestic do NOT disappoint! Look at those salt crystals on the tops! Look at the chocolate chips! What's not to love?
…
See you next week with new recipes and a new menu plan!
Thank you for spending part of your day with me, have a wonderful and delicious weekend.