Dinner Divas Weekly Meal Plan: Week 73
Looking for some food inspiration for next week's menu? Look no farther than the Dinner Divas weekly meal plan, a comprehensive plan that includes FIVE dinners and two extras, be they drinks, desserts, sides, etc. This eclectic meal plan, which includes relatively healthy dishes that won't take all day to cook, is meant to help busy cooks plan for the week ahead! We hope this meal plan provides great ideas and delicious dishes for your family.
Welcome to this week's Dinner Divas Weekly Meal Plan! Our menu this week is delicious. Comfort food, easy weeknight meals and gorgeous desserts… The Dinner Divas have put together a fantastic week of recipes for you.
Make sure you are subscribed so you don't miss a single recipe!
Here's how it works: Every Friday morning, I'll share a new menu plan on The Speckled Palate. It will consist of FIVE dinner options, plus TWO extras. Those extras could be side dishes, dessert, drinks, etc. The Dinner Divas weekly menu plans will feature (mostly) healthy, seasonal foods that don't take all day to prepare. We hope that this weekly menu, shared on Friday mornings, gives you the chance to make your shopping list and get organized for the week ahead. I'd love to hear from you & see your creations!
Post a pic using #DinnerDivas and tag @speckledpalate! I hope this weekly menu plan provides inspiration and makes life a little easier… one meal at a time.
Y'all ready for this?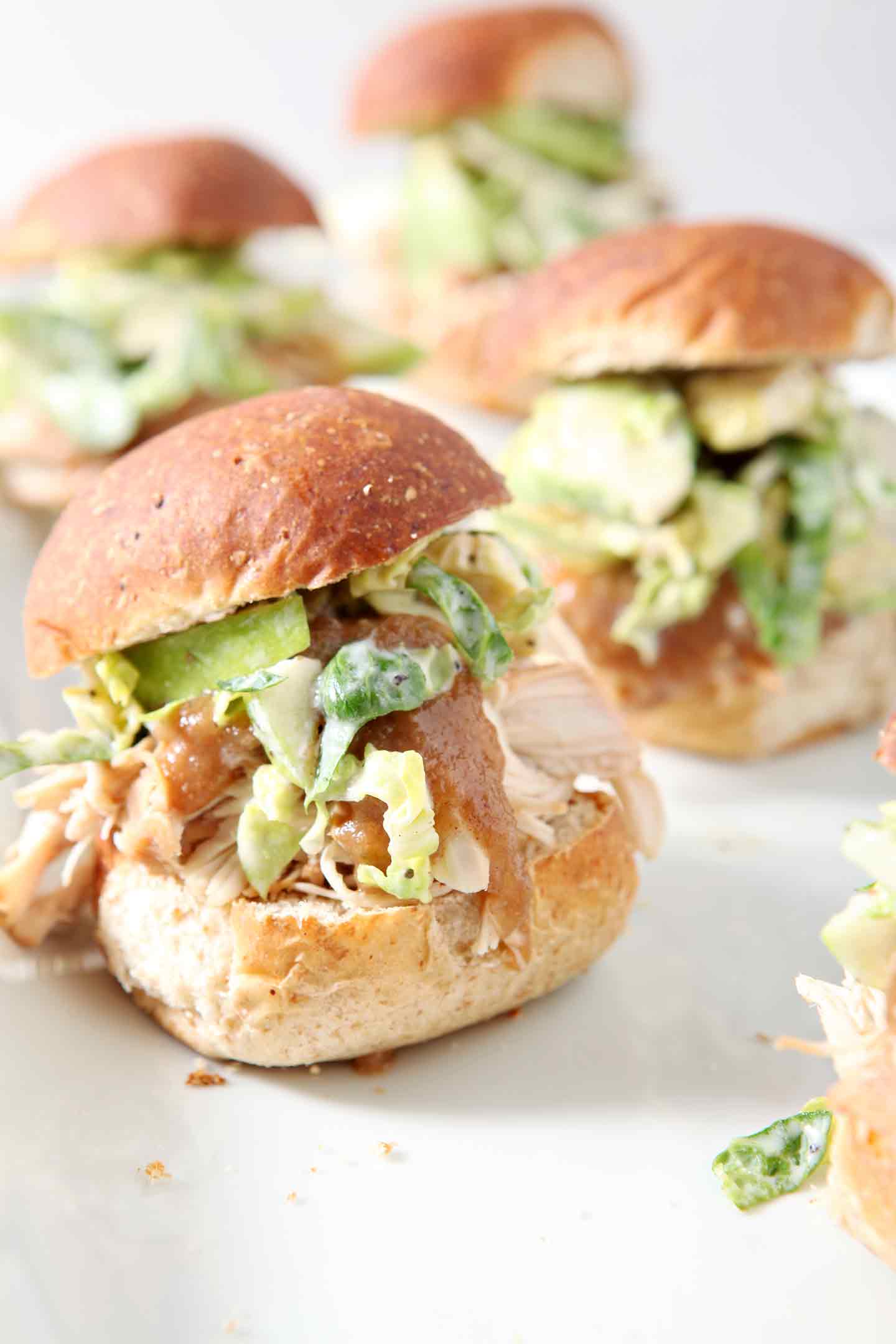 First up, we're serving my Shredded Applesauce Chicken Sliders with Brussels Sprouts Apple Slaw on this glorious Monday. These slow cooker chicken sliders are one of our fall-centric family favorites because they cook low and slow all day long, then they serve up easily on buns with an awesome, unique slaw!
Have you ever tried a Brussels sprouts slaw before? If not, I highly suggest remedying that this week!
Real talk: I'd never heard of a corvina until Pook's Pantry shared her Curry Coconut Corvina with Potatoes with us this week. Turns out, corvina is a fish! And this combination of curry, coconut and crispy potatoes sounds out-of-this-world scrumptious for a weeknight dinner!
Tonight, Comfortably Domestic is serving up Steak Potato Rounds. These potatoey, beefy bites are perfect for feeding a crowd… or having a fun, bite-sized dinner with the whole family. Sometimes, I enjoy serving up an appetizer-turned-dinner to our little family, and it always goes over well!
My sister and I have been talking about Sloppy Joes for a WEEK now, and I've yet to make them. Imagine my delight when I discovered that Pastry Chef Online included her Easy Sloppy Joes in this week's menu! Whether you're a kid or an adult, you're gonna adore these sandwiches for dinner!
I am seriously drooling over this Easy Garlic Ginger Glazed Sticky Pork that Foodie With Family is serving up tonight! The combination of garlic and ginger and pork is one of my favorites, and the fact that it's sticky and can be served with rice and veggies? Swoon!
During the fall, I'm always on the lookout for a new, delicious and comforting drink to sip throughout the day. I've discovered a new one for this year in Pastry Chef Online's Beaten Coffee (Indian Cappuccino)! Have you ever tried a coffee like this one before?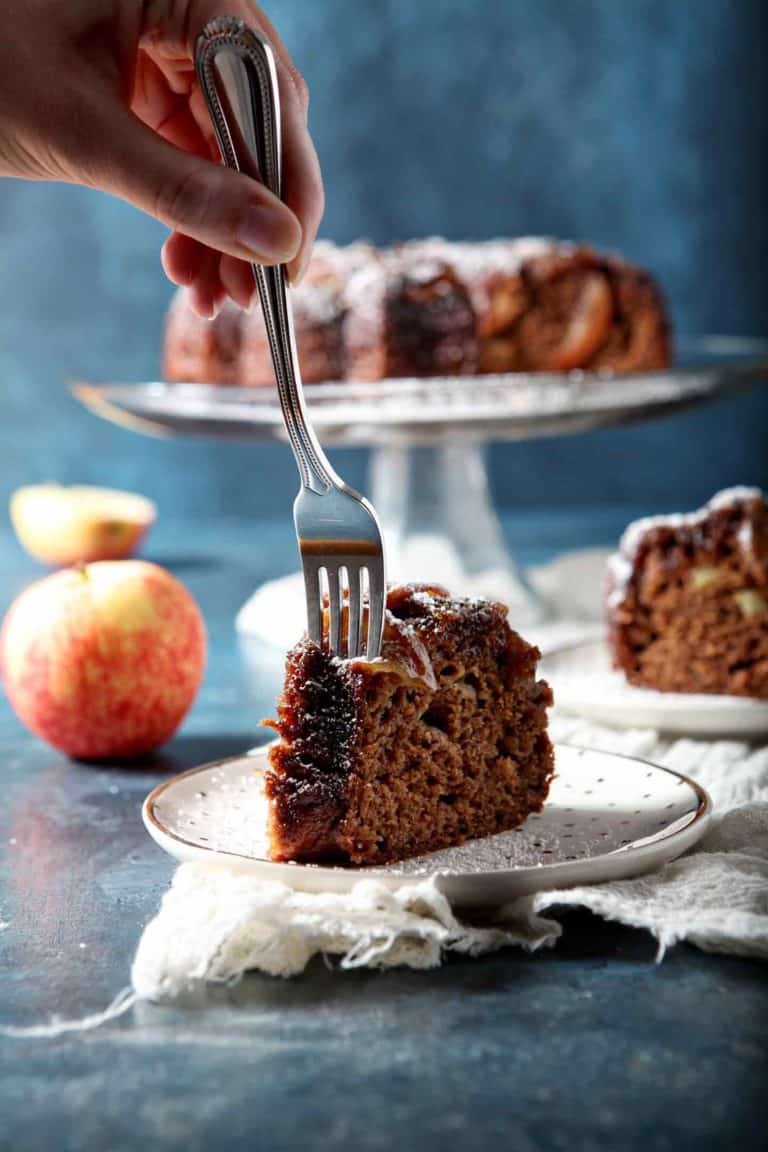 We're finishing this week on a sweet note, courtesy of my Spiced Apple Upside Down Cake with Bourbon Caramel Glaze. I'm not lying when I say I've been daydreaming about this cake ever since it was conceived last year and been holding out for cooler fall weather to enjoy it. The temperatures have dipped into the 80's this week in Texas (HA!), so I think it's time to bust out my Bundt pan and bake one of these beauts!
…
See you next week with new recipes and a new menu plan!
Thank you for spending part of your day with me, have a wonderful and delicious weekend.