Looking for some food inspiration for next week's menu? Look no farther than the Dinner Divas weekly meal plan, a comprehensive plan that includes FIVE dinners and two extras, be they drinks, desserts, sides, etc. This eclectic meal plan, which includes relatively healthy dishes that won't take all day to cook, is meant to help busy cooks plan for the week ahead! We hope this meal plan provides great ideas and delicious dishes for your family.
Welcome to this week's Dinner Divas Weekly Meal Plan! I'm super excited about our menu this week. Comfort food, easy weeknight meals and gorgeous desserts. The Dinner Divas have put together a fantastic week of recipes for you.
Make sure you are subscribed so you don't miss a single recipe!
Here's how it works: Every Friday morning, a new menu plan will be posted on The Speckled Palate. It will consist of FIVE dinner options, plus TWO extras. Those extras could be side dishes, dessert, drinks, etc. The Dinner Divas weekly menu plans will feature (mostly) healthy, seasonal foods that don't take all day to prepare. We hope that this weekly menu, shared on Friday mornings, gives you the chance to make your shopping list and get organized for the week ahead. I'd love to hear from you & see your creations!
Post a pic using #DinnerDivas and tag @speckledpalate! I hope this weekly menu plan provides inspiration and makes life a little easier… one meal at a time.
Y'all ready for this?
Monday is all about taking advantage of the summertime bounty. This Caprese Bruschetta from Pastry Chef Online is all kinds of perfect for a hot weather dinner.
It wouldn't be a summer weekday without a burger, am I right? Absolutely adoring the sound of Comfortably Domestic's Sweet Heat Burgers, which hit on my favorite flavor combination: sweet with some spice. SO good!
As someone who love, love, loves stone fruit, I am over the moon about Pook's Pantry's Nectarine Blue Cheese Spinach Salad. What a flavor combination! And what a perfect dinnertime salad for the summer months.
Are you a fan of fruit in salads, too?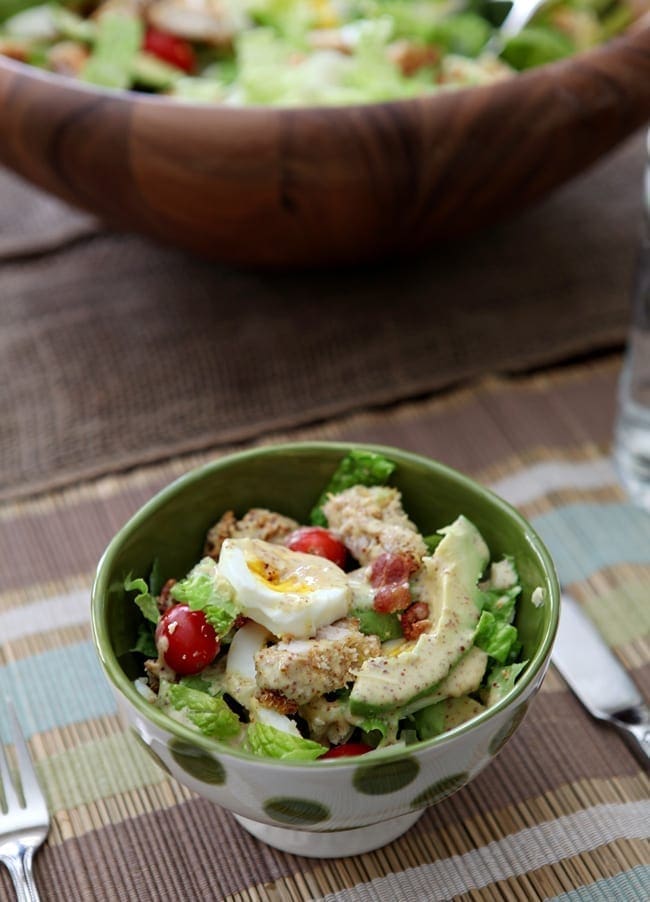 Tonight, I'm bringing the heat with my Avocado and Panko-Crusted Chicken Cobb Salad. This salad, made alllllll the way back in early 2014, is still one of our favorites because it packs a bunch of flavors and textures into a classic salad. Also, it's topped with honey mustard, which is an all-time favorite of mine.
Friday is the perfect night for a grilled cheese, right? I am loving the flavors My Imperfect Kitchen brings in her Fig, Pear and Gorgonzola Grilled Cheese. Figs are a summertime favorite of mine, and I bet they are divine on this sandwich!
Are you a huge watermelon fan? I am, and I'm always looking for different ways to serve it up. I have a feeling that Comfortably Domestic's Watermelon Cucumber Salad with Feta, Mint, and Lime is going to become a new favorite way to enjoy watermelon because it works so well in savory applications!
Have you ever had a salad like this?
We've got a Whole3o-compliant condiment for y'all that can be slathered on those above burgers or fries, etc.! Spicy, Smoky Whole 30 Ketchup is where it's at this summer (and always). Something about a condiment that's both spicy and smoky makes my tastebuds super happy. I cannot wait to serve this goodness to my family because I know it's going to be delicious!
Are you a fan of a spicy ketchup?
…
See you next week with new recipes and a new menu plan!
Thank you for spending part of your day with me, have a wonderful and delicious weekend.