Add a bit of booze to the holiday dessert table by baking a Bourbon Pecan Pie. A twist on the classic, this homemade pie captures the sweetness of pecans with a little spice from the bourbon. Served with whipped cream, it is a true holiday treat! Makes 8-10 servings.
Love bourbon in baked goods? You've got to try Bourbon Pecan Pie Bars, Chocolate Bourbon Pecan Hand Pies and Bourbon Pecan Brownies!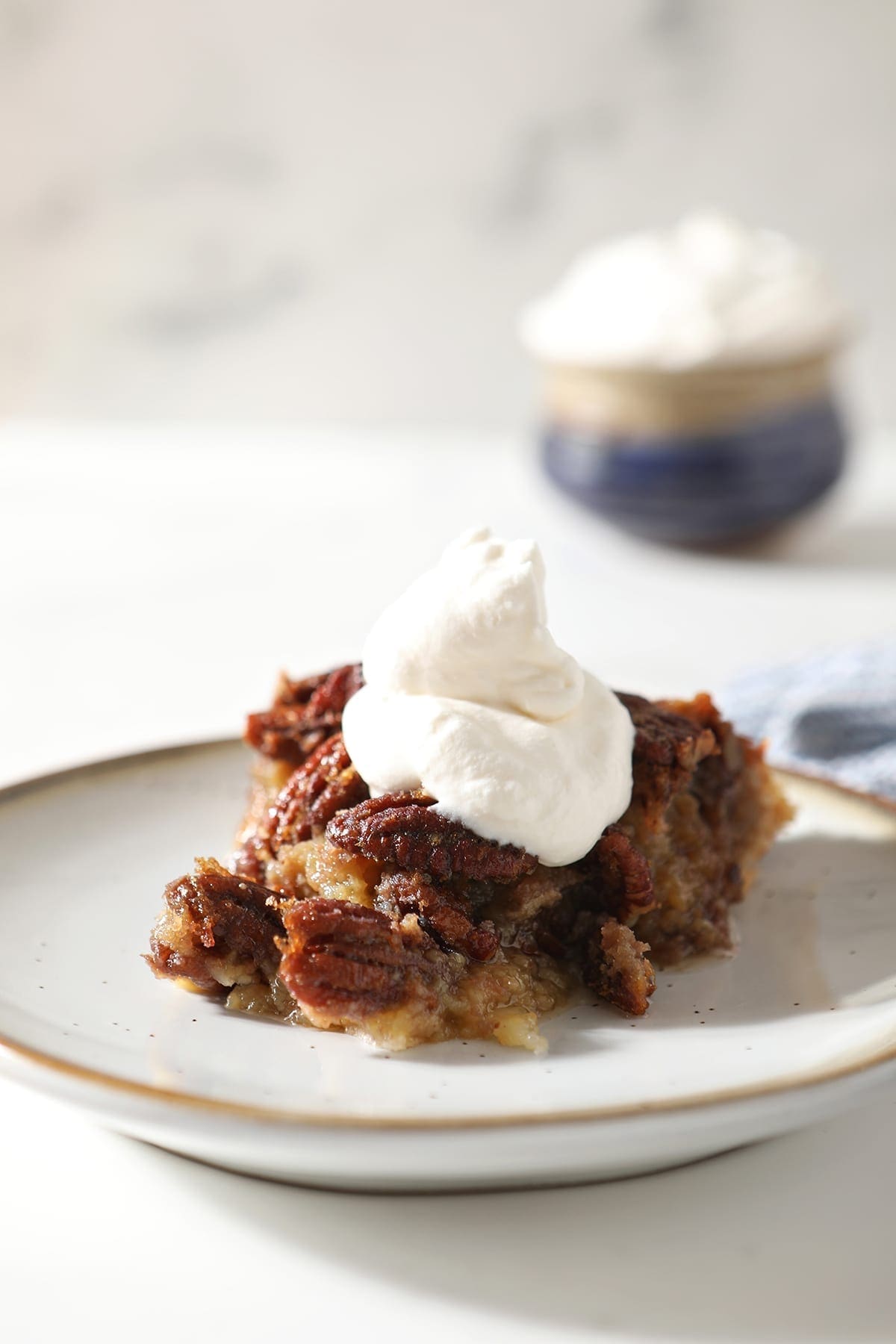 My dad and his wife bake hundreds of pecan pies every November and December. They started doing this years ago for their business, and the tradition has grown to include all their employees learning how to make their pies and them spreading cheer by baking wonderful pecan pies.
These pecan pies are a thing that are well-known in the Memphis area.
And years ago, I did what I normally do and twisted my dad's recipe to include bourbon… because bourbon in baked goods are our jam.
The longer story about this Bourbon Pecan Pie is that my husband's grandmother asked me to bring a dessert the first year I spent Thanksgiving with their family, and this is what I brought. I figured that Pecan Pie—my husband's all-time favorite—paired with bourbon would be a good call.
It was such a success that I've been bringing it ever since.
Why I love this recipe:
It's hard not to love this Bourbon Pecan Pie recipe because it captures so many things I love in a dessert.
Simply put, it's well-balanced. And it's not too sweet, which is something I've run into when it comes to pecan pie recipes in the past.
The sweetness and crunch of pecans pair wonderfully with the warmth and gentle spices of bourbon. The sweetness of the syrup balances with the creaminess of the homemade whipped cream.
It's an all around delicious dessert, and it's just decadent enough that we don't make more than one or two per season. 😉 Also, this recipe is fabulous when paired with a homemade pie crust, like this Buttermilk Pie Crust.
Other holiday desserts that are great for sharing: Upside Down Cranberry Cake | Bread Pudding with Caramel Sauce | Praline Upside Down Pumpkin Cake with Bourbon Caramel Sauce | 28 Holiday Cookies to Bake This Year | Chocolate Pudding Pie with Graham Cracker Crust
Looking for a dessert recipe? Check out my Dessert Recipe Index for inspiration!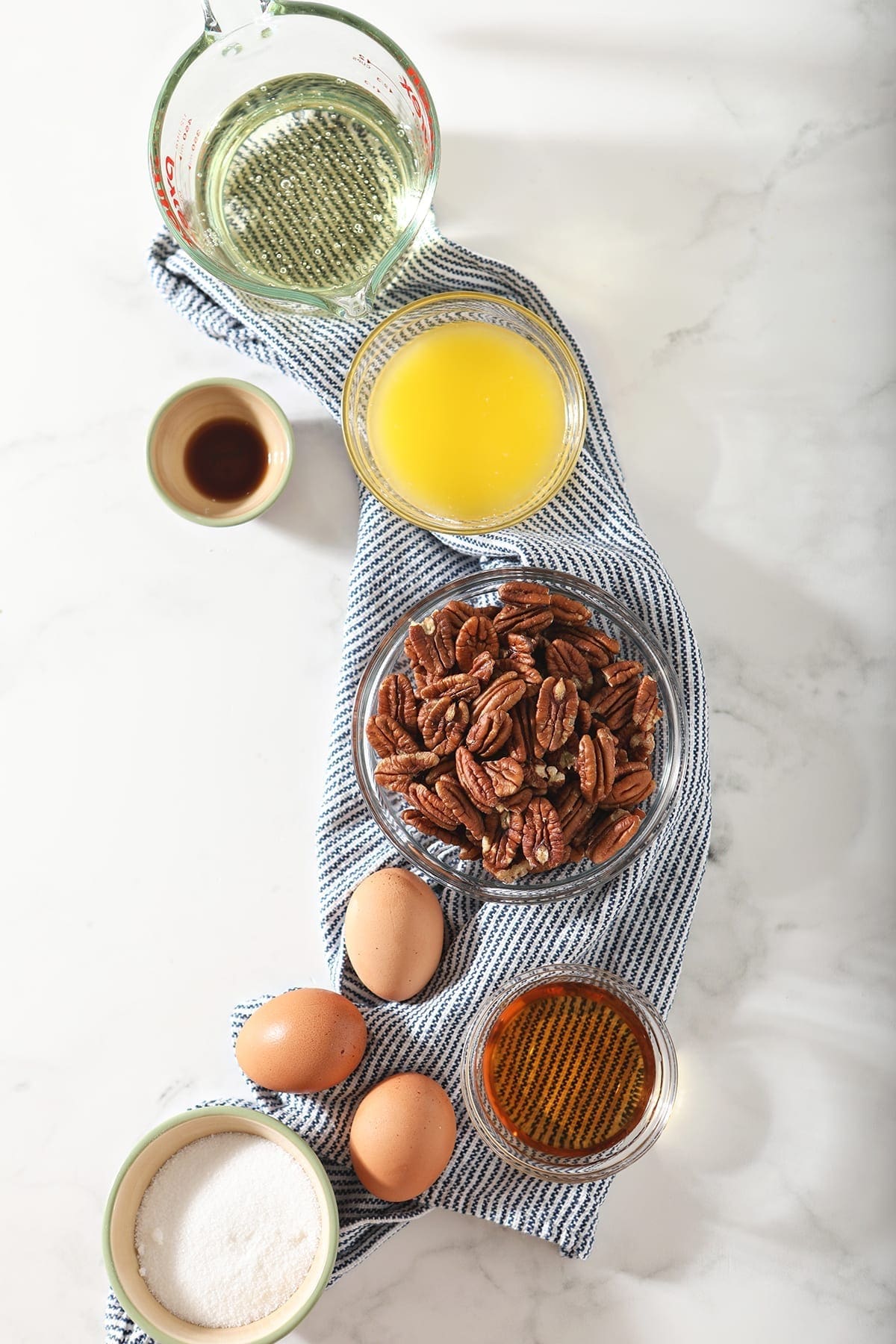 What you need to make Bourbon Pecan Pie
The Speckled Palate participates in affiliate programs. As an Amazon Associate, I earn a commission from qualifying purchases. Please refer to my disclosure page for more information about these affiliate programs.
Let's talk ingredients!
In addition to the tools above, you're going to need some ingredients to make this recipe, too! Chances are, you might already have some of them in your fridge or pantry. Scroll down to the recipe card for the full measurements and instructions.
Here's what you need:
9" pie crust — make your own or use a store-bought pie crust… or if you've got a sourdough starter, you can make Sourdough Pie Crust!
Eggs — extra large eggs from the grocery store are what I like for this pie.
Granulated sugar — also known as white sugar. There is no substitute for this, so please don't try to find one. (Yes, I know some people use brown sugar in a recipe like this. It's not included in this one.)
Light corn syrup — this is our other sweetener. I know some folks use maple syrup, agave nectar and honey in place of this, but we go classic for this homemade pecan pie with bourbon recipe
Unsalted butter — this adds a little creaminess to the filling of the pie. I like to use unsalted butter so that the pie doesn't get too salty.
Vanilla extract — the real deal because a little goes a long way and makes this pie SING.
Bourbon — we want this to be drinkable but not fancy, if that makes any sense. There's no point in baking with expensive bourbon, but we want the flavor to be good enough so that it comes through.
Pecan halves — these make for a prettier pie, though you can certainly use chopped pecans or pecan pieces if you've got those on hand and want to have smaller bits of pecans. That will make slicing the pie easier!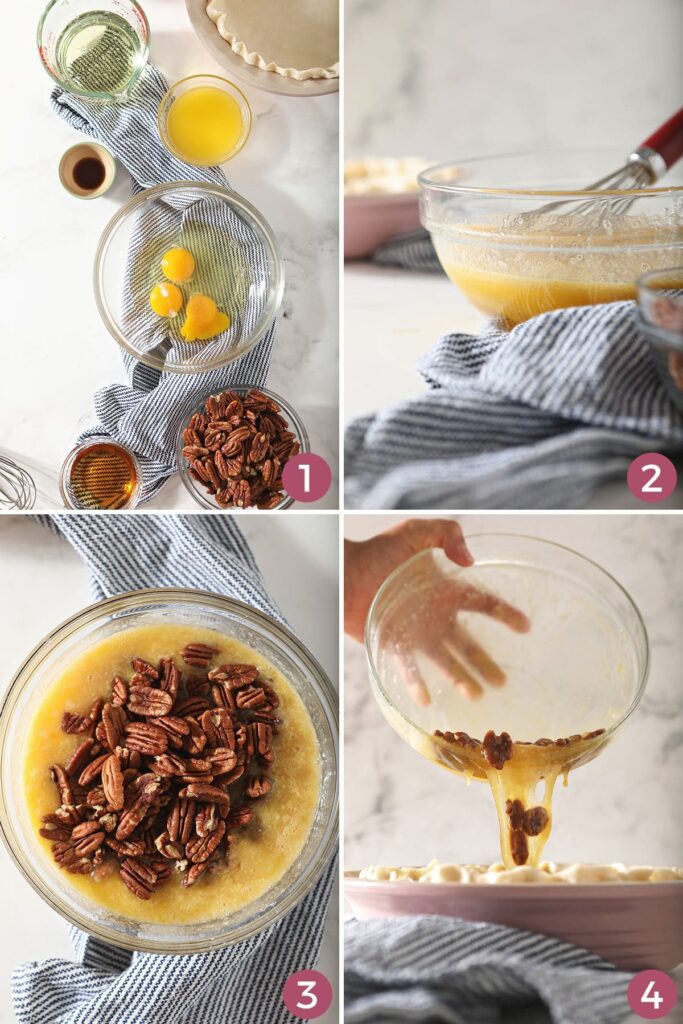 How to make Bourbon Pecan Pie
First and foremost, preheat your oven, and prepare the pie crust.
You can make a homemade one, like this one for my Blackberry Peach Hand Pies or purchase a frozen one from the grocery—you do you!
Place the pie crust in a deep dish pie pan and crimp to your liking.
Make the pecan pie filling. Whisk the eggs together in a large bowl, then sprinkle in the sugar and whisk again.
Next, pour in the melted butter, bourbon, corn syrup and vanilla extract. Whisk 'em together, too.
Lastly, measure in the pecan halves. Gently stir them into the mixture using a rubber spatula.
Pour the filling mixture into the prepared pie crust and bake for 50 minutes or a little longer.
It might take more time, depending on how hot your oven runs, so keep an eye on it. The pie needs to be set when it comes out of the oven.
Let the pie cool completely before slicing, and serve with homemade whipped cream.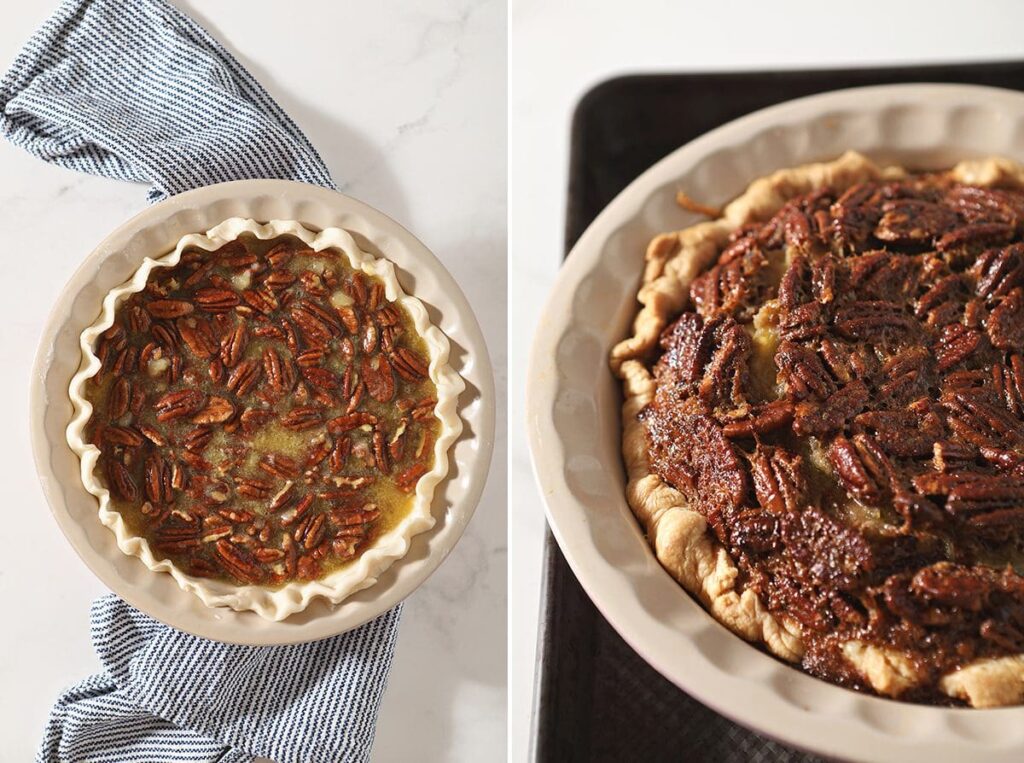 Erin's Easy Entertaining Tips
Pies are fabulous for entertaining, simply because they can be made in advance!
In fact, my dad and his wife always have a few pies in their home during the holiday season so they can have pie at the ready if they have unexpected guests. (And they usually have a lot of guests who stop by!)
Here are a few tips and tricks for preparing this homemade Pecan Pie with bourbon for entertaining:
Bake the pie early. There's no reason to bake this the same day since you'll want it to be completely cooled before slicing into it. (Trust me: It will fall apart if it's still warm and you're serving it.)
Store it in the refrigerator covered in plastic wrap. But let it come to room temperature before serving!
Don't skip the homemade whipped cream or a scoop of vanilla ice cream. It's extra decadent and the perfect topping for this wonderful holiday pie!
Another sweet idea is to bake a pie for a friend!
If you're going to do this, consider purchasing a pre-made pie crust that's already in a tin so you can bake the pie and let them keep everything! Just drop the beauty off on their doorstep when it's convenient for you and let your friend swoon in surprise!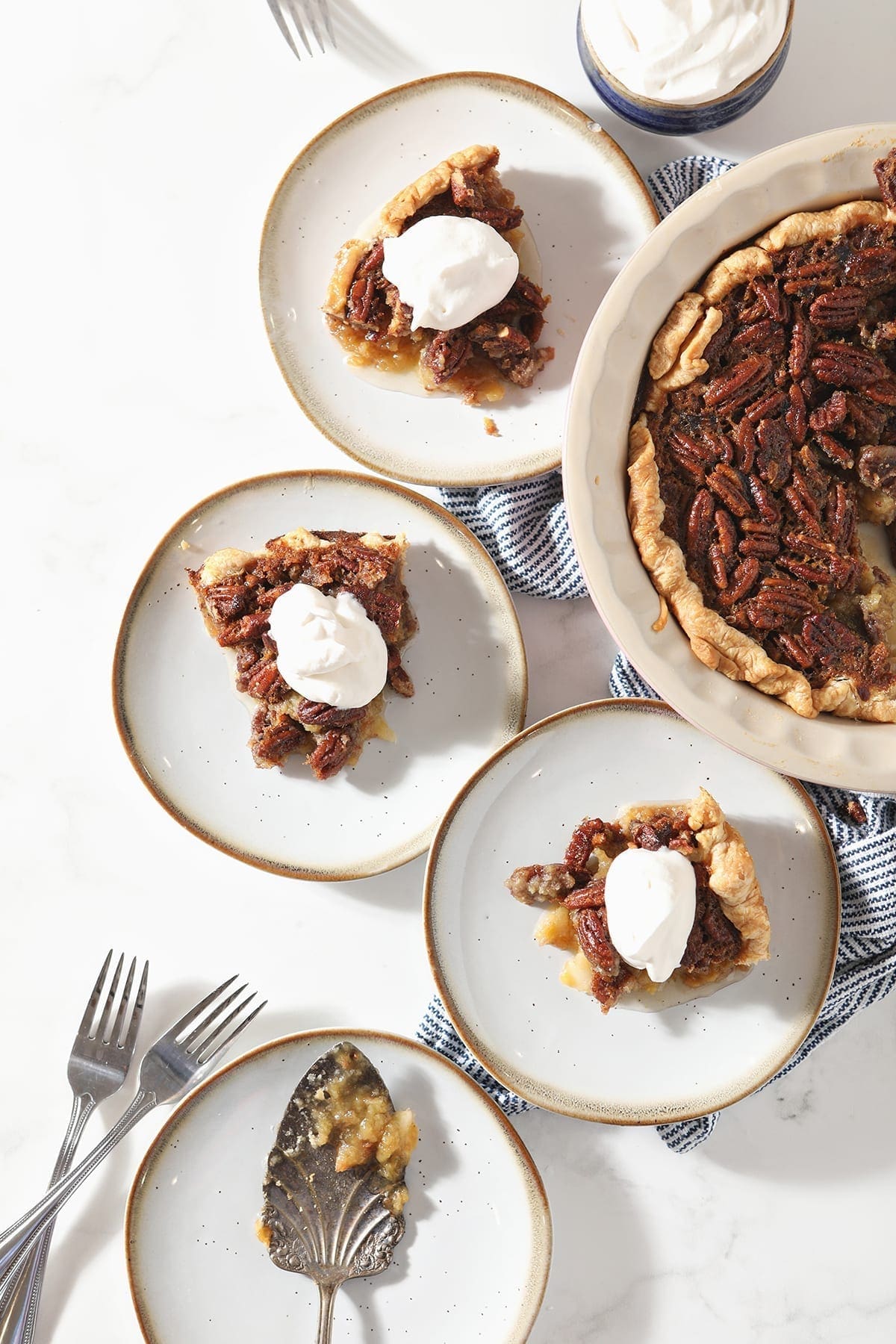 Frequently Asked Questions
What is bourbon pecan pie?
Simply put, it's a classic homemade pecan pie with bourbon added to the filling!
What is the best bourbon for pecan pie?
I like to use a good tasting bourbon, but one that's not super fancy. Maker's Mark and Four Roses are my go-to bourbons for baking because they taste good, but they also won't break the bank.

The key is to use something that tastes good (so it's not the bottom shelf bourbon blend), but something that isn't so fancy that you'll feel badly for baking it in a pie.
What can I substitute for bourbon in pecan pie?
If you don't want to use bourbon in your pie, you can use alcohol-free vanilla extract in its place. You could also substitute the bourbon with Bourbon Extract (affiliate link) if you want the bourbon flavor without the alcohol.

If you don't want to use bourbon at all, this pie works without it. (It'll be my dad's classic Pecan Pie recipe if you leave the bourbon out.)

You could also use a spiced rum in place of the bourbon if that's more your speed.
Is bourbon same as whiskey?
Bourbon is a type of whiskey, so all bourbon is whiskey, but not all whiskey is bourbon. I delve into the differences in this Kentucky Mule post and talk about the requirements for a whiskey to be classified a bourbon.
Can I use whiskey instead of bourbon?
Yes. If you have whiskey on hand that you want to use in this pie, feel free to use that in place of the bourbon!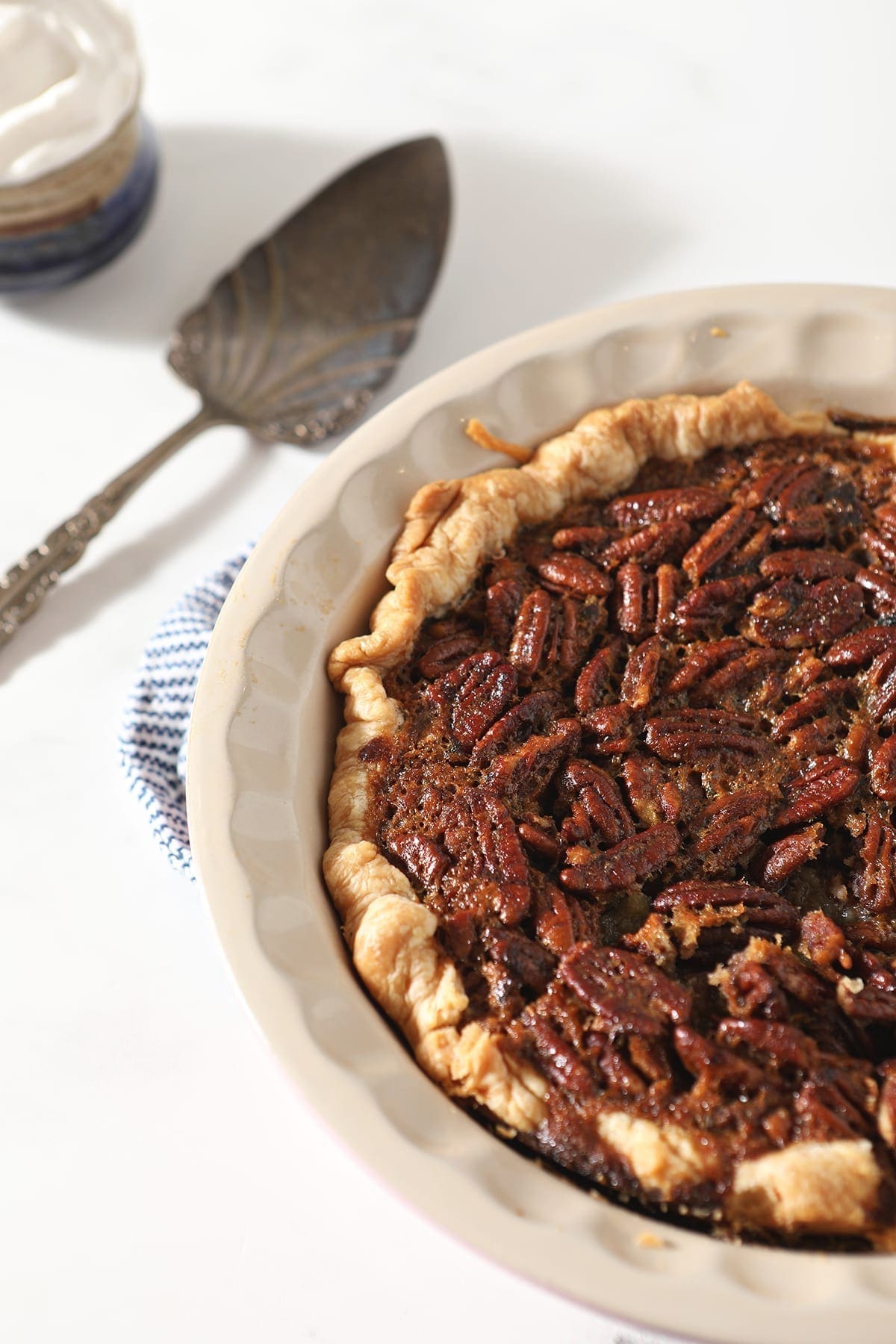 Quick tips and tricks for the best Boozy Pecan Pie
The pie is done when the center reaches 200F. It should not appear to be liquidy, but it will puff up while it bakes in the oven. (It will deflate as it comes to room temperature.)
When it's done, the center should spring back if you tap the center of the pie with your finger.
Let it cool for 1 ½ to 2 hours on a wire rack before storing it in the refrigerator wrapped in plastic.
More pie recipes to try: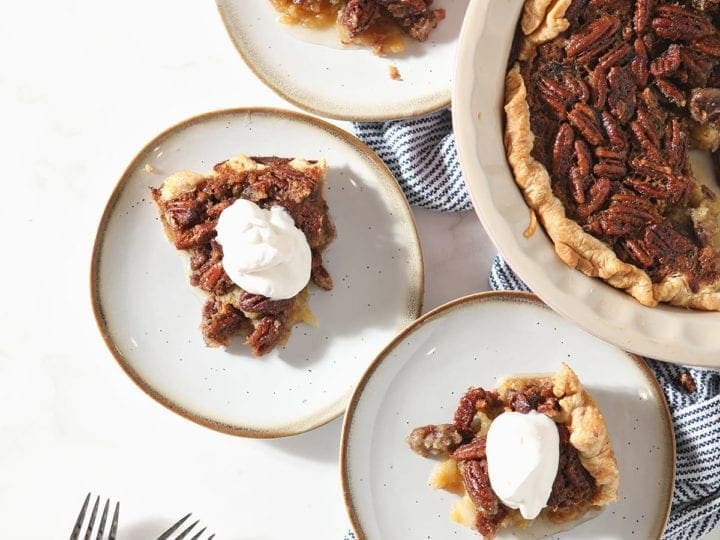 Yield:

9" pie
Bourbon Pecan Pie
Total Time:
1 hour
15 minutes
Add a bit of booze to the holiday dessert table by baking a Bourbon Pecan Pie. A twist on the classic, this homemade pie captures the sweetness of pecans with a little spice from the bourbon. Served with whipped cream, it is a true holiday treat!
Ingredients
9" pie crust
3 eggs, at room temperature
1/3 cup granulated sugar
1 ¼ cups light corn syrup
1/3 cup unsalted butter, melted
1 teaspoon vanilla extract
1 ½ oz. bourbon
1 1/3 cups pecan halves
Instructions
Preheat the oven to 350°F. Place unbaked pie crust into a 9" deep dish pie pan. Refrigerate the pie crust as you make the pie filling.
Whisk the eggs together, then pour in sugar. Whisk.
Pour in butter, bourbon, corn syrup and vanilla extract. Whisk until combined.
Pour in the pecan halves, and stir in with a rubber spatula.
Pour into the prepared pie crust.
Transfer to the oven, and bake for 60-70 minutes on the center rack.
Notes
Don't forget to add Homemade Whipped Cream to add to the top of this pie to make it extra decadent and delicious!

Tips and Tricks
The pie is done when the center reaches 200°F. (You can take this with an instant read thermometer.) It should not be liquidy, but it will puff up in the oven. (The puffiness will fall when it cools.)
If you tap the center of the pie, it should spring back when done.
Let cool for 1 ½ to 2 hours at room temperature before wrapping in plastic and storing the refrigerator.

Recommended Products
As an Amazon Associate and member of other affiliate programs, I earn from qualifying purchases.
Nutrition Information:
Yield:
10 slices
Serving Size:
1
Amount Per Serving:
Calories:

1032
Total Fat:

57g
Saturated Fat:

18g
Trans Fat:

0g
Unsaturated Fat:

35g
Cholesterol:

72mg
Sodium:

696mg
Carbohydrates:

119g
Fiber:

6g
Sugar:

46g
Protein:

12g
Nutrition facts are an estimate and not guaranteed to be accurate.