I'm a creature of habit.
I try to keep a consistent schedule during my week; when visiting my freelance clients, I park in the same spot every time (if it's available!); and I eat the same thing for breakfast daily – yogurt with homemade granola. And if I don't eat my regular breakfast? Let's just say that my entire day is off balance, and that is not a good thing.
The story of my favorite breakfast is a roundabout one. You see, when we lived in Nashville, I decided I would start eating yogurt for breakfast because it was fast and easy. I quickly learned that while yogurt is fantastic, it wasn't filling me up, and I would become incredibly hungry (and crabby) around 10 a.m. because the yogurt wasn't holding me over. After hearing this, a friend suggested I try granola. So when we went on our weekly grocery store runs, Winston and I would taste test and purchase all sorts of different granola mixes and variations. They were tasty, but they didn't hit the spot. And they weren't nearly as good for me as I wanted them to be. (Hi, granulated sugar. I think you're fabulous, but I don't need a lot of you… or hardly any of you… in my breakfast.)
So one day, I decided to make my own granola. And since that fateful day, we haven't purchased the store-bought kind because this stuff is so darn good.
Trust me, y'all.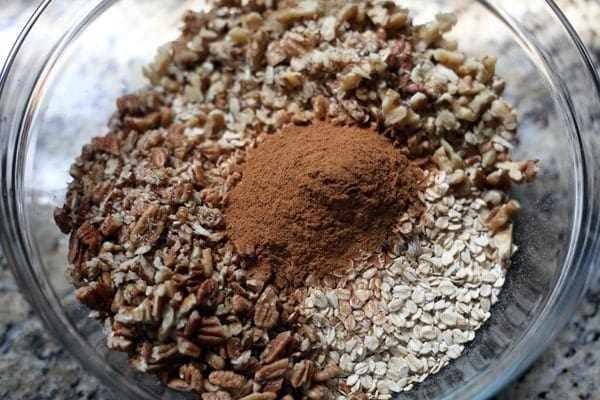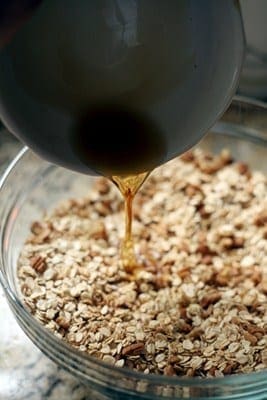 You'll combine the nuts, the oats and the cinnamon in a bowl together. Using a spoon, mix the ingredients together so the cinnamon lightly coats everything.
Make sure to mix up the dry ingredients so that they are evenly coated and distributed. You'll have chunks of cinnamon in your granola, and while this is still tasty, it's a little overwhelming.
In a separate and smaller bowl, pour the warmed water and pure maple syrup. Using a whisk, stir your liquid ingredients together until combined.
Pour the maple syrup-water mixture on top of the nuts, oats and cinnamon. Using a large spoon/spatula, mix the ingredients together. The mix will be sticky and thick, and make sure to mix the entire bowl of ingredients together. I've had some batches turn out a little funny because I didn't mix it well enough.
Easy enough, right?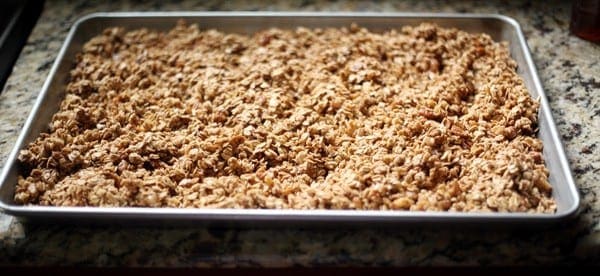 Scoop the mixture onto a greased baking sheet and spread it out evenly. The mix will feel relatively soggy, so once you've put it on the baking sheet, immediately pop it into the oven.
Bake at 300 degrees for 30 minutes, then turn off the oven and let sit in the oven for another 30 minutes.
Yes, I know that last half of the sentence is weird. Trust me. This is going to make the granola crunchy without burning it. Because nobody likes burnt granola.
Once the granola is baked through and crunchy (without being scorched!), pull out the baking sheet and sprinkle the dried cranberries on top of the granola.
Let cool, then serve on top of yogurt (or the food of your choosing!), and enjoy!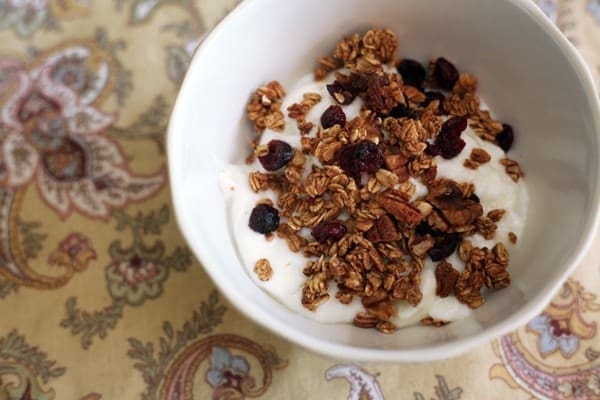 Looking for a granola BAR recipe? These No Bake Grape Nut Granola Bars are incredible!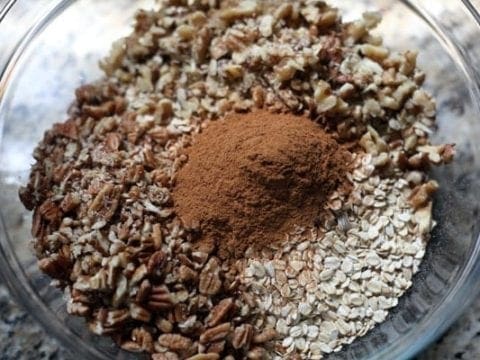 Yield:

34 servings
Homemade Maple Nut Granola
Total Time:
1 hour
5 minutes
Looking to add some crunch to your breakfast routine? Homemade Maple Nut Granola is the perfect topping for yogurt and makes a beautiful breakfast by itself in a bowl with your favorite milk. Rolled oats, walnuts, pecans and dried cranberries are tossed in a mixture of cinnamon and maple syrup, then baked until crispy. This vegan, naturally sweetened granola is worlds away more delicious than any store-bought granola on the market!
Ingredients
4 cups rolled oats
1 ½ cups walnuts, chopped
½ cup pecans
3 tablespoons cinnamon
½ cup warm water
¾ cup maple syrup
1 cup dried cranberries
Instructions
Preheat oven to 300°F.
Line a baking sheet with parchment paper or a nonstick baking mat. Set aside.
In a large bowl, combine the oats, nuts and cinnamon.
In a smaller bowl or a liquid measuring cup, pour the warm water and maple syrup together. Stir until combined.
Pour the wet mixture over the dry ingredients, and stir until every piece is coated.
Pour the mixture onto the prepared baking sheet, spacing it out evenly across the surface.
Bake the granola in the preheated oven for 30 minutes, then turn off the oven and allow it to bake for an additional 30 minutes.
Once granola is crisp, pull out of the oven and allow it 1-2 hours to cool completely.
Once cooled, store in a food save storage container, and enjoy ¼ cup of granola at a time!
Recommended Products
As an Amazon Associate and member of other affiliate programs, I earn from qualifying purchases.
Nutrition Information:
Yield:
34
Serving Size:
¼ cup
Amount Per Serving:
Calories:

116
Total Fat:

5g
Saturated Fat:

1g
Trans Fat:

0g
Unsaturated Fat:

4g
Cholesterol:

0mg
Sodium:

2mg
Carbohydrates:

17g
Fiber:

2g
Sugar:

8g
Protein:

2g
Nutrition facts are an estimate and not guaranteed to be accurate.
What is your favorite breakfast?
Do you have a go-to one that you eat on weekdays, too?