5 Tips to Hosting an Awesome Thanksgiving Dinner
Thanksgiving is just around the corner, but there's no reason to freak out! As a Southern girl who loves opening her home to her friends and family, I've written down 5 Tips to Hosting an Awesome Thanksgiving! Check these out, keep your cool the day-of and host a Thanksgiving feast to remember.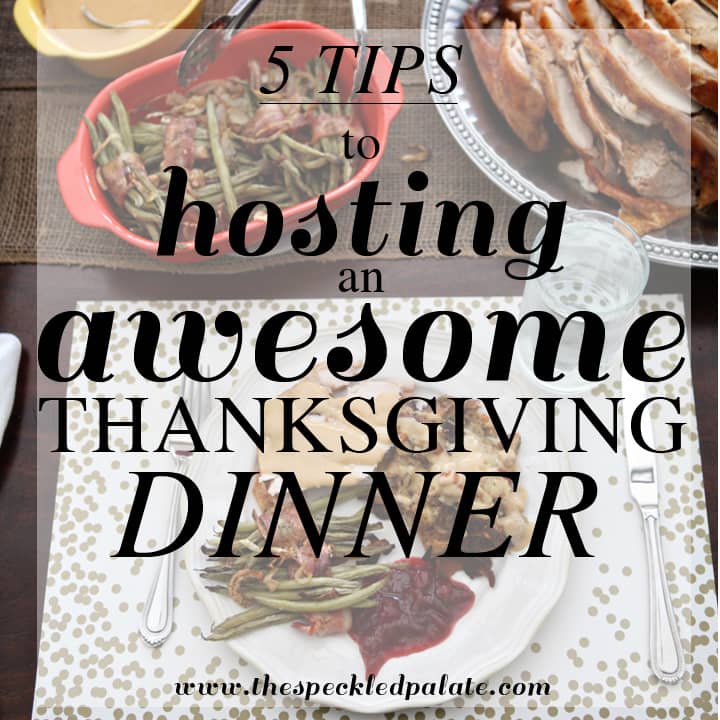 This post contains affiliate links. If you were to make a purchase through one, I would receive a small commission. For more information about the affiliate programs The Speckled Palate participates in, please refer to my disclosure page.
When we first moved to Dallas, Winston and I hosted my mother, his parents and some of our friends one evening about a week into our homeownership.
Miraculously, our kitchen was clean, the cabinets were organized and most of the moving boxes were cleared out. Our furniture was in place, and since our families and friends were in town, we made fajitas for LSU's season opener.
At some point during the evening, my mother-in-law turned to me and said, "You're really good at keeping your cool while entertaining."
I shrugged it off, explaining that I just rolled with the punches and liked having people at my home.
I didn't think about this compliment until much later.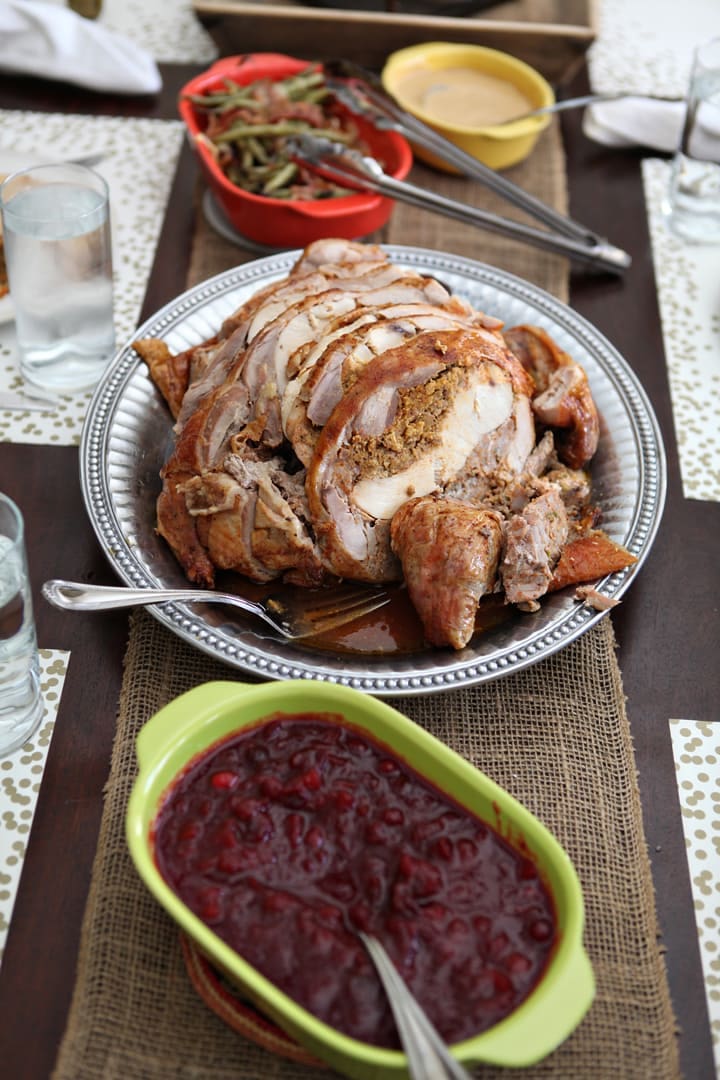 I've loved entertaining since I was a college student. Something about cooking a warm, homemade meal for people I love makes me so happy that I try to welcome folks into my home whenever I can.
It all started when my friends and I formed a rotating weekly dinner club. The chosen chef would cook a homemade meal, and everyone would arrive at a specific time to eat, bringing beer, wine, bread or dessert to go with the entree prepared by the host.
This love of creating meals and welcoming friends and family into my home has continued ever since.
And because I love entertaining and cooking, I wanted to share some tips I've learned over the years. And since I recently hosted a Friendsgiving, I wanted to pass along Thanksgiving-inspired tips.
You ready? Let's do this!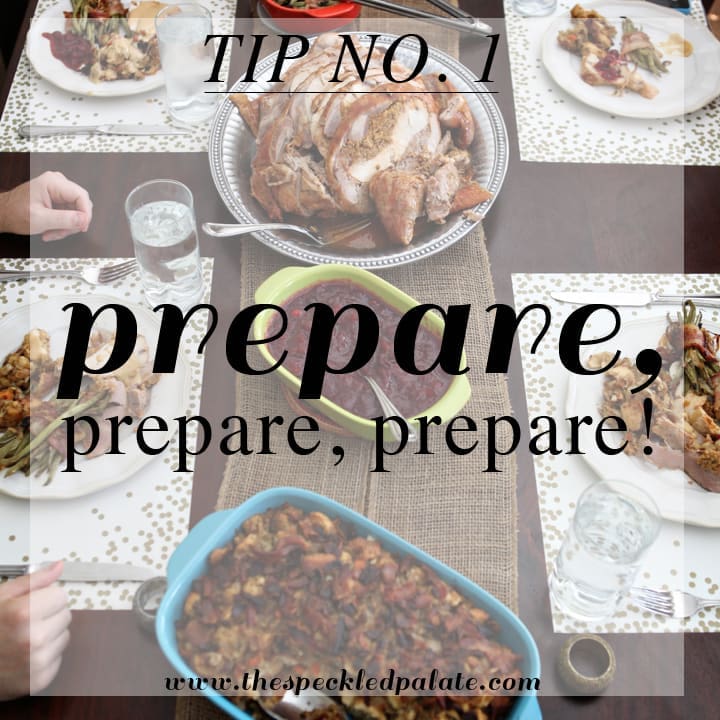 1. Prepare, prepare, prepare.
The quickest way to stress yourself out the day of a big event is not being prepared. Know what you're cooking. Know how long each dish takes to prepare AND cook (and cool, if it needs to do that.) Prep as much food a day (or two or three, depending on the dish) in advance to give yourself a break the day-of.
That being said, prepare for something to go wrong. And when it inevitably does? Have a backup plan… and if things go so wrong they can't be salvaged? Pop on down to line item #5 and take a deep breath.
Another idea? Get out all your serving dishes ahead of time! This'll save you from the panic of wondering what goes where when everything is prepared.
If you're making a turkey, you'll need a roasting pan, a digital thermometer , a carving knife and a serving tray.
Casserole dishes of all sizes are helpful. So are pots and pans.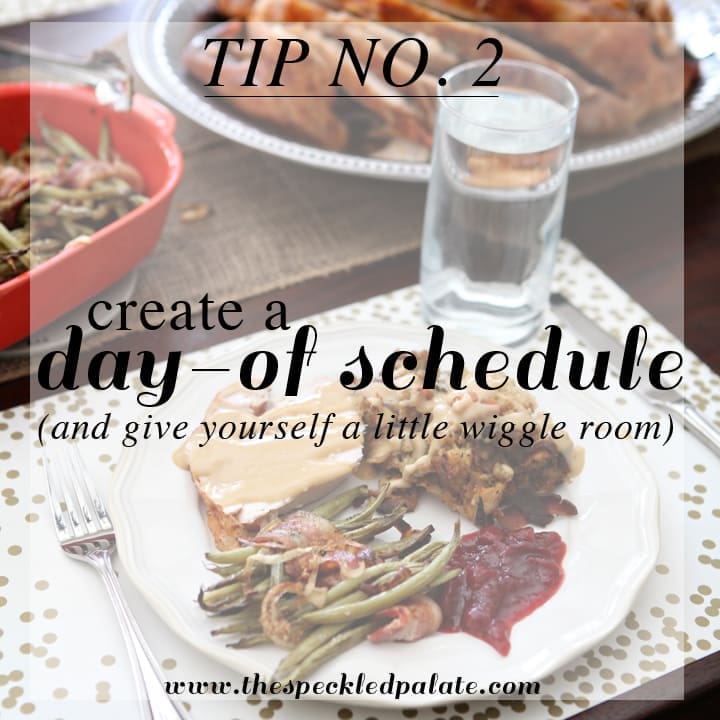 2. Create a day-of-schedule… and give yourself a little wiggle room.
When we hosted Friendsgiving a few weeks back, my schedule got a little messed up.
However, I prepared myself for this–my backup plan was set into motion!–and I had built-in time to catch up. It wasn't perfect, but I went into the day knowing I might need a little wiggle room, so I budgeted it into my day-of timeline.
Yes, I just said I had a day-of timeline.
It's not as crazy as it sounds… promise! And it's a life-saver to keep yourself on track.
Sit down a few days before the big day and write down how long each dish should take to prep, cook and rest. Budget extra time in case it needs to cook longer. Look at the master list of dishes and figure out the order in which they need to be made the morning of. Ask yourself: What can be done in advance, and do whatever that is.
Knowing what needs to be done the day of is helpful. It makes hosting significantly less stressful simply because you aren't scrambling, and you have a game plan.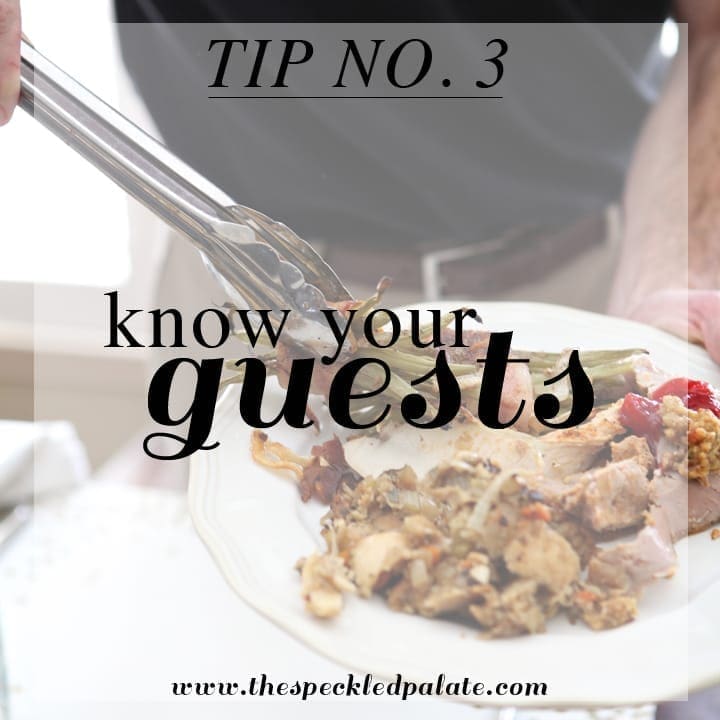 3. Know your guests.
Aunt Susie passionately hates sweet potatoes and has changed several family members' opinions of the traditional casserole? Skip that dish and replace it with something everyone loves.
Jimmy and Maria always arrive an hour late, forcing the group to make the awkward decision to either eat at the specified time without those guests or wait for the latecomers. If your guests wait, plan for the meal to be done a little later. However, you should have snacks for your other guests if everyone is waiting for the latecomers to arrive.
Your sister has a gluten allergy? Be sure to offer some gluten-free accompaniments to the meal that are tasty for everyone. Nothing is more unfortunate than attending a dinner and realizing you can't eat half the dishes.
Know who your friends and family members, their likes and dislikes, allergies and habits when it comes to occasions like these. Keep them in mind as you plan your menu and prepare. They'll be happy you did.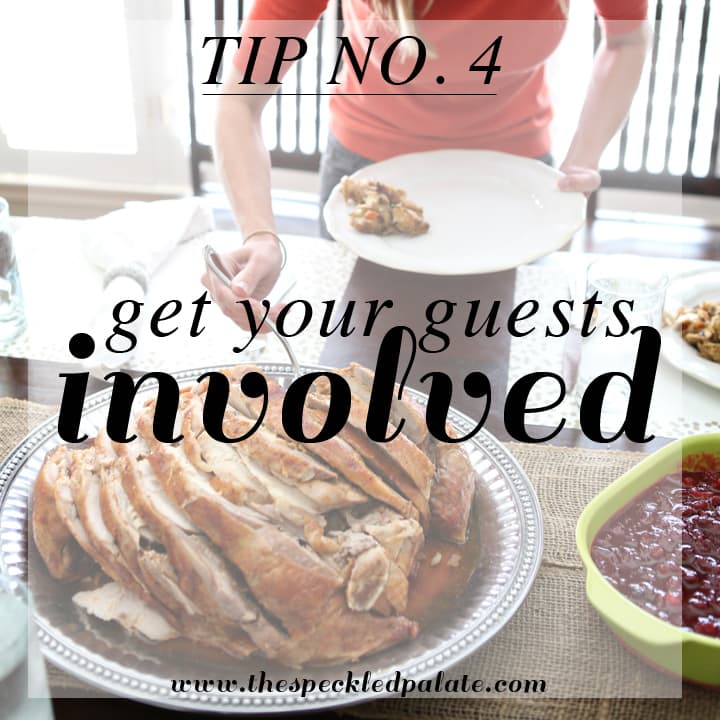 4. Get your guests involved.
Your friend wants to bring a dish for the festivities? Awesome!
Your mother wants to decorate the table? Let her get as creative as her heart desires!
Your brother insists on bringing seasonal beer for everyone to try? Have him bring it over the day before and put it on ice so everyone can enjoy a cold one when they arrive!
Don't be afraid to let others be involved. It gives your guests a chance to be a part of the meal and to make a unique contribution, whether it's from the addition of a dish brought, a drink they insisted upon, the decor they helped create or something else.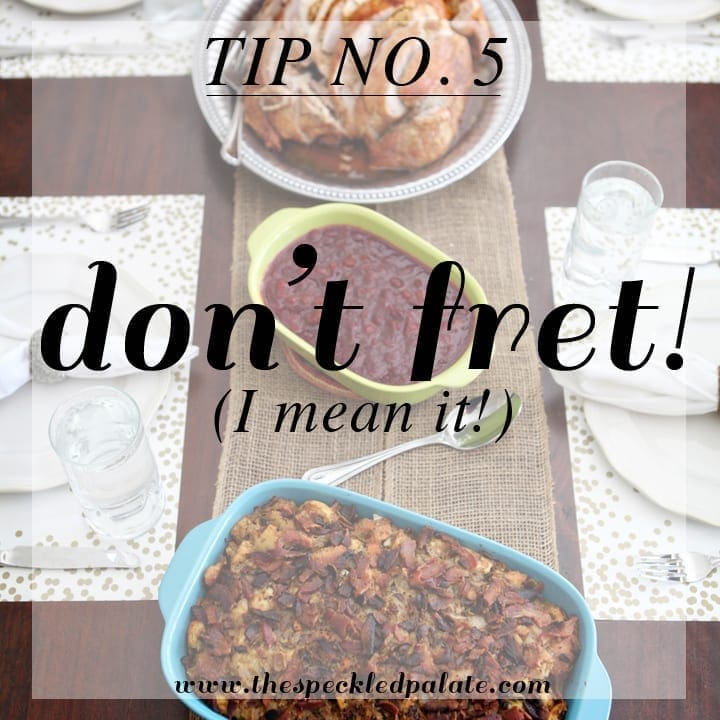 5. Don't fret! (I mean it!)
I have a hard time with this one, but throughout the years, I've focused on relaxing in the kitchen and not fretting over the little stuff.
As previously mentioned, when we were hosting Friendsgiving, I started cooking a little later than I originally wanted. The prep for my Bacon and Baguette Stuffing took a lot longer than expected. I ended up with a clumpy gravy that had to be fixed in the food processor. And to top it off, our guests arrived late due to a last minute work obligation that was unavoidable.
I could have gone off the deep end as various things went wrong… but I kept my cool. I asked for help–let it be known that my husband is a fabulous kitchen and life-in-general helper–and we got the meal cooked just fine. In fact, everything was done before our guests arrived, which was a nice surprise!
So when things go wrong? Take a deep breath and focus on what matters — the love that goes into the making of a Thanksgiving feast and the love for the people you'll be hosting — and roll with the punches. It'll be just fine, one way or another.
—


Those are my 5 tips to hosting an awesome Thanksgiving dinner.
What tips would you like to add?