Busted Pipe (Bourbon Amaro Cocktail)
Love amaro and bourbon? This Amaro Cocktail, which we lovingly call the Busted Pipe, is similar to an Old Fashioned and a Paper Plane. It's a warming, sweet and bitter drink that's perfect for sipping. Makes 1, but can easily be doubled or tripled.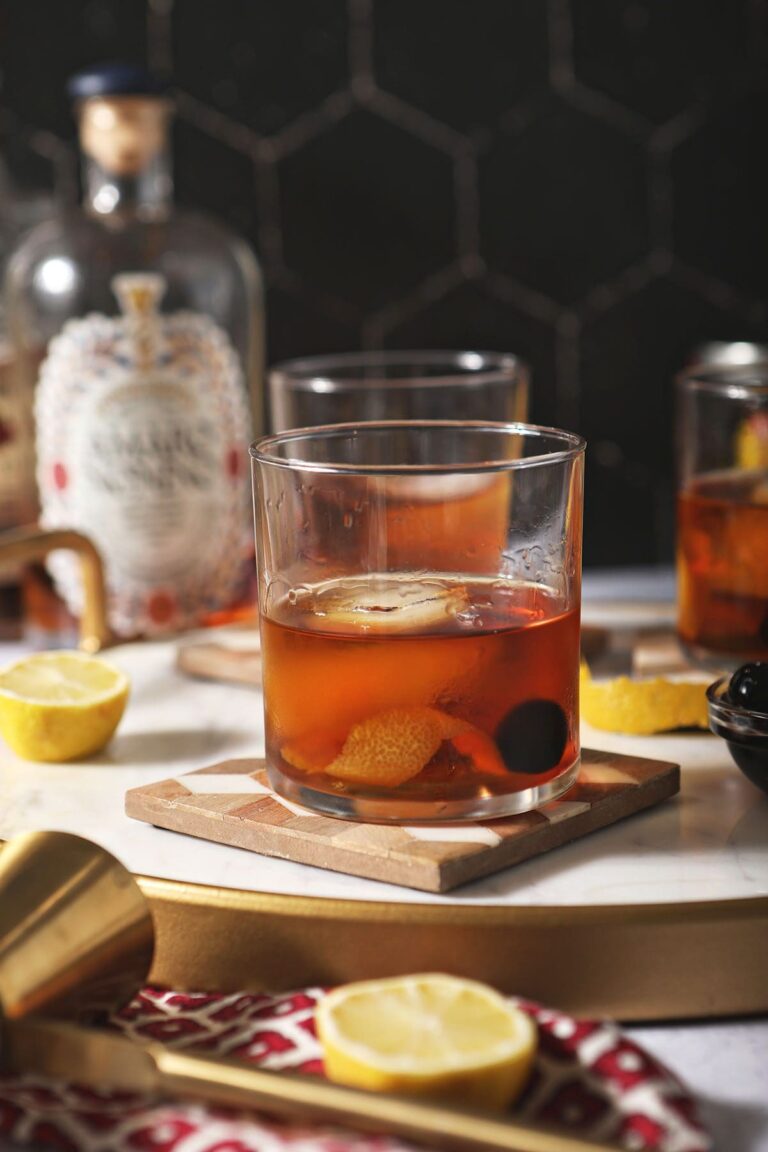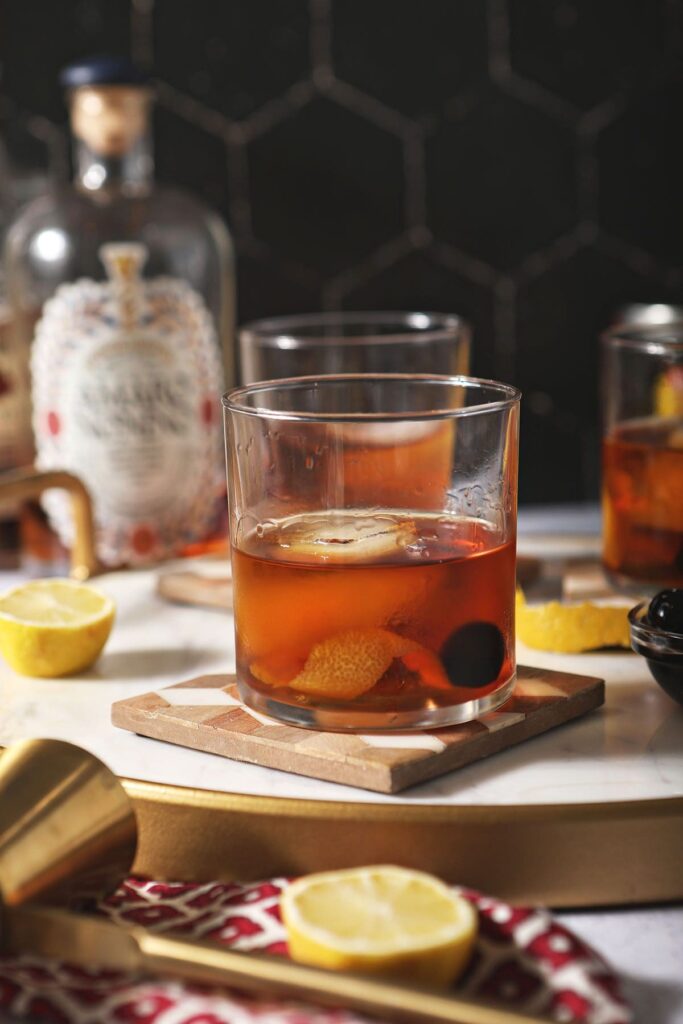 My sister-in-law, her roommate and their friends developed this cocktail recipe back in the Deep Freeze of 2021, and they've graciously agreed to share their creation with the world today here on TSP.
In February 2021, the entire state of Texas experienced a Snowpocalypse (more on this in my February 2021 Potluck), and many of us, my family here in Dallas and my sister-in-law, Julia, and her roommate, Haley, in Austin, lost power.
Julia and Haley ended up staying with their friend Sarah and Neil during that time. Inspired by recipes from the Food Network and the New York Times, they decided to make an Amaro Nonino cocktail because they wanted something to "warm our bellies and drown our sorrows."
Haley nicknamed the cocktail "The Busted Pipe" in reference to what the deep freeze was doing to a lot of homes and businesses at the time.
And they've been making this cocktail ever since.
Why I love this recipe: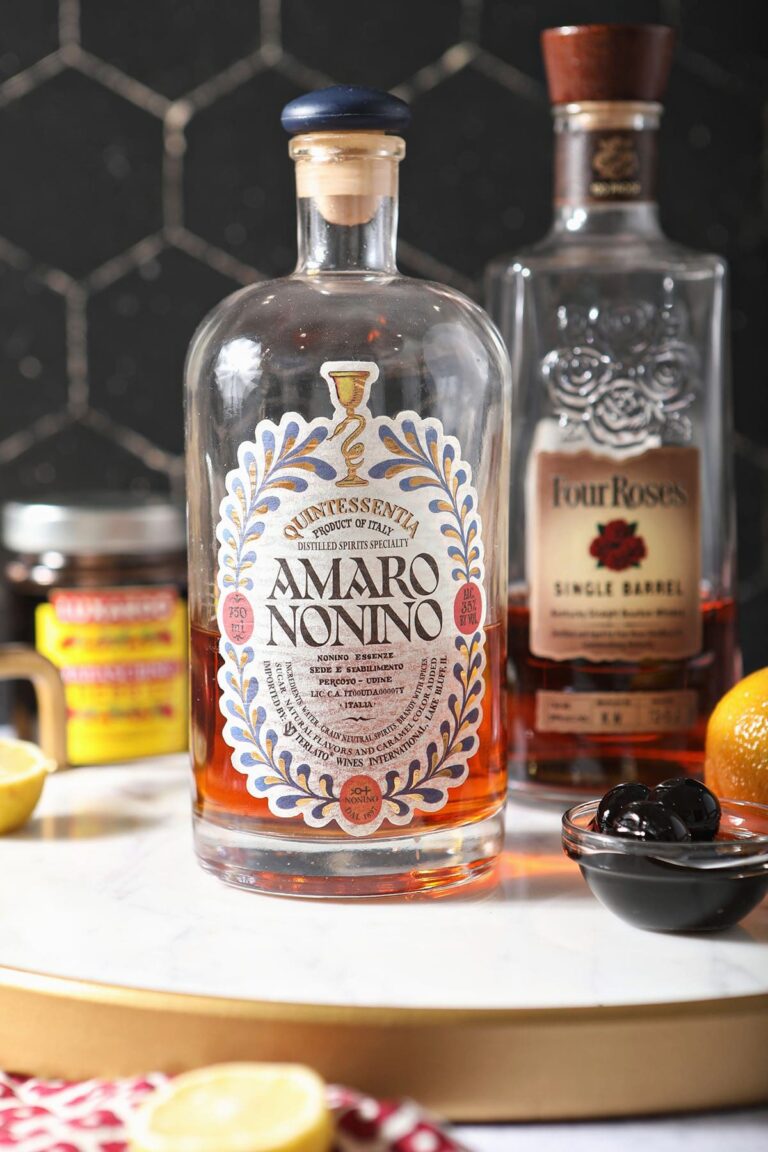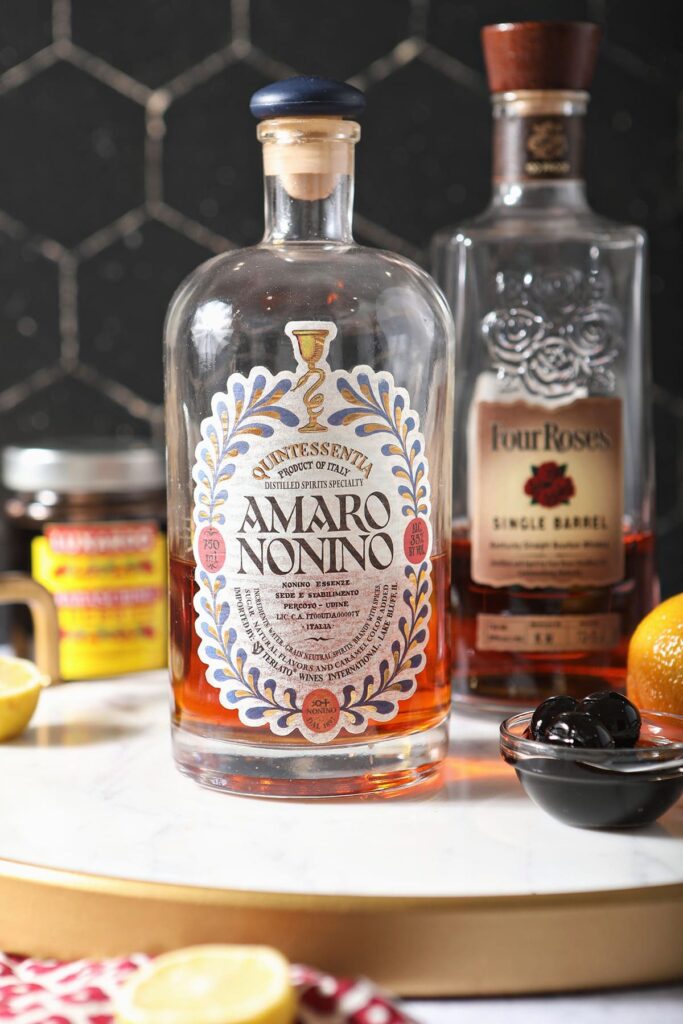 What you need to make this recipe
The Speckled Palate participates in affiliate programs. As an Amazon Associate, I earn a commission from qualifying purchases. Please refer to my disclosure page for more information about these affiliate programs.
In addition to these tools, you're going to need a handful of ingredients, too.
Amaro—this is an Italian herbal liqueur that means "bitter." It typically has bitterness paired with a little sweet, and it's oftentimes served as an after-dinner digestif. Our favorite brand is Amaro Nonino.
Bourbon—whatever bourbon you've got on hand will work here, so long as it's something that's drinkable and enjoyable for you! We used Four Roses bourbon because that's what we had on hand.
Luxardo cherries—while you could use a traditional maraschino cherry, these Luxardo cherries are a step above and incredibly delicious! Maraschino cherries are traditionally really sweet, and Luxardo cherries taste better balanced to me. They really add a little something extra to this amaro cocktail.
Lemon peel—for a little citrus brightness, acid and pop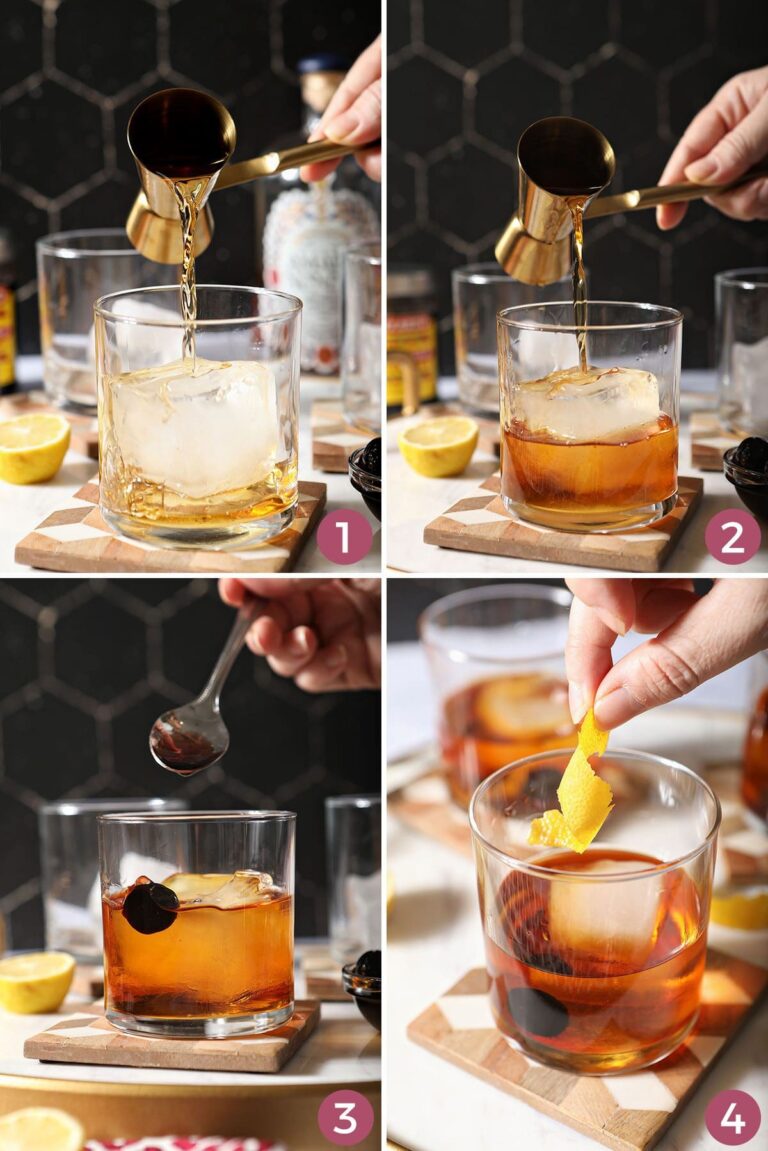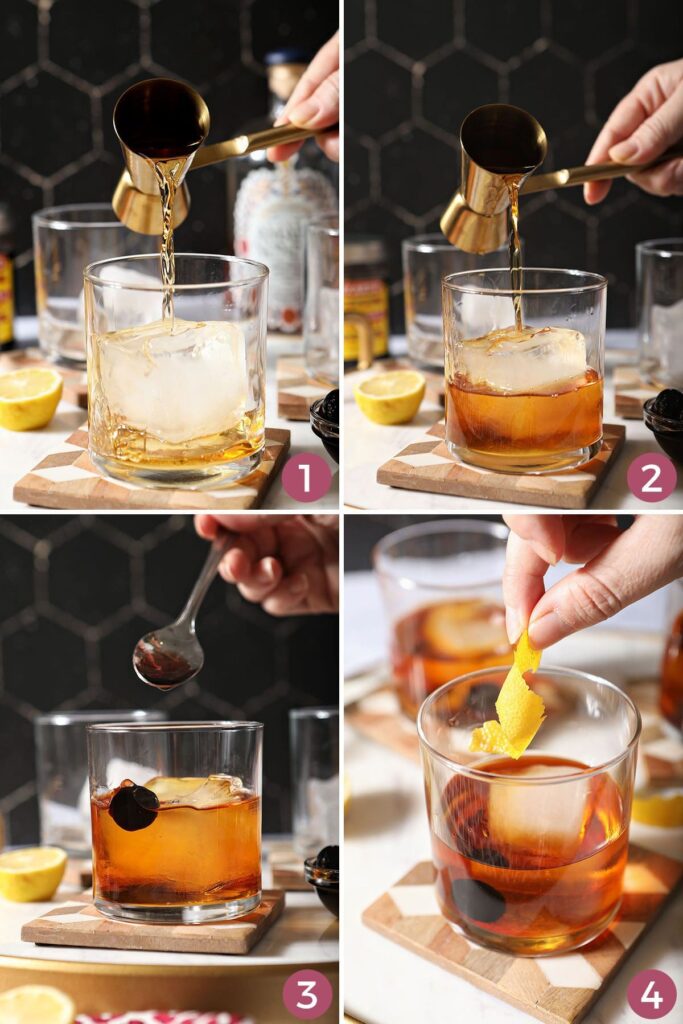 How to make a Busted Pipe Amaro Cocktail
Mise en place. Make sure you've got your ingredients, as well as a large ice cube. This takes this cocktail to another level.
Make the drink. Place the ice cube in your glass. Pour equal parts amaro and bourbon into the glass. Add the cherry and lemon peel, then stir until combined.
Enjoy immediately!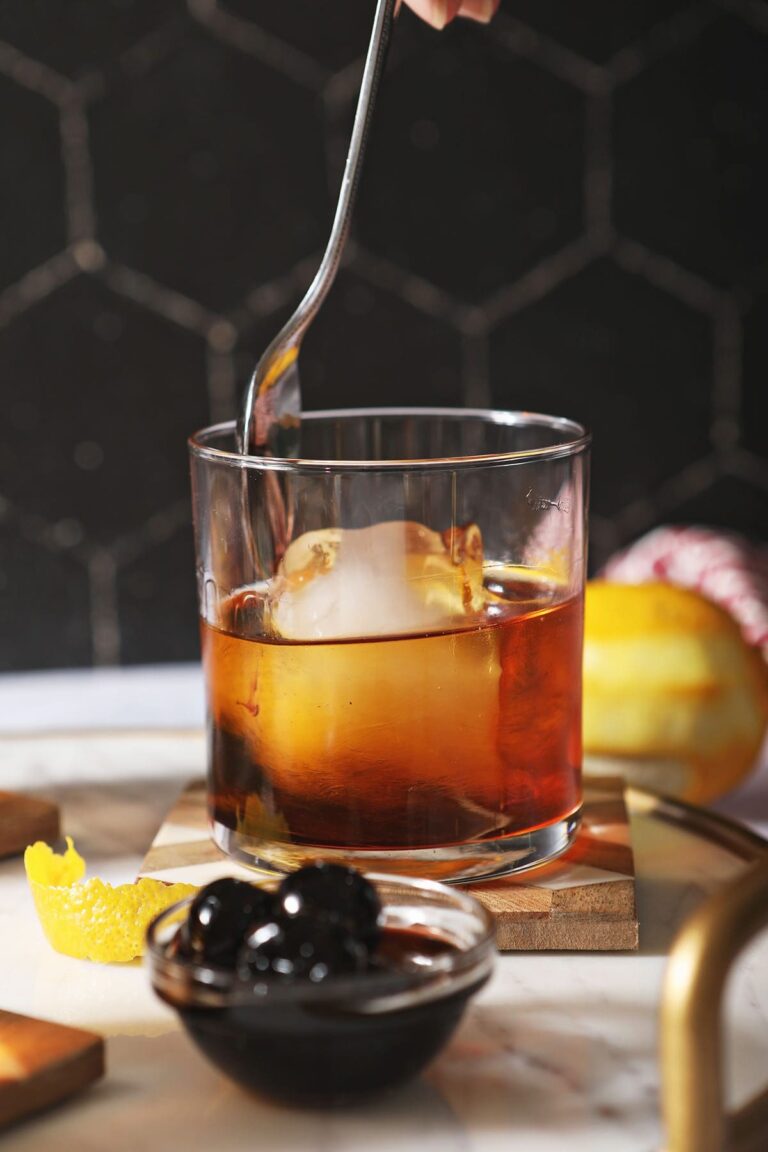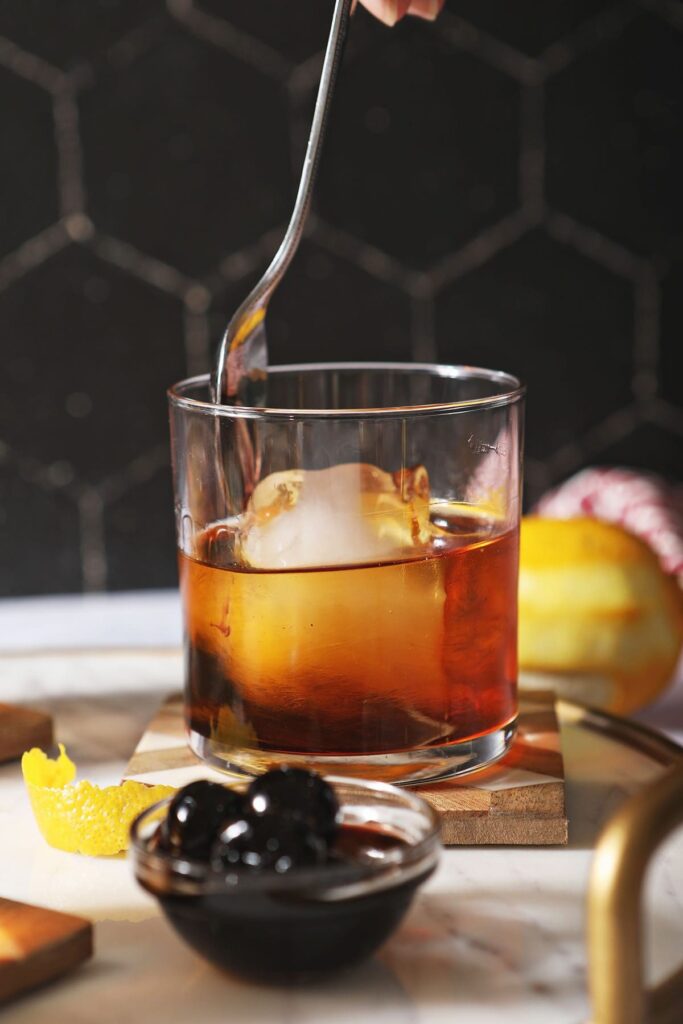 Erin's Easy Entertaining Tips and Tricks
This amaro cocktail is great for sipping and would be an excellent recipe to serve at a low-key dinner party after dinner is over. (It also works well if you've had to abandon your house and stay with a friend because you've lost power during a winter storm…)
If you want to share this cocktail with friends, here are a few ideas of how to make it easy as pie on yourself:
Let guests mix their own. Print out this recipe and place it in a frame so guests can see the measurements. Set out amaro, bourbon, a jar of Luxardo cherries and several lemon twists on a flat surface along with a jigger and let guests make their own.
Make it a pitcher. If you're serving a crowd, this would be an incredibly easy cocktail to make that way. Equal parts amaro and bourbon go into the pitcher, then simply pour into your guests' glasses with ice. Garnish with the cherry and lemon twist to make the drink.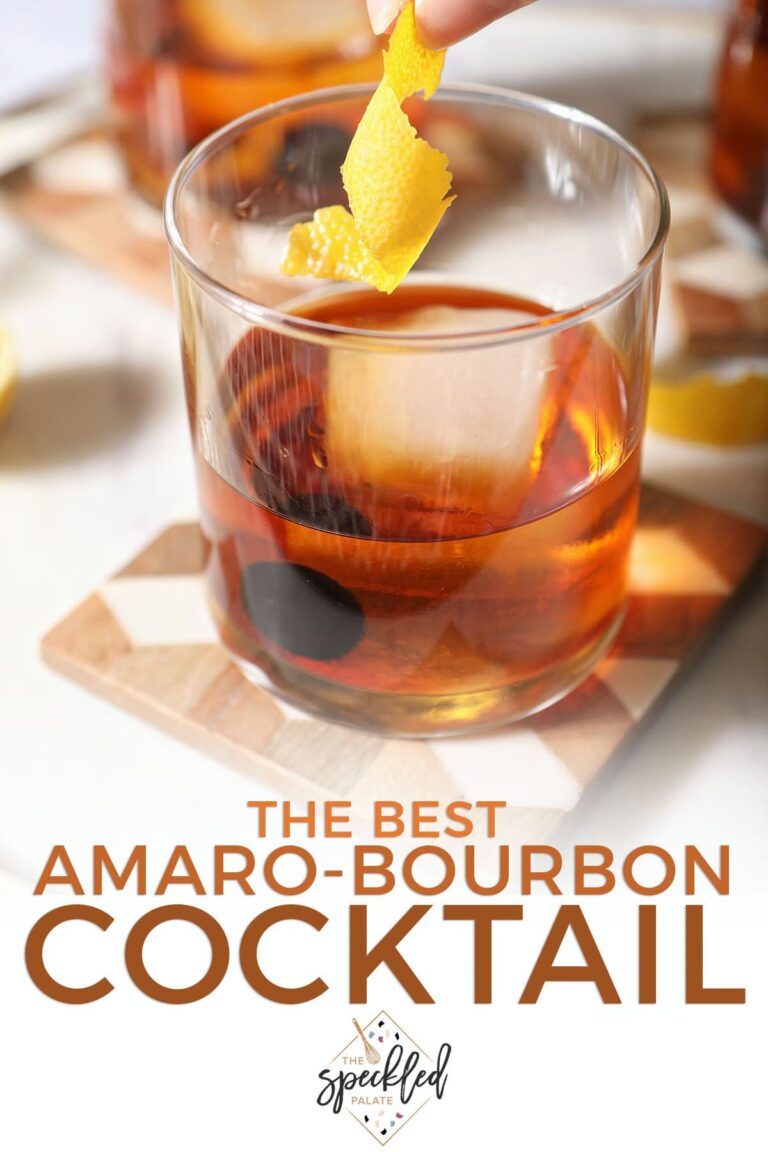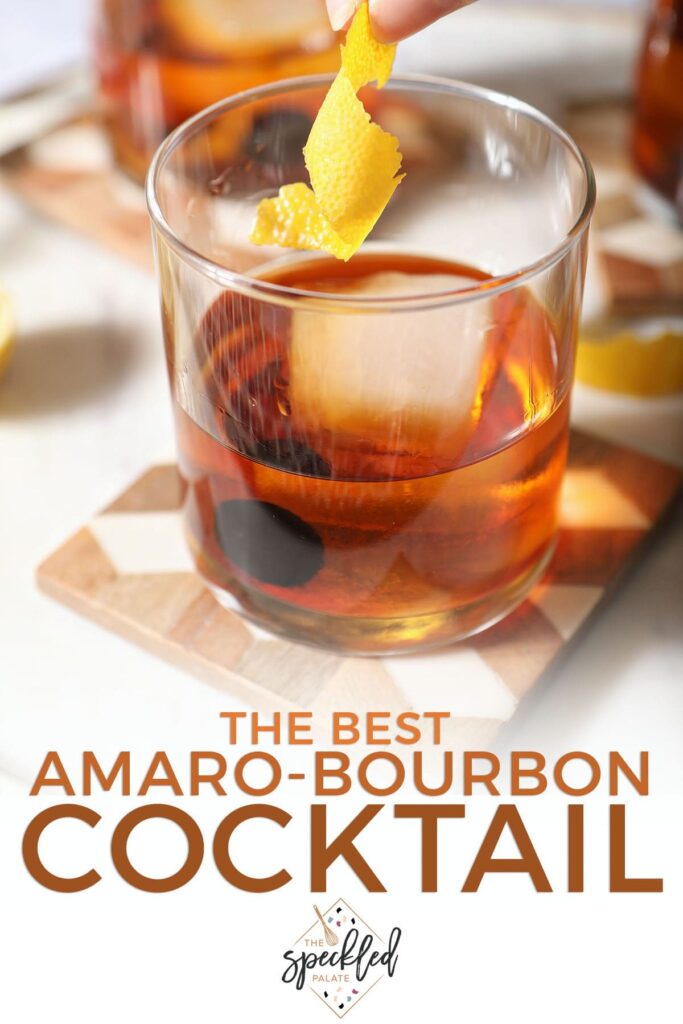 Frequently Asked Questions
What is amaro?
It's an Italian herbal liqueuer that's oftentimes served as an after-dinner aperitif. Amaro translates to "bitter" from Italian, and the liqueurs typically have bitter elements with a little sweetness, thanks to a sweet syrup.
Is amaro and Campari the same?
No. While both hail from Italy and are liqueurs made with herbs, Campari generally has less alcohol and is also made with fruits.
Are amaro and aperol the same?
They are related, but they are not the same. Aperol is a less strong, less alcoholic amaro. It's well-known when mixed with Italian sparkling wine to create an Aperol Spritz.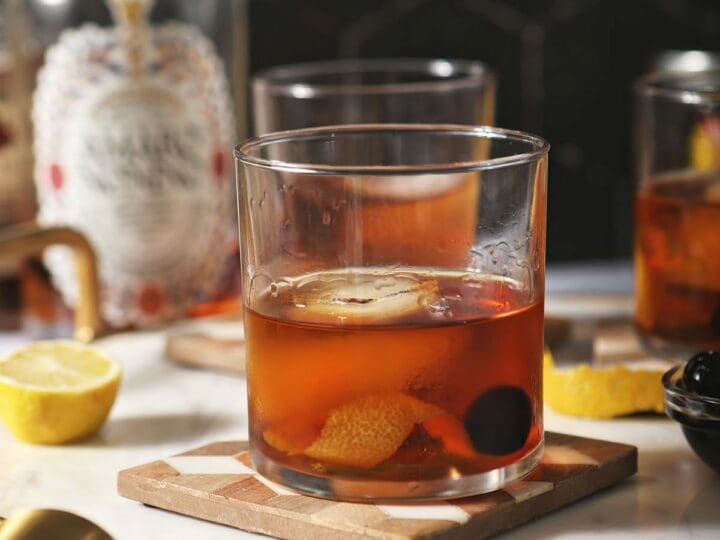 Yield:

1 drink
Busted Pipe (Bourbon Amaro Cocktail)
Love amaro and bourbon? This Amaro Cocktail, which we lovingly call the Busted Pipe, is similar to an Old Fashioned and a Paper Plane. It's a warming, sweet and bitter drink that's perfect for sipping.
Ingredients
1 ½ oz. bourbon
1 luxardo cherry
1 lemon twist
Instructions
Place your large ice cube in a glass.
Pour in the amaro.
Pour in the same amount of bourbon.
Garnish with the luxardo cherry and lemon twist.
Stir with a spoon, then enjoy immediately.

Recommended Products
As an Amazon Associate and member of other affiliate programs, I earn from qualifying purchases.
Nutrition Information:
Yield:
1
Serving Size:
1
Amount Per Serving:
Calories:

126
Total Fat:

0g
Saturated Fat:

0g
Trans Fat:

0g
Unsaturated Fat:

0g
Cholesterol:

0mg
Sodium:

2mg
Carbohydrates:

9g
Fiber:

3g
Sugar:

3g
Protein:

1g
Nutrition facts are an estimate and not guaranteed to be accurate.