A spin on fried rice, this Veggie Fried Barley is filling, delicious and perfect as a side or the center stage as a meal!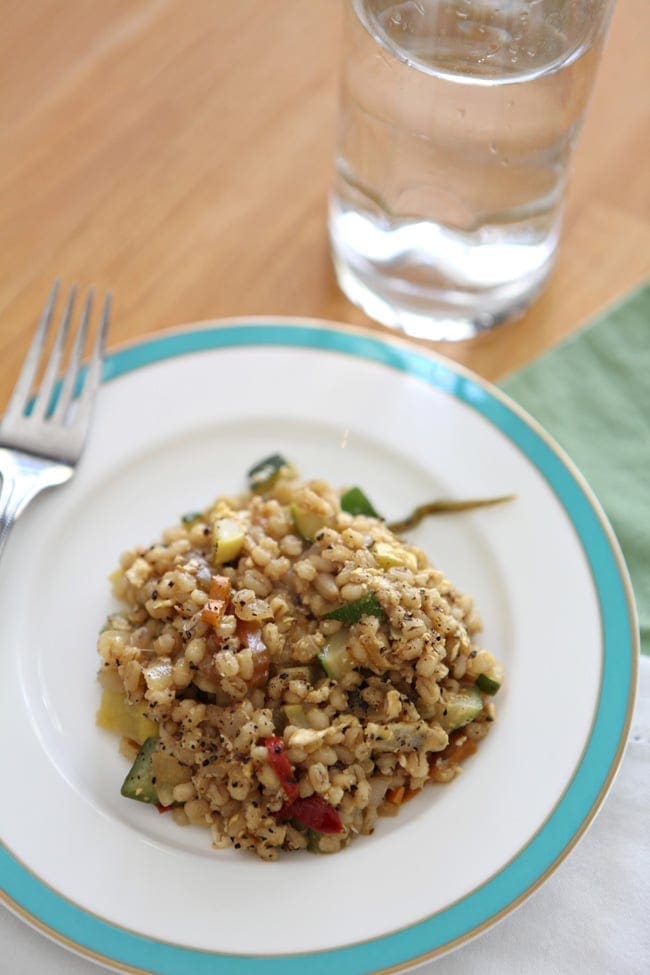 Ever since I was a little girl, my family has loved one particular hibachi restaurant in Memphis. It might not be the prettiest of places to eat, but their food sure is good. In fact, during most visits to my hometown, I end up there one evening, eating until I'm gloriously full and leave smelling of the grill.
We haven't found a place like this in Dallas, though we certainly know they exist, and one evening when I was participating in Nicole's 30 Day Sugar Detox, I had a craving. Since it was the actual detox week of the program, I had a lot of vegetables, meats, dairy, etc. that I could eat (but not a lot of grains), so I randomly whipped up a rendition of this recipe, wanting to use the remaining miscellaneous vegetables in the fridge, as well as wanting to eat something carb-y that was on my approved list.
The barley in this dish sounds odd at first, but it adds delightful texture, and I've found in making this several times since its inception, the barley never gets mushy like rice sometimes does. (Let's be real: We've all had rice be mushy, and it's just sad.)
The soy sauce (which I didn't initially incorporate in this dish) adds great flavor, and this dish reminds me of my favorite hibachi restaurant. While this Veggie Fried Barley wasn't made on a hibachi grill, it's certainly got the melding of flavors that dishes on one have, and it's a fantastic go-to simple dish for any evening of the week.
Other side dishes we love: Pineapple Fried Rice | Wild Rice Salad with Dried Fruit and Almonds | Curried Veggie Rice Bowls | Tomato Rice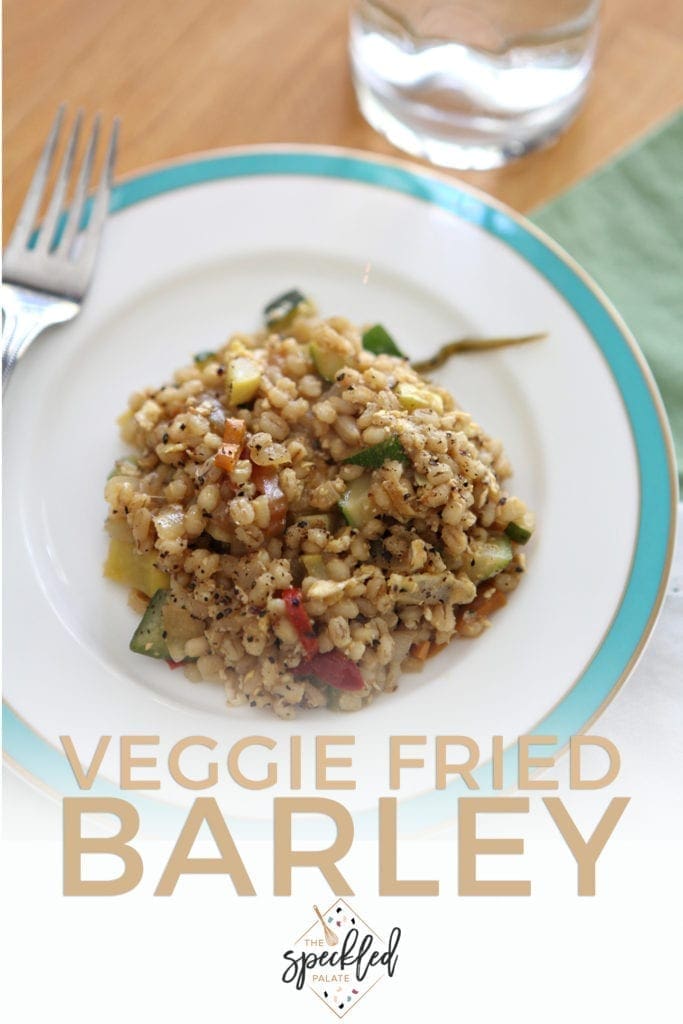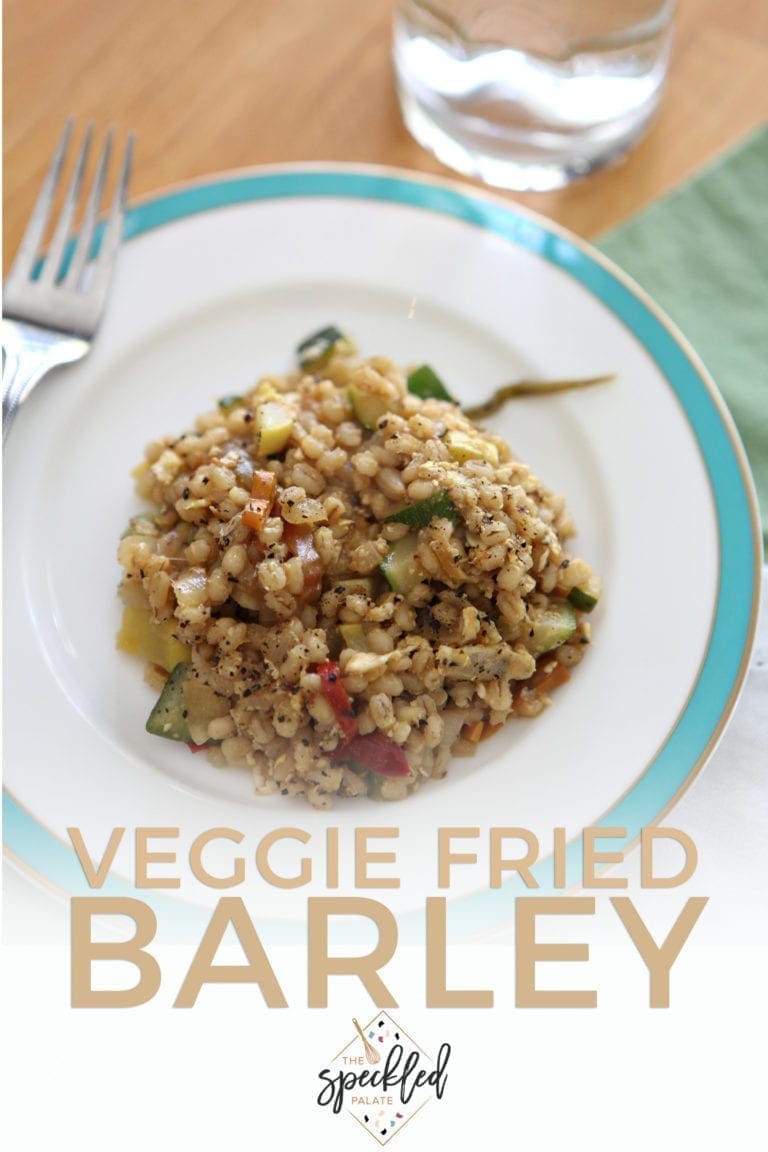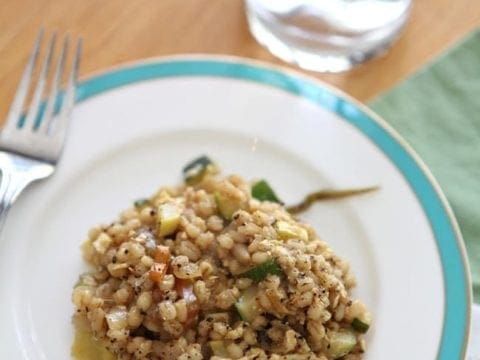 Yield:

6 servings
Veggie Fried Barley
A spin on fried rice, this Veggie Fried Barley is filling, delicious and perfect as a side or the center stage as a meal!
Ingredients
2 tablespoons extra virgin olive oil
1 tablespoon sesame oil
2 ½ cups barley, cooked
½ onion, diced finely
¼ green bell pepper, diced (or any other color of bell pepper)
1 zucchini, diced
1 yellow squash, diced
2 eggs
Black pepper, freshly ground, to taste
¼ cup low-sodium soy sauce
1 tablespoon sesame seeds, toasted
Instructions
In a large skillet, heat the oils over medium-high heat.
Add the onion, zucchini, squash and bell pepper to the pan, seasoning with salt, and cooking through. (This should take 5-10 minutes, depending on your stove.)
Once vegetables are soft, crack the two eggs in the skillet, breaking up immediately with your spatula/wooden spoon, and cooking until the egg is completely cooked. Season with pepper.
Add the barley, mixing in to the vegetables and egg and lowering the heat to medium-low.
Once everything is combined, add the soy sauce slowly, stirring until mixed in, then remove the pan from the heat.
Top with toasted sesame seeds, season more with pepper (if need be) and serve warm.
Nutrition Information:
Yield:
6
Serving Size:
1
Amount Per Serving:
Calories:

200
Total Fat:

10g
Saturated Fat:

2g
Trans Fat:

0g
Unsaturated Fat:

7g
Cholesterol:

62mg
Sodium:

410mg
Carbohydrates:

24g
Fiber:

4g
Sugar:

3g
Protein:

6g
Nutrition facts are an estimate and not guaranteed to be accurate.
Have you ever tried to make your own hibachi-inspired meal?