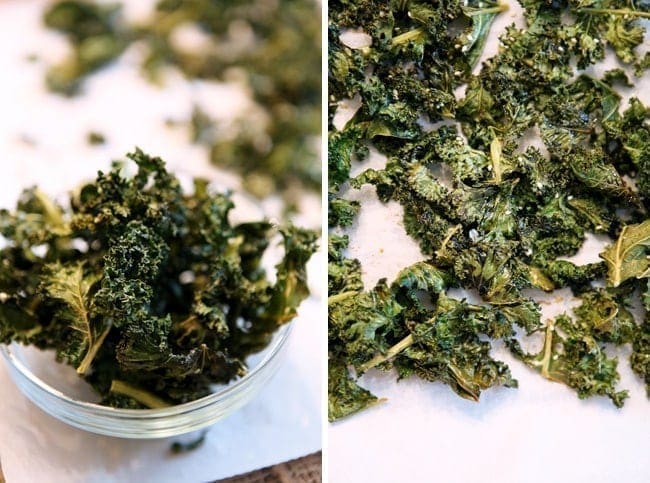 It should come as no surprise that I love chips — all kinds. This is a main reason why I never walk down the chip aisle at the grocery store unless I need something specific for baking or cooking and no other reason. It's dangerous, y'all, and I've learned over the years that if chips don't find their way into my home, I won't eat nearly as many of them. (It's practically scientific!)
It should also come as no surprise that being a chip lover, I would eventually attempt to make my own… especially if the recipe didn't call for a vat of simmering oil and constant vigilance so as not burn my house down. … Hey! I am the girl who may or may not have accidentally caught the grill on fire a few years ago. And while I've come a long way since then, that experience still haunts me.
Just go with me here, y'all. There is a point to this story… promise.
This kale was undoubtedly one of the most glorious things given to us from our CSA this late fall/early winter. Again, kale was one of those things I'd never eaten before but heard a lot about, and when we were sent home with a ton of fresh kale, I wanted to do something different than steam it and sautee it, even though I'm sure it would have been glorious that way.
I whipped this treat up last week as a test, and it turned out so wonderfully that I'm sharing it with you today. The cayenne added some marvelous heat while the sesame seeds and oil were a perfect coating for the kale without overwhelming the green, allowing it to crisp up quite perfectly.
Not too shabby for a mid-week experiment, huh?
Other green recipes we love: Kale Madeline / Hearty Holiday Quiche / Sauteed Greens / Vegan Tuscan Kale Bruschetta / Bacon Collard Greens / Lemon Kale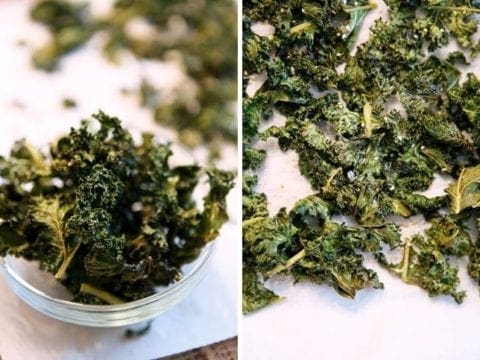 Yield:

4 servings
Spicy Sesame Kale Chips
Cook Time:
1 hour
5 minutes
Total Time:
1 hour
15 minutes
Spicy Sesame Kale Chips are a delightfully crunchy and healthy snack that bake up in no time! Super easy AND tasty.
Ingredients
7 cups fresh kale, cut into 1-1½" strips
2 tablespoons sesame oil
½ teaspoon sesame seeds
¼ teaspoon cayenne pepper
¼ teaspoon sea salt
Instructions
Preheat the oven to 325F. Line a sheet pan with parchment paper.
In a large bowl, combine the freshly cut kale and oil, stirring together using a spoon until all pieces are coated.
Pour the kale and oil onto parchment paper on a pan, spreading out until all pieces are visible.
Sprinkle salt, cayenne pepper, and the sesame seeds onto the kale.
Bake for 45 minutes, then turn off the oven and bake for another 20 minutes.
Once all pieces of kale are crispy, pull out of the oven and eat while warm!
Recommended Products
As an Amazon Associate and member of other affiliate programs, I earn from qualifying purchases.
Nutrition Information:
Yield:
4 servings
Serving Size:
1 serving
Amount Per Serving:
Calories:

126
Total Fat:

8g
Saturated Fat:

1g
Trans Fat:

0g
Unsaturated Fat:

6g
Cholesterol:

0mg
Sodium:

185mg
Carbohydrates:

13g
Fiber:

5g
Sugar:

3g
Protein:

4g
Nutrition facts are an estimate and not guaranteed to be accurate.
Have you ever made your own chips? Would you try it now?