Food Blogging 101: 10 valuable lessons learned from failure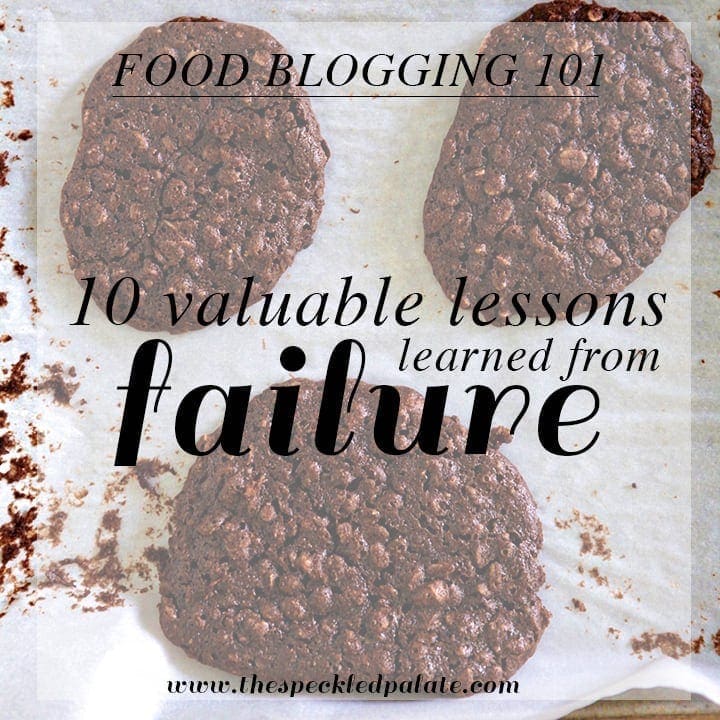 Failing at anything is unfortunate.
Like, really unfortunate.
It's sometimes painful. It's sometimes laughable. It's sometimes frustrating.
Sometimes, it's all three combined.
Filling chocolate pinwheel cookies with caramel. This totally ends well. (Keep reading to find out how…)

I've had my fair share of flops this past year, and I wanted to share some of them with you… and what I took away from these mistakes.
Because, if I've learned anything in my 30 years on this Earth, it's if we don't learn from our mistakes, we'll more than likely repeat them over and over again. And I don't know about y'all, but that's even more frustrating than failing the first time (or two, or five…)
A few lessons I've gleaned in the last year that you should do your best not to repeat:
Salted caramel does not bake well, especially if your caramel was a bit on the edge of burnt when you first threw it together with popcorn. If you do bake salted caramel, keep a close eye on it so it doesn't get singed in the oven like mine did.
Likewise, caramel filling in pinwheel cookies will make them bleed all over the baking sheet. A lot. However, they will still taste delicious, even if they're unsightly!
Carrots and Greek yogurt together in a soup sound good in theory, but they can be quite unfortunate when seasoned with too much black pepper.
Turns out, the combination of peanut butter and chocolate can lead to some flops. My attempt at gluten free PB and Chocolate Chip Cookies were a bland experiment that went nowhere with my tastebuds.
Vegan Cheesecake Bites, which sound delightful in theory, could turn into a runny mess if you don't do a lot of vegan baking, experiment with it the day of a World Cup viewing party and feel overconfident in your abilities. See also: silken tofu and I have a strained relationship, though I definitely want to work on it this year since I fear my lactose intolerance will show its face again once Lady Baby arrives.
Cheese sticks melt in the oven. ("DUH," said everyone ever.)
Strawberry puree can be delightful when added to cupcake batter, but if you add too much, expect your cupcakes to be gloopy.
Always confirm the oven is turned off before you go to bed. Otherwise, it could unintentionally heat your kitchen all night and into the morning until you discover it while making breakfast. … Yes, I know. We're so lucky that nothing was left in the appliance and that something didn't go horribly awry, especially since our oven is original to the house, meaning it was installed in 1958.
Set a timer. Always. Even if your nose is generally awesome at detecting when something has finished cooking. (Overly limp pasta? Check! Incredibly overcooked salmon that's drier than the desert? Check!)
Making five dishes at the same time? Not a smart idea. You'll leave out one or two pertinent ingredients (or swap ingredients… like sugar instead of salt, etc.) and then wonder what went wrong.
…
As evidenced by this very short list of spectacular fails, if I gave up when I flopped, I'd have stopped this food blogging thing a long time ago. However, if I was perfect? I'd have probably stopped, too. Because what the fun in that?
The beauty in cooking is that you occasionally nail the dish the first time around, while other instances, you have to tinker, tinker, tinker until it's perfect. I absolutely adore that. And I hope you do, too, even if you fall on your face some of the time.
If nothing else, the fail's gotta make a good story, right?
What lessons have you learned in the kitchen recently?
Which one made you laugh the most? Which was the most frustrating?
…
Other posts that go BEHIND THE BLOG and the business of food blogging: Behind the Blog: Top Posts / Behind the Blog: Frequently Asked Questions / Behind the Blog: @katiewilliamsen of Twin Stripe Interview / Behind the Blog: Organization, Planning and Balance / Behind the Blog: Social Media Tips / Behind the Blog: The Workspace / Behind the Blog: Behind the Photographs / Behind the Blog: Blogs I Love / Behind the Blog: The Speckled Palate's Beginning / Behind the Scenes Blog Tour: The Speckled Palate