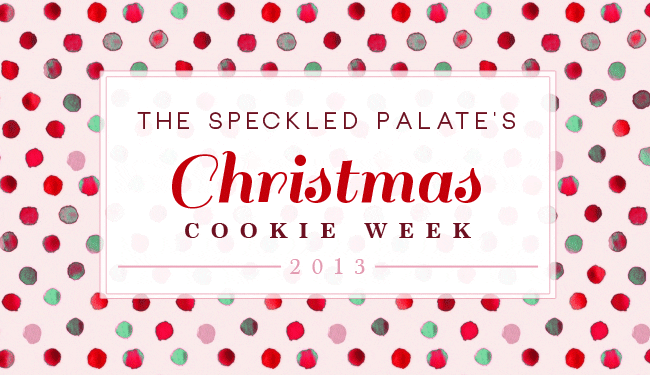 I don't know about y'all, but I am absolutely THRILLED about this year's Christmas Cookie Week.
How come?, you ask.
Christmas Cookies are kind of ingrained into me, and I've been participating in holiday baking since my childhood. And I've continued this tradition of making all kinds of lovely sweets for friends, family members and neighbors since college… first setting up shop in my sorority big sister's condo since I had no kitchen my sophomore year. And the tradition has grown over the years.
Not only is this tradition continuing, but I've got some awesome blogger friends who are sharing some of their favorite cookie recipe(s) this week, too. And The recipes I've been working on for this week are all delightful, and I cannot wait to share them with y'all, starting tomorrow morning.
ALSO, I officially wanted to invite all of you lovely people to join in on the fun, too.
What's not to be excited about?
All you have to do is bake and photograph one (or more!) of your favorite holiday sweet recipes and post it on your blog. Head back to this post and share your link in the link up found below, which will be open from this morning until Friday night at 11:59 p.m. CST. Be sure to link to this post so others who are reading can come join in on the fun, if they so choose. And if you're tweeting/Instagramming about your recipe, feel free to use and follow the hashtag #tspxmascookieweek!
On Saturday, I will write a final round-up of the cookies, including all the recipes that have been shared throughout the week so everyone can make beautiful and delicious holiday goodies for their families and friends, as well as connect with some new friends from all over the globe.
Want to participate? We've got some extra goodies this year!
Head on over to my downloads page, grab your favorite graphic to display with your cookie recipes (and be sure to get a pretty sidebar button, too, to show your Christmas Cookie Week pride!)
Sound good?
Awesome. Can't wait to see what y'all are whipping up!