Behind the Scenes Blog Tour: The Speckled Palate
We're changing things up here at TSP today, and I hope y'all are as excited about it as I am.
When I offered a reader survey last month, I learned a lot of interesting things and got some great feedback from my readers. And I'm acting on it, slowly and surely.
So today?
Today, I'm sharing a behind-the-scenes blog tour so y'all can learn a little bit more about me and my creative process.
Who nominated me?
I was tagged by Madison from The Wetherills Say I Do to participate in this Blog Tour. Madison is an incredibly talented and sweet graphic designer and blogger who currently resides in North Carolina. We've become friends during the last year, and I'm so thankful for her friendship and our various e-mail chains!
Thanks for tagging me for this, Madison, and for letting me give the world a tour of The Speckled Palate behind the scenes.
Working with dough. Because I love getting my hands dirty with stuff like this, and I especially enjoy homebaked breakfast sweets.
What am I working on?
I'm currently working on some new features for the coming months, as well as trying to get ahead, calendar-wise, before Lady Baby makes her arrival in 2015. I'm hoping to do more collaborations with some of my favorite bloggers, as well as work on new sustainable features that can continue after our baby girl arrives, and I settle into motherhood, freelance and working on this here blog.
Some things to look forward to in the coming months?
More new recipes!
More Comfort in 1 recipes!
A monthly round-up of things I love.
More behind-the-scenes peeks from The Speckled Palate!
How does my work differ from others of its genre?
How many food bloggers do you know who started their careers as strict photojournalists and were passionate about covering the news on a daily basis? At one point in my life, I thought I'd travel the world, covering conflicts abroad and at home.
Needless to say, my career has evolved significantly in the last ten years. I've worked at newspapers and magazines covering the news. I've worked for specialty publications covering a variety of assignments. I've worked with individuals documenting weddings and other special moments in their lives. And a few years back, I was thrown into the world of food photography when the editor of the magazine I worked for said, "We know this isn't your specialty, but we'd like for you to try it out."
Photographing food is nothing like covering the news, but I really enjoy it. It's a peaceful thing, and there is something incredibly comforting in it, knowing I'm completely in control of the shoot. It's not stressful, it doesn't talk back, it doesn't move unless I want it to and it's generally not shot on a crazy deadline.
Add my photojournalism experience to my love for being in the kitchen and storytelling, and you've got a unique combination for a food blog that I would like to think makes my work here at TSP unique.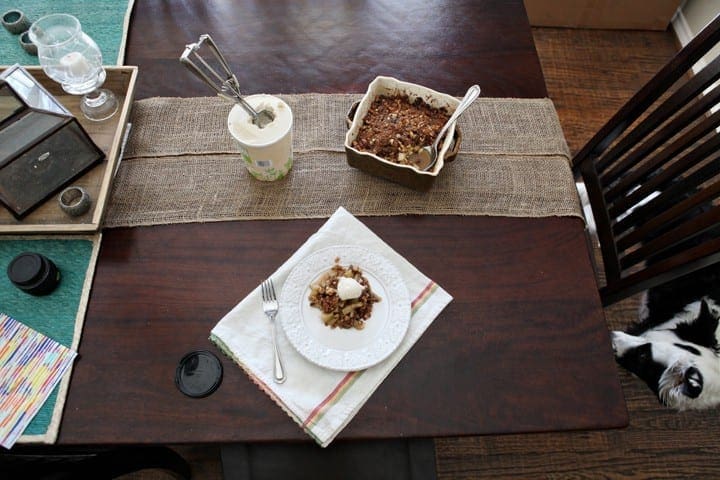 A zoomed out view from above when shooting a dish on the dining room table. Yes, I generally stand on a chair when shooting food. (See the next photo.) Yes, my dog generally prowls beneath the chairs as I shoot. And yes, I'll be sharing the recipe for this scrumptious dessert in the near future, don't y'all worry.
Why do I write/create what I do?
Cooking and baking have always been about sharing and spreading the love. I've always thrived in the kitchen, creating various dishes to satisfy my varying tastebuds, but part of the fun for me is letting others enjoy the final product.
I started TSP when I was searching for a creative outlet, and I found an incredible place to share bits and pieces of my life along with my favorite foods and recipes. It is so much fun, and I've continued this blog because it remains a passion project that brings me joy on a daily basis. It doesn't feel like a job, and it helps me spread my love for food with folks who live near and far in my own small way.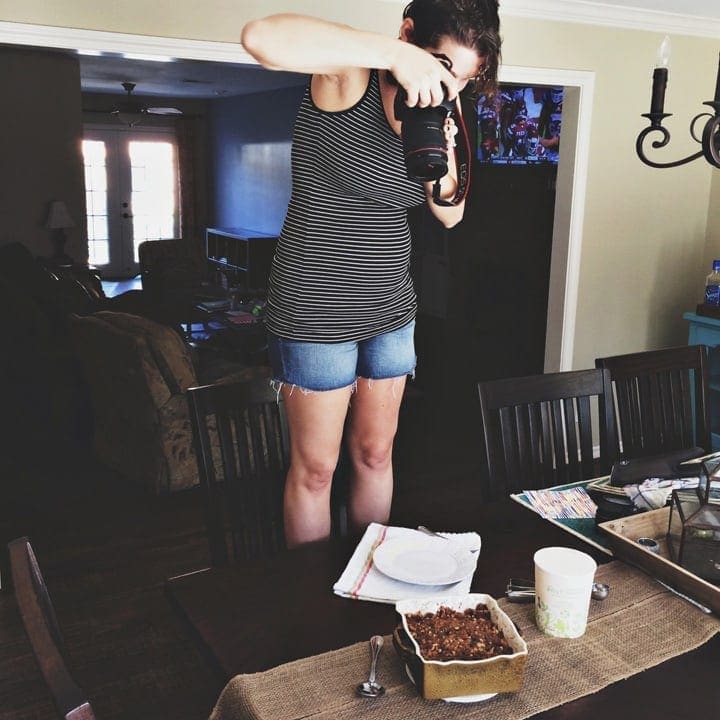 Thanks to my husband for snapping this photo of me photographing the above dessert. … Can you see the baby bump? A little bit? I'll be sharing an update about pregnancy tomorrow!
How does your writing/creating process work?
It always starts with an idea, but the birth of that varies from recipe to recipe. I might be watching a TV show and start drooling over something. I've been reading a book and suddenly had a craving. And I've been thinking of what to cook for dinner while running and created a dish in my head to distract me from the exhaustion of a long distance jaunt.
From there, I experiment. I'll grab the core ingredients I know I need and get cooking. There's a lot of taste-testing throughout the cooking process. And then we'll try the final dish. Sometimes, it's awesome. Other times, it needs some tweaking. And if that's the case, that'll happen down the line.
Once the dish is finalized, I'll set up the shoot. We have two huge picture windows on the front of our home that let in a ton of light, so I'll shoot either on my desk (see the first photo) or on the dining room table (see the photo just above.) I'm a little lazy, and because of this, I try to shoot during the daytime using natural light. It's easier this way, and since the light is fantastic during the late morning hours into the mid-afternoon, I've got a good window to snap images for the blog of a final dish.
The next stops:
Your next stops on the Blog Tour are some sweet blog friends of mine…
Rachel from The Country Contessa. Rachel is a fellow Southern lady and my co-conspirator in the Comfort in 1 series. She's down-to-earth, funny and incredibly talented in the kitchen, making all kinds of Southern food, as well as other delicious dishes. I desperately want to make her One Cup Blackberry Cobbler, and I'm super sad that it'll have to wait until the spring/summer of next year since I cannot find any good blackberries anymore.
Nancy from Neatly Packaged. Nancy is a fellow Texas girl, and we met through the Southern Girls Blog Community. She's newly engaged and planning her wedding, and that has been so fun to follow because who doesn't enjoy hearing about wedding stuff? She's currently in the middle of an October Blogger Challenge, and her post about ways she puts pep in her step made me smile because I do some of the same things!
Kelly from Hidden Fruits and Veggies. Kelly is a vegetarian blogger who is incredibly skilled at adding all kinds of fruits and vegetables to her dishes to make them healthier. I basically drool over all the photos on her blog, shot by her hubby, and she makes me want to try dishes I would otherwise not even think about because they look so darn tasty. (Creamy Mushroom Gravy? I'm not a big mushroom fan, but oh my goodness, how could this be bad? I don't think it could be!)
… And that's it for this stop on the Blog Tour! Thanks, again, to Madison for tagging me. I had a great time, and I hope y'all enjoyed it, too. And I would love to hear your answers to these questions!
Have you ever shared a behind the scenes look at your blog and blogging process? If you did, what would we see?
…
Other posts that go BEHIND THE BLOG: Behind the Blog: Top Posts / Behind the Blog: Frequently Asked Questions / Behind the Blog: @katiewilliamsen of Twin Stripe Interview / Behind the Blog: Organization, Planning and Balance / Behind the Blog: Social Media Tips / Behind the Blog: The Workspace / Behind the Blog: Behind the Photographs / Behind the Blog: Blogs I Love / Behind the Blog: The Speckled Palate's Beginning