Behind the Blog: The Workspace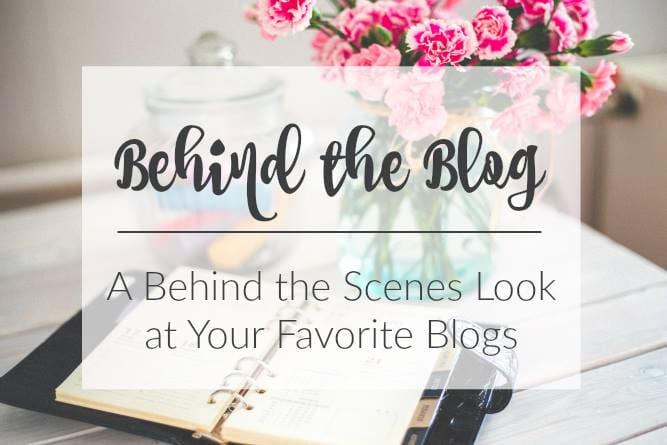 Happy Thursday, everyone! I'm excited to be sharing some more behind the scenes information and photographs with y'all today as we continue our year-long Behind the Blog series!
For the month of April, my blogging comrades and I are sharing our homes, kitchens, office and workspaces… and I'm really excited to introduce y'all to mine.
Behind the Blog: The Kitchen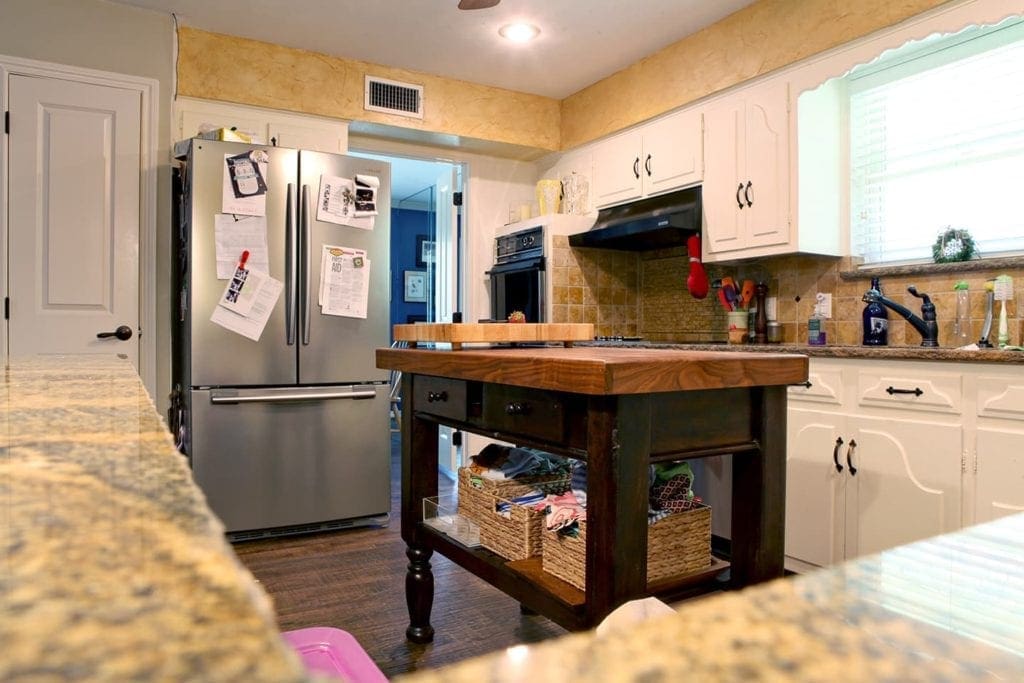 Unsurprisingly, the kitchen is where most of my work happens.
In this space, I brainstorm recipes. I tinker. I adapt. I taste test. I succeed… and I fail spectacularly.
The centerpiece, of course, is that little island. That's where all the chopping and mixing gets done. That's where you can find me scribbling down notes for recipe ideas and changing my measurements as I work.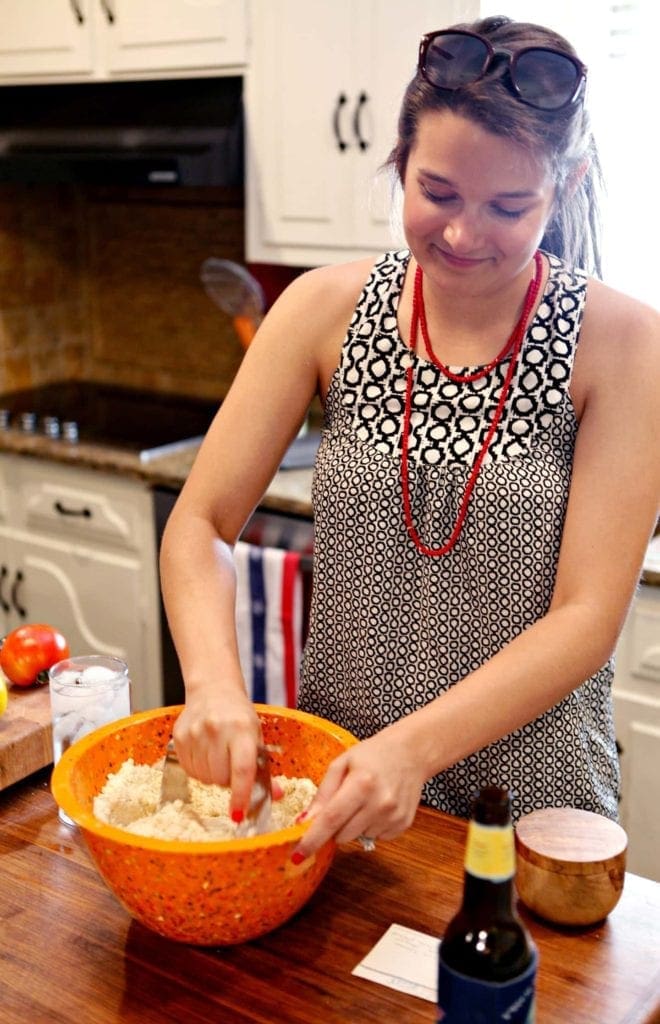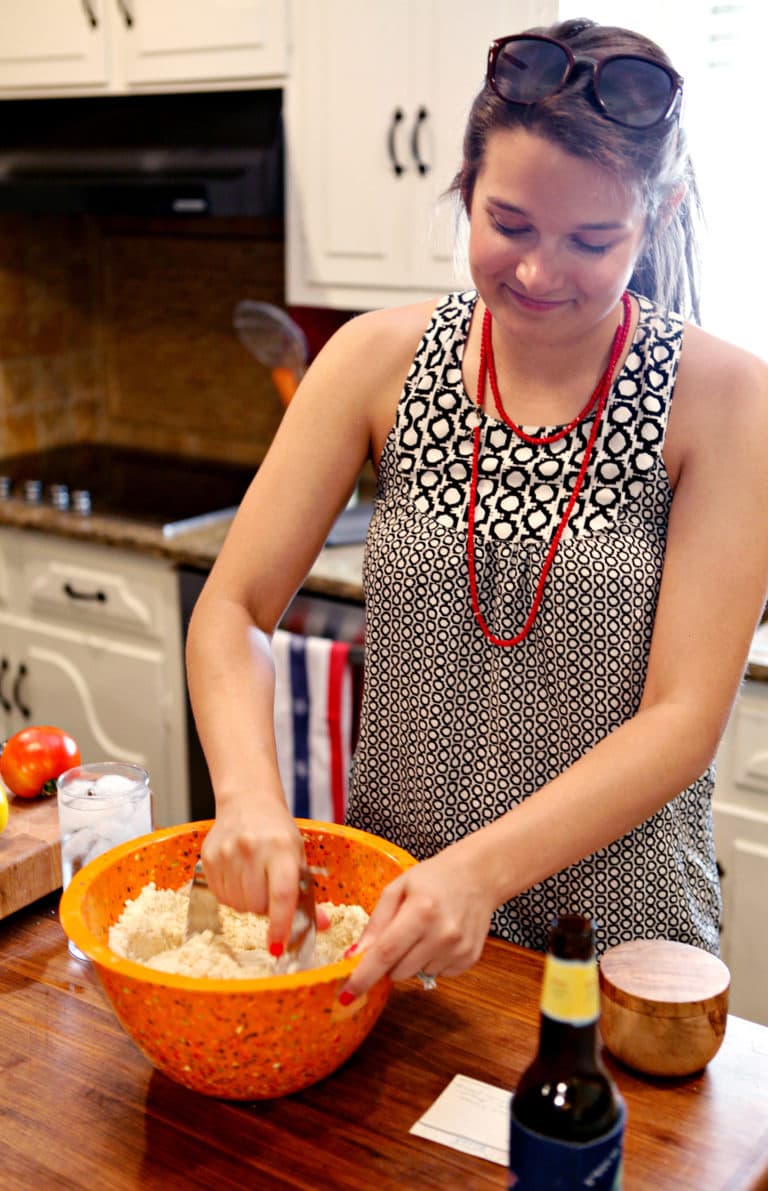 It also offers a bird's eye view into our den. So when we're hosting people? I set up shop around the island to both get things done and still be able to interact.
Not pictured: The ginormous stack of washed dishes drying on the counter. As a food blogger and a toddler mama, I feel like I'm just constantly washing dishes. And even though the dishes are generally clean and drying (because I am anal retentive about working in a clean kitchen), they hardly ever get put up in a timely fashion.
Real talk, y'all.
Behind the Blog: The Office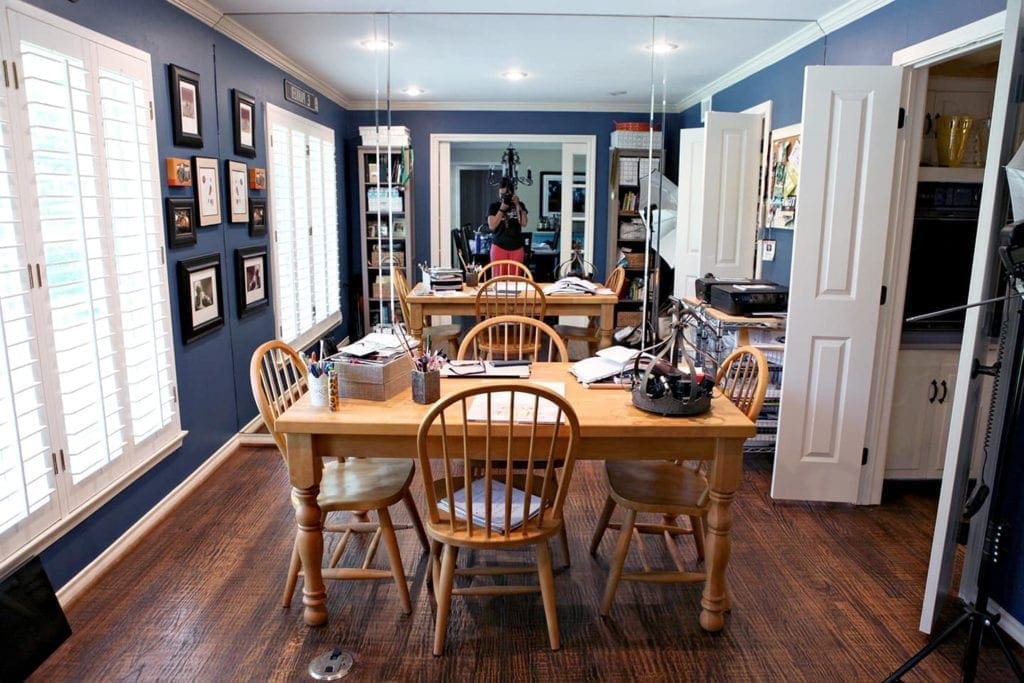 When we moved into our house three and a half years ago, I was thrilled to have an office of my very own. It was the first room we painted in the house, and since one of the walls is made entirely of mirrors, I knew a dark blue would be perfect without making the space feel too small.
The office is actually a converted dining room, so it's connected to our actual dining room (which used to be the formal living room) and the kitchen. I love that it's centrally located.
I'm able to get work done without needing to hide myself away. I'm able to still connect with the people I love while I do work in my office.
And it's especially cute when my daughter comes and bangs on the French doors, waving and babbling at me.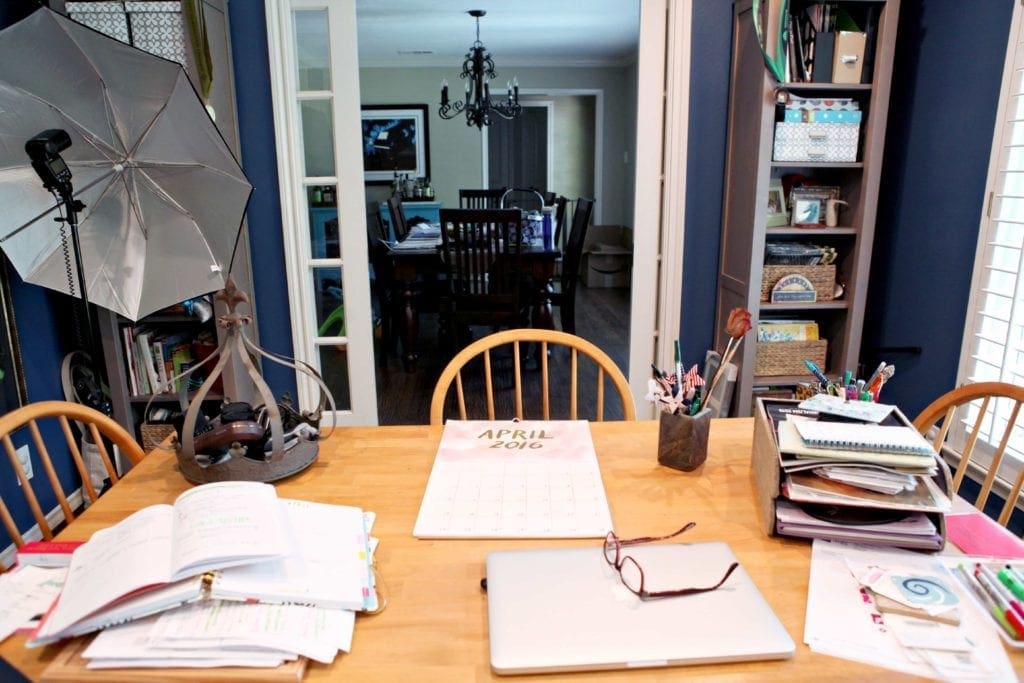 Unfortunately, my office does not have a closet, so I've utilized two tall, skinny bookshelves as organizational tools.
You'll also notice in the above photos that I don't ever take down my lighting kit. It's just easier to leave standing in my office to the side so that I can pick it up and move it around, depending on where I'm photographing dishes.
The only bad thing about my office is that since it's centrally-located, it's always on display… and it's alllllllllways cluttered.
As much as I aspire to be a neat freak, I just don't have the energy to be one. (Real talk: I'm perpetually exhausted.) And because of this, my desk becomes a catch-all.
The stacks and papers are organized. But they're all over my desk, waiting for me to do something with them.
I may or may not have straightened said stacks before I took these photos for this post. But please know that my desk and my office? A great place to work, but I don't keep it nearly as organized as I'd like to.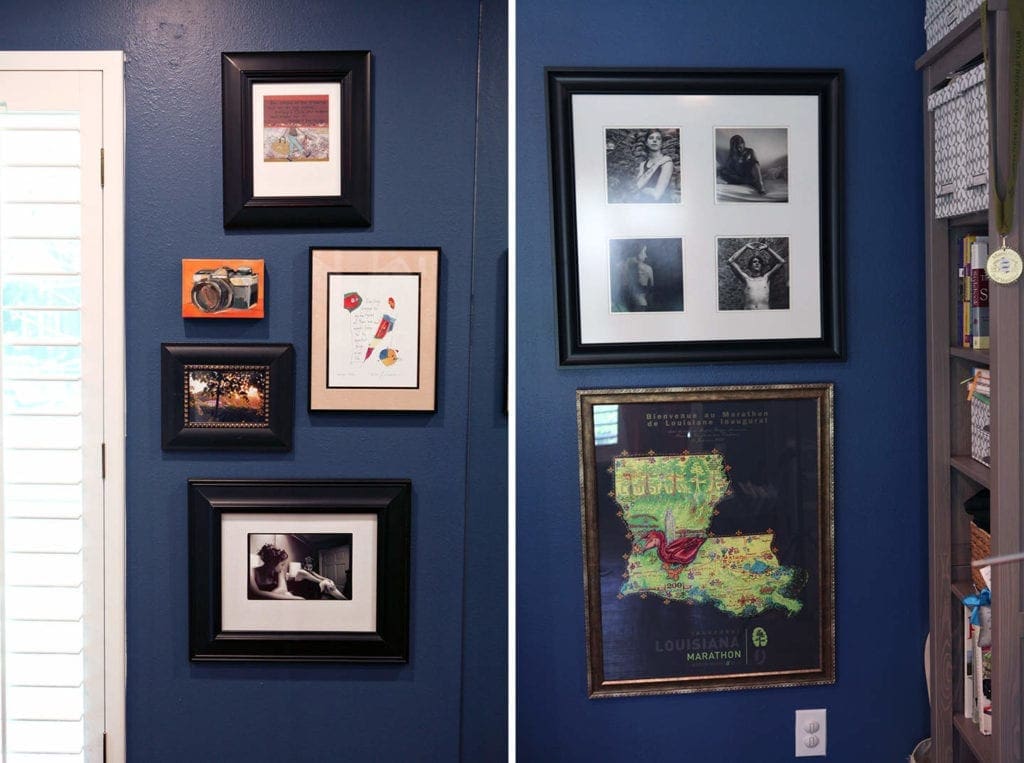 One of my favorite things about my office is the art I have on display in it.
Several photographs I've made over the years are hanging on the walls. A few encouraging quotes. A small painting from a Baton Rouge artist who surprised me on assignment one day. And the poster of a first annual race I ran years ago.
Everything on my office's walls makes me smile, and I love it for that.
Behind the Blog: The Dining Room

Our dining room is huge, and it's a centerpiece in our home.
This is where we gather.
It's also where I stage and capture a lot of food photographs.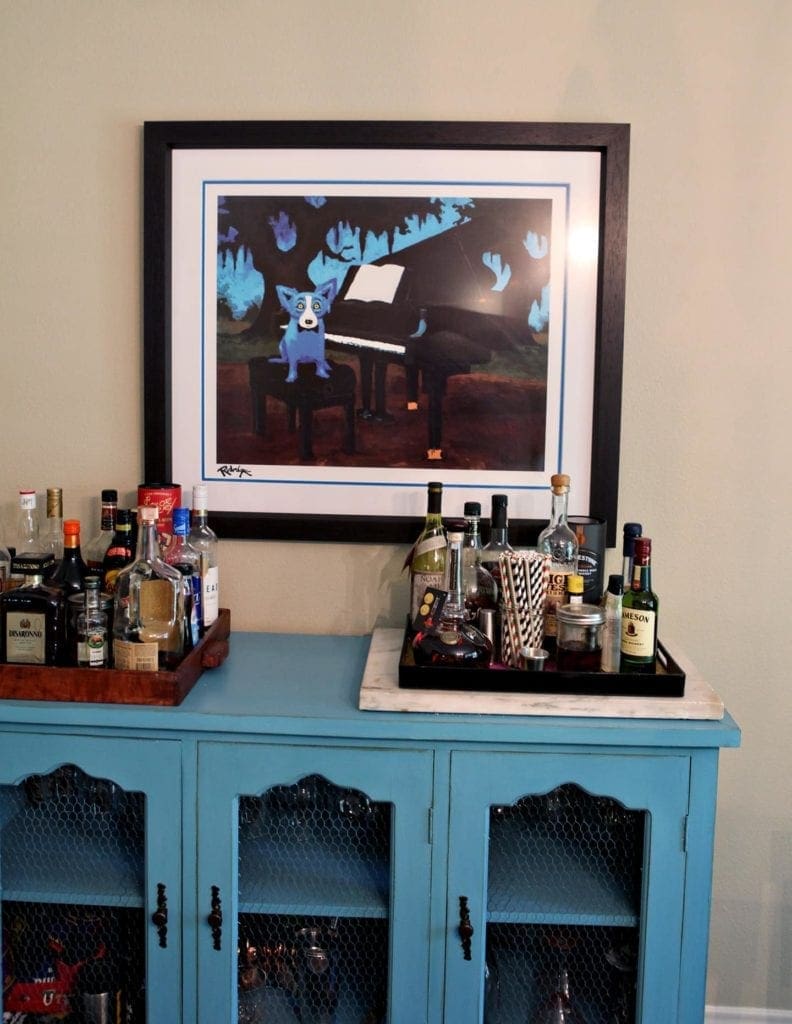 My favorite place to set up my photos is on our turquoise bar. You see that slab of marble that's beneath the whiskey/bourbon tray?
That's my favorite spot.
Partially because I love the marble as a background, and partially because I love the story of how the marble came to be in my possession.
My grandfather was a contractor in Georgia. When he was demoing a denim mill, he discovered huge pieces of marble in the bathrooms. The marble was going to be thrown out, so he took it upon himself to bring a few pieces home. He gave one to my mom and dad, who were visiting that summer. They used the marble for years to make candy.
Fast forward to last summer. I asked my mom if she knew anywhere I could get my hands on a piece of marble for photos. (She's good at knowing things like this, as moms are.) Turns out, she had this beauty stored beneath her bed. She let me bring it back to Texas after promising that I would bring it back to her if she ever decided to start a candy making business.
Every time I shoot a dish on that marble, I think of my grandfather and this story. It makes me happy to have a piece of this family history in my home.
…
Be sure to check out my other posts in the Behind the Blog Series!
Other posts that go BEHIND THE BLOG and the business of food blogging: Behind the Blog: Top Posts / Behind the Blog: Frequently Asked Questions / Behind the Blog: @katiewilliamsen of Twin Stripe Interview / Behind the Blog: Organization, Planning and Balance / Behind the Blog: Social Media Tips / Behind the Blog: Behind the Photographs / Behind the Blog: Blogs I Love / Behind the Blog: The Speckled Palate's Beginning / Behind the Scenes Blog Tour: The Speckled Palate
…
Be sure to visit my friends who are sharing their homes and office spaces today, too!
Behind the Blog: Office Space | Twin Stripe
How to Organize a Home Office for Bloggers | The Natural Homeschool
Behind the Blog: Home Office & Craft Space | Robb Restyle
Behind the Blog: Home Workspace | The Life of Jennifer Dawn
…
Do you blog and work from home?