Happy 2012, y'all!
I hope you had a fantastic time ringing it in, no matter who you might have been with and where you might have been!
My husband and I rang in the new year at our home, the perfect ending to a long day of car shopping, running 11 miles and general busy-ness. We cooked a delightful meal at home – seared scallops, Spinach Madeline, steamed green beans and tomato and spinach risotto – and then consumed an out-of-this-world blueberry crumble just after midnight. (Yes, we were a little ridiculous with our menu. And yes, it was as good as it sounds.)
Before kicking off the new year right, I wanted to take a tiny look back to 2011 at The Speckled Palate and share with y'all the top 10 most popular posts of the year.
Let's do this thing!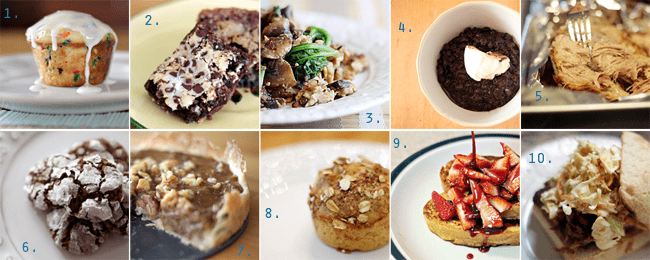 1. Sour Cream Funfetti Cupcakes. 2. Ooey Gooey Bars. 3. Jazzed-Up Scrambled Eggs. 4. Black Bean Dip. 5. Pulled Pork Shoulder. 6. Chocolate Crinkles. 7. Fig Tart. 8. Apple Pie Muffins. 9. Yogurt French Toast. 10. Honey Mustard Coleslaw.
If you haven't already, check those recipes out.
And then head on back here shortly because I've got some ideas brewing to make 2012 even better than 2011. And a lot of those ideas include awesome food.
Get excited.
Other Top Recipes by the year: 2012 | 2013 | 2014 | 2015 | 2016 | 2017