In May, my husband and I embarked upon our first Whole30. We weren't quite sure what we were getting ourselves into, but we researched, prepared the best we could, then tucked our chins and eliminated dairy, wheat, soy, sugar and more from our diets.
Thirty days later, we both had a new outlook on food. (And had both lost some weight, too!)
While we haven't gone paleo or started eating a Whole30 diet all the time, we both loved the way we felt when the 30 days were over. Today, we're striving to add fruits and vegetables to our diets while limiting our intake of sugars. (Hi. I'm a food blogger whose niche is not Whole30/paleo recipes, so this isn't the easiest thing to do all the time, but we're working on it, haha.)
So far, it's going swimmingly. And I wanted to share 8 Tips for a Successful Whole30 with those of y'all who are thinking about doing this for yourself.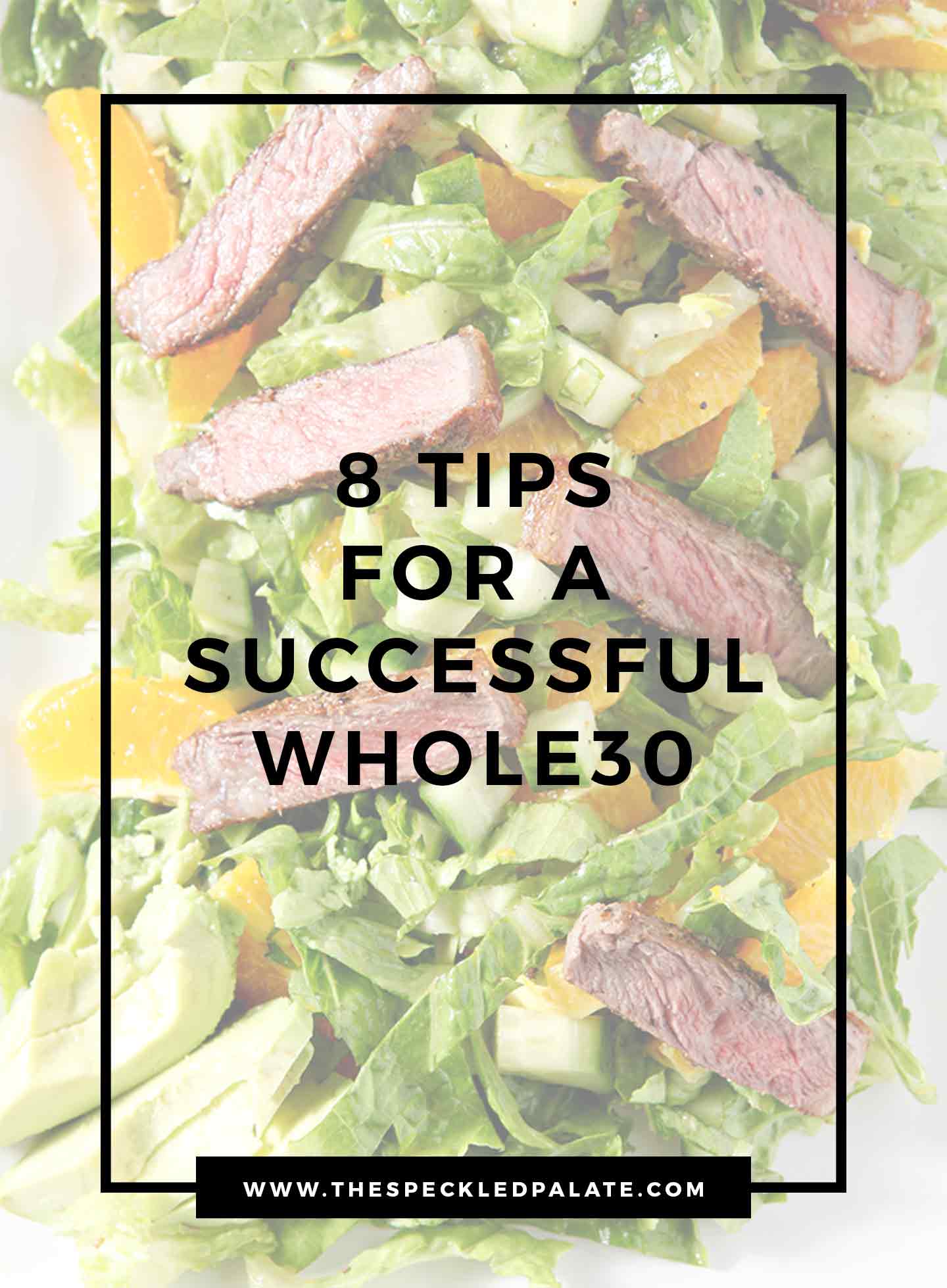 This post contains affiliate links. If you were to make a purchase through one, I would receive a small commission. For more information about the affiliate programs The Speckled Palate participates in, please refer to my disclosure page.
1. Read the book.
It all started with It Starts With Food, and you'll have a much better idea of what you're signing up for if you actually read this book.
In addition to knowing what you're getting yourself into, you'll also have a better idea of what to look for on labels. (I'm lookin' at you, sneaky sugars.)
And you'll get an idea for the next bullet point, too.
2. Know your why.
Specifically…
Why are you doing the Whole30?
What made you want to flip your diet on its head?
What kind of outcome do you want after these 30 days are over?
I've found that writing down my goals and placing them someplace visible — like my bathroom mirror — is a great way to remind myself why I'm doing something challenging. I'm less likely to slip up if my reason is staring me in the face, and it provides daily inspiration to keep on.
3. Look at your calendar, and plan the Whole30 accordingly.
Because the Whole30 is challenging, plan it for a month that's free of big commitments.
It's hard to find Whole30-compliant dishes at restaurants, so holding off on the Whole30 while you're moving or traveling could be a key to success. Because we want it to be a success!
Choose a month that works best for you. (But don't keep pushing it off because of potential conflicts.)
One of those conflicts could be family or friends visiting from out of town. During May, our family came to visit. Instead of breaking the Whole30 to eat all the things with them, we planned meals we knew they'd like… and they marveled at how good the food was! We fed them carnitas with sweet potatoes and guacamole one evening (recipe forthcoming), as well as Whole30 Taco Zucchini Boats!
4. Focus on the positive.
This goes hand in hand with knowing your why. It also goes hand in hand with making sure you don't lose your mind.
Instead of thinking, "There is so much I cannot eat this month," think, "There are a TON of whole foods I can enjoy this month!"
Because there is so much goodness you can explore, and there is a world of foods you can eat and enjoy on the Whole30.
A positive mindset — of which I am not known — got me through the toughest days of the Whole30. While I'm generally a 'prepare for the worst, hope for the best' kind of person, I made an active choice to celebrate the good changes I was making and to focus on the good of the Whole30 instead of lamenting what I felt like I was missing. (Turns out, I didn't miss a lot of what we cut out!)
At the end of the day, no one is forcing you to change your eating habits. You made the choice to do the Whole30, so give yourself a break!
5. Preparation is key.
Seriously, y'all. Prepare, prepare, prepare. And then think of worst case scenarios and prepare for that, too.
Meal plan. Grocery shop for the week and get everything on your list. Chop all the things in advance for the work week.
Prepare and set yourself up for success so you're not caught unprepared or worse, caught in a bind that leave you munching on all the veggies and fruits in your fridge because you don't want to cook that evening.
My mornings were made easy by this make-ahead naturally SWEET breakfast casserole. We made zucchini noodles a lot to fight off pasta cravings (and learned that everyone in our family loves these, Lady A included!) This salad satisfied a weird red meat craving, while this soup was the comfort food we needed one evening.
I tend to struggle making a wholesome meal at the end of the day on my workdays, so I ended up adapting a few favorite slow cooker recipes to be Whole30-compliant.
See also: Pinterest is your friend! We searched and found SO many recipes there!
6. Read food labels.
Not to be dramatic, but THERE IS ADDED SUGAR IN EVERYTHING. And the sugars have a ton of names, too, so it won't just appear as cane sugar or corn syrup on an ingredient label.
Look out for dextrose, fructose, glucose and a lot of other words that end in -ose. Look out for natural sugars, too, like maple syrup, agave nectar (and anything else with a nectar tacked onto the end), honey, etc. And then there are artificial sweeteners, too.
There's a lot to keep track of on the sugar front, so be sure to print out this list and bring it to the grocery with you.
In addition to sugars, look out for added gluten and soy in products. And when in doubt, always, always, always purchase fresh.
7. Know your habits.
If you like a sweet afternoon pick-me-up when you're not doing the Whole30, you'll want it while doing the Whole30, too. Have the ingredients/items ready to have a successful snack without hanger taking over.
Apple slices with raw almond butter was and still is my afternoon jam. Right around the time Lady A wakes up from her nap, I start getting hungry. And while she snacks on cheese, crackers and fruit, I snack on a Whole30-compliant fave.
If you like a morning coffee, heavy on the cream, invest in some coconut cream to jazz up your java.
8. Be kind to yourself.
You're going to screw up accidentally at least once, and the way you handle it can shape the rest of your Whole30. The book will tell you to start over. This is where we took a bit of a different approach, and it means giving yourself some forgiveness. (It's not like you're sneaking into the kitchen in the middle of the night to eat an entire stash of hidden Oreos. And if that's the case, you probably should start over again.)
Within the first week of our Whole30, I realized our almond butter, which I believed to be unsweetened, wasn't.
Within the third week, I got an iced coffee to realize the almond milk used definitely had some kind of artificial sweetener.
Throughout the month, Winston and I both made mistakes, but we didn't allow them to derail our Whole30. We learned from them–and moved on.
Some Whole30 recipes you might want to check out: Whole30 Slow Cooker Pork Carnitas Plates | Whole30 Taco Zucchini Boats | Spinach Pistachio Pesto | Galia Melon Jamón Skewers | Whole30 Bacon Apple Salad with Bacon Vinaigrette | Blackberry Ginger Lemon Whole30 Tea | Sweet Potato Bisque | Whole30 Steak Salad with Orange Vinaigrette | Vegan Potato Leek Soup
…
Have you done the Whole30?
What are YOUR tips for a successful Whole30?
Looking for some recipes? Check out mine here!